Monitored professional security systems usually cost around $60 per month with a 3 year contract, adding up to thousands over time. How can you protect your home and family without paying a massive monthly bill? It's simple: DIY smart home security.
New technology lets you easily protect your home and loved ones without paying expensive monthly fees. These products work via wireless Internet, sparing you the expensive installation with complicated wires.
10 DIY Smart Home Security Ideas
Affiliate Disclosure: This page contains affiliate links, which earn us commission from Amazon at no cost to you.
First, you need to decide if you want a full security kit, or individual products. Kits usually run in the $200 range, but they include everything you need to get started. They will help you monitor your windows, doors, outlets, and monitor for motion detection, all within one app. Unfortunately, the price tag may be high if you're just starting out and wanting to try DIY smart home security.
Explore a few of your best DIY smart home security options for full kits or individual security products below to find what may work best for your home.
---
Full Home Security Kits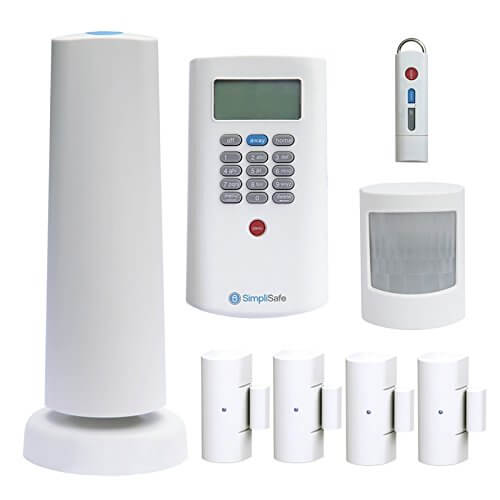 24/7 professional monitoring with cellular connection back up and rechargeable back up battery
Advanced features like distress codes, alerting the police even if the keypad gets smashed
Monthly fees: Starts at $14.99/month for monitoring with upgrades
No integrated video cameras offered
---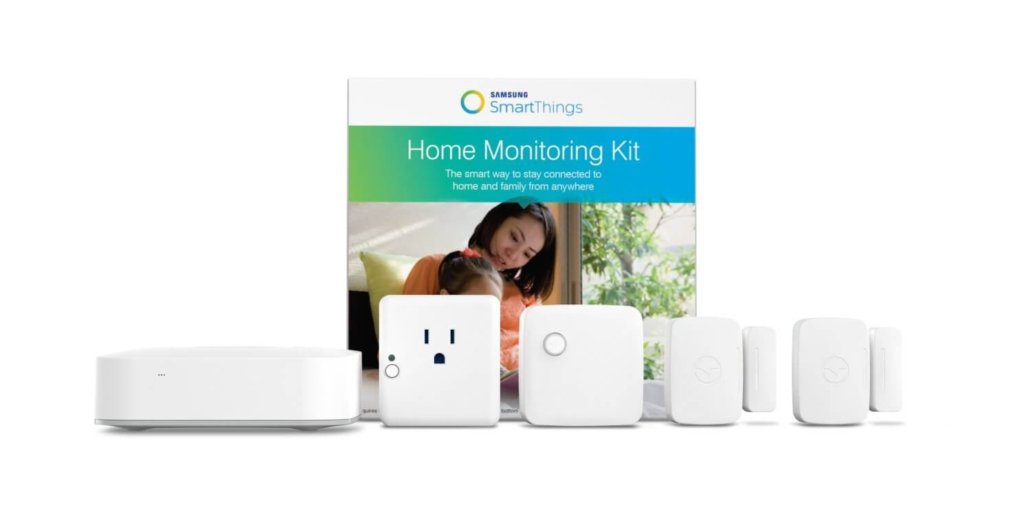 Works with many smart home devices, including LIFX and Hue lights, Ecobee3 thermostat, Schlage smart door lock, Z-Wave devices, and many others. Very expansive and great for building a true smart home.
No monthly fees
May be too complicated if you are looking for a simple solution or don't consider yourself technically advanced
Read our full review of getting started with Samsung SmartThings.
---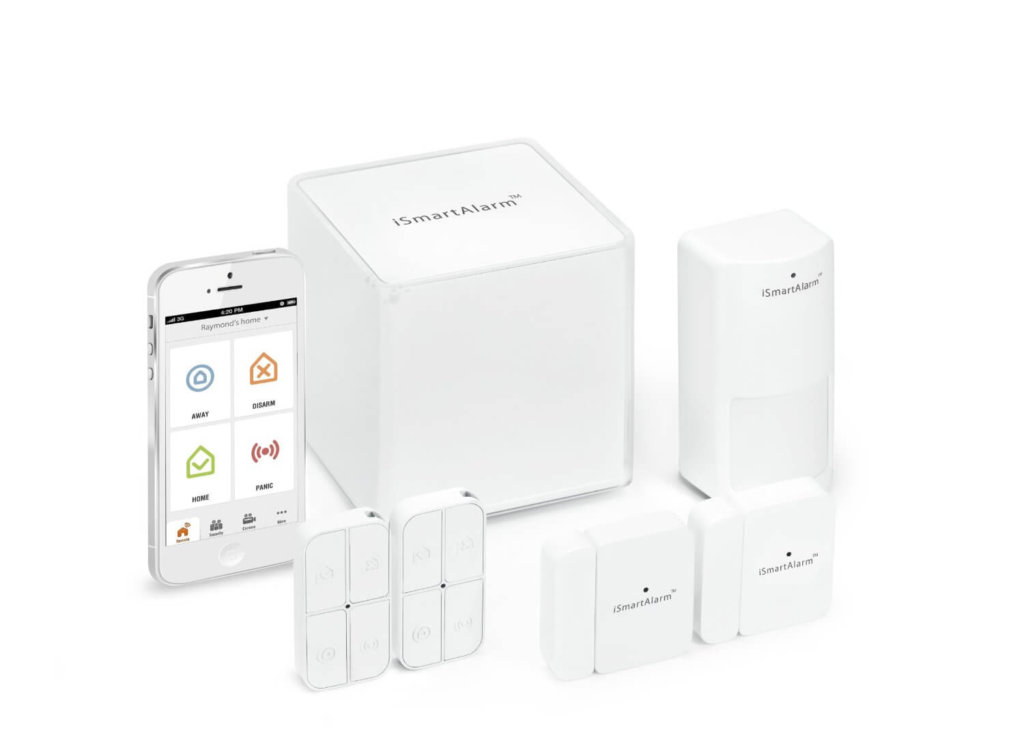 Comes with key fobs if you don't want to always use your phone to arm and disarm
Product doesn't work outside of the U.S.
Doesn't integrate with other smart home tech (i.e. Amazon Echo)
iCamera (not included in the kit) cannot record or store videos
---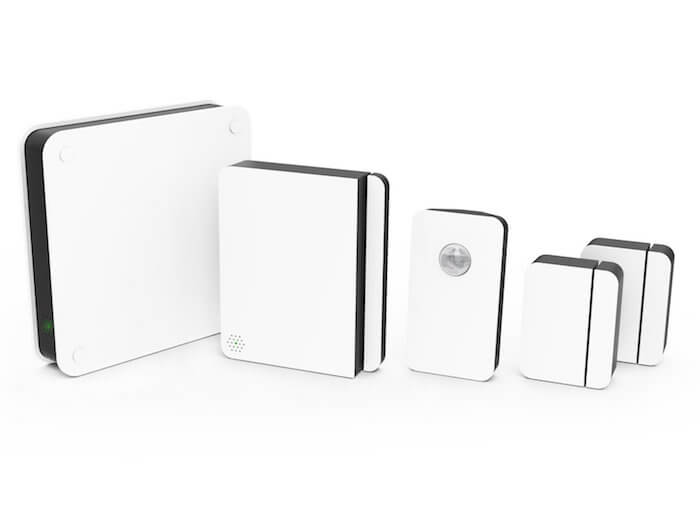 Works with Nest, Amazon Echo, Hue, and other smart home tech
Easy guest access, 2 RFID key fobs included
Users report technical difficulties without much technical support
Monthly payments required, starts at $9.99/month
---
Outdoor Security Products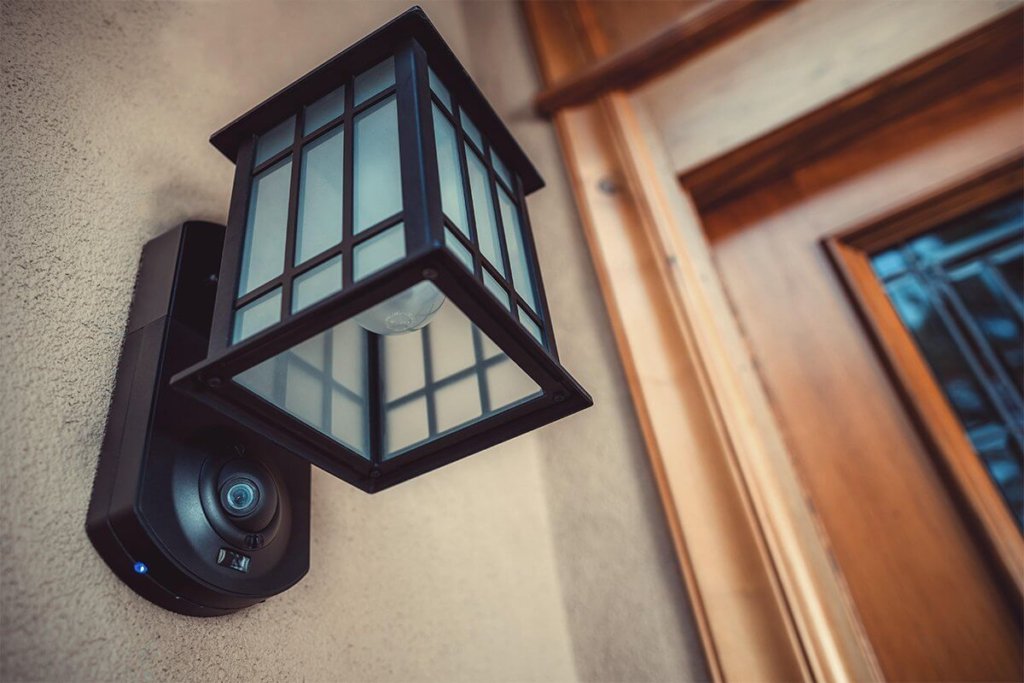 Hidden security camera under the porch light notifies you if someone is on your porch
Works with Apple HomeKit
 2-way audio, 100-db siren
Only 2 hours of free look back (which isn't ideal for overnight security). Monthly fees start at $5/month for 7 days of footage.
Doesn't allow for personal recording to an SD card or NVR
Read our full Kuna porch light security camera review for more details.
---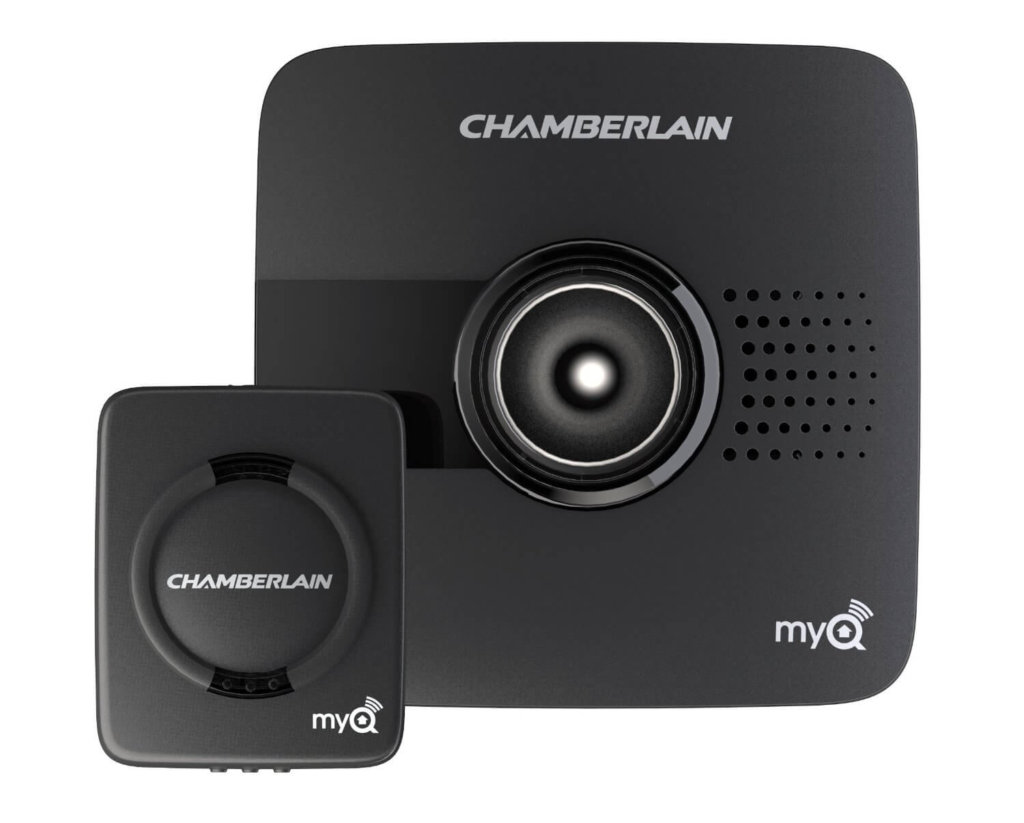 Receive notifications anytime your garage door opens or closes. Tracks how long the garage door is open and sends alerts if you leave without closing it.
Works with Nest, allowing you to control your Nest thermostat or cameras within the same MyQ app.
No monthly fees
No IFTTT integration
Doesn't tell you when it's disconnected from the internet, just maintains last status of garage door. So if your garage door is shut, your internet goes down, and your child comes home and opens the garage door, it will still show your garage door as shut within the app.
---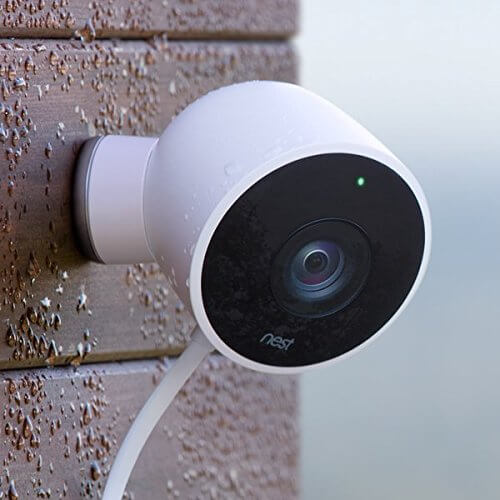 First outdoor security camera that is plug-and-play and doesn't require drilling holes for wired connection
Continuous recording, 2-way talk, 1080p quality, specially designed for outdoors
No battery backup; if the power goes out, so does your security
Upgraded fees for Nest Aware, which has special algorithms for distinguishing a pet from a human intruders
Read our full review of the recently announced Nest Cam outdoor for more details.
---
Indoor Security Products
Piper Home Monitoring System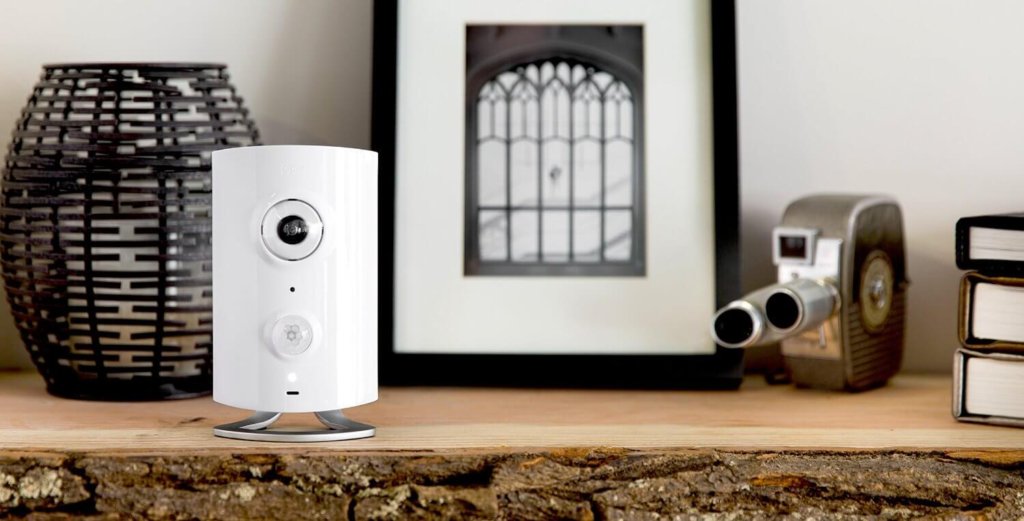 Best free cloud storage available: 1,000 clips for free
Works with Z-Wave, so you can integrate door sensors that set off Piper's 105-db siren when they are opened
Back up battery
No local storage, but it does let you download footage
For more information about Piper's free security and other features, read our Piper security review.
---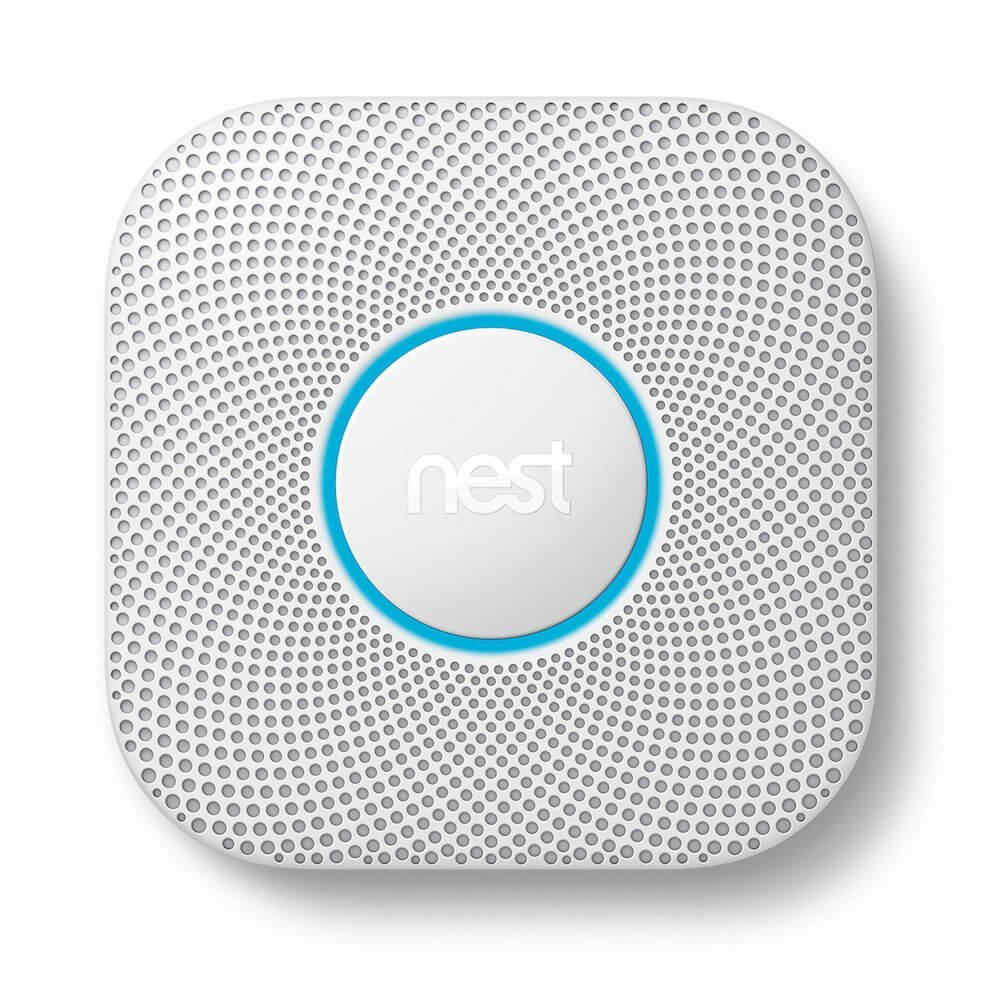 Great smart home integration with the Works with Nest system. For example, if your Nest Protect detects excessive smoke, you can program your Rachio sprinkler controller to douse your lawn, preventing any fires from spreading.
Cool feature called Pathlight turns on the light ring around Nest Protect when it senses you are nearby, helping you walk and see in the dark
Comes with batteries pre-installed, Nest will warn you in the app when they are starting to go out. Removes the need for the 3 a.m. chirp
Expensive compared to traditional smoke and CO monitors
---

Great hardware! Blends in beautifully, and the colored light shining under Canary helps you know if it's armed or disarmed.
Works with Apple Watch, has an iOS widget
Checks your home's air quality to monitor gas and air quality
Doesn't have some of the Z-Wave compatibility like Piper does
Limited free cloud storage: 12 hours of playback and only 3 downloads on the free plan
Our full Canary security review analyzes all of Canary's features and compares with a traditional security system.
---
What are some of your favorite DIY smart home security ideas and systems? Let me know in the comments!