Would you rather have more cash in your pocket or your house looking awesome? As a homeowner myself, I definitely understand the internal battle. I'm always wanting to make upgrades, but restraining myself so I don't clear out my bank account just to have a cool-looking house.
One of the biggest secrets to upgrading your home is focusing on the little things. Sure, granite countertops are nice, but stellar lighting can change the entire ambiance of a room. With that mindset, I gathered the best home tech updates under $20.
Tech Updates Under $20
Affiliate Disclosure: This page contains affiliate links, which earn us commission from Amazon at no cost to you.
Warning: you might not make it through this article without impulse buying one of these super cool items. But don't worry too much, because these all have near-perfect Amazon reviews and crazy low prices.
---
Zubu LED Motion-Sensing Night Light- $16.97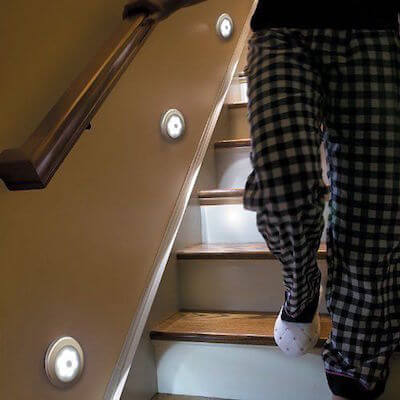 This is one of those simple things that directly solves a huge problem in my life. With a baby in the house, we can't turn on the lights when we head upstairs to go to bed. That usually means fumbling for an iPhone flashlight while tripping up the stairs half asleep.
Zubu's motion sensing LED lights solve that problem without requiring an electrician to come make holes in your wall. Simply use the super-strong 3M sticky pads to apply these lights to whatever hallway you find yourself stumbling through in the middle of the night. Some customers install these fancy lights on the ceiling so they are out of reach of curious/destructive infants.
---
Bamboo Charging Station – $16.99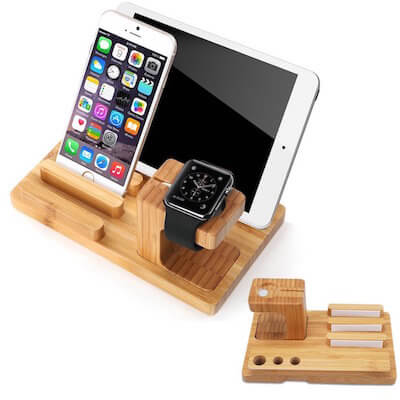 You've probably seen charging stations like this at Brookstone for like $60 and kept right on walking. But for $17 bucks, a nice bamboo charging station can organize that cluttered nightstand you've been saying that you are going to clean off for a few months now. These are also awesome for organizing your desk. This specific model comes with non-slip pads to hold your electronics and cords in place.
---
Housmile Intelligent Fingerprint Light – $19.99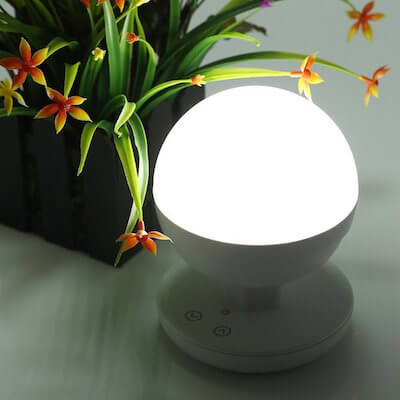 I've been told that I have "sensitive eyes." I don't. But I reeeeally don't appreciate looking at uncomfortably bright lights or fluorescent lighting. High maintenance, yes, but not sensitive.
If your eyeballs are a little sensitive like mine are, Housmile was made for you. LED and bright without hurting your eyes, you control this little light with your fingerprint. This is the perfect light for office ambience, or for your child's nightlight. It's complete with a USB charger and a nylon strap on the bottom for hanging wherever works best for your family.
---
TopGreener USB Charger Outlet – $18.99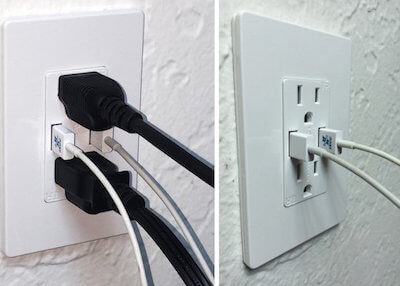 USB chargers should be standard in most outlets, especially in the kitchen and bedroom areas. This outlet is the #1 Best Seller in Standard Electrical Outlets on Amazon. It's easy to install and comes with comprehensive directions so you won't get too lost.
---
MOS Magnetic Cable Organizer – $17.95
If your office, family room, and bedroom are all overrun with wires and cables, then it's time to declutter. MOS Cable Organizer elegantly controls your cables with built-in magnets, and comes with magnetic cable ties in case the cords need a little extra stick. Whether you decide to use MOS's air stick base that won't slip on your table top, or you stick it to your wall so it's holding your cables vertically, your office space will feel organized and sleek.
---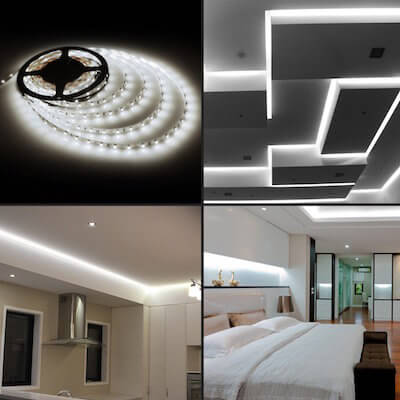 Our blog is all about smart home products, but we're also realistic. Not everything in your home needs to be smart, and sometimes you can't afford to spend $50 per lightbulb. While we will always proclaim our love for the Philips Hue lightstrip, these LED strip lights are a good solution if you're wanting DIY home automation without the high expense.
So, yes, these lights aren't "smart." But the way they work is pretty smart. They are self-adhesive and cuttable to whatever size you need. For an extra $5, you can add a wireless remote to your cart. So while you can't control the lights on vacation, you can turn them on and off without getting up from your comfy couch.
---
LED Color Changing Shower Head by Innoo Tech – $16.99
Hear me out on this one. You've definitely got that one boring guest bathroom. Or maybe it's the kids' shower. No matter which spot you're thinking of in your house right now, there's certainly a bathroom that could use a little more color and pizzazz.
Innoo Tech's shower head changes colors based on the water temperature to warn you if the water may be getting too hot, instead of letting it burn your skin. And no, it doesn't need any batteries or electricity (yikes).
---
AcuRite Indoor Humidity Monitor – $12.99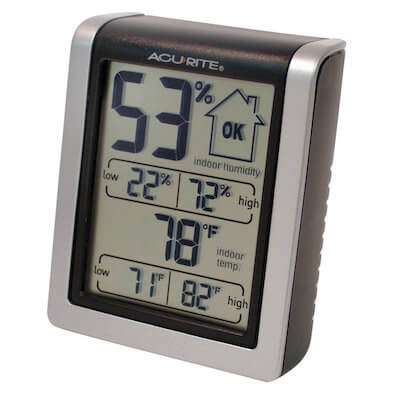 Indoor humidity might be one of those things you kind of forget about—that is, until you come down with a nasty cold a realize you're breathing stale, cold air. This #1 Best Seller in Weather Stations will help you monitor your home's indoor temperature and humidity. It's also a great solution for checking the temperature without having to hike up the stairs to see the thermostat.
It's got a magnetic backing for quickly slapping it on your fridge, and it has a quick "ok" sensor to tell you if the humidity is at comfortable conditions.
---
Solar Outdoor String Lights – $12.99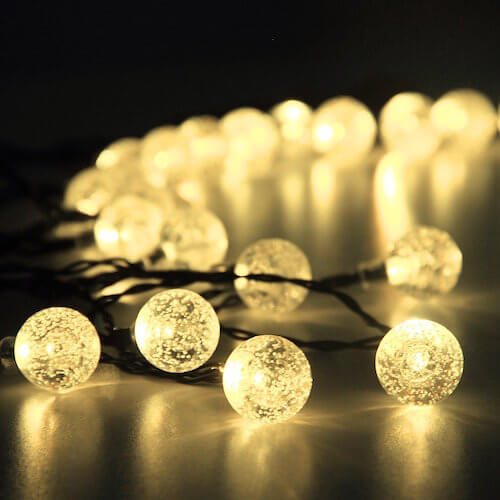 It was certainly difficult to pick the coolest outdoor string lights on Amazon. Whether you're looking for colorful, icicle, or Christmas lights, Amazon seriously has everything you need and more to make your porch awesome. Besides conserving energy as solar lights, these are also waterproof and have an adjustable panel for soaking up the sun in the summer and winter. With only 6-8 hours of charge, these lights will twinkle for 8-10 hours.
---
SoundBot Water Resistant Bluetooth Shower Speaker – $11.89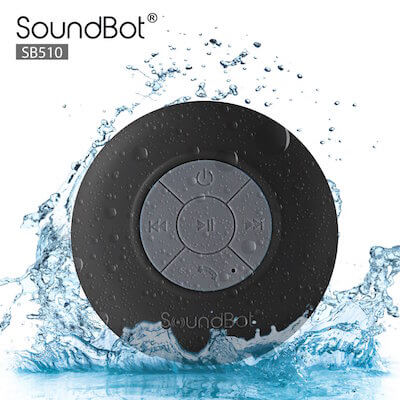 Admit it: you sing in the shower. If you don't, you really should because it's actually very entertaining. With this water-resistant speaker, Connect your favorite music-playing device via Bluetooth and you can sing karaoke in the shower, or leave it to the professionals as you listen to your tunes.
It even has a microphone for…answering the phone? I think I'll pass on that feature, thanks.
---
Kohree Battery Powered Remote Control Candles – $15.98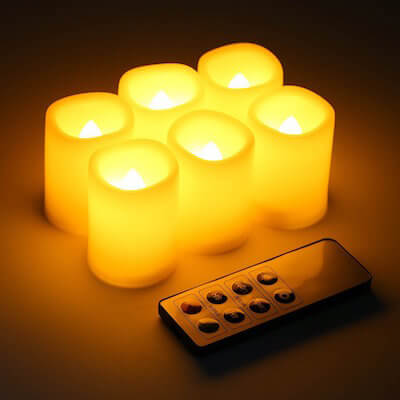 These are the #1 Best Seller in Pillar Candles for a reason; it's because actual candles can be kind of annoying. No more searching for matches or a lighter and worrying about safety hazards like starting a fire. Control these candles with a remote control to set a romantic tone instantly without the fuss and the mess.
---
Zhpuat Low Light Sensor Alarm Clock – $11.97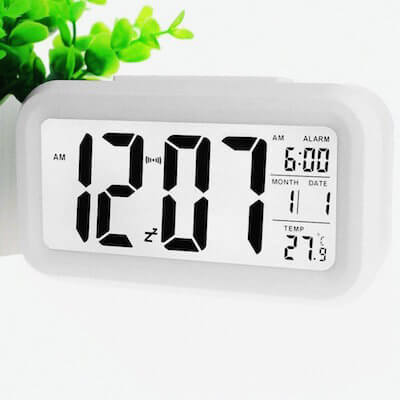 We all tossed our old alarm clocks the day we got smart phones, but Zhpuat makes an argument for bringing back a separate alarm clock, because it's one that actually makes sense. Instead of blaring loudly, it progressively gets louder to wake you gently. It also dims the backlight when it senses low light so you won't be kept awake by a bright alarm screen all night long. To see the time, you can simply press a button on the top to light the clock up again. Its sleek design looks good anywhere and is very easy to read.
---
IllumiBowl Toilet Night Light – $19.99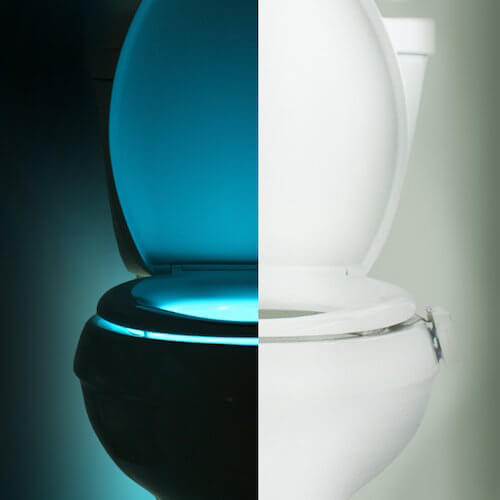 We certainly saved the best for last. The IllumiBowl not only has an awesome name, it also has an incredible look. You may initially scoff at this light, but think about its uses: potty training, middle of the night bathroom breaks, and adding to the all-around awesomeness of your bathroom. It also is very sanitary since it rests outside the toilet.
---
Please note that these prices are only up-to-date at the time of publication and might actually fluctuate. Follow the links to Amazon.com to see the most recent prices.