LIFX is changing the smart bulb game once again with two new products that bring style and security to a whole new level.
Today, they announced LIFX +, a new smart bulb that gives off infrared light to illuminate your home in the dark, making it easier to distinguish what's happening on your security cameras.
The company also announced LIFX Z, a colorful light strip that is very bright and can be controlled in different zones.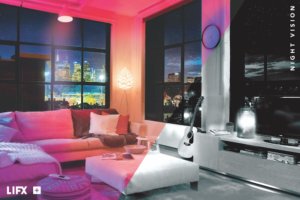 LIFX + with Infrared & LIFX Z Strips
Affiliate Disclosure: This page contains affiliate links, which earn us commission from Amazon at no cost to you.
LIFX Z Light Strips
LIFX Z is the company's first crack at light strips, and they look very promising. Strips are divided into 8 "zones" per meter (that's 3.28 feet). Each zone can be controlled separately, letting you have multiple colors across the LIFX Z strip. They are actually the first Wi-Fi light strips to have multiple colors per strip. Just like the other LIFX bulbs, these don't need a hub. The starter kit comes with the controller and 2 meters of strip.
Using the LIFX Z Extension (which adds 4 additional meters to the light strip), you can adjust the length to fit your space. LIFX Z can extend up to 10 meters (33 feet).

These specs are similar to the 2nd generation Hue Lightstrip Plus, but the biggest selling point of LIFX Z is its ridiculous color range of 16 million. It includes options for illuminating lighting the strips in any color of the rainbow, including warm and cool whites. LIFX Z dominates the Hue light strip with almost twice the brightness. LIFX Z is 700 lumens per meter up to 2800 lumens compared to Hue which only goes up to 1600 lumens. Of course, Hue also requires the gateway hub to even control it. Read our full comparison of LIFX Z vs Philips Hue Lighstrip Plus vs Osram Lightify (another competitor) for more details.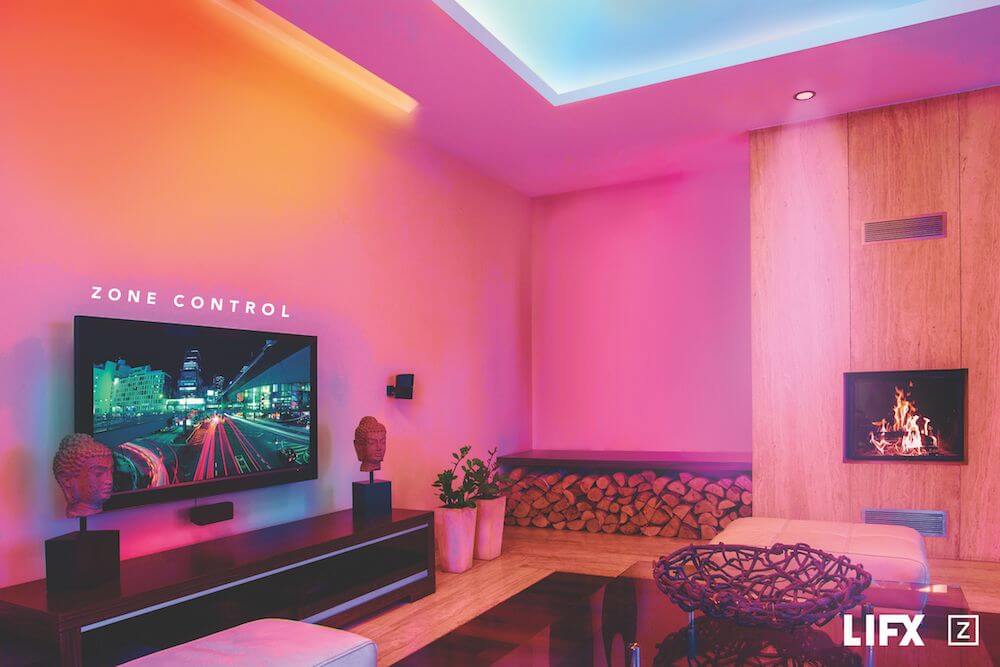 LIFX is known for brighter, more brilliant colors and they live up to that reputation with their new LIFX Z strip.
LIFX + with Infrared Night Vision
LIFX + with infrared is an innovative take on the classic smart light bulb because it's designed to work with another smart home product: security cameras.
Smart security cameras are great for securing your home, but many customers complain that they are useless at night. Even when they have night vision, it can only reach so far, limiting your field of view to whatever is immediently in front of the camera. The average range is usually around 20 to 30 feet and after that it's impossible to distinguish objects.
LIFX + solves that problem by providing infrared light. By strategically placing a LIFX + bulb in darker areas that are not illuminated in your camera's field of view, you can extend its night vision and protect your home better.
Here are some examples from LIFX comparing what a normal infrared night vision camera can see to a camera that has a LIFX + light installed down the hallway.
LIFX + with infrared comes in A19 for indoors and BR30 for outdoors. The BR30 is specifically certified for outdoor use and can make a huge difference in providing infrared light for your outdoor security cameras. Take a look at this example from LIFX.
The infrared (IR) given off from LIFX + is compatible with your current security cameras that use IR, so you don't have to use a specific type of camera or buy something special.
Besides the infrared upgrade, the LIFX + bulbs have the same specs as the original version.
Both products are available for pre-order and will ship sometime in November.
LIFX has been a game changer for a long time—that's why we ranked it #1 in our Recommended Gadgets section. With LIFX Z and LIFX +, the company makes it clear they will be brightening up the smart light market for years to come.