Light strips aren't a new thing, but light strips with multiple colors that you can paint with your smart phone? Now that's new. This LIFX Z review and unboxing will show you exactly how to set up and use LIFX Z.
LIFX Z colorful light strips add an entirely new dynamic to your home, but they are also super fun. Unlike any other light strip, LIFX Z strips are divided into 8 color zones. By changing the colors of each zone, you can illuminate your home with a rainbow of colors. We will show how to do this later in this LIFX Z review.
Wow! These @LIFX Z strips are super bright. First smart strips with color zones for several colors across one strip. #smarthome #IoT #tech pic.twitter.com/CAbqgoaIW6

— Smart Home Solver (@SmartHomeSolver) November 22, 2016
LIFX Z Review
Affiliate Disclosure: This page contains affiliate links, which earn us commission at no cost to you.
Disclaimer: The writers of this blog received a free sample of the product for review. They were not compensated in any other way. The opinions are 100% their own and not influenced.
Brightest light strips available
Different from other light strips like Philips Hue Lightstrip Plus, LIFX actually adds brightness to the strip as it is extended to prevent it from getting dimmer. LIFX Z emits 1,400 lumens per 2 meters. When you add the extension kit onto it, the strip adds 700 additional lumens, with a maximum brightness of 2,800 lumens.
Fairly simple setup
LIFX Z comes in awesome packaging: a circular container with the strips and plugs neatly stacked inside.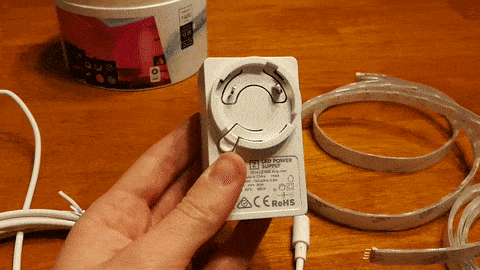 Simply screw the plug into the outlet, then attach the wire that goes from the outlet to the light strips.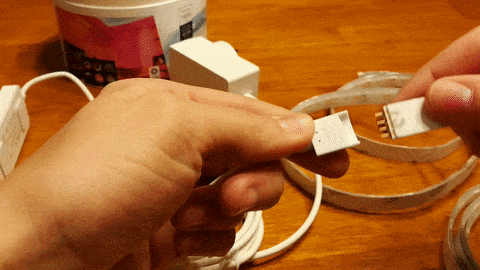 Connecting the cord to the light strip can be a bit tricky. Just make sure the 3M sticker faces the LIFX logo – if you try to connect them with the strip facing the other way, it won't work. During installation, the cord came unplugged a few times from the light strips. They definitely seemed a bit too easy to separate, but once the strips were in place it was no longer an issue.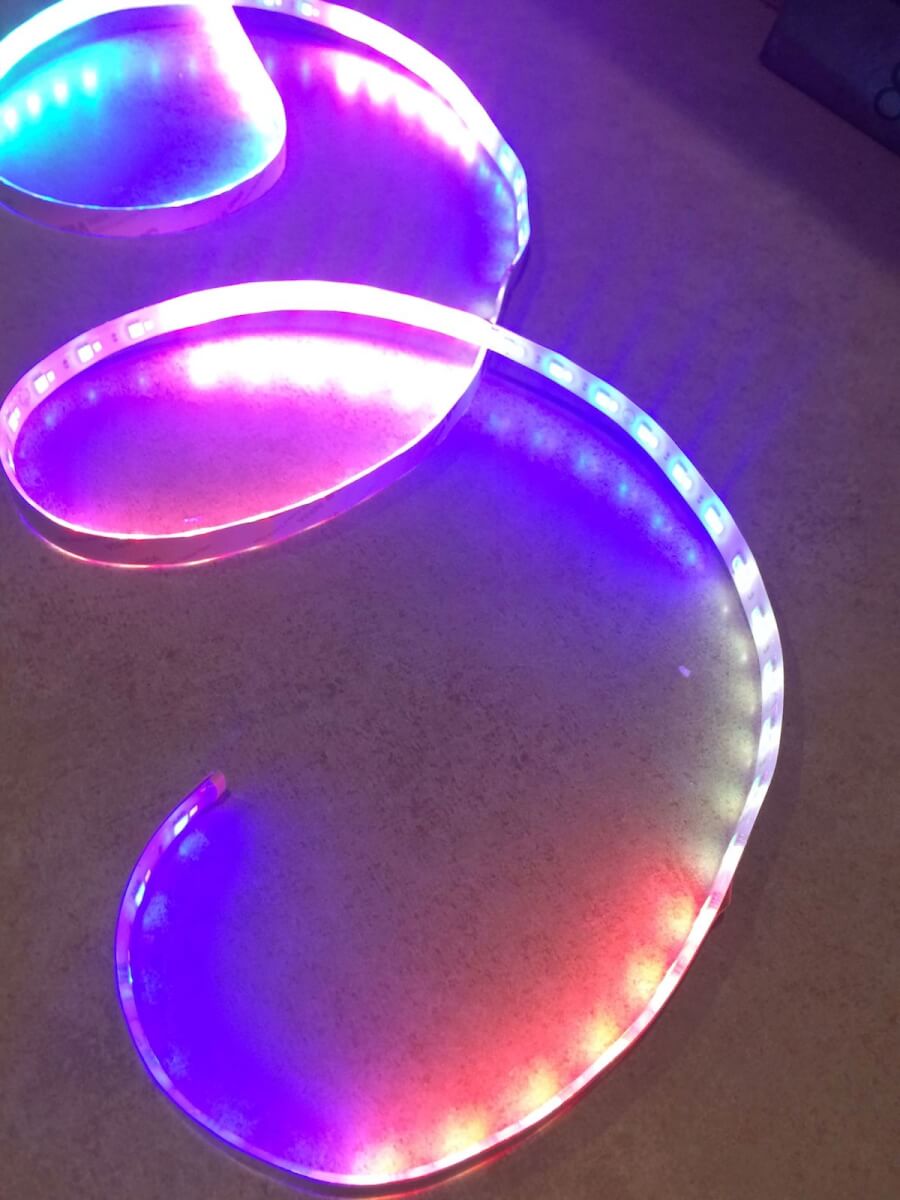 After connecting the wires, you are ready to plug it in, download the app, follow the instructions to connect LIFX Z to your WiFi, and of course play with the colors.
Once LIFX Z is connected to your app through your home network, it's time to pick the perfect spot for installation. Behind the TV, underneath counter tops, or in the eaves of your ceiling are a few good places to consider. For more ideas about bias lighting and backlighting, or to find a good place for your light strips, head to our smart light ideas article.
To install, just clean the area where you are installing it, peel off the 3M paper, and stick to the surface. Unlike Philips Hue or Lightify Osram, you cannot cut these strips (read our full comparison with those light strips for more details). They are bendable at a 90 degree angle, but be careful not to bend it directly on an LED light.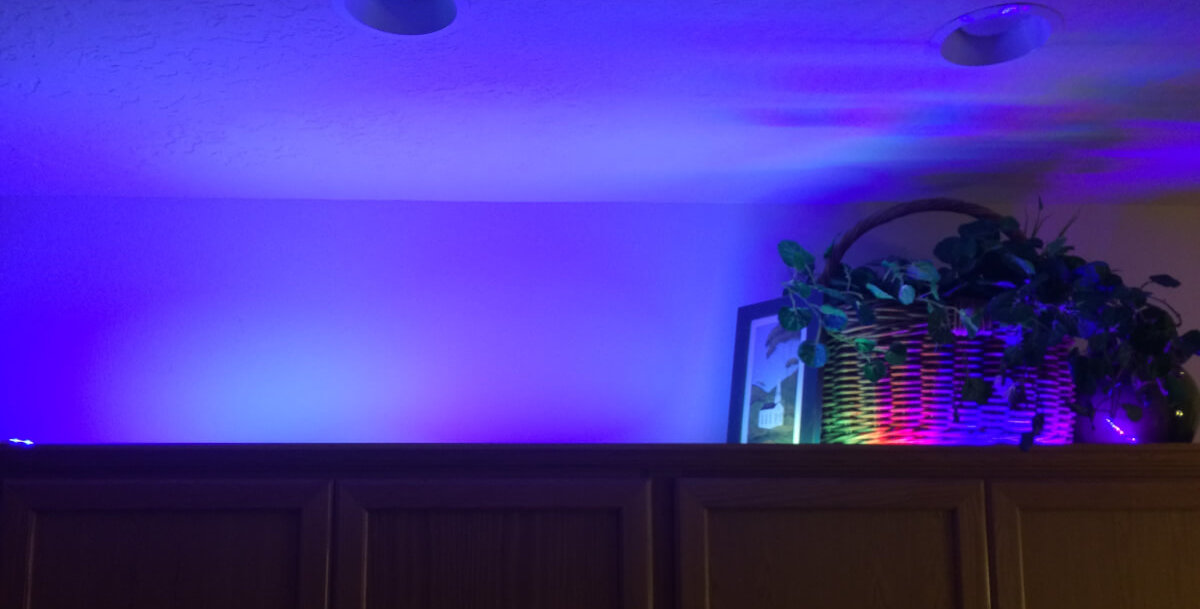 Notice how the basket has yellow, pink, blue, and purple light? It's best to install the strips close to a wall where the colors shine brightest. After we scooted the light strips back towards the wall, it made a big difference in showing off the strip's colors.
Paint different colors along your light strip
Once your light strips are set up and you are playing around in the LIFX app, you will want to head to Themes. This is where preset themes are available, along with my favorite feature I found during the LIFX Z review: the ability to paint colors directly on the strip. This video shows it best:
Ok this blew my mind. Just click and drag the colors you want to "paint" onto your light strip. So fun to play with! #smarthome #IoT #tech pic.twitter.com/x2yxUTLg44

— Smart Home Solver (@SmartHomeSolver) November 22, 2016
By simply clicking and dragging different colors across the strip, you can personalize the lights however you want. I see this useful for cheering on your favorite team on game day, celebrating holidays, or customizing your lights, but let's be real here: at the end of the day, this is super entertaining. After testing the feature for this LIFX Z review, I found myself still playing with different color combinations along the light strip just because I could.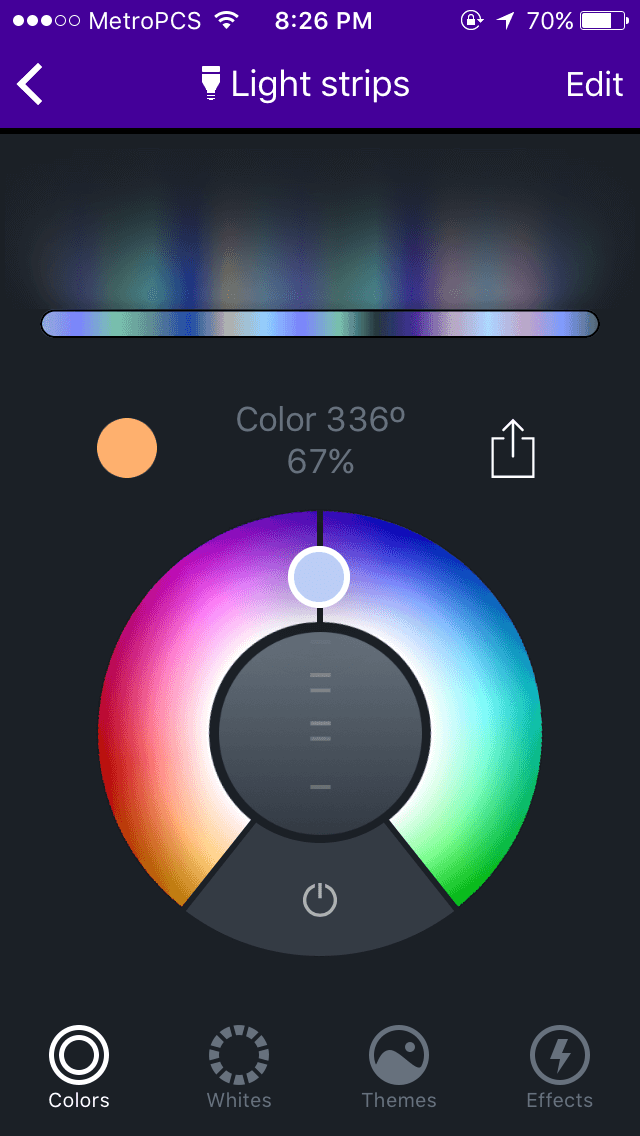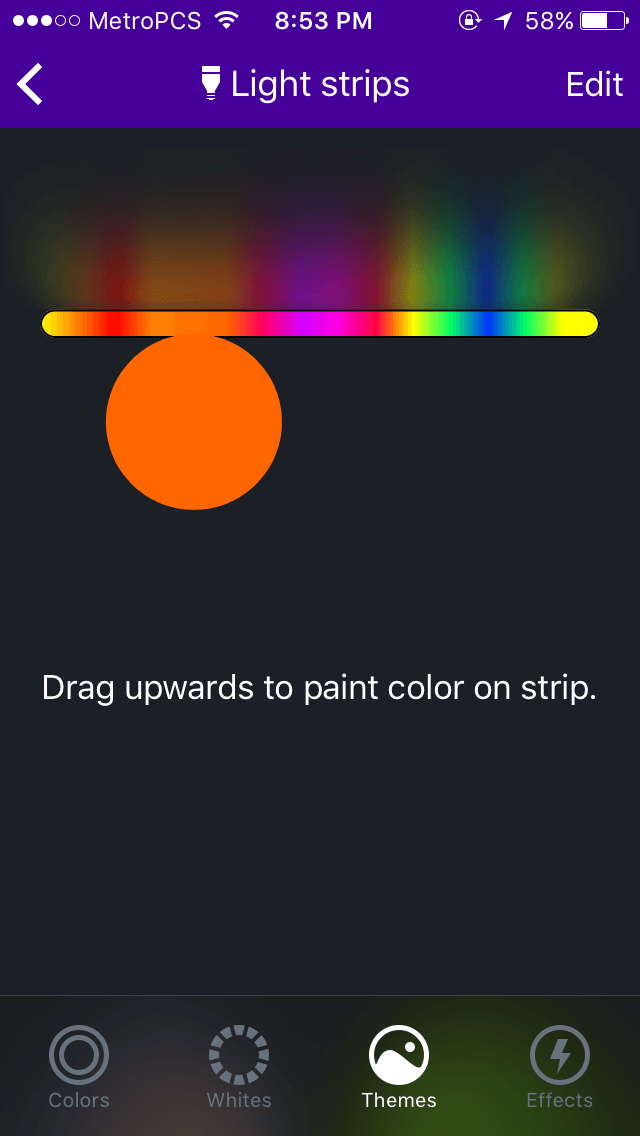 Use preset themes to set the mood
If painting isn't your forte, there are plenty of the same preset themes available to the LIFX bulbs. As you select different themes, it illuminates the light strip chronologically; instead of just light up all at once, the LEDs change colors one at a time going down the strip. It looks fun and playful or also very elegant, depending on the color scheme you select.
Similar to the original LIFX, these strips have preset themes for setting the mood- tranquil, intense, etc #smarthome #IoT #tech pic.twitter.com/HtQDb1JvBr

— Smart Home Solver (@SmartHomeSolver) November 22, 2016
In addition to preset themes, the same LIFX effects apply to the light strips, including strobe, color cycle, candle flicker, music visualizer, and others.
White lights work similar to the bulbs
Similar to the LIFX bulbs, you can change the light strip to different shades of white from 8000K (blue overcast), to as low as 2500K (ultra warm). You can't have multiple shades of white along the light strip, but I am not really sure why you want that feature anyways. The different shades of white can be energizing or relaxing, and you can choose the best shade depending on your room or the time of day.
The LIFX range of white colors is the biggest among smart lights – that means more color options for setting the perfect white lights in your home.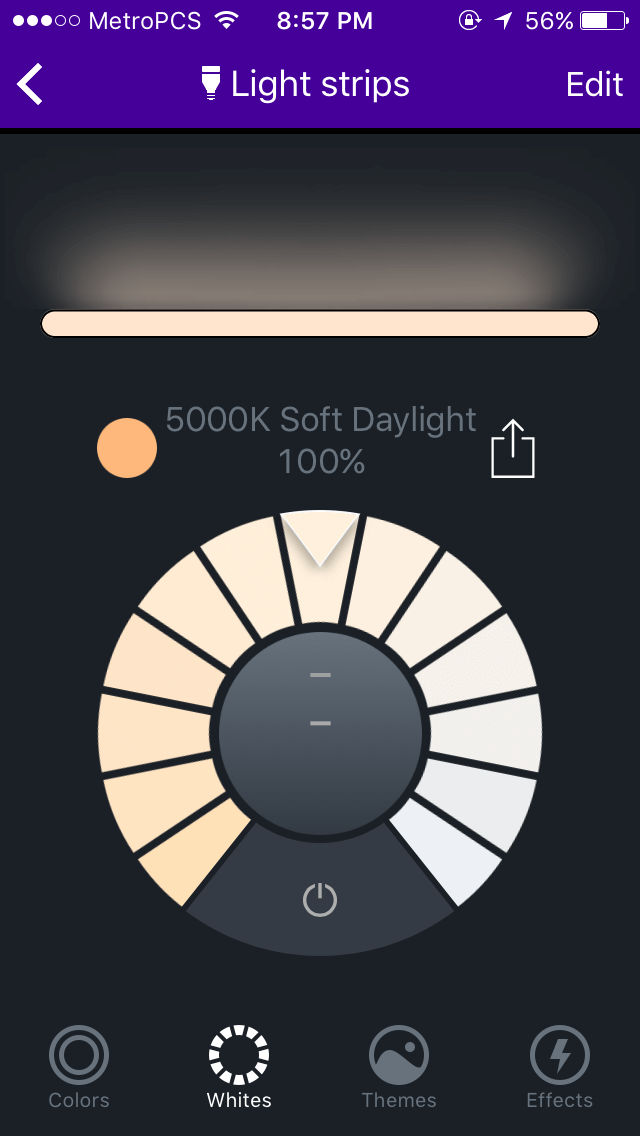 Software and smart home features
The LIFX app is very intuitive and easy to use. Its connection is mostly reliable (although it depends on your Internet connection, the size of your home, and how far your bulbs are from the router). Of course, it works in the same app as the LIFX bulbs, so if you decide to outfit your lights with other LIFX lights, you can control all of the lights with the same app. Set schedules or make groups to control all of your lights in the room in one tap.
Just like the LIFX bulbs, these smart strips are very compatible with smart home gadgets, including:
Amazon Alexa through Amazon Echo or Dot: After connecting and naming your devices, just say "Alexa, turn on the family room lamp."
IFTTT: Short for If This Then That, IFTTT lets you make specific rules using applets. Have your lights change colors if your favorite sports team scores or if it's raining outside, for example. IFTTT applets also add functionality for other smart home devices.
Samsung SmartThings: SmartThings is an all-inclusive smart home system, with sensors, locks, and other devices. Connecting your LIFX bulb into this system adds even more customization.
Nest smart thermostat and Nest Protect: If you set your home in vacation mode, you can turn down your thermostat and make sure your lights are off while you are gone. Nest Protect can turn your lights red if there is a hazardous gas in the air.
Google assistant app: Great for controlling your lights using your voice on-the-go.
Logitech Harmony remote: control and automate your entire home using the smart remote.
Scout alarm: integrate your Scout alarm with LIFX. If the alarm goes off to notify you of intruders, you can flash your lights red.
Flic: set rules for Flic buttons. For example, one press turns on your lights, while two presses will turn on your lights and your music.
Pricing – how does it compare?
LIFX Z starter kit retails for $89.99, the same price as competitor Philips Hue Lightstrip Plus (note that Hue requires an additional hub as well). For that price, you get 78″ total in the starter pack (again, this is the same amount as Philips Hue).
To extend your strip, $120 for the LIFX Z extension kit will get you 4, 1-meter strips, or just over 157 inches total of extra strip.
---
Verdict
Overall, we were very impressed with the LIFX Z light strip for testing it for this LIFX Z review. It combines the extremely easy-to-use app and bright colors of the LIFX bulb with unique features that no other light strip offers: color zones, painting on multiple colors, and adding more lumens when extended.
Set up is fairly easy, as long as you are careful plugging the strip into the power and holding it in place while it's installed. While the price tag is steep compared to "dumb" light strips, the expanded features make this an easy choice if you want to take the leap into smart lights.
LIFX Z is the best smart light strips available. Unless you already committed to Philips Hue, we recommend LIFX Z for making your home brighter and more colorful. Let us know if we missed anything in this LIFX Z review or you want us to test out anything else.