Google's Nest just announced a new camera: the Nest Cam Outdoor.
While the Nest brand might be mostly recognized for its thermostats, its cameras (under both the brands Nest Cam and Dropcam, because apparently Google loves buying other companies and confusing all of us) are best-sellers on Amazon. The only thing missing was an outdoor version, until today.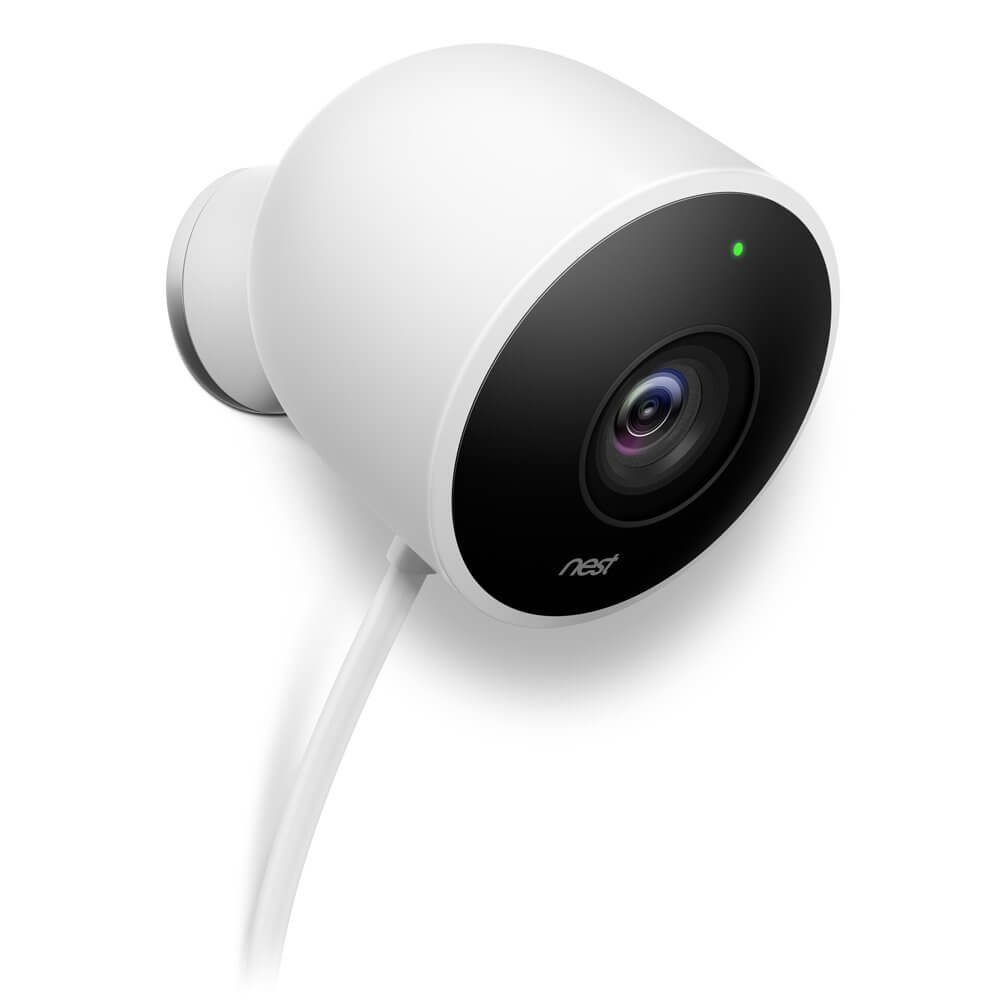 And the Nest Cam Outdoor certainly doesn't disappoint. It's got the slick features of the indoor Nest Cams, with some carefully added modifications for the outdoors. Let's take a look at what sets Nest Cam Outdoor apart from other outdoor cameras.
Nest Cam Outdoor
Affiliate Disclosure: This page contains affiliate links, which earn us commission from Amazon at no cost to you.
For many Nest Cam owners, today's news came with cheers and fist bumps. Nest product manager Mehul Nariyawala recently told Wired that 30% of existing Nest cam owners point their cameras outdoors and hope for the best. An outdoor camera has been the top-requested feature since the first Dropcam initially launched. In short: there's no doubting that Nest Cam Outdoor is going to sell well.
There are a few key things that make Nest Cam Outdoor different from both other outdoor cameras and the indoor Nest Cams.
Different from outdoor cameras because…
It doesn't work on batteries. One big competitor camera is the Arlo camera by Netgear. It doesn't have any wires whatsoever, making it insanely easy to install while also having a very clean look. However, since it depends on batteries, some (i.e. Nest) would argue that it's less secure. Battery-powered cameras are off until they detect motion. Nest Cam Outdoor claims to be always on 24/7 – although if your power goes out, then you might be in trouble.
Plug and play. This is the first outdoor camera that you don't have to drill holes into your wall to plug in, or depend on batteries. Just plug into your typical outlet and you're done. Of course, this unfortunately makes it easier for a burglar to steal.
Offers continuous recording. This is a nice feature since other cameras can have issues with lagging between the moment motion is detected and the start of the recording.
Two-way talk available. Get alerted when motion is detected, then shout at the person through your phone. If you think this won't stop a burglar, you'll have to check out some of the videos of it doing just that on Nest's website.
It has 1080p display. Arlo's quality is just 720. If you're thinking that 1080 is unnecessary, remember that you'll probably need every pixel available when identifying someone who broke into your home.
It doesn't require a hub. This is one my favorite things about the Nest brand. Multiple devices work together, without locking you into a hub.
Detects people. It's annoying to get notified because your neighbor's dog ran onto your porch. Nest's new algorithms can tell a human apart from a tree branch blowing in the wind. The catch: you have to be a member of Nest's cloud service, Nest Aware, which starts at $10 per month.
Different from indoor Nest cameras because…
It's weatherproofed for outdoors. The camera is specially designed for weatherproofing, with a speaker on the bottom so it doesn't soak up water from the top. The cable and adapter are also weatherproofed.
It's white. This prevents overheating. But the specs online say it can only handle 104 degrees, which would mean I definitely couldn't recommend this to my Arizona in-laws.
Its antennas are rearranged.  Wired reports that since the camera is farther from your router, the Nest team strategically rearranged the antennas inside this camera to make its signal stronger.
Nest Cam Outdoor is currently available for pre-order and will be shipping this fall. To see the full specs, visit the Amazon listing or Nest's website.
Summary
Reviewer
Review Date
Reviewed Item
Author Rating