Modernize your home. Protect your family. Reduce your energy bills. These are just a few of the benefits of making your home smart.
Why else should you want a smart home?
Save money. Smart sprinkler controllers and thermostats help you save money on your monthly bills.
Protect your family with security cameras that have motion or audio alerts, without monthly fees.
Increase your home's value. Studies show Millenials are willing to pay for homes with smart home tech.
Automate everything. Have the lights and thermostat turn on when you walk in the door.
Cut monthly fees. If you're paying for an expensive security system, smart security cameras and sensors can help you cut back, with low or even no monthly fees.
But while many people are excited about smart home technology, most of us are left scratching our heads, wondering where to begin. While there are plenty of smart home blogs out there, Smart Home Solver offers actual solutions to help you understand smart homes and narrow down your search.
Getting started
If you're new to smart home tech, you probably know that the smart home can be a confusing mess. While there are plenty of "smart" gadgets out there, right now there isn't a very smart system for connecting all of them.
If you're a smart home newbie, we recommend looking over our Smart Home for Beginners reference guide, which walks you through the lingo, in addition to a few first gadgets that are great for starting out. We also recommend using the Compare dropdown at the top of the site and looking through a few comparison tables to find gadgets that fit your preferences.
Smart home compatibility
Smart home tech is ultra convenient...when you set it up right. Unfortunately, different options for smart home systems make the research process more than a little confusing. Figuring out which devices work together is especially annoying.
We realized this when researching our own smart home. Needing a simple tool that sorts through the data for you, we created the Smart Home Solver. It's completely free and doesn't require your email.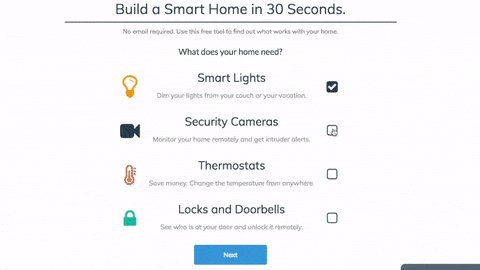 Just put in your preferences and any devices you currently own, and you can instantly see which smart home devices are compatible. So if you own Alexa and want to purchase compatible smart lights, we'll guide you through your options.
Comparing technology
One of the best ways to choose smart home technology is by comparing devices head-to-head. From LIFX vs Hue to Arlo vs Nest, we have dozens of in-depth comparisons. We've put in hours comparing the best smart home technology, so you don't have to. The good news? Our comparisons won't take you 3 hours to read, so while they are in-depth, they also cut to the chase.
Our comprehensive smart home comparison guides include only the highest rated products on Amazon, so you don't have to waste time with smart home tech that's just riding the wave. If you're worried about staying within a budget, the comparisons show live prices from Amazon to help you find the best deals.
Here to help
Smart home tech may seem frustrating, but at Smart Home Solver we are dedicated to making it simple. Reach out to us with any questions. We lover answering reader questions so that we can grow together and continue learning more about smart home gadgets. Beyond our smart home blog, we have thousands of Twitter followers and are always down for talking tech. If you love videos, check out our YouTube channel for our video reviews.
Thanks for reading our blog, and best of luck as you look to smarten up your home.