Best Wireless Security Camera 2017
Updated: February 20, 2017
Affiliate Disclosure: This page contains affiliate links, which earn us commission from Amazon at no cost to you.
Spy on your pets. Look out for intruders. Yell at the kids. Security cameras have plenty of purposes, but which one is worth the money? Our Best Wireless Security Camera 2017 comparison will help you decide.
These security cameras are completely wireless. While they might plug into the wall, they don't require any hardwires for home monitoring—they connect wireless to your WiFi. This makes DIY set up a breeze. Just plug it in, download the app, and follow the steps to connect it to your WiFi network.
Sorting through wireless security cameras is usually a huge mess that takes hours, but buying an unknown camera is risky.
If you've heard about wireless security cameras on the news, it was probably a terrifying story about how they can be easily hacked. It's certainly no secret that these cameras are susceptible to their own security vulnerabilities, which is horrifying for parents, homeowners, and just about everyone. But strong camera brands have never been hacked due to their strong protection. Buying devices with superior security is essential, which is why we included rankings for each camera's security below.
You will also want to keep an eye out for which cameras charge monthly fees for cloud storage. When you are setting up your own DIY system, there is no reason why you should have to pay fees for storage. Plenty of cameras offer local SD storage or generous free cloud storage.
Looking for outdoor cameras? Head to our outdoor comparison.
As you'll notice below, some of these cameras are simple, while others come with advanced features you wouldn't expect, like sirens and air quality monitoring.
Wireless security cameras start around $40 for the basic wireless cameras—although even those come with motion detection alerts and night vision. If you're willing to spend a little more, you can get advanced home monitoring cameras with sirens, weather updates, and plenty of other enticing features. Read our best wireless security camera 2017 comparison below for more details.
Jump to:
Best Wireless Security Camera 2017: Best High End Cameras
Disclosure: All reviews and prices on this page are from Amazon.com. We use the Amazon API to display prices and reviews.
Price
Compatibility
Quality
Storage
Security
Pros
Cons
Reviews

Piper nv
New: n/a Used: n/a
Alexa
(via IFTTT)
IFTTT
Z-Wave
1080p
Free cloud storage (100 clips, 35 secs each)
9/10

105-db siren
No fees
Motion activated recording
Connect door sensors via Z-Wave.
Auto-rearms

No SD card options
Software connection issues, requiring manual resets


Canary
New: $149.00 Used: n/a
Alexa
(via Wink)
HomeKit
Wink
1080p
Free cloud storage (24 hours of shared history)

Paid plan available
9/10

Motion activated recording
Siren 90+dB
Monitors air quality, temperature and humidity


Arlo Q
New: Too low to display Used: $120.00
Alexa
IFTTT
Nest
SmartThings
1080p
Free cloud storage (7 days of history)
8/10

Motion activated recording
24/7 continuous recording
Two-way talk
130° view
Activity zones and night vision


Arlo Wire Free
New: $69.95 Used: n/a
Alexa
IFTTT
Nest
SmartThings
720p
Free cloud storage (7 days of history)
8/10

Weatherproof
Motion activated recording
Uses batteries, great for outdoors
View 4 streams simultaneously

No sound, only video
Batteries have to be replaced/recharged about once a month


Netatmo Welcome
New: $159.99 Used: $128.50
None yet
1080p
Included microSD

Dropbox cloud

FTP compatible
Unknown security

130° field of view
Facial recognition for loved ones and strangers
Motion recording
Alarm detection notification

Facial recognition has poor reviews
No IFTTT or smart home compatibility


Logi Circle
New: $88.00 Used: $82.99
None yet
1080p
Only cloud storage

24 hours free; paid plans available
8/10

Watch a daily 30 second timelapse
Portable and rechargable. Can be unplugged up to 12 hours

No motion sensitivity settings
No panning
No SD card option


Dropcam Pro
New: $65.99 Used: $49.99
Nest
SmartThings
Wink
720p
Only cloud storage

10 day history - $100 a year
9/10

Two way sound
Motion alerts, text and email
Video safe in the cloud

Have to pay for watching history
No pan and tilt
Our Pick: Arlo Q
It's a close call between these security cameras since they all have their own strong features. If we had to pick a favorite wireless security camera, it's the Arlo Q. It has generous free cloud storage and records continuously 24/7 so you don't miss anything. Its compatability with Alexa and IFTTT make it great for smart home automation. Since it works with SmartThings hub, you can connect it to many more devices, including door and window sensors. The Arlo app and cameras are reliable enough to justify the high cost.
A few runner-up options include the Netatmo Welcome if you want flexible storage, and Canary if you want a camera with a siren and air quality monitor.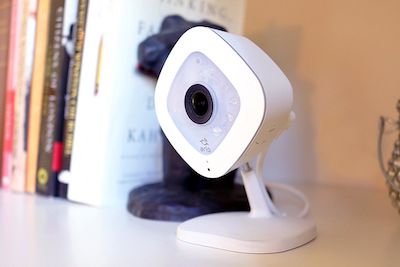 ---
Best Wireless Security Camera 2017: Best Budget Cameras
Price
Compatibility
Quality
Storage
Security
Pros
Cons
Reviews

Amcrest ProHD
New: n/a Used: n/a
None yet
1080p
Internal micro-SD card

4 hours free cloud storage
8/10

Motion activated recording
Pan and tilt
Two way sound
Email alerts

Some users have issues setting it up
No support for Google Chrome


Vimtag 361
New: n/a Used: n/a
None yet
720p
Internal mini-SD card

No cloud
7/10

Pan and tilt
Two way sound
Motion alerts

No text or email alerts
SD card is less secure than cloud if stolen


Zmodo Pivot
New: $66.00 Used: $56.98
None yet
1080p
16 GB built-in storage
8/10

360° rotation
Motion alerts
2 window sensors included
Reads temp & humidity
Bluetooth speaker

No siren
Slight delay for recording on motion
No tilt


Blink 3-pack
New: $229.99 Used: n/a
Alexa
IFTTT
720p
Free cloud storage up to 2 hours
6/10

Completely wireless via 2 AA batteries (included)
Motion recording
Low-light illumination

Batteries need replacing
Only records for 10 second intervals


Foscam FI9831P
New: $42.99 Used: $32.10
None yet
1280x960 (slightly better than 720p)
Internal mini-SD card

No cloud
Unknown security

Pan and tilt
Two way sound
Motion alerts

No optical zoom
SD card is less secure than cloud if stolen


D-Link DCS-932L
New: $89.99 Used: $58.98
None yet
480p
No storage
Unknown security

No pan and tilt
No way of recording
One way sound (listen)
Our Pick: Amcrest ProHD
If we had to pick a favorite inexpensive security camera out of our Best Wireless Security Camera 2017 comparison, it would probably be the Amcrest. It has the features you need: a reasonable pricetag, HD quality, zoom/pan, video recording on an SD card, free cloud storage, and exceptional Amazon reviews to top it all off. The other cameras listed above are also excellent, depending on your budget and desired features. Read our full Amcrest ProHD review to see more details about this wireless security camera.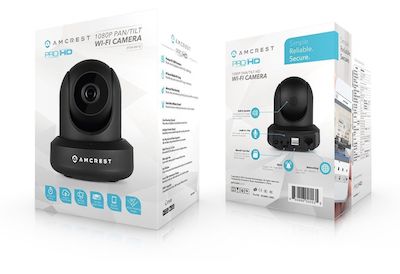 ---
Common Questions
Is cloud storage or local SD card storage better?
It all depends on your preferences. If someone breaks into your home and takes the security camera, they will take the SD card with it, leaving you without the incriminating footage to turn over to the police. Storing videos in the cloud solves this issue since the videos are separate from the hardware.
But cloud storage has its own drawbacks. Many times, it isn't free, or only limited storage is included for free. Even if cloud storage is free, manufacturers can always change their mind and begin charging a monthly fee, with customers feeling trapped since they already bought the camera. Or if the company goes out of business, your camera might not save videos at all without the company servers.
The ideal option is a mix of both. Arlo (with the new base station), Netatmo, and Amcrest all offer both options. Although if you prefer only cloud or SD card storage and your perfect camera offers it, it might not make a difference in the end.
How did you determine security rankings?
In our Best Wireless Security Camera 2017 comparison, we didn't give any cameras listed above a perfect score on security. Technically, nothing is completely unhackable, and we don't want to give you the idea that some cameras are entirely safe. The security of any camera depends heavily on your personal network and passwords; if someone can hack your router, then they have potential to access everything connected to it.
Cameras with our highest rating (9/10) have ongoing third-party audits to ensure security, in addition to AES encryption and other security measures. We rated security cameras an 8/10 if they had AES encryption and other security measures, but didn't mention auditing.
Cameras ranked 7 and below have some level of security, but not AES encryption. Lower ratings do not necessarily mean they are less secure, it just means that the manufacturer makes it more difficult to find details about the security. Those marked "unknown security" made it too difficult to find their security information online, so proceed at your own risk. Companies that don't prioritize security are more likely to have vulnerabilities.
While nothing is hack-proof (including your phone, printer, DVR, and laptop), many of the cameras above offer excellent security and have never had security compromises due to unsecured software. Follow our links above to the Amazon pages for each site to see how other users rate the product's security. We also linked to security details on each manufacturer's website for more detailed information.