If you are looking for all the technical comparisons between Orbi vs Eero vs Google WiFi in an easy to read format, you've come to the right place!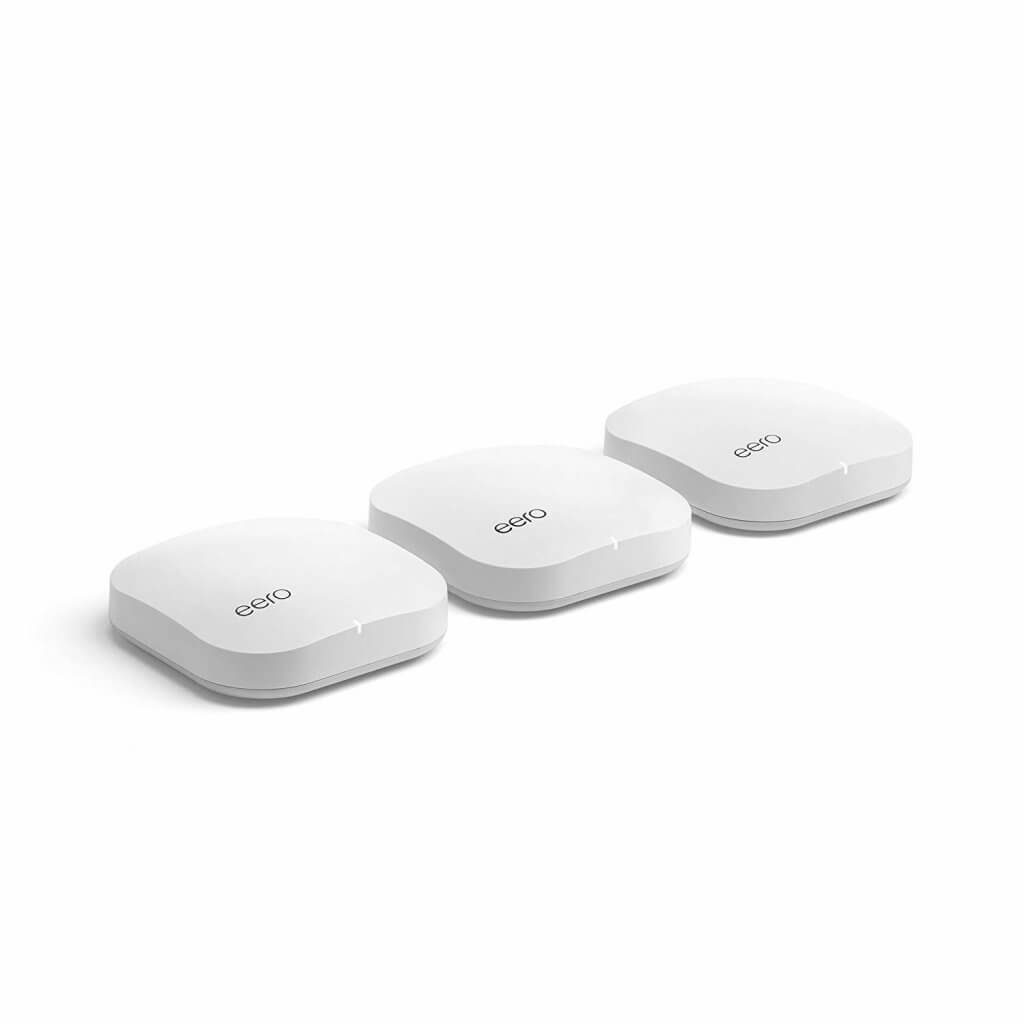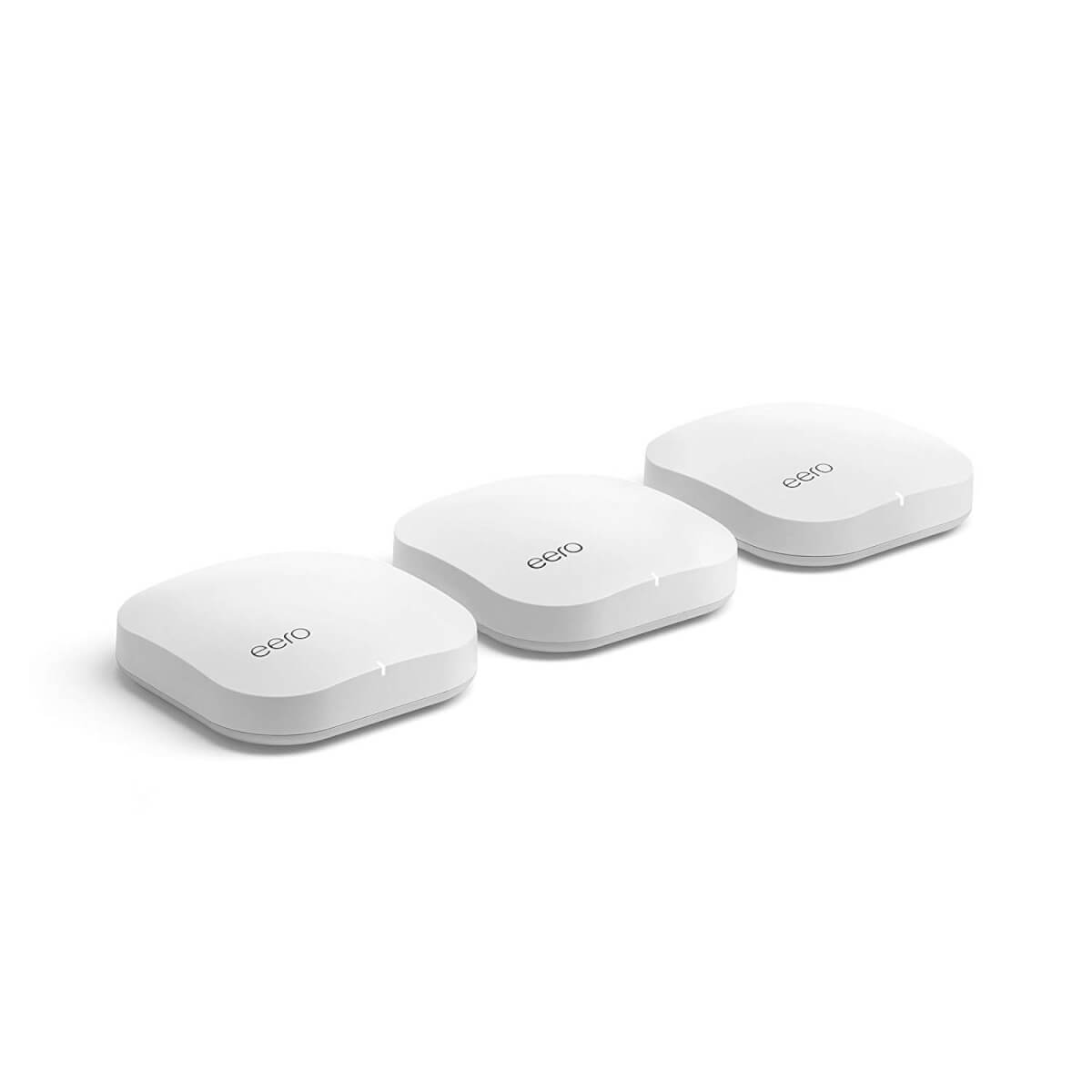 Mesh routers can eliminate dead zones in your home internet, but finding the differences between your options is messy and confusing.
This article is going to make it easy to see which router is right for you.
We'll look at some of the best mesh routers available and pick a winner for each category. If you prefer to jump around, then make sure you expand the table of contents.
Comparison: Orbi vs Eero vs Google WiFi
Affiliate Disclosure: This page has affiliate links, which earn us commission at no cost to you.
Before we dive in, let's clarify a few things.
There are different models for each of these mesh router brands. For this comparison, we'll be looking at Orbi Ultra Performance (RBK50), Eero Pro system, and Google WiFi 3 pack.
I've compiled the most important factors for each of these mesh routers in this table. If some of the information in this table doesn't make sense, then keep reading as I will explain everything throughout the article.
| | Orbi Ultra Performance RBK50 | Eero Pro WiFi system | Google WiFi 3 pack |
| --- | --- | --- | --- |
| | | | |
| Price | See current price on Amazon | See current price on Amazon | See current price on Amazon |
| Best for... | The most features and advanced settings. | The fastest speeds and easiest to use. | The best affordability and simple set up. |
| Square feet per device | 2,500 | 1,500 | 1,500 |
| Outdoor satellite | Yes (link) | No | No |
| Ethernet ports | 4 | 2 | 2 |
| MU-MIMO | Yes | Yes | No |
| Subscription for additional security or parental controls | Yes. 2 separate subscriptions: Circle and Netgear Armor. | Yes. 1 subscription: Eero Secure or Secure+. | No subscriptions. |
| Size | Large, tall towers | Small and flat | Medium |
| Backhaul | Wired backhaul available on all Orbi satellites. Dedicated 5GhZ backhaul stream. | Beacons cannot be hardwired. Eeros and Eero Pro have ethernet backhaul. | Wired backhaul avilable on all WiFi points. |
| Ports | 4 Ethernet ports. Router: 1 WAN and 3 LAN. Satellite: 4 LAN. | 2 Ethernet ports. WAN/LAN. | 2 Ethernet ports. WAN/LAN on primary WiFi point, then only LAN on additional WiFi points. |
| Bandwidth monitoring | Can't see bandwidth use of individual devices | Can see bandwidth use of individual devices | Can see bandwidth use of individual devices |
| Tri- or Dual-band | Tri-band, but the second 5GHz signal is dedicated for backhaul | Tri-band | Dual-band |
| Control with Alexa | Yes | Yes | No |
| Control with Google Assistant | Yes | No | No |
| Integrates with Thread | No | Yes | No |
| IFTTT compatible | No | No | Yes |
Click Next to compare more!
As you can see in the comparison table above, there are quite a few similarities as well as differences when you compare Orbi, Eero, and Google WiFi.
How does a mesh system work?
Mesh networks are designed to replace your router.
They are made up of a router and nodes, which are all part of one wireless network with the same login. The nodes help devices communicate with your router in a more efficient way.
This is how mesh systems differ from range extenders, which require you to login to different networks and switch between them.
If you really want to keep your current router then you can use these devices in bridge mode. This may limit some of the features of these mesh networks.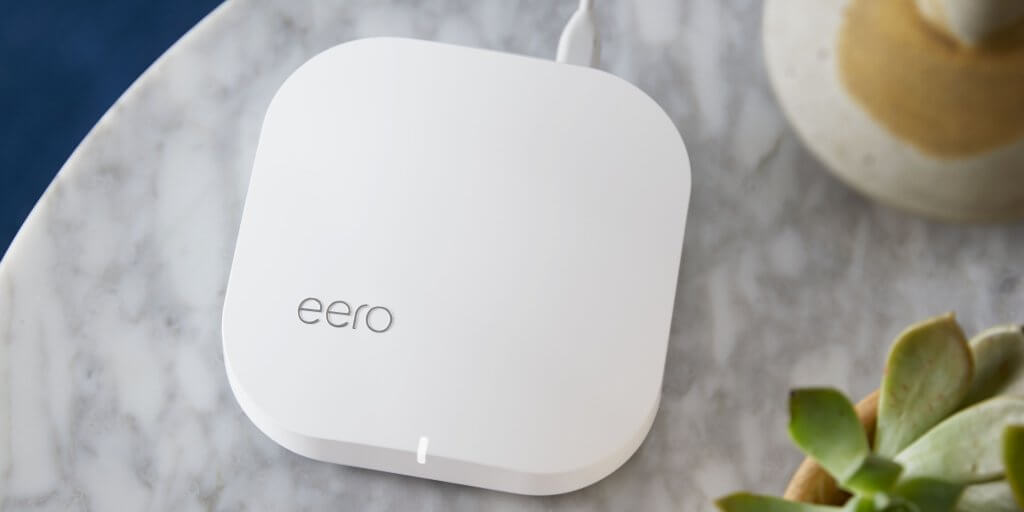 After installing the router, you place the nodes (also called beacons, satellites, or WiFi points) throughout your home to strengthen the signal and eliminate dead zones.
Where you install nodes impacts how effective they are, but we'll get into that in a second.
For now, let's take a look at the differences between each system.
---
Hardware & Specs
All of these systems have 512MB of memory and 4GB of storage, with quad-core 710MHz processors (except for Eero which is 700MHz). Each of these support IEEE 802.11a/b/g/n/ac. A few of these also have MU-MIMO.
What's MU-MIMO?
Orbi and Eero both transmit data using MU-MIMO (multiple user, multiple input, multiple output). This allows your router to communicate with all devices at the same time, solving the issue of one device hogging all of the bandwidth.
In other words, you can game or stream Netflix without the router jumping back and forth communicating to devices individually.
Now let's look at the differences in hardware for each mesh system.
Orbi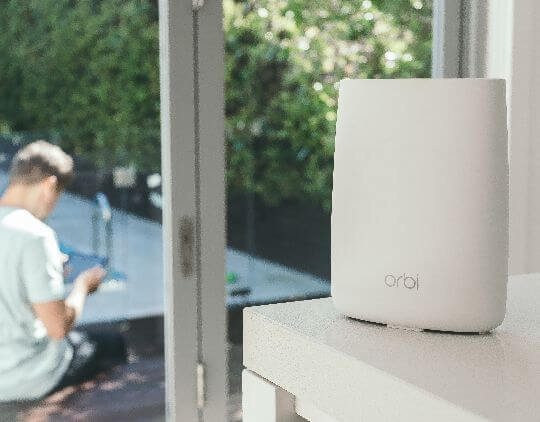 About: Owned by Netgear (known for their impressive Nighthawk routers), Orbi is an advanced mesh router system that has the most advanced features when compared with Eero and Google WiFi.
Hardware: Orbi replaces your current router and can boost your speed and internet coverage. Satellites, or nodes, extend coverage further. You can purchase these separately, or buy a router bundled with 2-3 satellites.
More square feet coverage: 5,000 square feet for Orbi Pro router + 1 satellite node (this is what's included with the RBK50 bundle). Each additional satellite covers 2,500 more square feet.
3 maximum nodes: Orbi supports up to 3 nodes and 1 main router for 10,000 square feet of coverage. However, there are whispers on the internet of getting 4 or more nodes working with it.
Highest speed capacity: The maximum data transfer speeds for Orbi are: 867 Mbps for the first 5GHz radio, 1,733 Mbps for the 2.4 GHz radio, and 400 Mbps for the second 5GHz radio.
Bulky design: Orbi is larger and designed like a tower to stand next to your router or on shelves throughout your home. It definitely takes up the most space of these three systems.
MU-MIMO for optimum speeds, even with multiple devices connected at once.
Other benefit: An outdoor satellite is also available. This is a benefit only offered by Orbi. If you want to extend your internet access onto your back patio, the weather-resistant outdoor satellite is a good addition to your set up.
Eero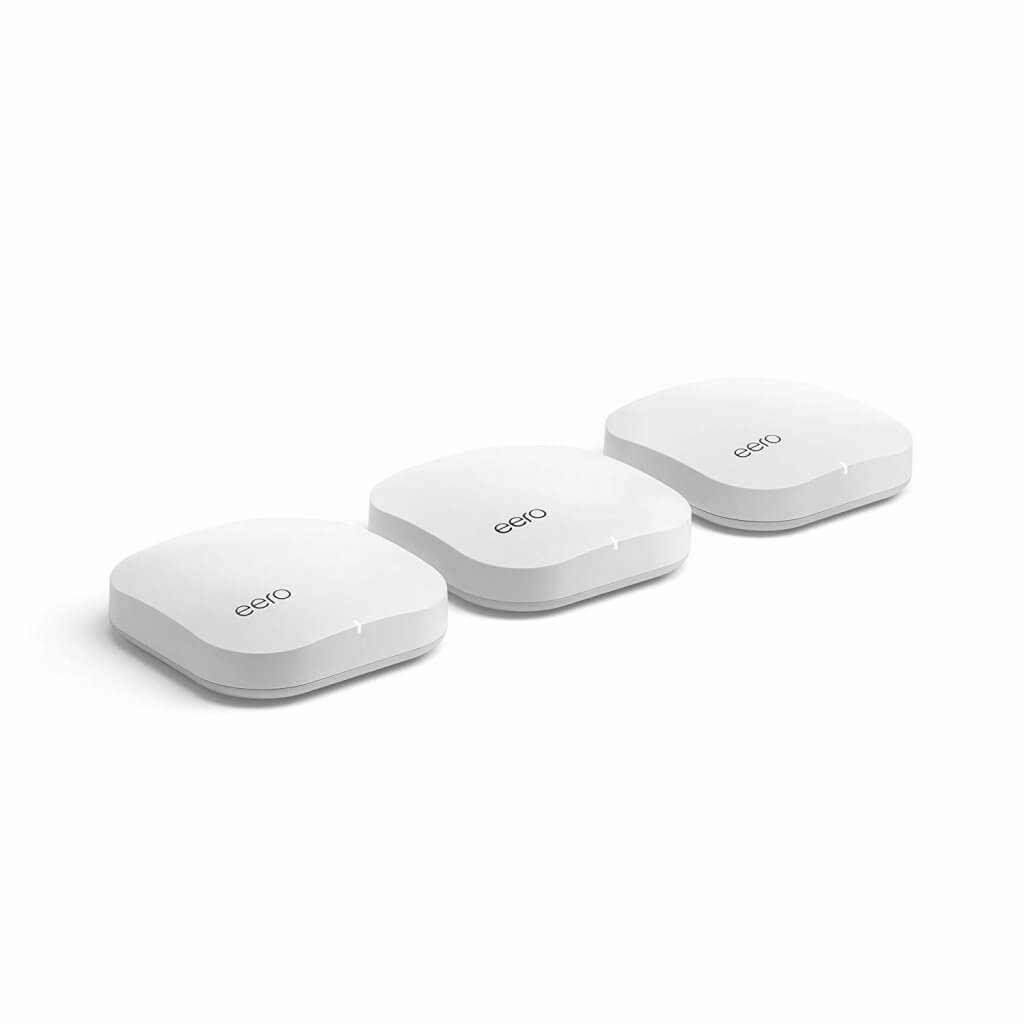 About: Eero is the original mesh router system. It was purchased by Amazon in early 2019, but still operates independently. It's one of the very best options out there, mixing fast speeds with user-friendly features and great design.
Hardware: Eero Pro has ethernet ports for a wired connection. This plugs into your router. Beacons are nodes that extend coverage beyond just the Eero Pro. They simply plug into an outlet like a traditional range extender, so they don't take up any shelf space. Beacons can be bundled with the Eero Pro or sold separately. But if you want additional Eero Pros rather than beacons, take a look at the Eero Pro Pack linked above in this article. It includes 3 Eero Pros, giving you the strongest coverage possible so no beacons are necessary.
Less square feet coverage: Up to 1,500 square feet for each Eero. However, if you have a 2-story house, then you will likely need additional nodes. The Eero Pro Pack covers up to 4,500 square feet.
No maximum nodes! Eero lets you add as many Eeros and Beacons as you want and there is no limit on how many it can support.
Lower speed capacity: The maximum data transfer speeds for Eero are: 600 Mbps for each of the two 5GHz bands, and 240 Mbps for the 2.4 GHz band.
Minimalist design: Eero Pro is much smaller than Orbi and resembles a small Hue bridge. The beacons have no ports, so they simply plug into any outlet without taking up much space.
Has MU-MIMO just like Orbi.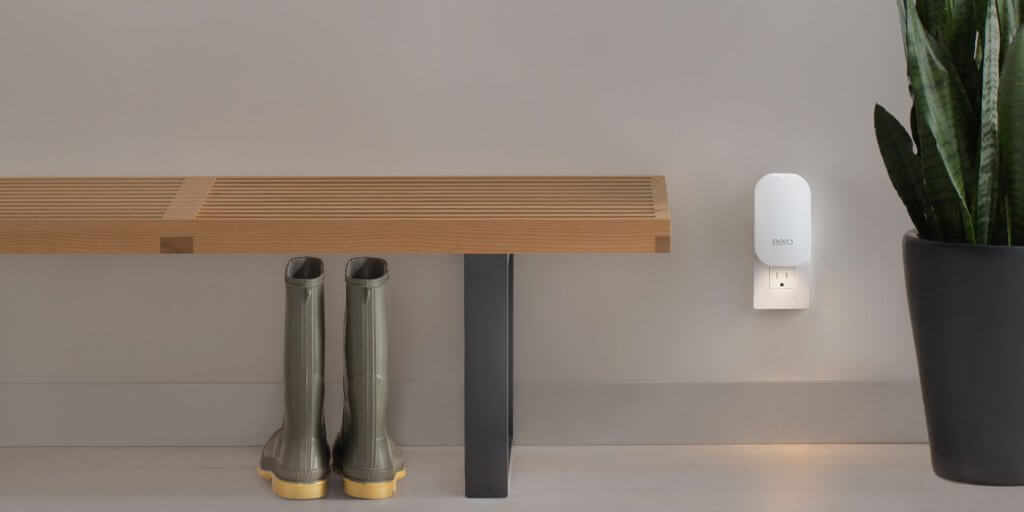 Google WiFi
About: Google WiFi launched in 2016 and is operated by, you guessed it, Google. It's designed to be a simple, more affordable alternative to the others.
Hardware: Google WiFi points make up this system, and they come in a 1-pack or 3-pack. The primary WiFi point connects to your router, while the additional ones just extend your coverage and work as nodes.
Less square feet coverage: Up to 1,500 feet for 1 WiFi point. However, this can vary depending on the number of levels and shape of your home.
No maximum nodes! Google WiFi is also flexible on how many WiFi points you can have, with no limit on how many it can support. However, they make it clear that you shouldn't need more than 6 even if your home is large.
Lower speed capacity: The maximum speed for Google WiFi's 5GHz band is 867 Mbps, and for the 2.4GHz band is 400 Mbps.
Average design: Google WiFi is in between both devices in terms of size. The WiFi points are round and 2.7 inches tall, so they take up a good amount of space, but aren't too big.
No MU-MIMO: Google WiFi doesn't use MU-MIMO. This may mean your connection will be slowed down if multiple devices are using a lot of bandwidth.
Winner: Orbi
Orbi gives you coverage of approximately 2,500 square feet per router or node. This is better than Eero and Google WiFi, which only cover 1,500 square feet for each piece of hardware.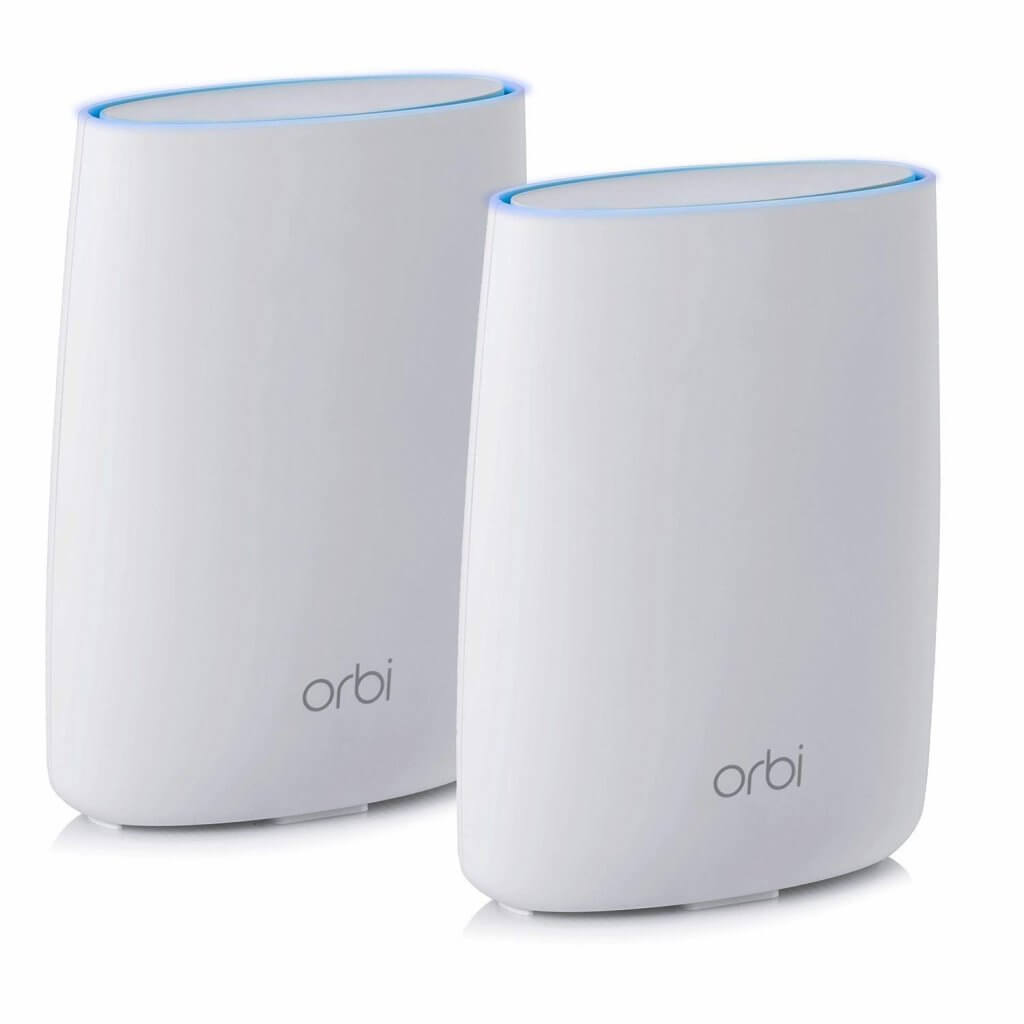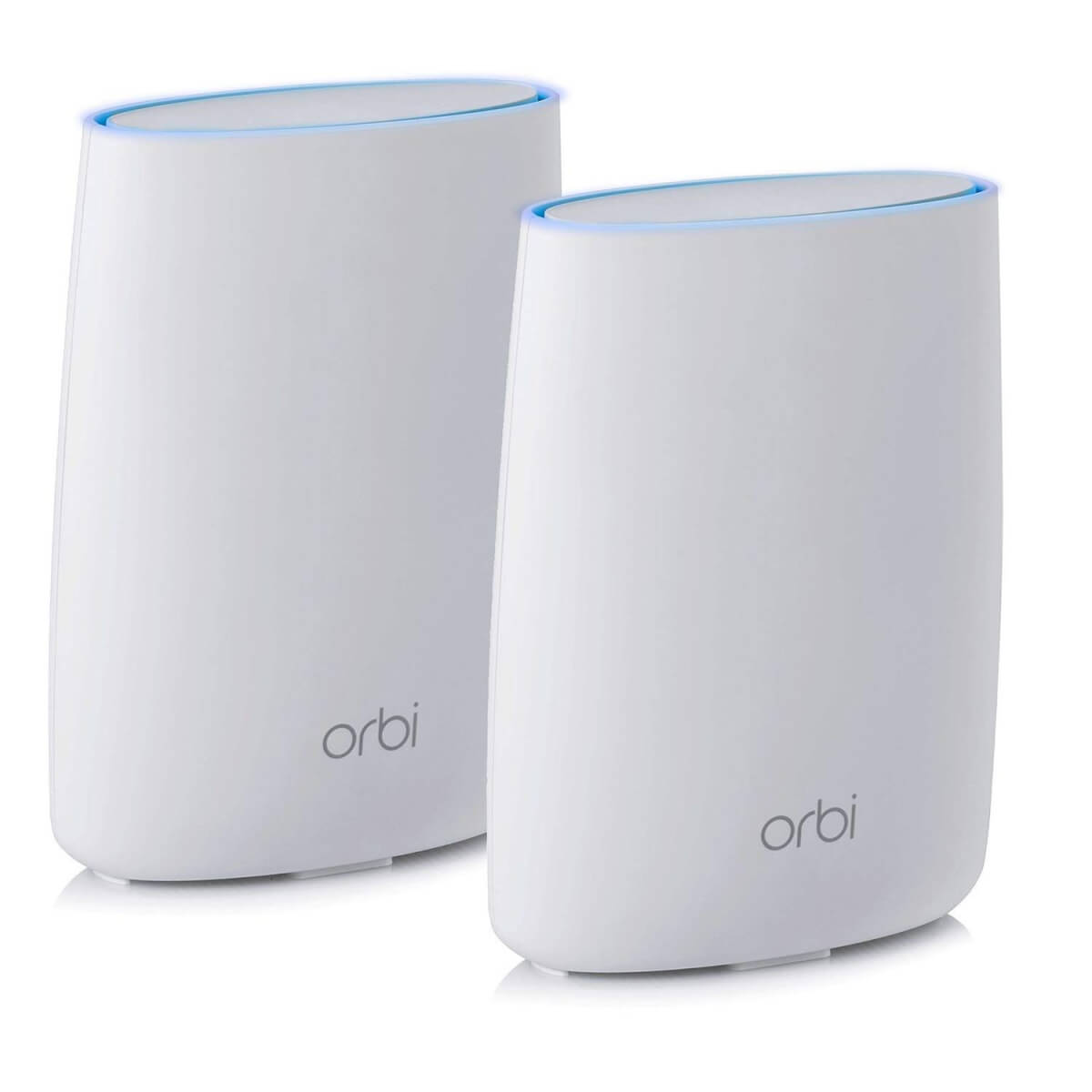 Netgear also sells an outdoor satellite that you can add on to your Orbi system. This is a big perk over the other systems, which do not offer any additional outdoor coverage. Even though Orbi takes up more space on your shelf, its stronger signal makes up for it.
When looking at Orbi vs Eero vs Google WiFi, Orbi offers the most add-on accessories. They have a satellite/smart speaker combo, and a simple plug-in satellite as well.
MU-MIMO is another Orbi advantage, although it isn't a deal breaker if you are leaning towards Google WiFi. MU-MIMO will give you full bandwidth on devices that are compatible with it which can make a difference if you use a lot of bandwidth.
---
Set Up and Installation
Setting up mesh networks is fairly straightforward.
After plugging in the router, you can sync it with the corresponding app. Then place your nodes throughout your home.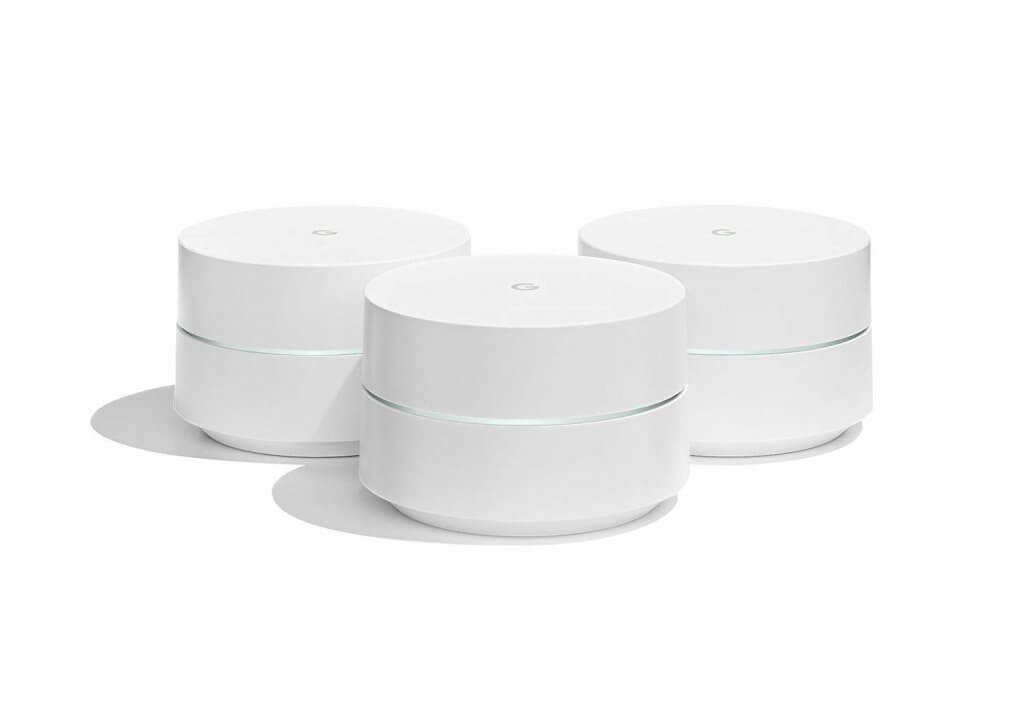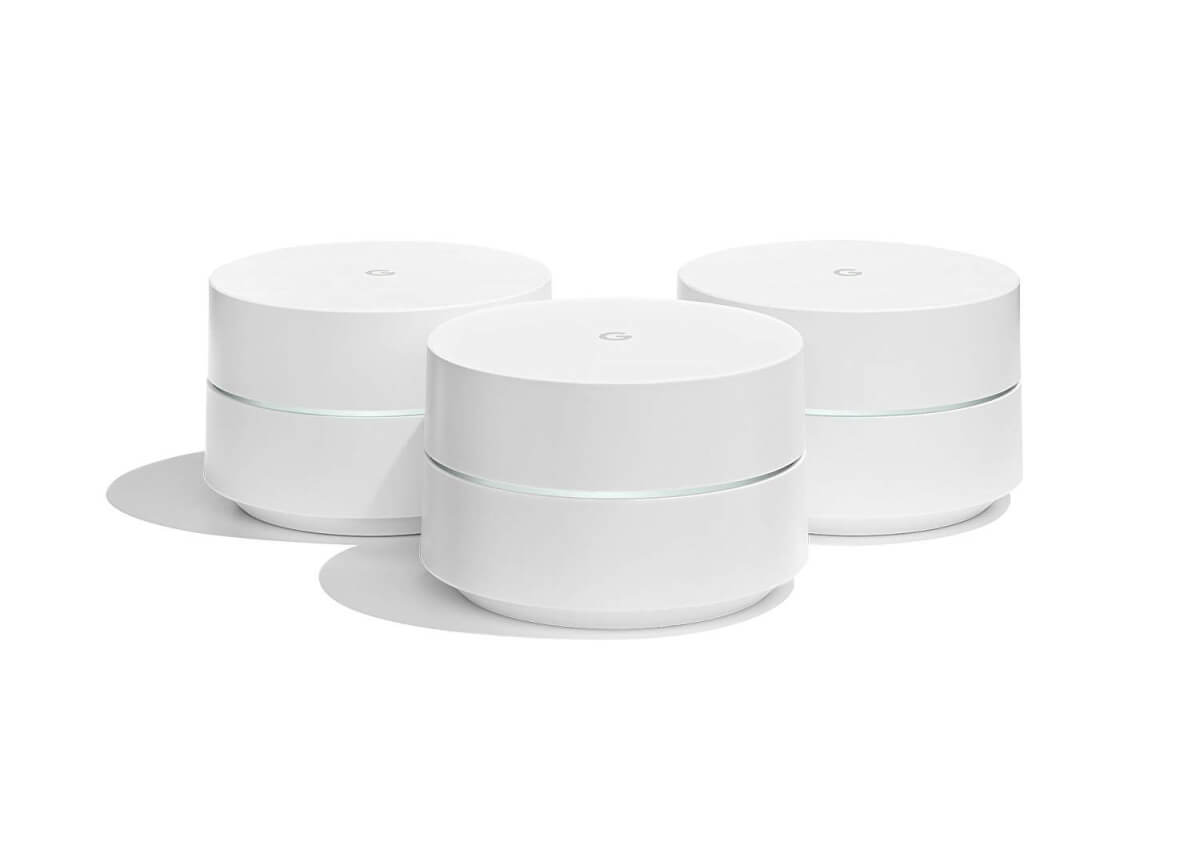 While these are designed to work wirelessly over WiFi, a wired backhaul is available with each of these devices, though they do have some differences you will want to read about below.
A few important tips that apply to setting up any of these:
Keep your nodes about 2 rooms away from each other for optimum coverage. Each node serves as a hop point since they all communicate with one another rather than directly with the router.
Make sure you install the nodes in the open to give them the very best signal for communicating with your mesh router.
Use a WiFi analyzer app or check the signal on a phone or tablet to find dead zones where your internet doesn't reach (more info).
You will want to install nodes off of the floor. Putting them on a shelf is a good option. They will also need to be plugged in, so keep them near an outlet.
After plugging in all of the mesh network hardware, you'll want to connect all of your devices to the new network to complete installation.
Now here are some set up differences to note.
Orbi
Easiest set up steps: Scan the QR code on the router in the app, plug the router into your modem, then position the nodes throughout your home. Make sure the light on the satellite is blue indicating a strong connection. Then the app will detect your nodes if they are plugged in and have a strong enough connection.
Most ethernet ports: 4 ethernet ports. Router has 1 WAN and 3 LAN Gigabit ports, while the satellite has 4 LAN Gigabit ports.
No email/password needed: Orbi doesn't require any personal information. Plus the router and satellite are pre-paired for easy installation.
Best backhaul: In addition to a wireless connection, all Orbi satellites and routers have a dedicated backhaul on its own 5 GhZ stream. This dedicated band frees up communication for the devices on your network, making data transfer faster. For a wired connection, you can use ethernet cables to wire the satellites together and to your router for a stronger connection.
Many advanced features supported, including daisy chaining and star network topologies. These are different options for setting up your network for satellites and router, which you can read about here. It also has QoS (Quality of Service) capabilities. This is an advanced internet feature that prioritizes certain traffic.
Eero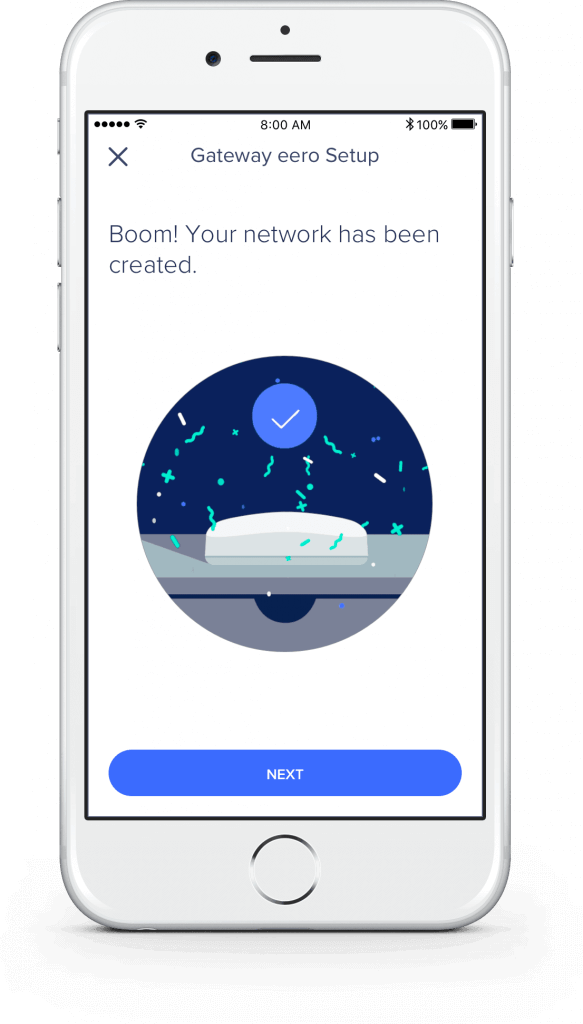 Easy set up steps: Describe your home in the app for some guidance on where to place Eero beacons. Then you can follow the steps in the app during set up by plugging in your Eero to your modem. The light will turn solid blue when found. Then you can place additional Eeros or beacons throughout your home.
Fewer ethernet ports: 2 ethernet ports. WAN/LAN Gigabit ports.
Email required for set up. Eero requires your email or phone for account set up.
Good backhaul: Beacons can only be added wirelessly and do not have ports for hardwiring your devices. However, all Eeros and Eero Pros have an option for ethernet backhaul. If you're wanting to use wired backhaul, make sure you buy the Eero Pro Pack, which includes 3 Eero Pros.
Not many advanced features compared to Orbi. Very limited QoS capabilities.
Google WiFi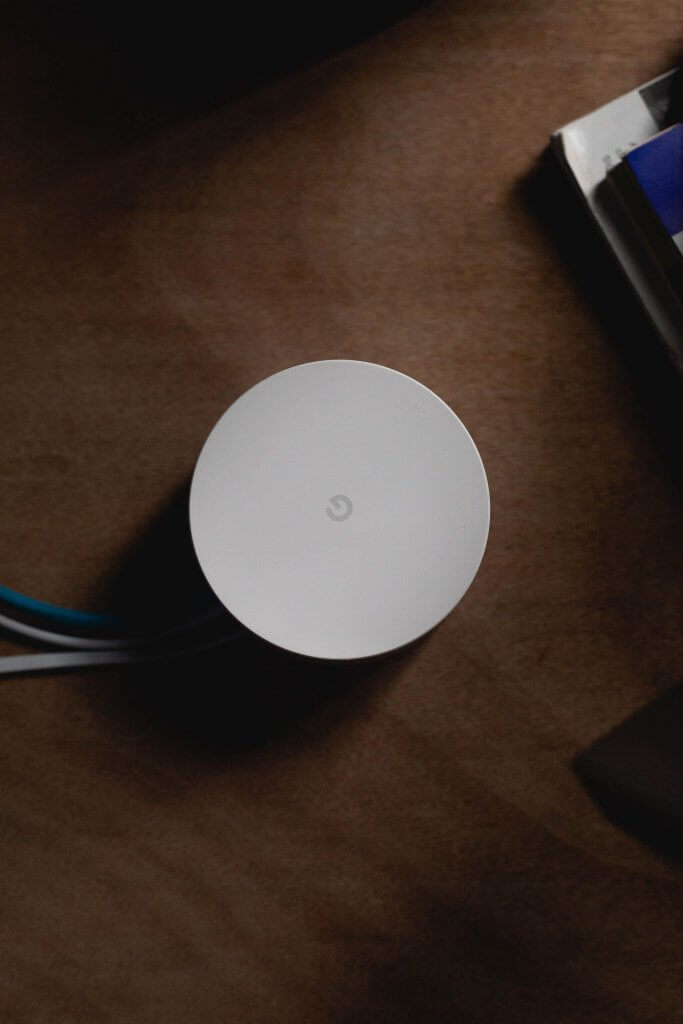 Easy set up steps: Plug any WiFi point into your modem using the included ethernet cable. Once the light is blue, follow the steps in the app to connect it to your WiFi. You'll need to scan the QR code on the WiFi point. Plug in additional nodes and it will connect automatically. Then you can test the signal to make sure it's in an optimal position.
Fewer ethernet ports: 2 ethernet ports. WAN/LAN Gigabit ports on primary WiFi point. Only LAN Gigabit ports on additional WiFi point nodes.
Google account required for set up. Google WiFi requires a connected Google account to set up the router.
Good backhaul: A wired connection is available with Google WiFi using any of their WiFi points. Just like Eero and Orbi, hardwiring your connection is optional.
Not many advanced features compared to Orbi. Very limited QoS capabilities.
One issue: The Google WiFi iOS app has mediocre reviews and is known for lacking in features.
Winner: Orbi
Thanks to its easy installation and dedicated 5GHz radio for backhaul traffic, Orbi wins for best set up. If you are wanting to hardwire your connection then Orbi is the best option for you.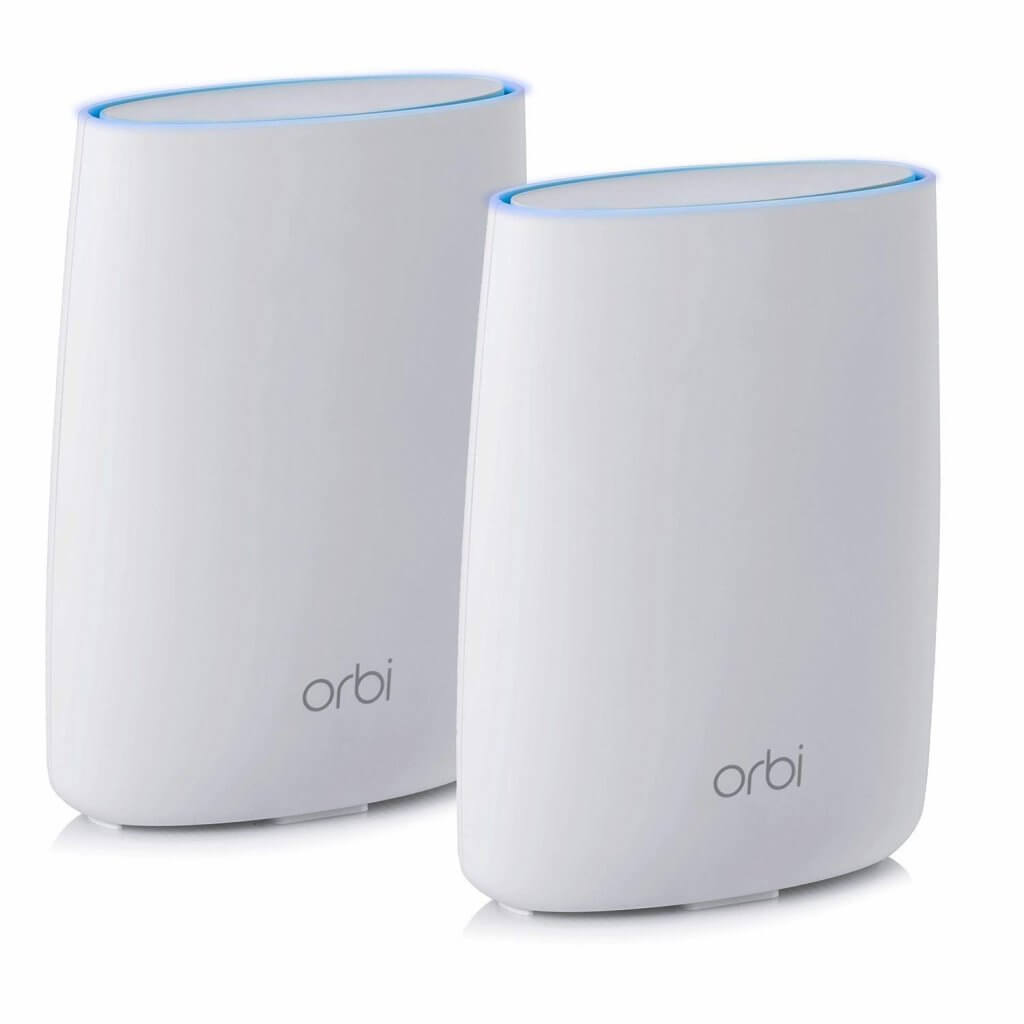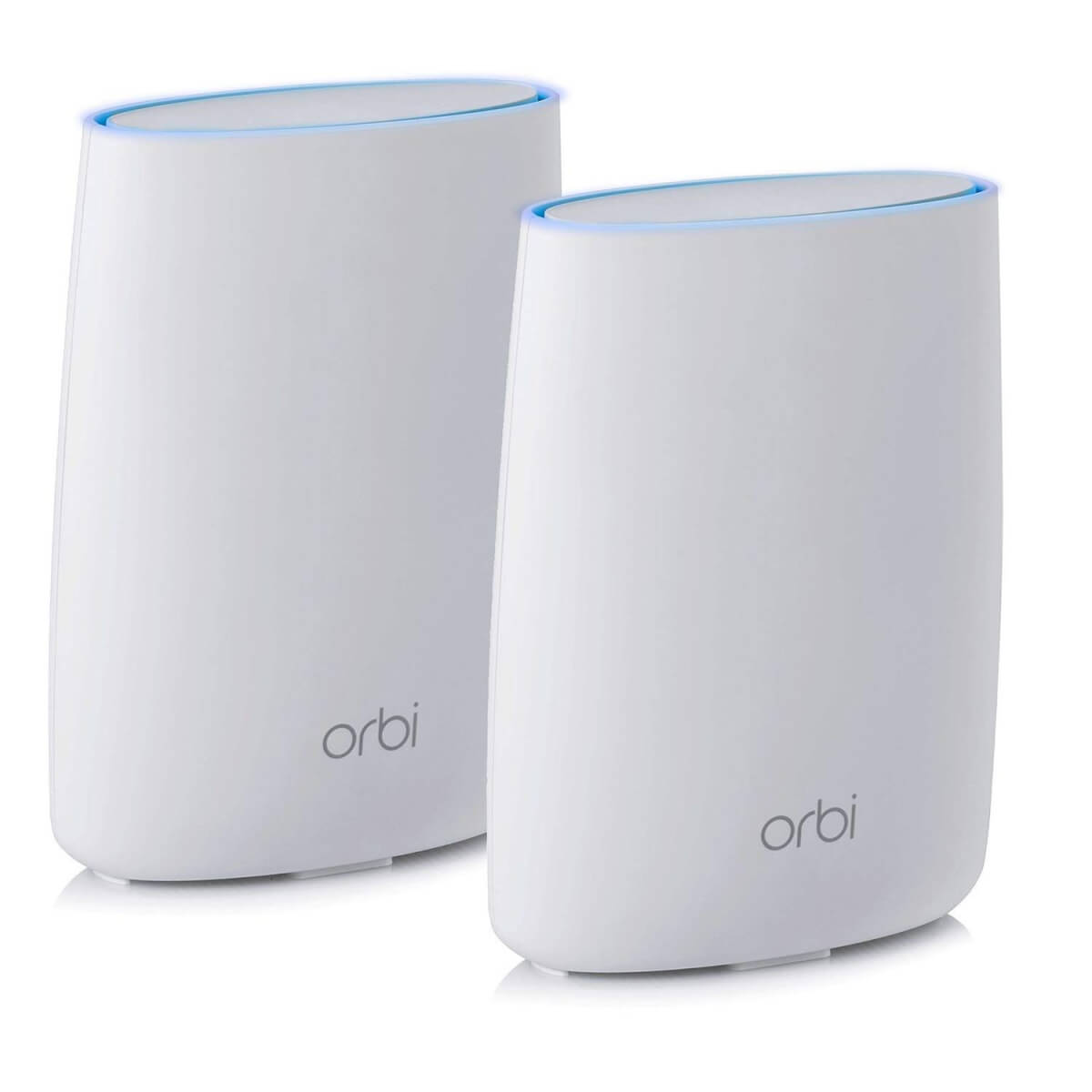 Eero and Google WiFi are both great options, but they will require an email and password for set up, as well as offer less ethernet ports. If you're wanting a simple set up with fewer options, either one of those are a better pick since Orbi may be overwhelming for some users.
---
Settings and Controls
Once your mesh network is set up, you can take advantage of the extra controls that come with it.
When comparing Orbi vs Eero vs Google WiFi, all of them have the following controls:
Parental controls for filtering content. Note that these networks are not designed to block specific sites, although there are limited controls available. Another option you'll want to look into OpenDNS, which is a free DNS service.
See which devices are connected and pause each device's internet. This is perfect for kid's homework time or having your whole family take a break from electronics for awhile.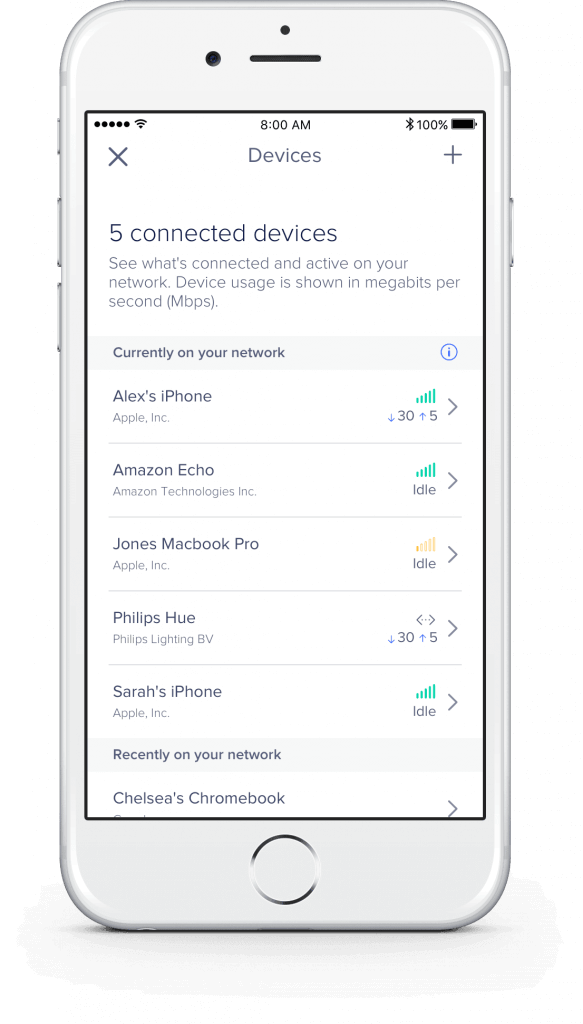 Speed test. Within each app, you can quickly run a speed test to see how fast your internet is working. You can also prioritize certain devices for the fastest speed.
Guest network set up. It's very easy to set up a guest network using any of these services. This blocks guests from accessing your network files or devices on a shared network.
Now let's look at the differences.
Orbi
Tri-band for faster WiFi speeds. Orbi's additional 5GHz signal is dedicated for backhaul, keeping a stable connection between your devices and your router.
Bandwidth monitoring: You can't see how much bandwidth individual devices are using. You can only see overall bandwidth use, but not per device.
Cloud independent: works separately from the cloud. However, it will use the cloud if you enable remote access.
Parental controls: Orbi uses Circle with Disney for their parental controls. This gives options for custom or pre-set filtering of different websites. Unfortunately, a subscription through through Circle costs $5/month. This adds the parental control features you need, like chores, bedtime, time limits, rewards, etc., so this subscription is required if you want to use parental controls.
Amazon reviews: Slightly lower reviews on Amazon compared to the other two. This could be because it's more complicated to use or has occasional connection issues.
Eero
Tri-band. With tri-band, you get a 2.4 GHz signal, and two separate 5 GHz signals. This reduces congestion and lets you connect more devices at once without hurting the speed. Unlike Orbi, Eero's additional 5GHz signal is used to reduce congestion rather than dedicated for backhaul.
Bandwidth monitoring: easily see how much bandwidth individual devices are using.
Cloud dependent: only works in the cloud.
Parental controls: Safe Filters block websites with adult, illegal, or violent material. Advanced parental controls (like filtering content for specific profiles) costs $3/month. Unlike Orbi, this subscription also adds the security features listed in the next section.
Amazon reviews: Good reviews on Amazon, indicating it's easy to use overall.
Other benefit: LED night light shines downwards from the Eero beacon nodes.
Google WiFi
Dual-band, which may reduce the speed as more devices are added. Google WiFi offers one 2.4GHz and one 5GHz radio band.
Bandwidth monitoring: easily see how much bandwidth individual devices are using.
Cloud dependent: only works in the cloud.
Parental controls: Automatically block a pre-set list of explicit websites on your kids' devices. There is no subscription for parental controls.
Amazon reviews: Good reviews on Amazon, indicating it's easy to use overall.
Winner: Eero
Eero's true tri-band set up (rather than dedicating one for backhaul) is a great option for those planning to use wireless internet that want fast speeds.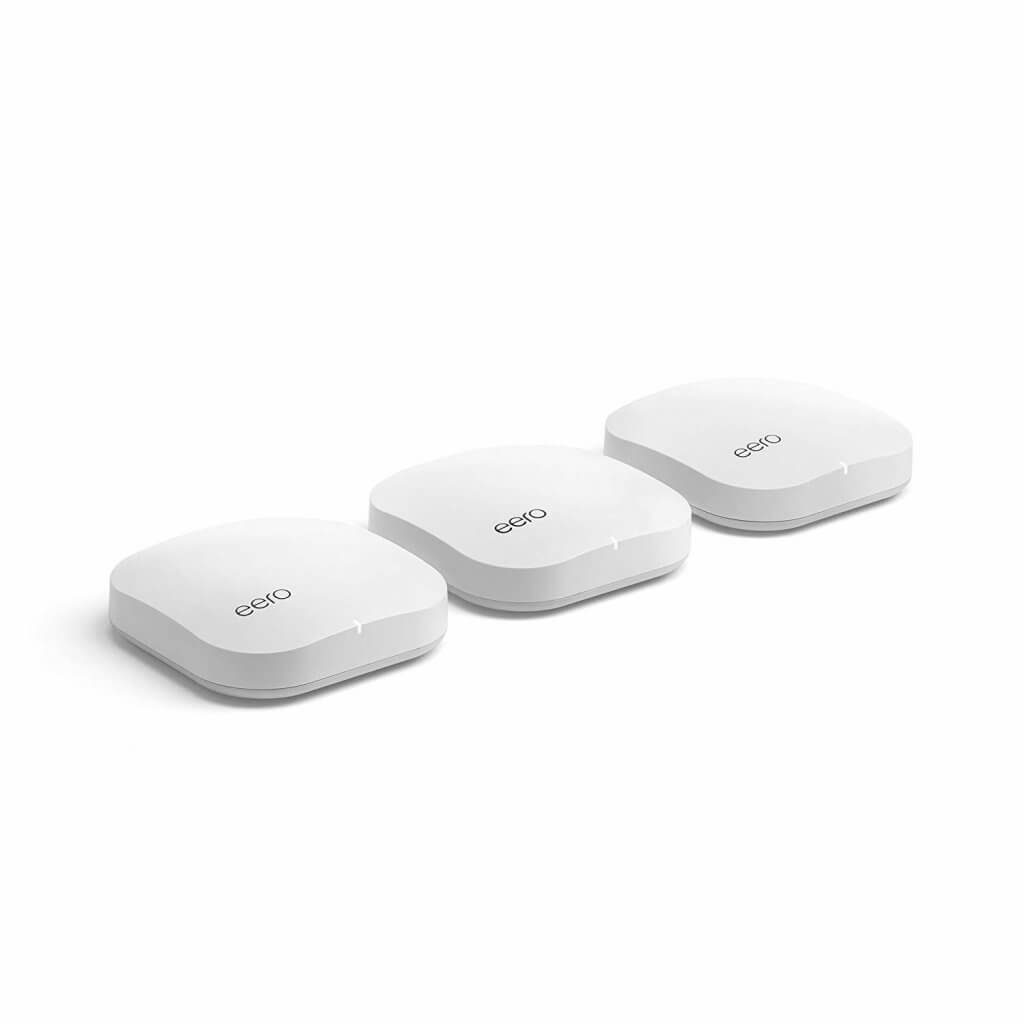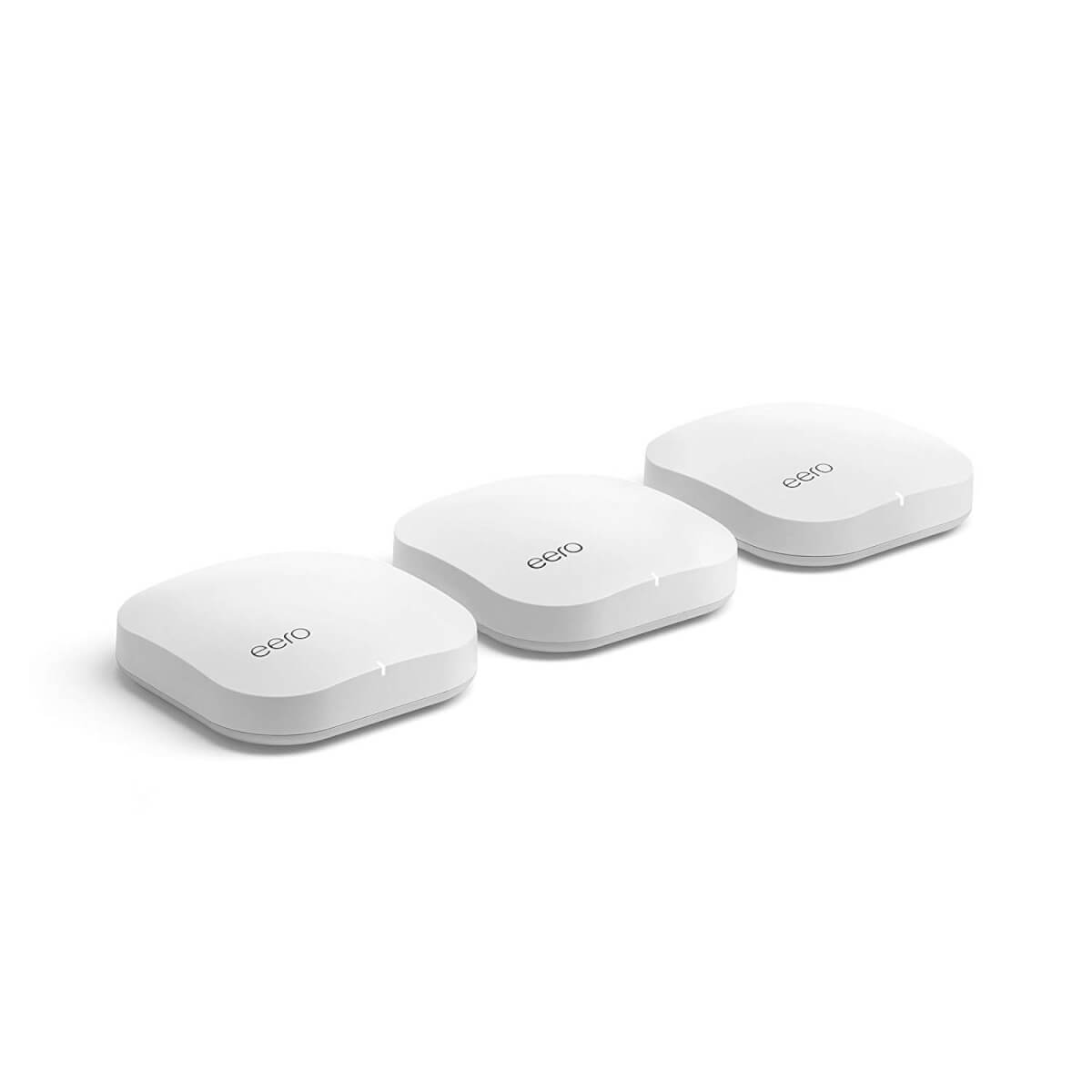 While advanced parental controls require a subscription, plenty of controls are offered so you can get the most of your device, even without monthly fees.
If you decide to upgrade to the subscription, this adds in parental and security controls, which is a good value at $3 per month.
---
Security
One of the major benefits of these mesh networks is the additional security their routers provide. Several of the routers make your network extra secure from attacks, although their heightened security features may cost you a subscription fee.
Here's a brief look at the security offerings on Orbi vs Eero vs Google WiFi mesh systems.
Orbi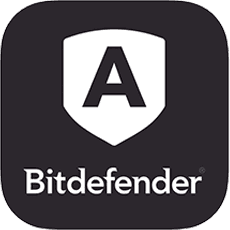 Orbi offers some security features. Upgrading to NETGEAR Armor powered by Bitdefender is an annual subscription that adds another layer of protection. This subscription adds:
Vulnerability assessments and alerts
Antivirus and ransomware protection
Instant notifications for unknown devices or malicious threats
Security on all devices, whether inside or outside the home
Note that this is separate from the Circle by Disney subscription for parental controls.
Eero
Eero Secure or Secure+ subscriptions are the same as the parental control subscription, offering features like:
Upgraded security
Ad blocking
Filtering inappropriate content with expanded parental controls
1Password password management
VPN
Malwarebytes antivirus software
It's nice that these features are included with the same Secure subscription, so you aren't paying for two separate subscriptions like you would with Orbi.
Google WiFi
There is no subscription for upgraded security with Google WiFi. The built-in Google WiFi security measures include basic security, like firewall, WPA2, TLS, and automatic updates.
Since you're connecting your Google account, there are privacy concerns here for some users. Read Google's response here.
But the biggest perk here is that Google WiFi doesn't pester you towards a monthly subscription. If you want to add 1Password, a VPN, ad blocking, or other features, you can always use those services seperately.
Winner: Google WiFi
While Google WiFi doesn't offer some of the additional features available through Orbi and Eero's subscriptions, it is still very secure.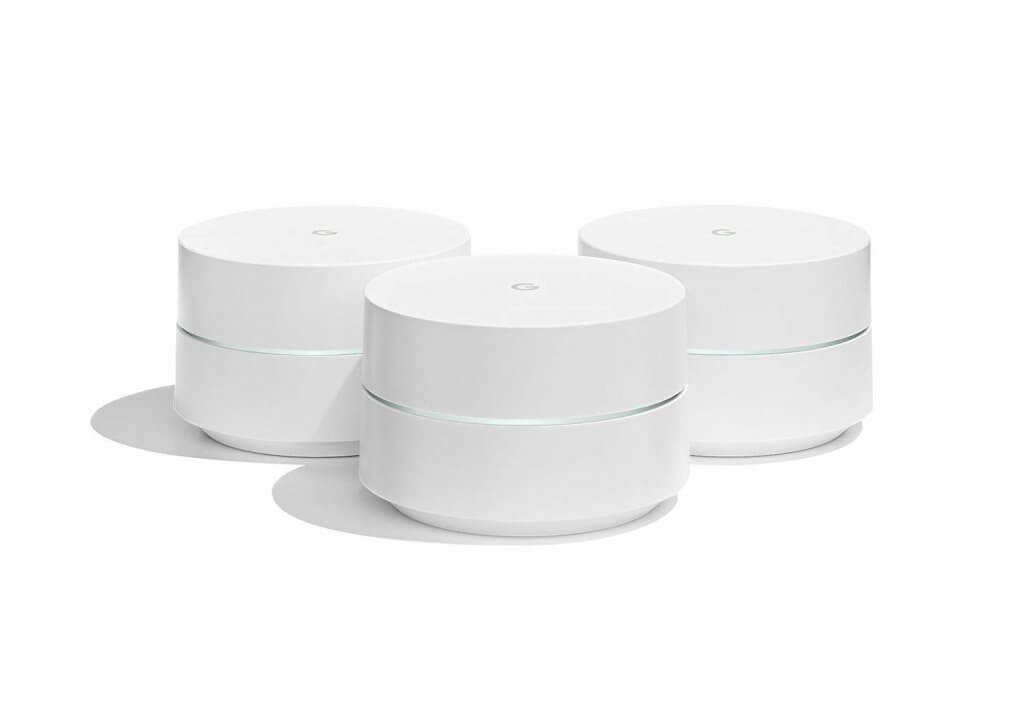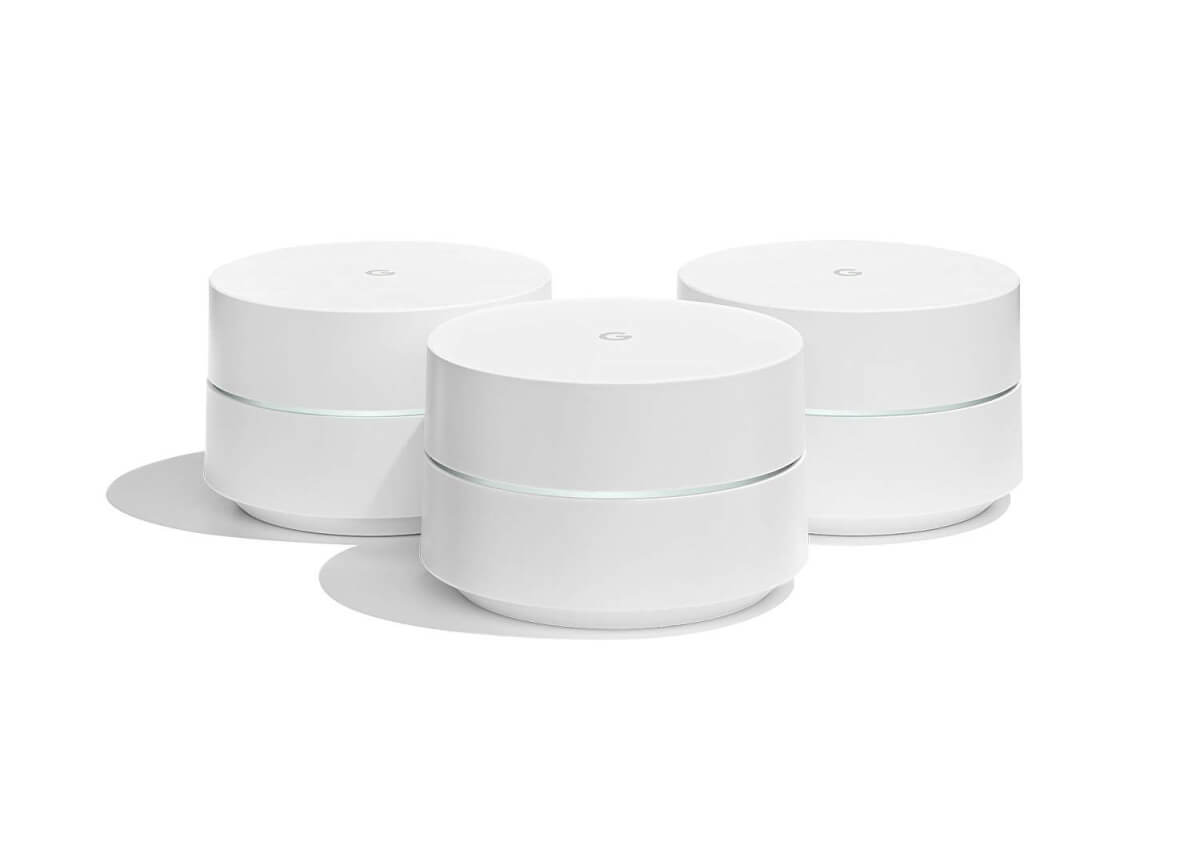 If you're wanting a simpler option and aren't worried about missing out on additional features, Google WiFi is a good option since it won't constantly prompt you to upgrade.
But if you're looking for more of an all-in-one solution and don't mind paying a few dollars each month, Eero is probably your best bet.
---
Smart Home Compatibility
Depending on which mesh system you go with, you may be able to integrate it with your smart home set up.
This gives you voice controls for devices on your internet. For example: "Alexa, pause Charlie's iPad."
Let's compare the different smart home options for Orbi, Eero, and Google WiFi.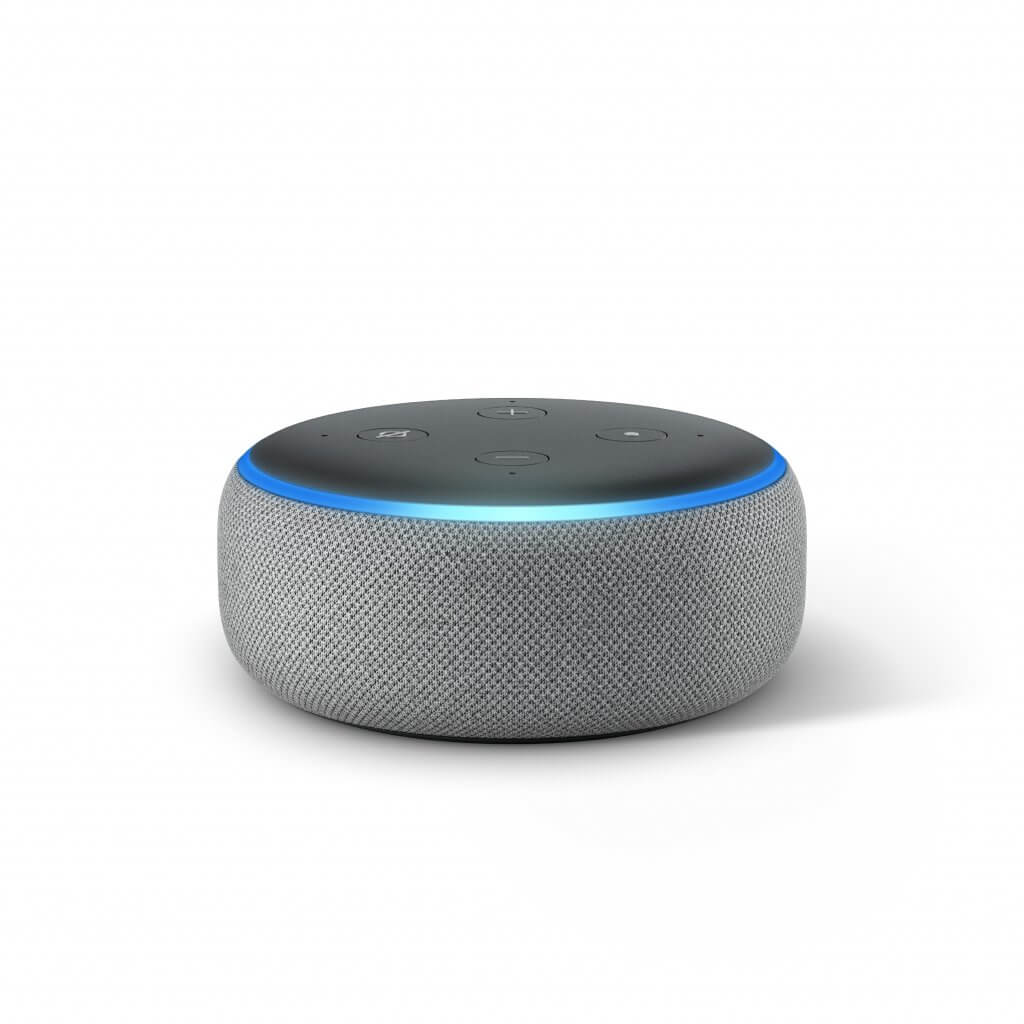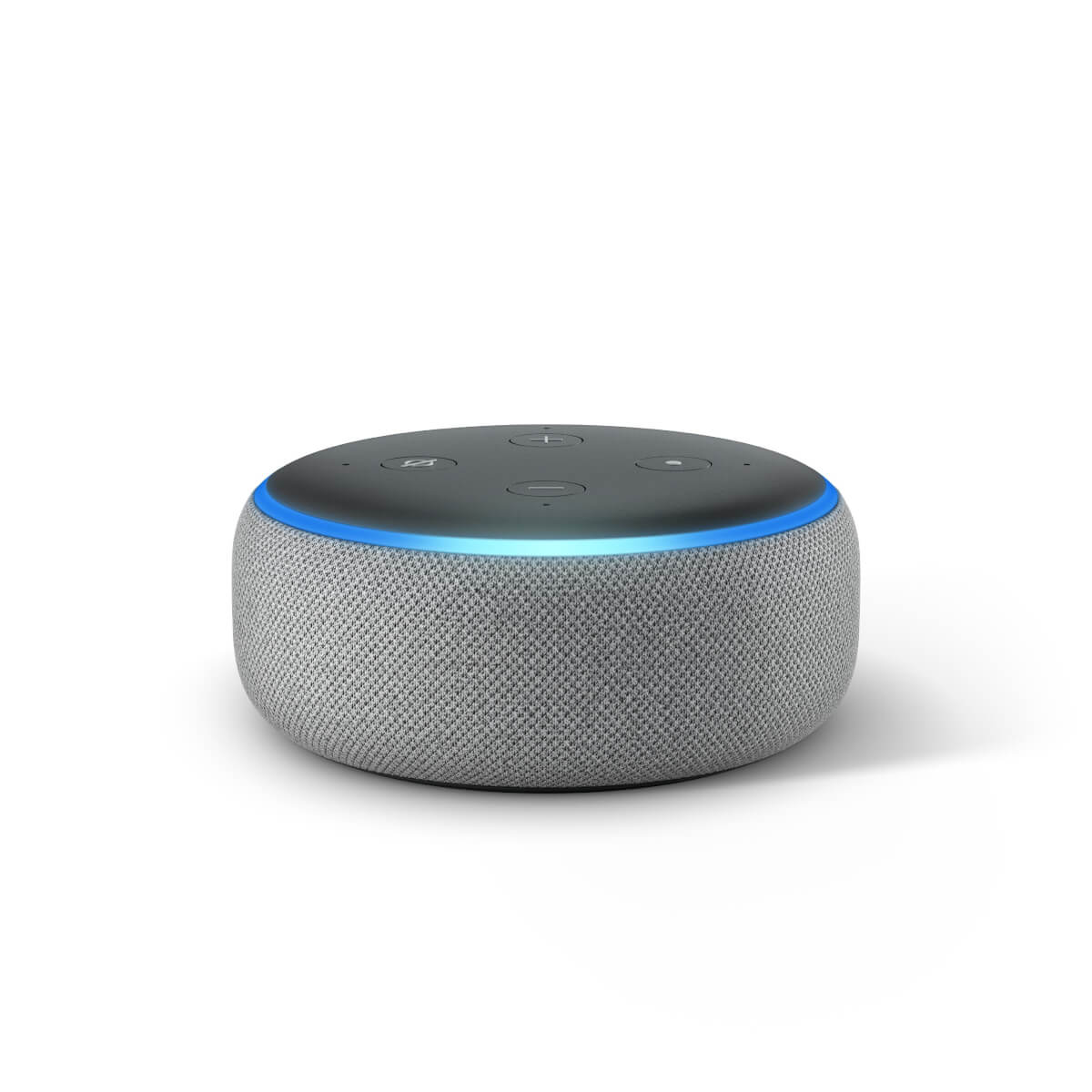 Orbi
Integrates with Alexa
Integrates with Google Assistant
Eero
Integrates with Alexa
Integrates with Thread protocol for securely connecting low-powered devices like locks, doorbells, fans, and thermostats to your Eero.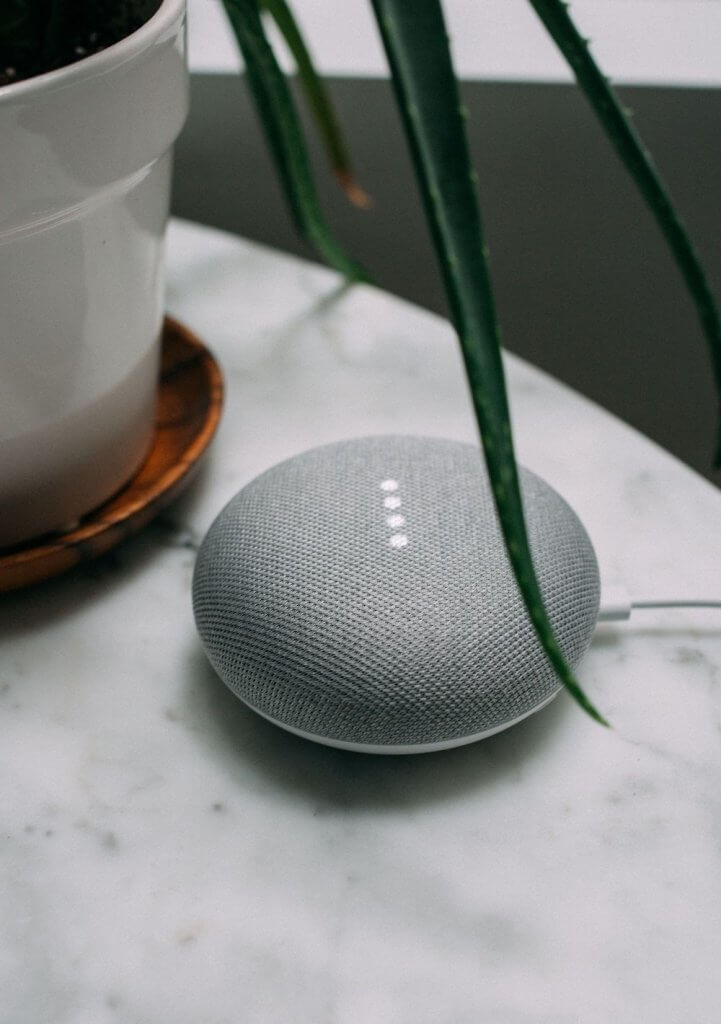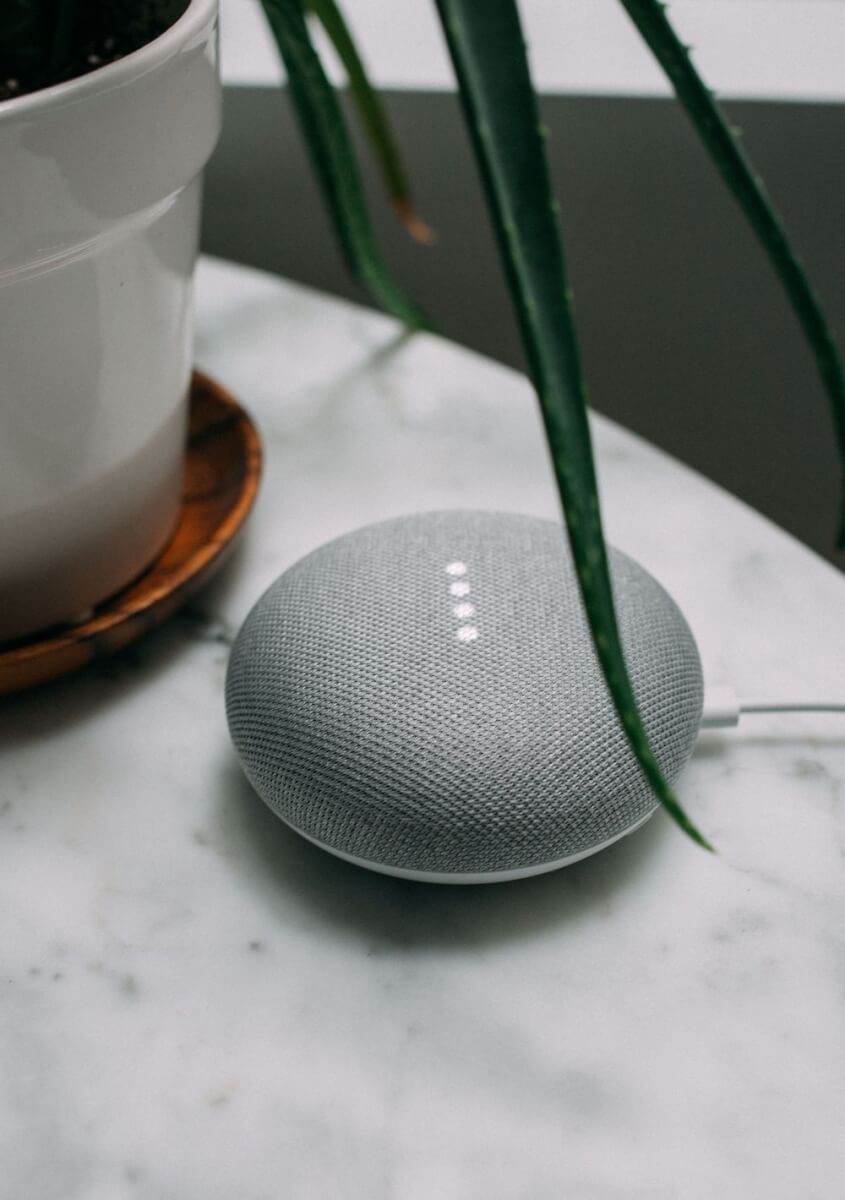 Google WiFi
Can't integrate with Alexa or Google Assistant
Philips Hue controls (but it will not replace your Hue bridge)
IFTTT compatible
Winner: Eero
Eero's integration with Thread really sets it apart. Many people consider the Thread protocol to be the future of smart home management and a potential replacement to ZigBee. Eero is ahead of the curve by working with Thread.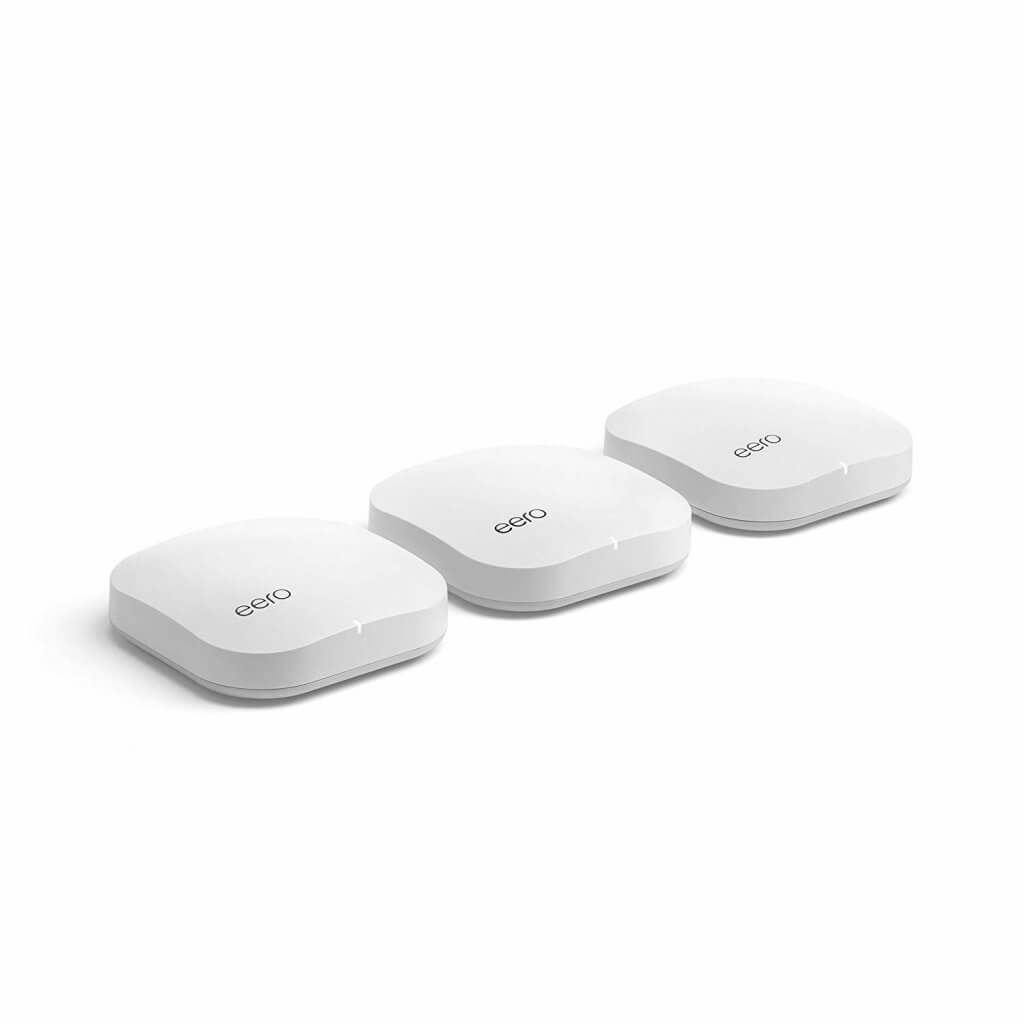 While all of these mesh networks allow smart home tech to connect to them, only Orbi and Eero integrate for voice controls. Google WiFi doesn't offer any voice controls (yes…even with Google Assistant), but it's the only one that's IFTTT compatible.
As usual, you'll want to choose the winner of this category for yourself, based on your smart home set up.
---
What's the best mesh router?
Some of the best options are Orbi, Eero, and Google WiFi. These are three of the top options for mesh routers, but which one you decide to buy will ultimately depend on your set up and preferences.
You want the most features and best performing router.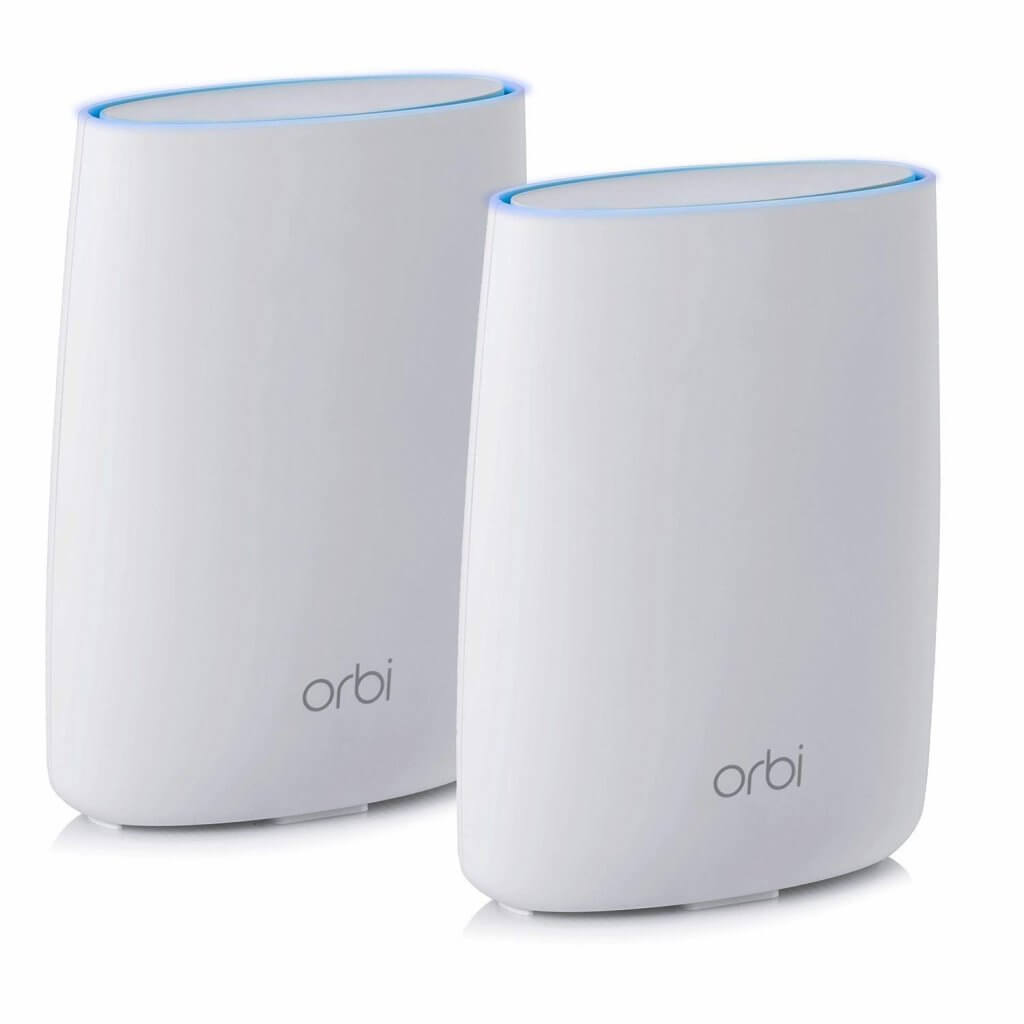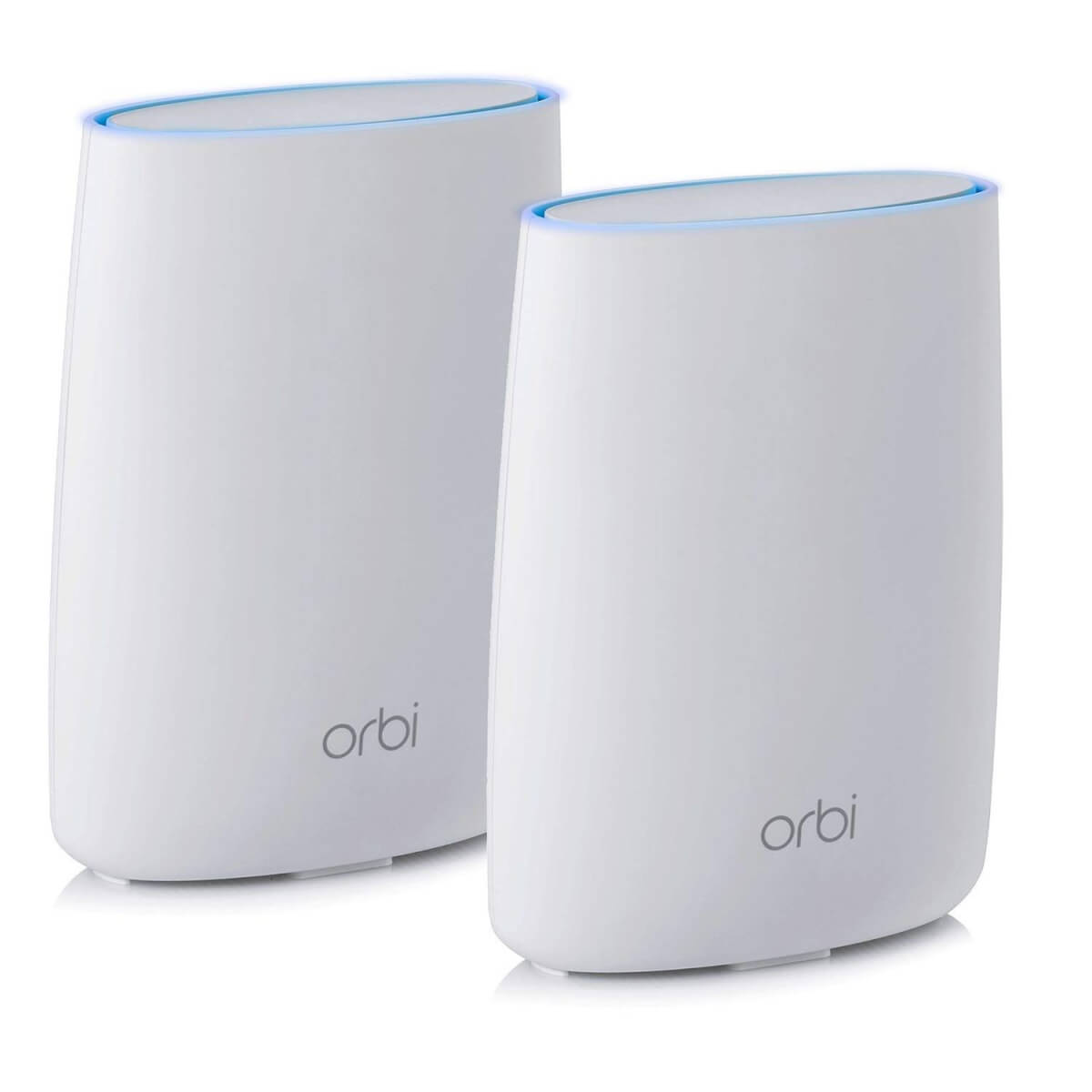 Orbi gives you the biggest coverage of square feet per node. Each Orbi satellite and router cover 2,500 square feet, which means you need fewer routers and nodes.
Orbi is also a competitive option for its outdoor satellite, dedicated backhaul for communication between the units, and easy set up that doesn't require your personal information.
The backhaul makes for faster communication between units, so it could be better for streaming or transferring large files.
You plan on using a wireless connection and want the fastest speeds, without the extra bulk of Orbi's size.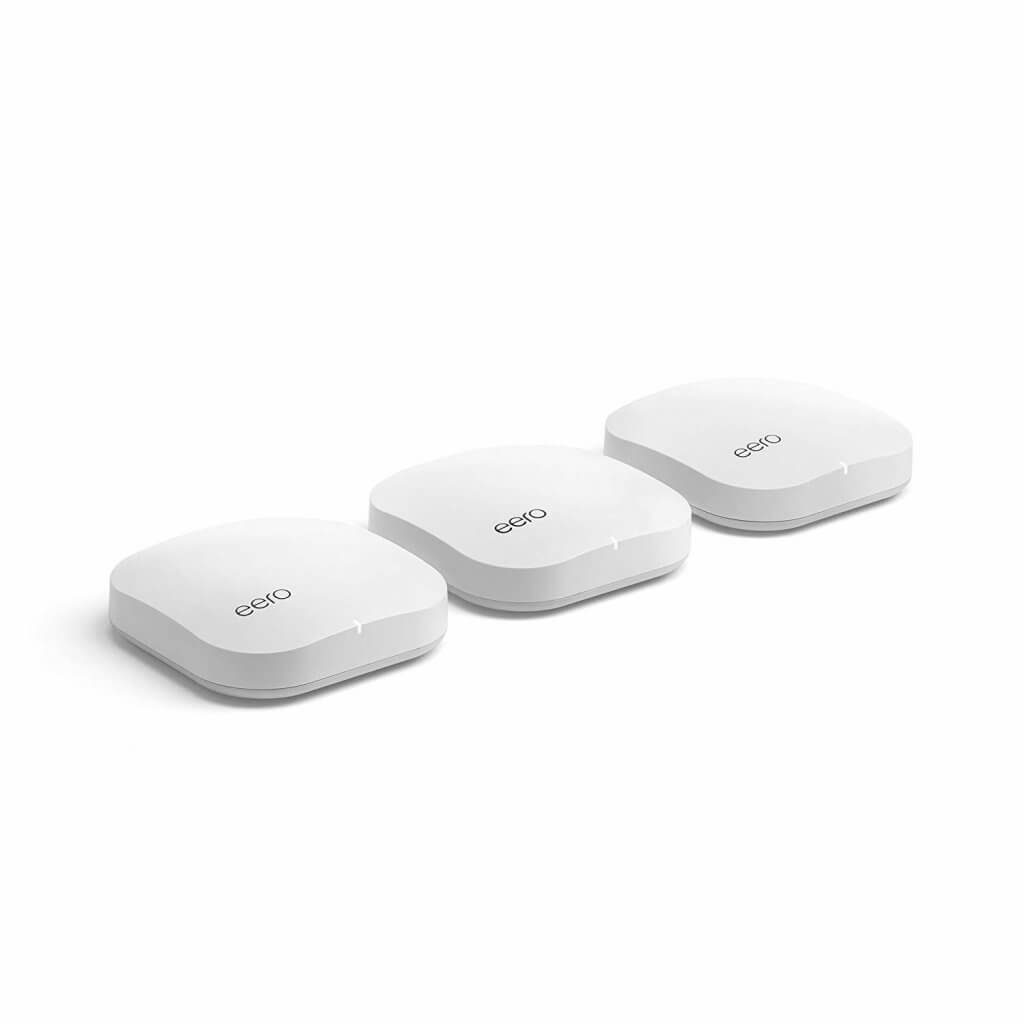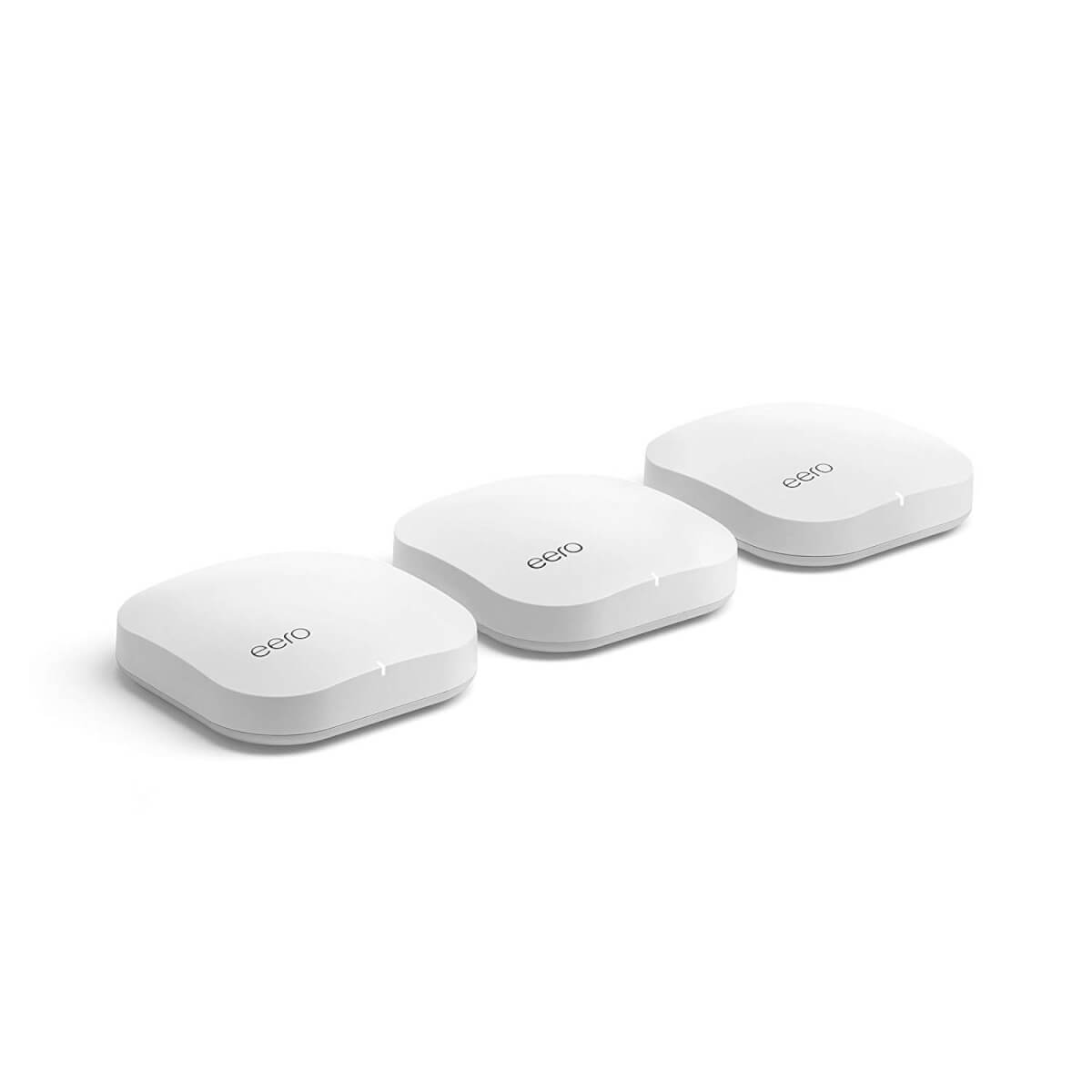 It's the only one of the bunch with true tri-band (though Orbi's second 5GhZ is dedicated for backhaul has its own advantages). Plus it uses MU-MIMO, which should also help your speeds. Eero Secure/Secure+ subscriptions add parental controls and security features, adding more value than Orbi's subscriptions.
Eero has the smallest size and its beacons can easily be plugged in anywhere. It's way more user-friendly than Orbi if you aren't looking for more advanced functionality.
If you use Thread, Eero is also going to be a clear frontrunner since it's the only one compatible.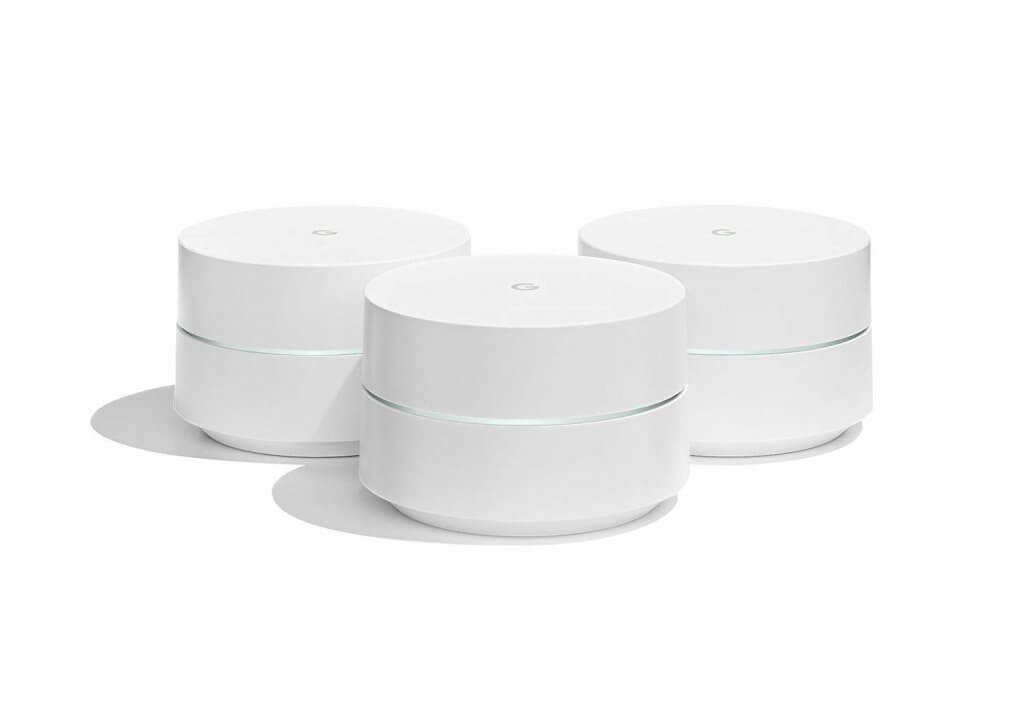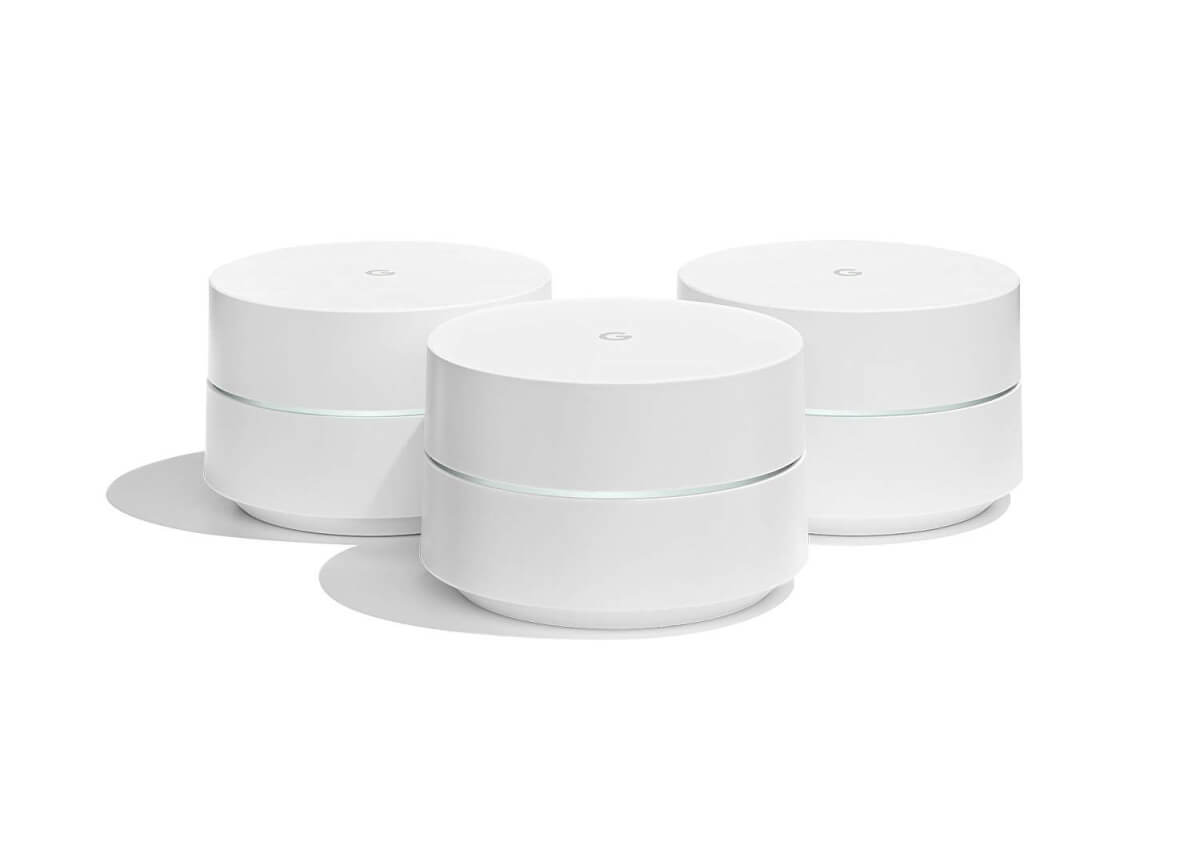 You want the best price for hardware, and don't want to mess with any subscriptions. Google WiFi offers a straightforward approach, keeping things simple since any node can be plugged into your router as the main point and they are all interchangeable.
Google WiFi doesn't offer tri-band, MU-MIMO, or Google Assistant/Alexa controls, so it's not really the best pick if you are wanting a router loaded with specs.
---
What do you think is the best option between Orbi vs Eero vs Google WiFi?
Another router offering MU-MIMO, parental controls, and other similar features is Gryphon. We reviewed this hands-on, and you can check that out here. Gryphon works a standalone router or can be a mesh system if you add a second device.
There are a lot of factors to compare with mesh routers, so if we missed any features then comment below!