Alexa is not slowing down. With two new devices just announced, Amazon is putting Alexa in much more than just the Echo. There are now five Amazon Alexa devices. It's getting a little confusing, which is why we want to compare Amazon Echo vs Tap vs Dot vs Look vs Show.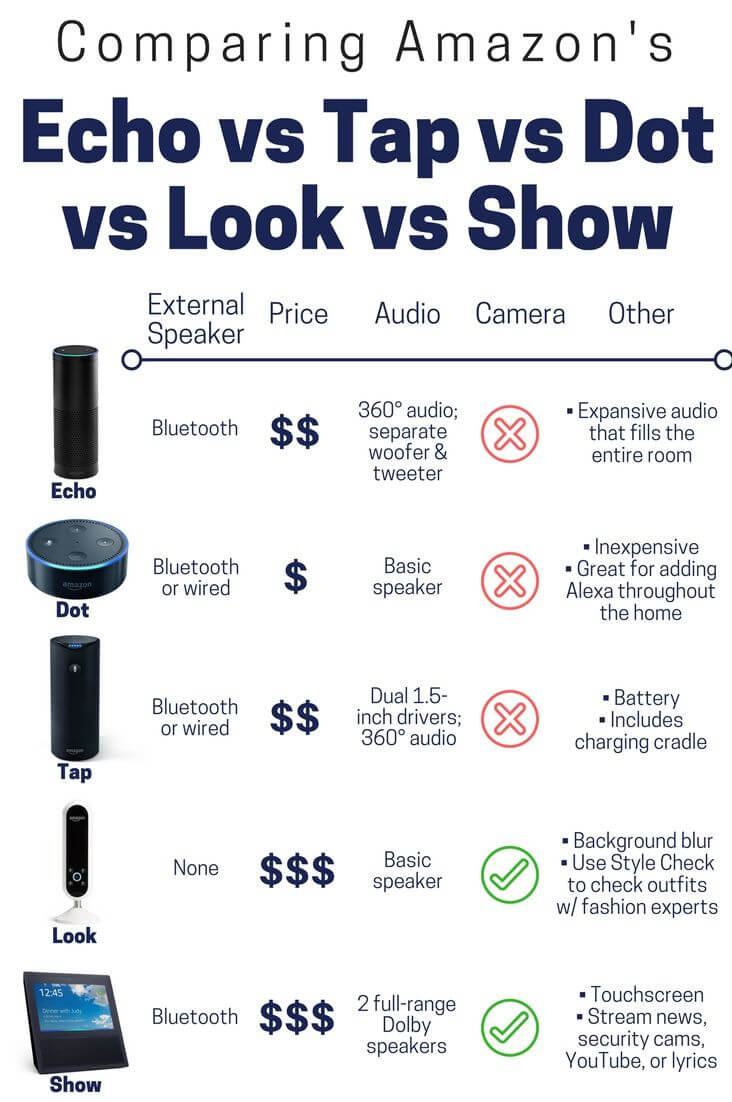 Amazon Echo vs Tap vs Dot vs Look vs Show
Affiliate Disclosure: This page contains affiliate links, which earn us commission at no cost to you.
All Devices:

Include the built-in Alexa assistant for asking questions, checking the weather, controlling your smart home, etc. Have a microphone and speaker  Can call phones or other Alexa devices. You can also receive calls.

While these devices have all of these features in common, there are a few major differences between Amazon Echo vs Tap vs Dot vs Look vs Show, as outlined below.
---
Amazon Echo
Pros:
Strong 360° audio that fills the entire room, with separate woofers and tweeters for low and high notes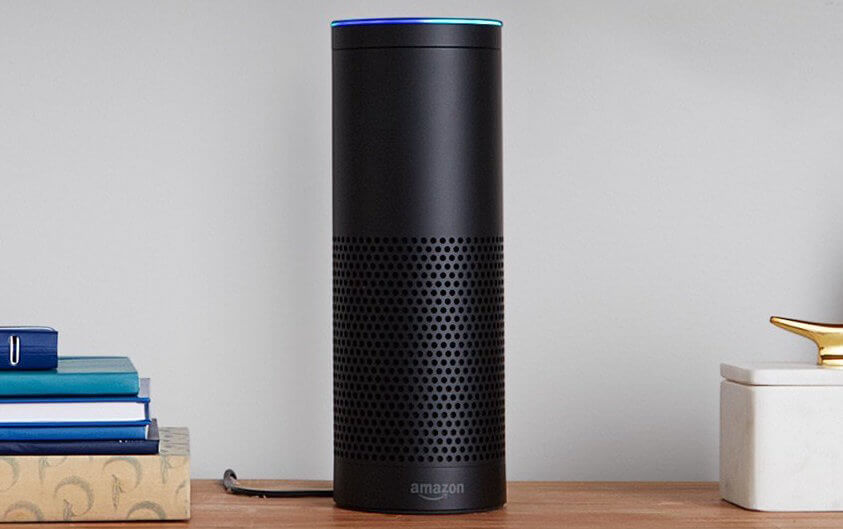 Larger size for better audio and serving as a hub of the home
Cons:
Expensive option considering what's offered Doesn't have a wired connection for external speakers Bulky and takes up a lot of room Cannot connect to external speakers with wired connection, only Bluetooth

Bottom Line: Echo is the original speaker for Alexa, but that doesn't automatically make it the best one. If you're looking for strong audio, connecting to other speakers via Bluetooth, and don't mind the large size, Amazon Echo a good pick.
Amazon Tap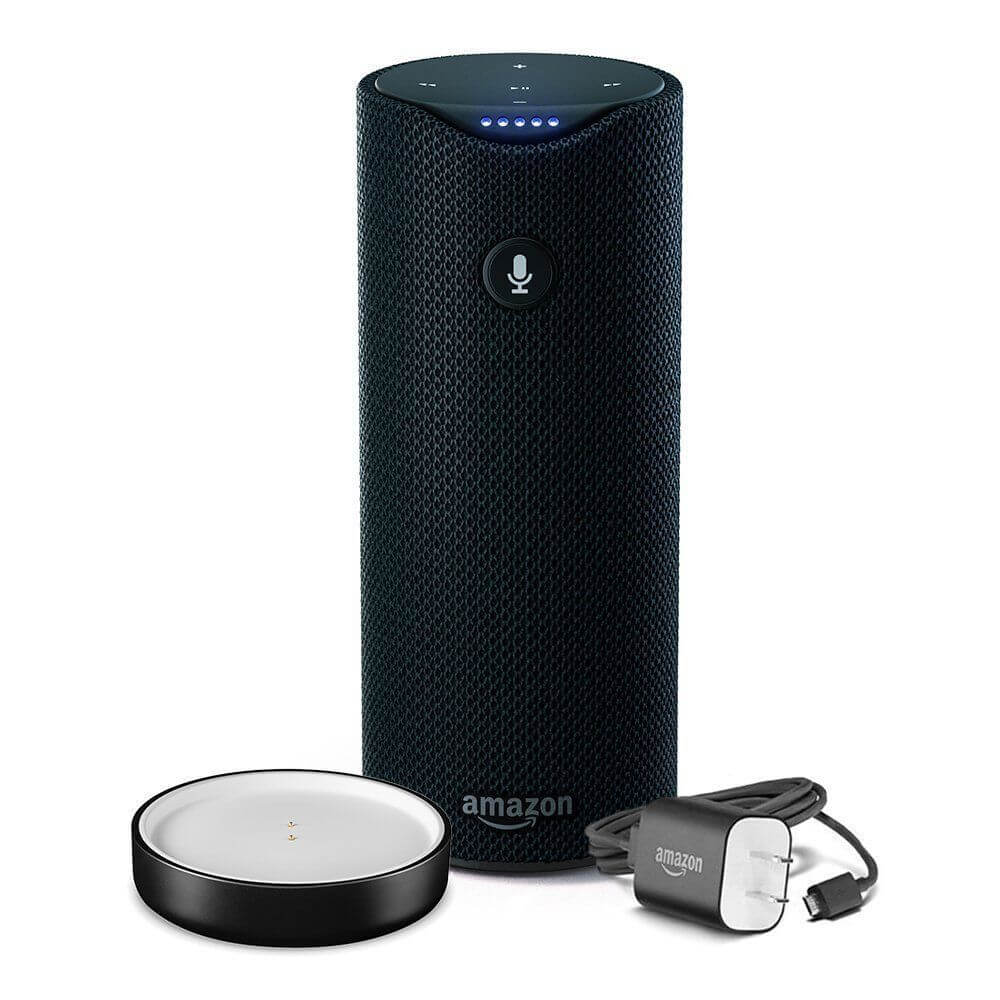 Pros:
Battery powered for on-the-go use. Battery life lasts 9 hours of continuous playback or 8 hours in hands-free mode, and the device includes a charging cradle for recharging it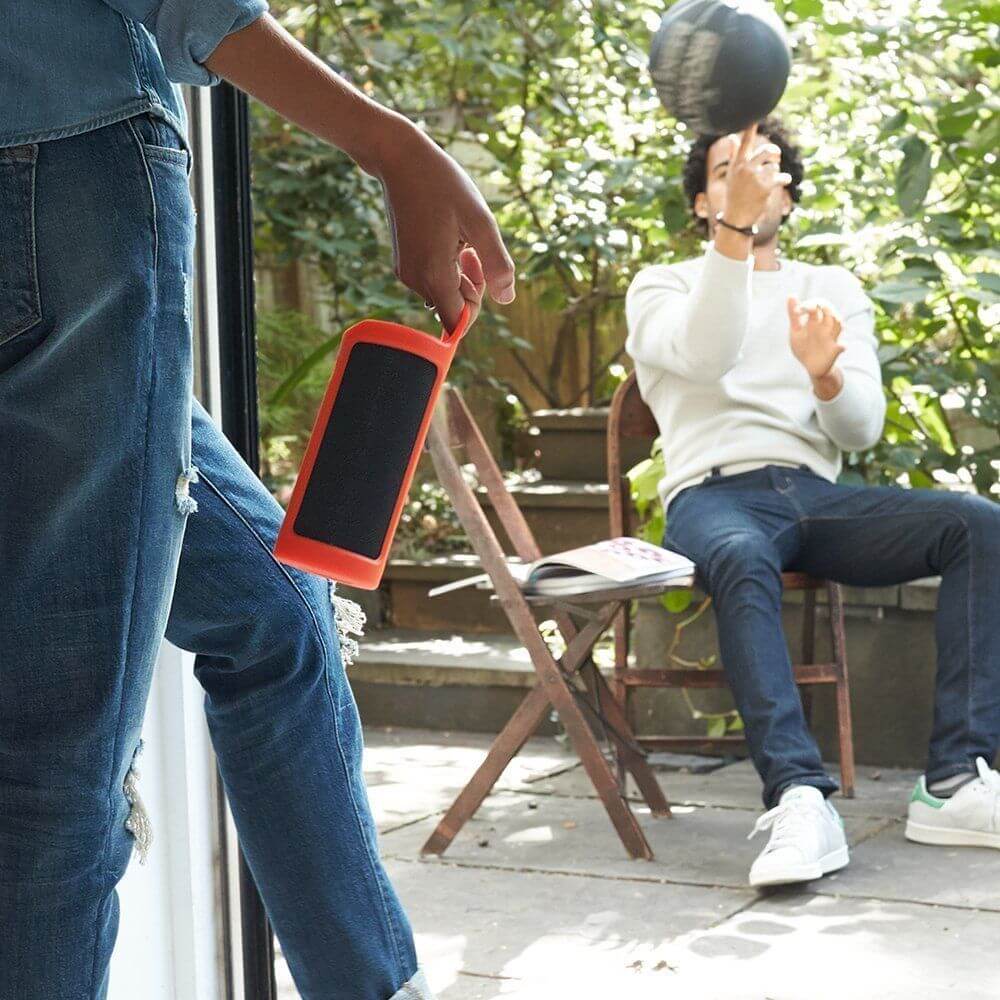 Connect to external speakers using Bluetooth or wired connection Less expensive than the Amazon Echo Provides excellent sound Optional sling cases protect against damage
Cons:
Not "always listening" by default; you need to turn this on in the settings More expensive than Echo Dot Not water and sand resistant, compared to competitive speakers

Bottom Line: If you want to take Alexa to your back patio, office, or outdoor party, then Amazon Tap is the best option for you. It's greatly improved since it first came out, since you can now enable hands-free mode and don't have to always tap it to trigger Alexa.
Echo Dot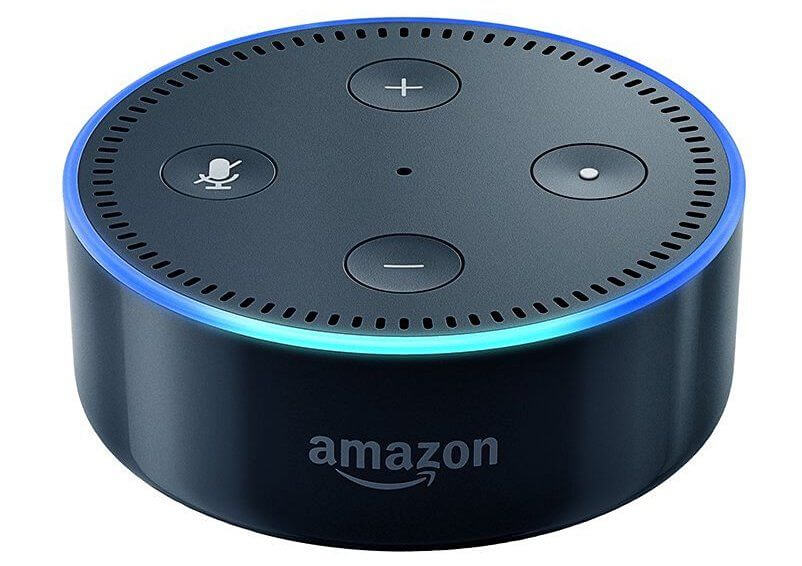 Pros:
Lowest price of all Alexa devices Connects to external speakers using Bluetooth or wired connection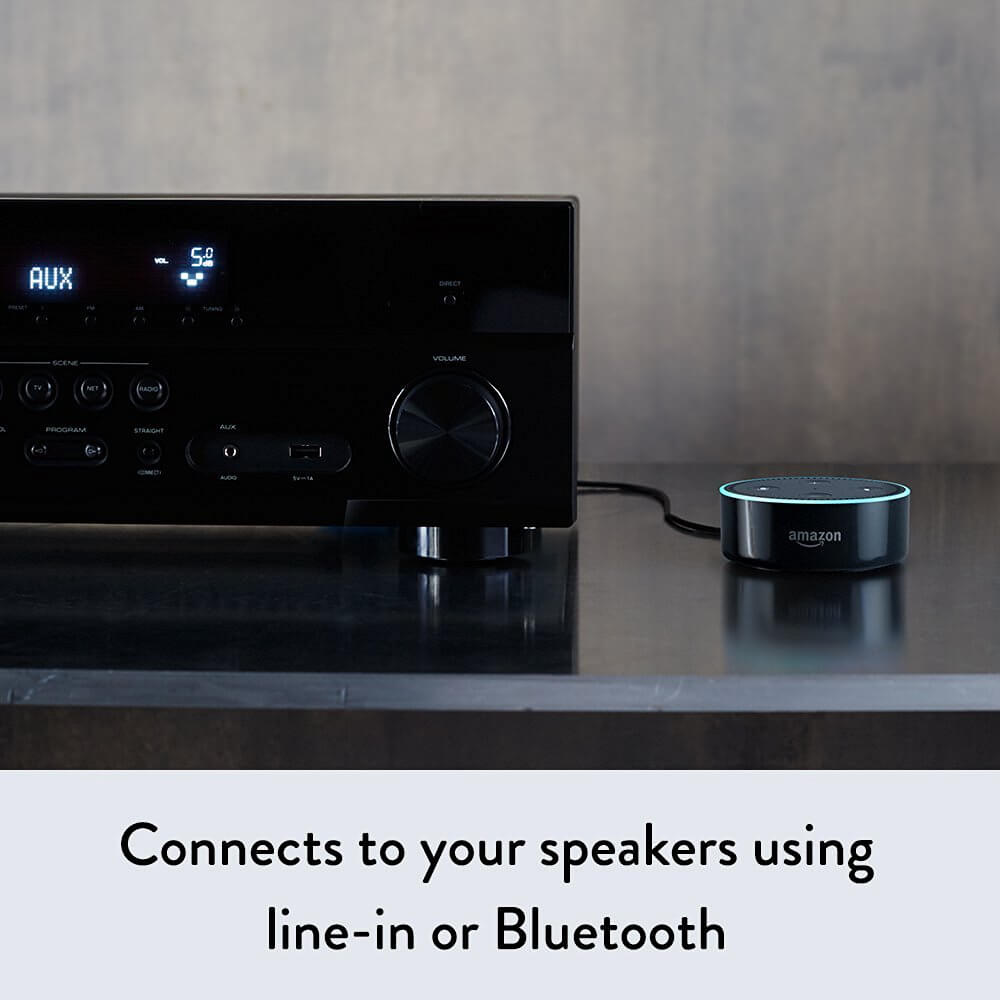 Easily buy several Dots in a set to place Alexa throughout your home
Cons:
Weak audio for music streaming

Bottom Line: If you already have strong Bluetooth speakers, buy a few Echo Dots. It's great for the basic Alexa commands. When you want to play music, you can simply say "Alexa connect to Bluetooth" and have the music play through high-quality speakers.
Echo Look
Pros:
Takes pictures or short videos on command using its included camera Use Style Check to find which clothes to wear. This combines machine learning with advice from fashion specialists to compare and select the best outfit LED lighting and background blur make the photos great for sharing and focusing on your clothing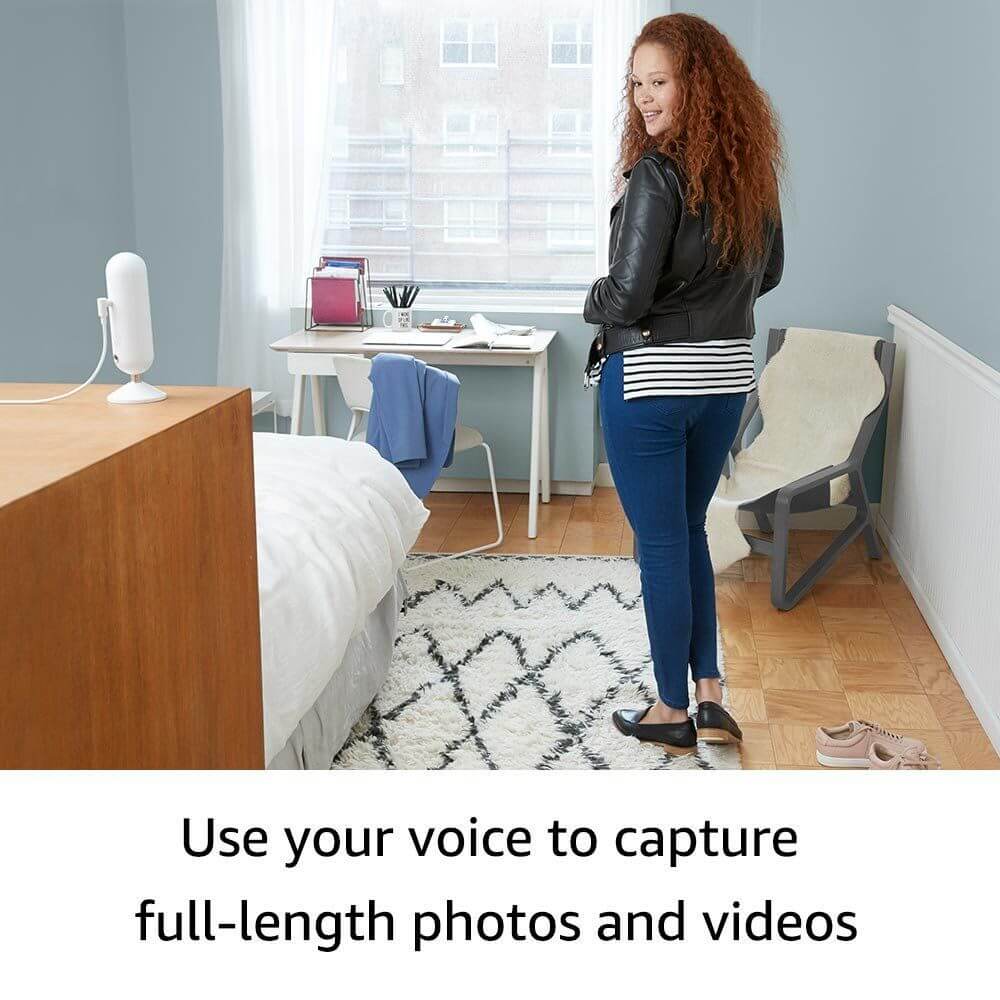 Easily turn the camera off using the mic and camera off button on the side of the device
Cons:
Basic audio quality; not really designed for playing music Lacking features of the other devices, like external audio connection Available by invitation only

Bottom Line: If you are a fashionista and want to photograph and compare your outfits hands-free, Echo Look could be the perfect niche product for you. Otherwise, Echo Show is likely a better option for those wanting an Alexa device with a camera.
Echo Show


Pros:
7″ touchscreen and 5MP camera included Touchscreen allows you to stream music lyrics, live video from Ring and Arlo security cameras, photos, YouTube videos, and more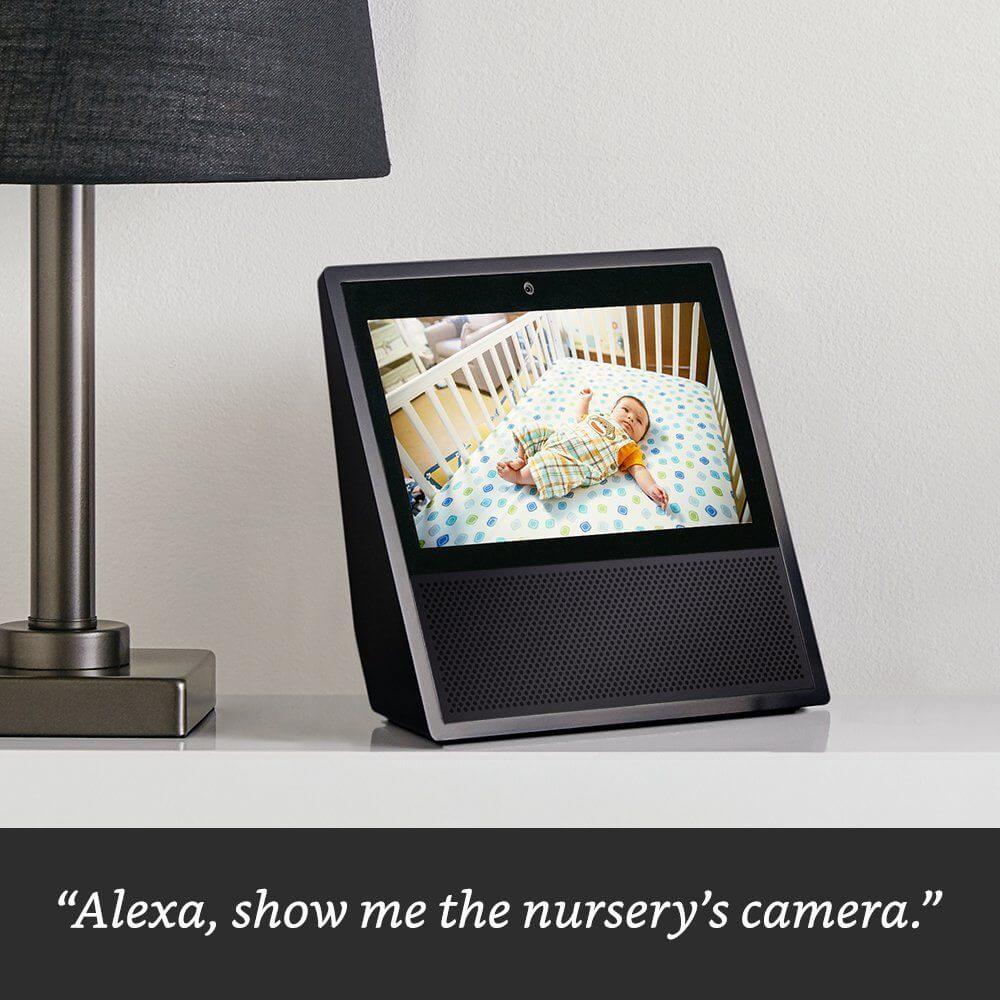 Video calling to other Echo Show devices is available Strong audio with two Dolby speakers
Cons:
Most expensive of the devices

Bottom Line: The Echo Show is an excellent option for a home hub that can make calls, play videos, and display information. Its higher price tag is worth it for the excellent features that are offered.
---
I own the Echo Dot and have several family members that own the original Amazon Echo. I can see at least some purpose in each of these devices. The new Echo Show will certainly be a game-changer for those looking to purchase an Alexa device.
What's your favorite when comparing Amazon Echo vs Tap vs Dot vs Look vs Show? Let us know in the comments.