There are two new Arlo's in town: Arlo Pro 3 and Arlo Ultra.
They both record in higher quality footage, with 4K Ultra HD on the Ultra and 2K HDR on the Pro 3.
But what else sets these apart?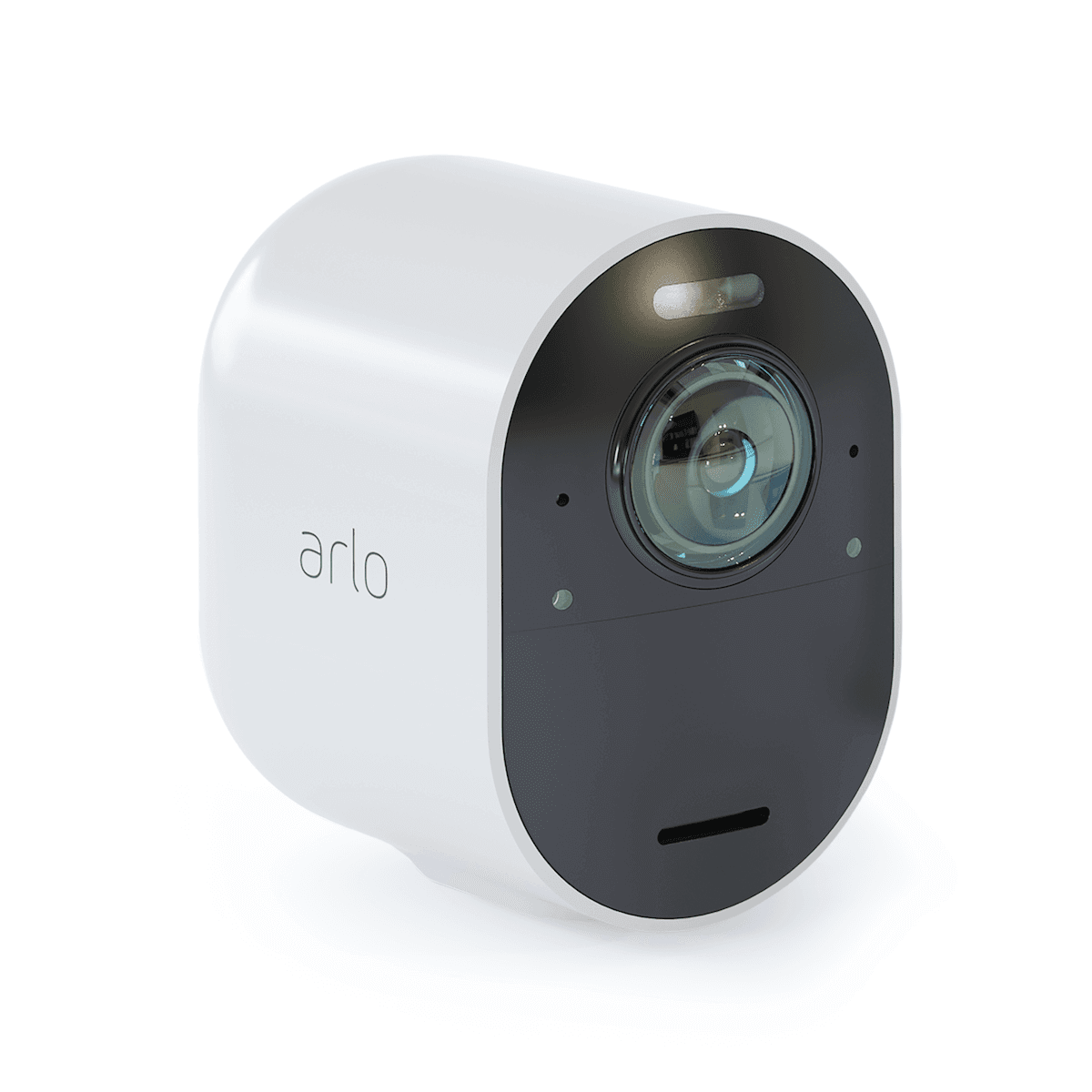 In this article, we will break down the differences between Arlo Pro 2 vs Arlo Pro 3 vs Arlo Ultra. Since the Ultra costs the most money, we will help you decide whether or not it's worth splurging on.
We will also continue updating this article with the latest announcements about Arlo cameras and the new SmartHub.
Arlo Pro 2 vs Arlo Pro 3 vs Arlo Ultra
Affiliate Disclosure: This page contains affiliate links, which earn us commission at no cost to you. The writers of this blog were previously sent a free sample of Arlo Pro, Arlo Pro 2, and Arlo Ultra for review. They were not compensated in any other way. The opinions are 100% their own and not influenced.
| | Arlo Pro 2 | Arlo Pro 3 | Arlo Ultra |
| --- | --- | --- | --- |
| | | | |
| Price | See it on Amazon | See it on Amazon | See it on Amazon |
| Video Quality | 1080p | 2K | 4K |
| HDR | No | Yes | Yes |
| Night vision | Yes | Yes, plus a spotlight built in | Yes, plus a spotlight built in |
| Hub compatible | SmartHub or included base station | SmartHub included, also backwards compatible | Only works with included SmartHub |
| Field of view | 130° | 160° | 180° |
| Person tracking | No | No | Yes |
| Local storage | Back-up USB storage on base station | Yes, easily store all footage with SmartHub's microSD | Yes, easily store all footage with SmartHub's microSD |
| Rechargeable batteries | Yes, interchangeable with Arlo Pro | Yes, interchangeable with Ultra, but not previous versions | Yes, interchangeable with Arlo Pro 3 |
| Power cord | Basic plug in | Improved magnet, better waterproofing | Improved magnet, better waterproofing |
| Included bridge has ZigBee & Z-Wave | No, base station has no radio protocols | Unknown | Yes, SmartHub has Arlo RF, ZigBee, and Z-Wave |
| Siren | Base station only | Included on camera | Included on camera |
| SmartThings | Yes | Unknown | No |
| HomeKit | Coming soon | Unknown | Coming soon |
| Subscription included | No | No | Yes, 1 year Arlo Smart Premier included |
| Weather resistant | Yes | Yes | Yes |
| 7 days of free cloud storage | Yes | No | No. Also 4K storage will cost you $2 extra per month, per camera |
| Two-way voice with mic and speaker | Yes | Yes | Yes |
| Alexa, Google Assistant, and IFTTT compatible | Yes | Yes | Yes |
Check out our Arlo Pro vs Arlo Pro 2 for more details on the differences between those two cameras specifically.
---
Video Reviews
We tested the Arlo Pro, Arlo Pro 2, and Arlo Ultra hands-on, each for separate video reviews. Check these out for more detail on each camera.
Arlo Pro
I won't include the Arlo Pro for today's comparison, but if you want more details on how it works, watch our review from a few years back.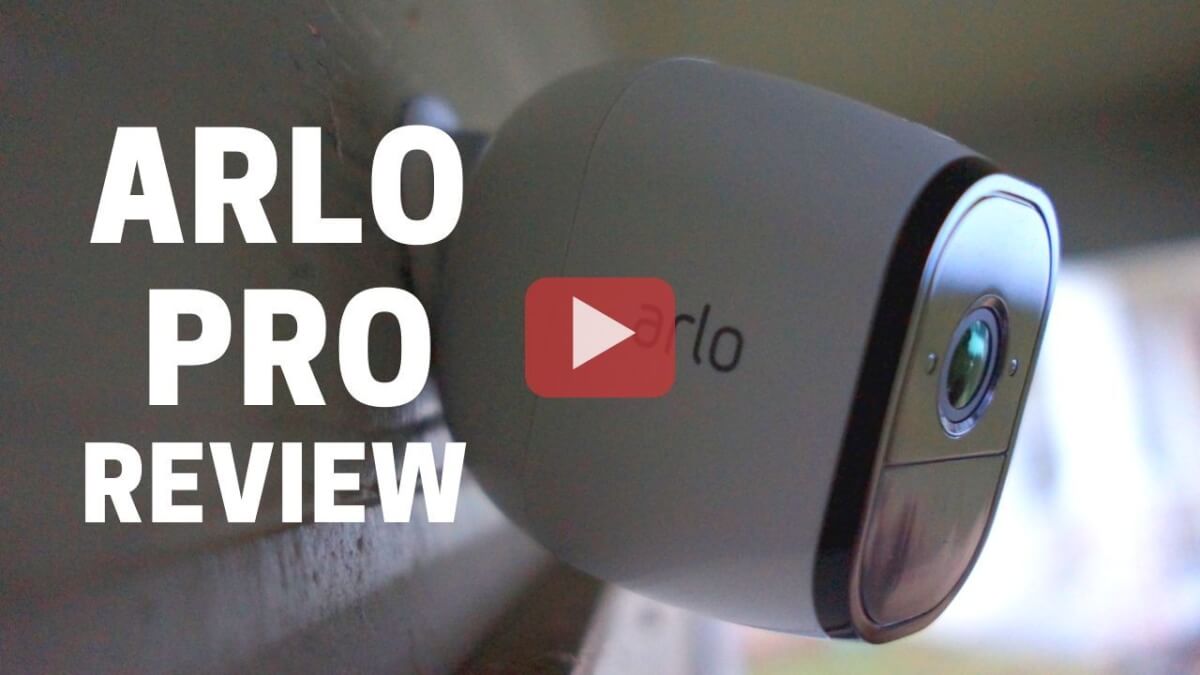 Arlo Pro 2
Here we compare Arlo Pro vs Arlo Pro 2 with footage side-by-side. We also explain the different features on each camera and test the 3 second look back.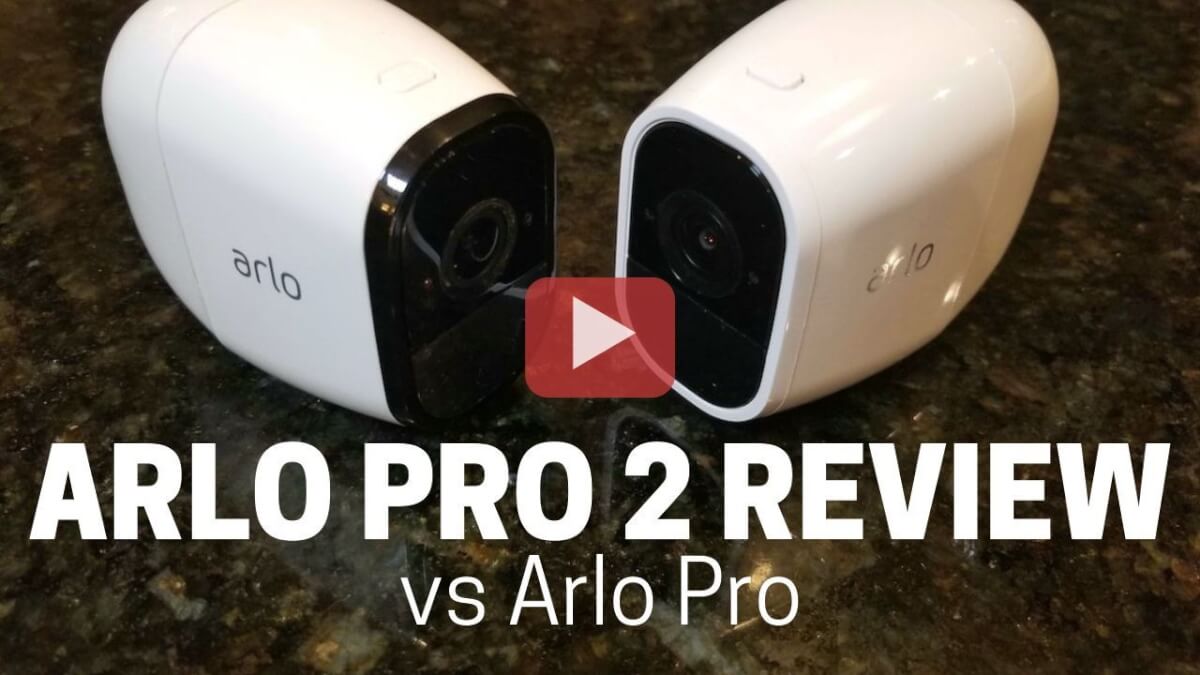 Arlo Pro 3
We don't have a review unit of the Arlo Pro 3 yet.
Arlo said they are sending us one for testing soon. When we get our hands on the camera, we will create a video showing how it works. Subscribe here so you don't miss it.
Arlo Ultra
Arlo Ultra is the latest upgrade, and in this video we take a look at whether or not its 4K really makes a difference. We also do the license plate test to find out how far back you can read the letters on the plate.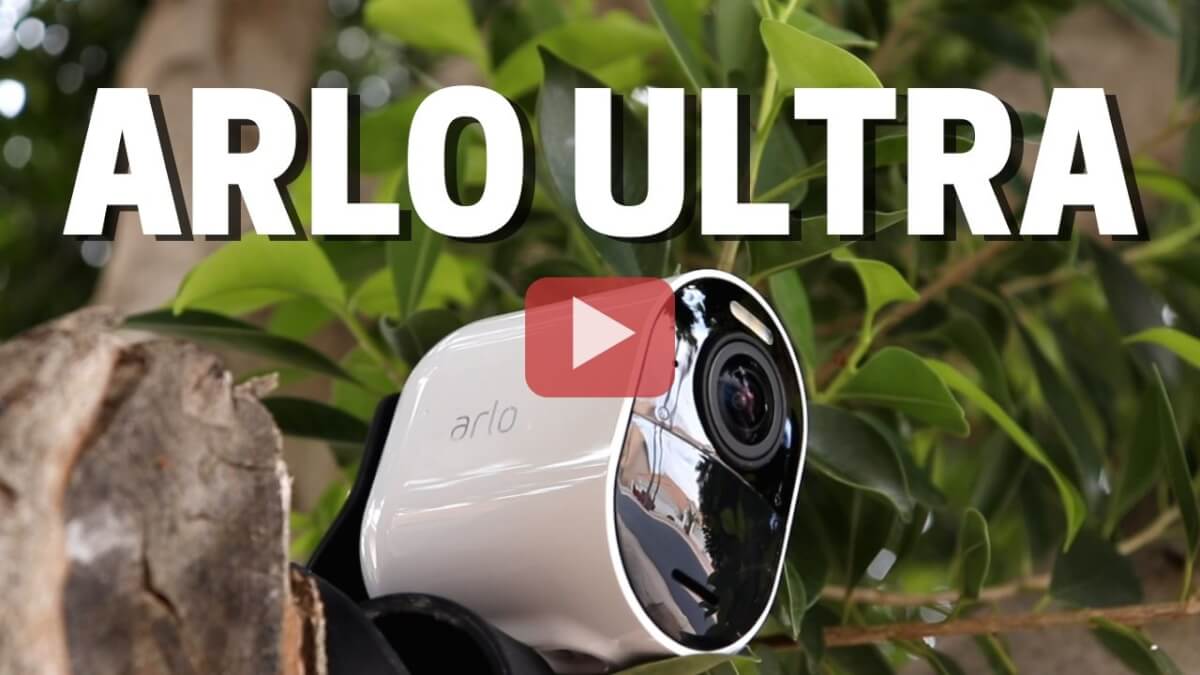 ---
Arlo Pro 3 & Arlo Ultra Features
Since Arlo Pro 3 sits in the middle of the road between Arlo Pro 2 and Arlo Ultra, it shares some of the Ultra's upgraded features.
Here are features of the Pro 3 and Arlo Ultra that are not available on Arlo Pro or other previous versions.
No free cloud storage.

This is a big negative of both Arlo Pro 3 and Arlo Ultra. Neither camera includes 7 days of free 1080p cloud storage like the previous Arlo cameras did. Both cameras have a free trial, but after that ends you can expect to pay for cloud storage.
HDR (high dynamic range). Both Arlo Pro 3 and Arlo Ultra have HDR to improve brightness of colors and contrast. This makes the images more lifelike so they aren't washed out.
Powerful LED spotlight. This bright light near the top of both cameras helps illuminate the picture more accurately. It is motion-activated. Arlo says that the lights, combined with enhanced night vision, allows for color night vision instead of black and white. This basically eliminates the need to buy and install the Arlo Light near your cameras.
Updated power cable and batteries. The new power cable that comes with Arlo Pro 3 and Arlo Ultra attaches to the bottom of the cameras using magnets. In comparison, Arlo Pro and Pro 2 plugs in using micro-usb instead of using magnets, which is less waterproof.
Arlo Pro 3 and Arlo Ultra also use their own proprietary batteries that you can swap between the cameras. These are different from Arlo Pro/Pro 2 batteries, which are not interchangeable with Pro 3 and Ultra.
Updated design. The new Arlo Pro 3 and Ultra have a more rounded front and smooth design, though they are larger.
Siren. The cameras both have a built-in siren. This can be triggered automatically when the camera detects motion or audio, or manually turned on using the app. It can also trigger the light to switch to a red strobe light as another way to scare away intruders.
SmartHub Upgrades

Updated base station. Arlo Ultra and Arlo Pro 3 include a new base station for the cameras, called Arlo SmartHub. Its main upgrades are: Z-Wave/ZigBee compatibility, ArloRF, and support for the new Arlo Security System. ArloRF is a radio technology for efficiently communicating with cameras at long ranges and extended battery life. Just like the previous version, the hub connects your cameras to your Internet.
Important: the Arlo Ultra is not compatible with the previous Arlo Pro and Arlo Pro 2 base station. It only works if you have the new SmartHub. The SmartHub does work with previous Arlo cameras, but you'll have to migrate your old Arlos to the new SmartHub (unless you want two hubs plugged into your router). Meanwhile, Arlo 3 is compatible with some older versions of the Arlo base station. For the full list, click here.
Better microSD options. Arlo Ultra and Arlo Pro 3's SmartHubs also have a microSD slot for local storage. While this was available on the previous base station using a USB, it was more as a backup. The SmartHub's microSD can be used daily for 2K or 4K storage if you don't want to pay to have it in the cloud.
Z-Wave/ZigBee hub. During CES 2019, Arlo announced that their SmartHub would work with Z-Wave and ZigBee. Their goal is to build out their own Works with Arlo platform. Using only the Arlo app, you will be able to automate all of your Z-Wave/ZigBee devices in one place. This is Arlo's attempt at replacing your SmartThings/Wink hub.
Arlo Ultra Exclusive Features
The recently announced Arlo Ultra has several upgraded features worth mentioning. These are available exclusively on Arlo Ultra, which is why it costs more than the other cameras.
4K Ultra HD image sensor. This gives the camera higher video resolution, so users can zoom in and still maintain accurate detail. This makes it even easier to identify faces, license plates, and more. Arlo Pro 3 is in second place with 2K resolution. In comparison, Arlo Pro only records 720p footage, while Arlo Pro 2 has 1080p.
180° field of view. This is wider than Arlo Pro 2 (130°) and Arlo Pro 3 (160°). The wider view makes it easy to capture more action on the sides of the frame. In addition, the cameras have advanced "de-warping," preventing the images from being warped with their wider angle. One competitor with equally wide field of view is Zmodo Snap Pro.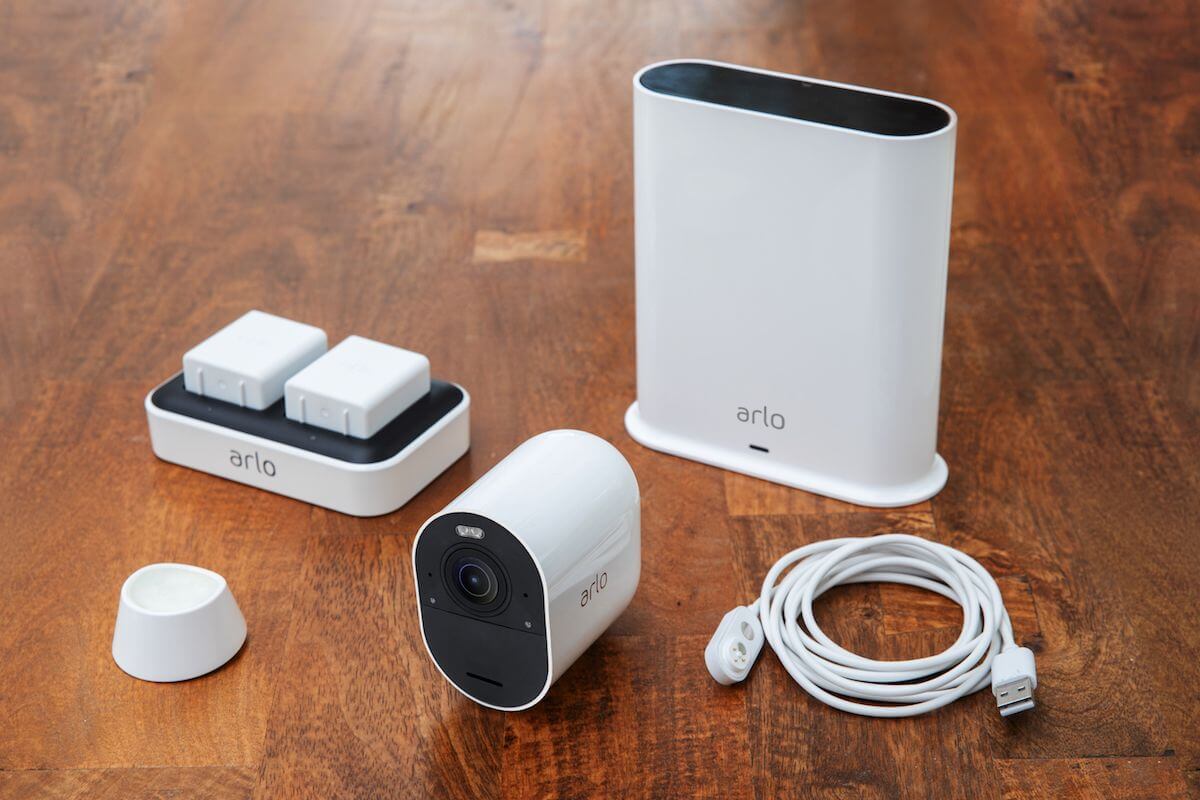 Auto zooming and tracking. This is a new feature exclusive to Arlo Ultra within Arlo's cameras. The camera automatically zooms in and tracks people moving within the frame. Zooming in reduces the video quality, so it's not really a feature I would use.
Improved audio. Arlo says they improved the audio on Arlo Ultra, with dual-microphones and two-way audio that has advanced noise cancellation. This is designed to reduce background noise from traffic or wind. Arlo Pro 3 and all other versions only have one microphone.
Arlo Smart Premier one year subscription included. This is a $120 value. After the free year, you have the option of continuing Arlo Smart Premier for $10/month, or just using Arlo's free plan. Scroll down within this article for more details on what comes with this upgraded plan.
HomeKit coming soon? As announced at CES 2019, Arlo Ultra and Arlo Pro 2 should be HomeKit compatible in the near future. However, this is not available yet. It doesn't sound like this is coming for Arlo Pro.
As you can see in the video above, we tested the Arlo Ultra next to the Arlo Pro 2. Its footage is much more clear and the HDR makes a big difference. The spotlight really improves the night vision as well.
---
Features of All 3 Arlo Cameras
Despite their differences, Arlo Pro 2, Arlo Pro 3, and Arlo Ultra function mostly the same.
Whichever camera you choose, you can expect the following features.
Easy setup. By downloading the Arlo app and connecting it with your cameras, you can easily use WiFi to monitor your Arlo in just a few minutes. If you decide to plug in the camera, just make sure you install it near a power outlet.
Wireless design using batteries. With rechargeable batteries, you can use any of these cameras on battery power for a completely wire-free set up. Arlo Pro and Pro 2 last up to 6 months for average use, and Arlo tells us that the Ultra is expected to be comparable or even improved.
Weather-resistant. Each of these cameras are designed for outdoor use. They can withstand freezing or hot temperatures, along with snow, rain, wind, and other harsh outdoor elements.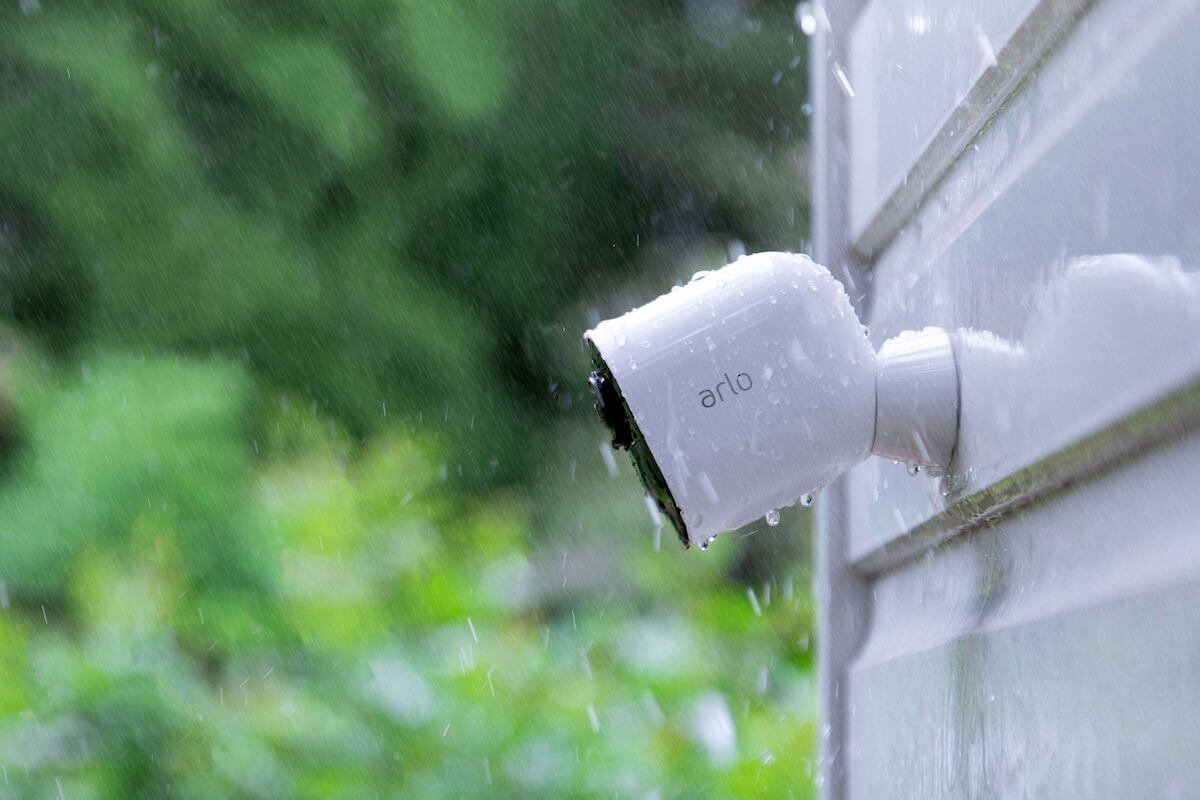 Same app. Use the Arlo app to view clips of motion and arm/disarm your cameras.
Two-way talk with microphone and speaker. All cameras make it easy to talk and listen to your visitors. The built-in speaker and microphone work together so you can hear what guests are saying, and respond to them within the app.
Smart home compatibility. When you compare these cameras, you will find that all three are compatible with the same smart home gadgets, including Alexa, Google Assistant, IFTTT, and others. One big exception: Arlo Ultra currently does not work with SmartThings. This may be fixed later, but for now it doesn't work.
Magnetic mount. All cameras install using a magnetic mount (though the design of each mount is slightly different). Set up either mount by screwing it to the wall. Then you can simply connect the magnet on the back of the cameras to the magnetic base on the mount.
Benefit of Arlo Pro 2
In addition to these features, Arlo Pro 2 also offers 7 days of free rolling cloud storage. It appears this is the newest camera with free cloud storage, since the Pro 3 and Ultra both require a monthly subscription fee.
If you are trying to avoid paying monthly fees to store your footage, Arlo Pro or Arlo Pro 2 are good options, even though they are not the newer versions. Follow these links to Amazon:
---
Is Arlo Ultra Worth It?
Now that we've analyzed the differences between Arlo Pro 2 vs Arlo Pro 3 vs Arlo Ultra, let's decide if the new Arlo Ultra is worth it.
Cons
It's certainly not cheap.
Already for sale on Amazon (see it here), the new Arlo Ultra will set you back $600 for the kit with two cameras and the new base station. For one camera and the base station, it will be $400.
Wow!

Since the camera is not compatible with the previous version of the base station, you will have to buy the Arlo Ultra kit instead of just an add-on camera.
$600 is a steep commitment for only two cameras monitoring your home.
Plus since the Arlo Ultra and Arlo Pro 3 don't have free cloud storage, you can expect to pay a monthly subscription for storage.
You may decide to store footage on the SmartHub's microSD card to avoid these fees, but for now Arlo has made it difficult to access these recordings.
Pros
In our testing, Arlo Ultra footage is much clearer, making it easier to identify faces, license plates, and more small details. While the Ultra initially had software issues, many of these have been resolved and the cameras work well for us.
The battery isn't draining too quickly and the footage shows details better than the Arlo Pro 2, without any major bugs.
In short, if you want a very high quality camera and don't care about the price and ongoing subscription fees, Arlo Ultra might be worth it to you.
---
Other Arlo Options
Arlo Pro and Arlo Pro 2 are the best alternatives for the Arlo Ultra.
Arlo Pro 2 has 1080p footage and rechargeable batteries, giving it the same core features as the more expensive Arlos. If you feel like 2K or 4K footage is more than you need, then save your cash and go with either Arlo Pro or Arlo Pro 2.
These cameras still come with free cloud storage, so you will save money upfront and monthly.
Both Arlo Pro and Arlo Pro 2 are similar, but we specify their differences in our comparison article.
Arlo Pro 2 adds 1080p, along with three additional features that require the camera to be plugged in to work: 3-second look back, continuous video recording, and motion zones.

Besides Arlo Pro and Pro 2, I would not recommend the original Arlo Wire-Free, which doesn't have rechargeable batteries. Its features are too basic and outdated compared to most advanced security cameras available today.
The other outdoor option is Arlo Go, which is more of a niche camera since it works with a cellular connection to monitor your cabin, barn, or other areas without internet connection.
Competitor Options
Besides Arlo Pro and Arlo Ultra cameras, there are several other brands that offer cameras to monitor the outside of your home.
But there is one catch.
None of these cameras offer the 7-day free cloud storage that you'll get with Arlo Pro 2 and earlier models.
While Arlo sells their upgraded storage with Arlo Smart for Arlo Ultra and Pro 3, Arlo's included 7 days of rolling free cloud storage for its older cameras is very unique.
The "free" plan competitor cameras offer has limited cloud storage, so you have to essentially plan on upgrading to the monthly subscription.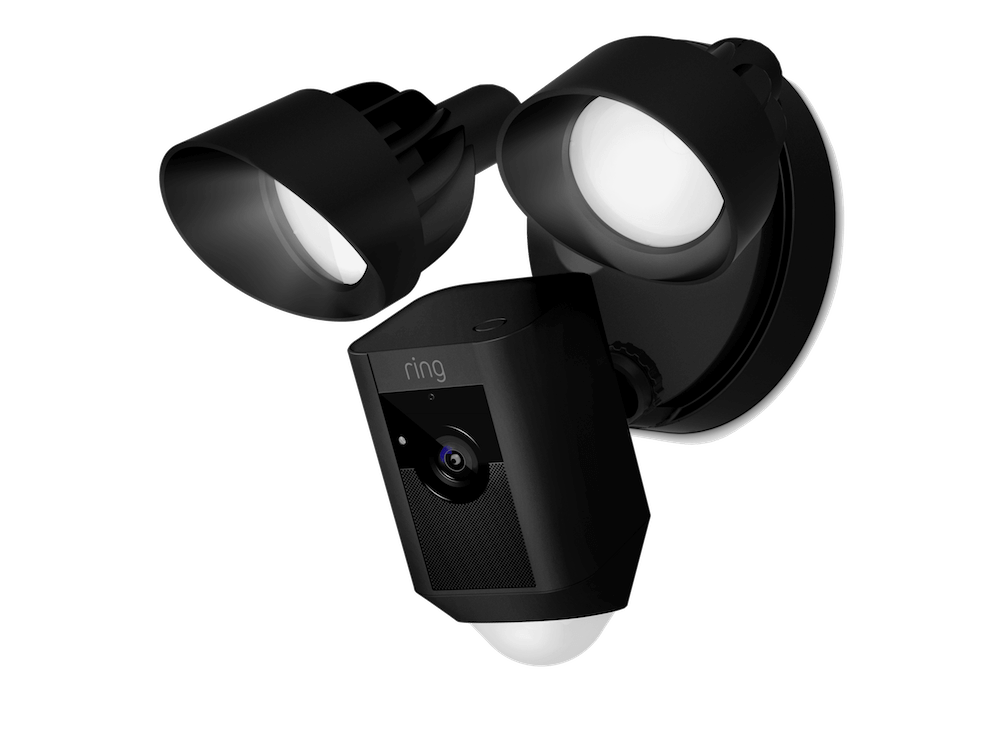 Ring offers several outdoor cameras with a built-in light. Maybe that's where Arlo got the idea to add a light to Arlo Ultra…?
Ring Floodlight Cam is the brightest option, but there's also the Spotlight and Stick Up Cam.
None of these require the Ring doorbell or any hub connected to your router, which is one perk over Arlo cameras. You can read our comparison of Ring Floodlight vs Spotlight vs Stick Up Cam for more details.
Nest Cam IQ Outdoor has a 4K sensor. So while it doesn't record in 4K, it still has comparable specs in some ways. Nest Cams integrate nicely into the Nest smart home ecosystem, making them easier to monitor next to your Nest thermostats, doorbell, lock, or security system.
Make sure you compare the features of the different Nest Cams to help you pick the best camera for your set up.
Wyze Cam is an indoor camera that does include free cloud storage. While it's not water resistant, the camera retails for just $25. Many users install it outside on a covered patio.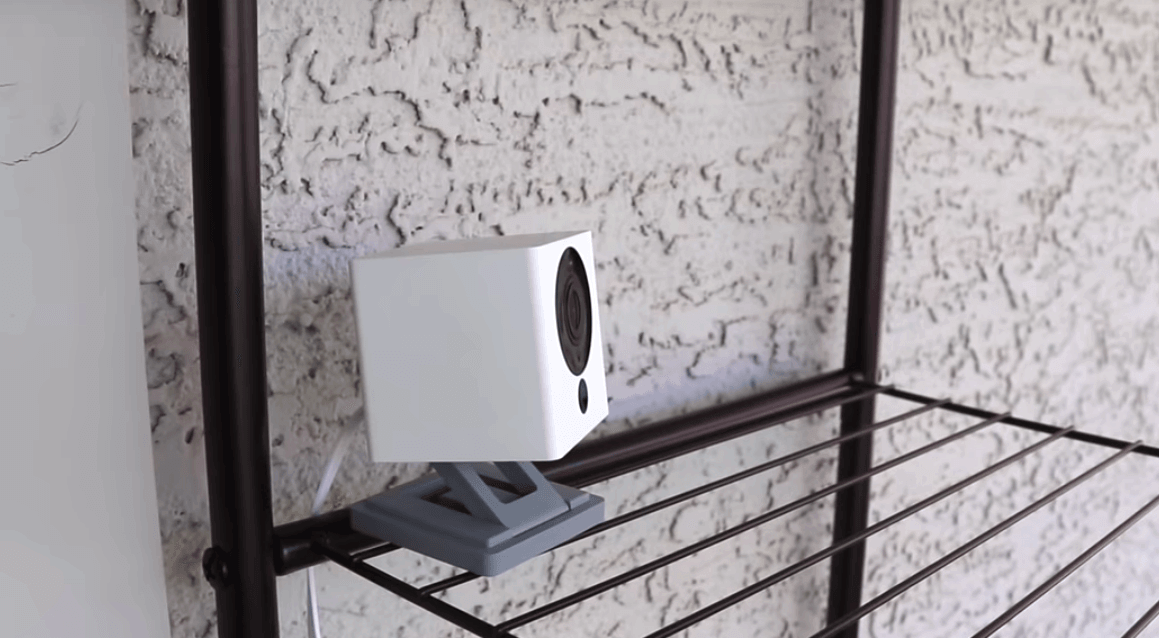 Read about our Wyze Cam outdoor testing for more information.
---
Arlo Smart Subscription Options
The free plan includes 7 days of cloud storage on these cameras: Arlo Wire-Free, Pro, Pro 2, Arlo Q, Q Plus, Arlo Go, and Arlo Baby.
Both Arlo Pro 3 and Ultra include a free trial for cloud storage subscription. The Arlo Ultra comes with 1 year of upgraded Arlo Smart Premier. Arlo Pro 3 comes with 3 months of Arlo Smart.
Read more about the upgraded Arlo Smart and Arlo Smart Premier plans below to understand whether or not you will need to upgrade from Arlo's free plan after the year of Arlo Smart Premier expires.
Arlo Smart
Arlo Smart adds computer vision to tell you if the motion is a person, animal, vehicle, or package.
This is a huge upgrade.
My Arlo Pro 2 cameras (without Arlo Smart) send me push notifications daily for the neighborhood cat or any birds hanging around my front yard. With all of these false alarms coming in, it's easy to ignore an actual alert for someone at my porch.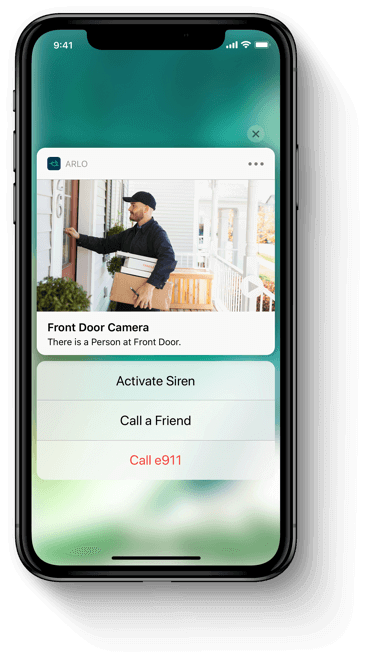 Other features that come with Arlo Smart include viewing notifications to take action directly on the lock screen, and setting user-defined motion zones.
These custom motion zones also reduce false alarms because you specify which areas you want to monitor, and have your cameras ignore the rest.
Arlo Smart Premier
In addition to the features above that come with Arlo Smart, bumping up your subscription to Arlo Smart Premier adds 30 days of 1080p cloud recordings instead of the initial seven days.
The other added features are that you can support 10 cameras instead of 5, and use e911 for guiding emergency responders to your home. This is only available in the United States.
Using e911, you are automatically connected to the authorities closest to the address specified in Arlo. Even if you are away on vacation, your call will go to the department near your home, not your current location.
As I mentioned earlier, Arlo Ultra includes a one-year subscription to Arlo Smart Premier.
Other Options
Premium recording for storing 4K videos in the cloud requires an add-on subscription separate from these plans. Alternatively, you can store 4K videos locally using the SmartHubs' microSD slot.
It doesn't appear that there is an additional charge for 2K video storage.
If you like Arlo Smart Premier's features, but need capacity for more cameras and additional cloud storage, Arlo Smart Elite is also available.
This is the highest option that expands your support to 20 Arlo cameras and includes 60 days of cloud storage. Intense.
---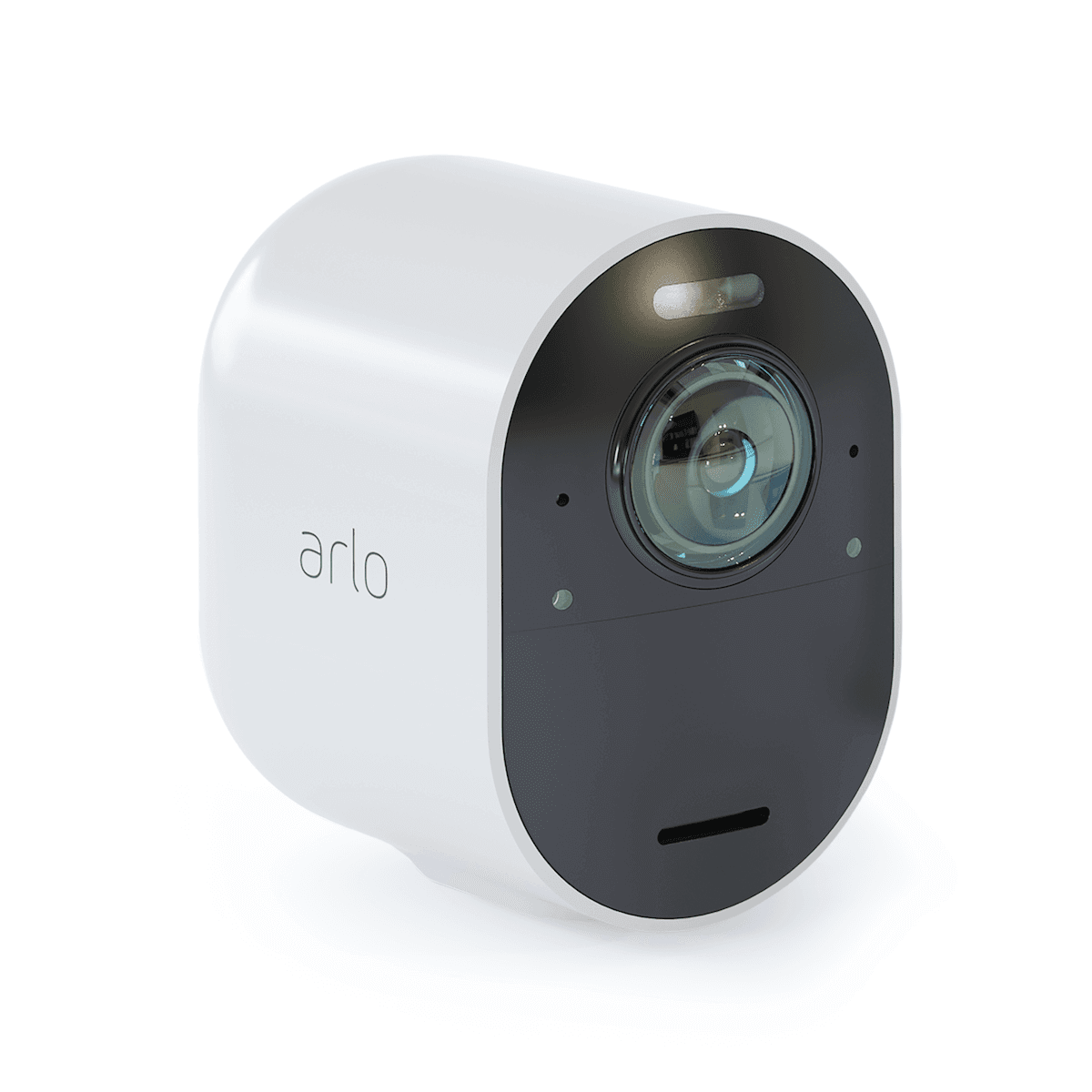 That wraps up our comparison of Arlo Pro 2 vs Arlo Pro 3 vs Arlo Ultra.
What do you think – will you splurge on the Arlo Ultra, or go another direction for your home security? Comment below with your thoughts!