It's video doorbell overload!
There are several smart doorbells that came out within in the past few years. This makes it difficult to compare them and find the differences, features, and video quality for each doorbell.
We've been working on a mega-comparison video of smart doorbells and it's finally finished and ready for you to check out.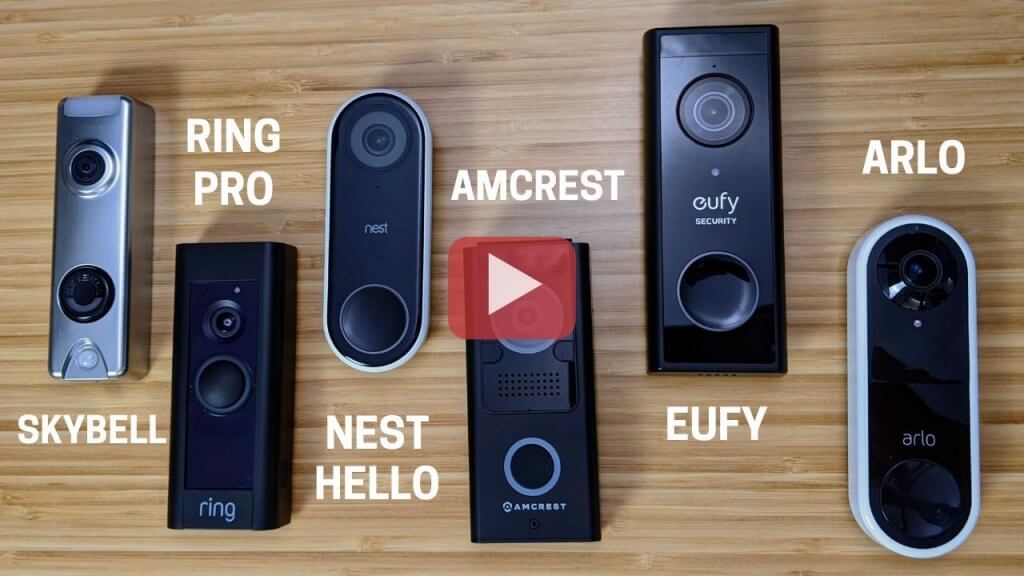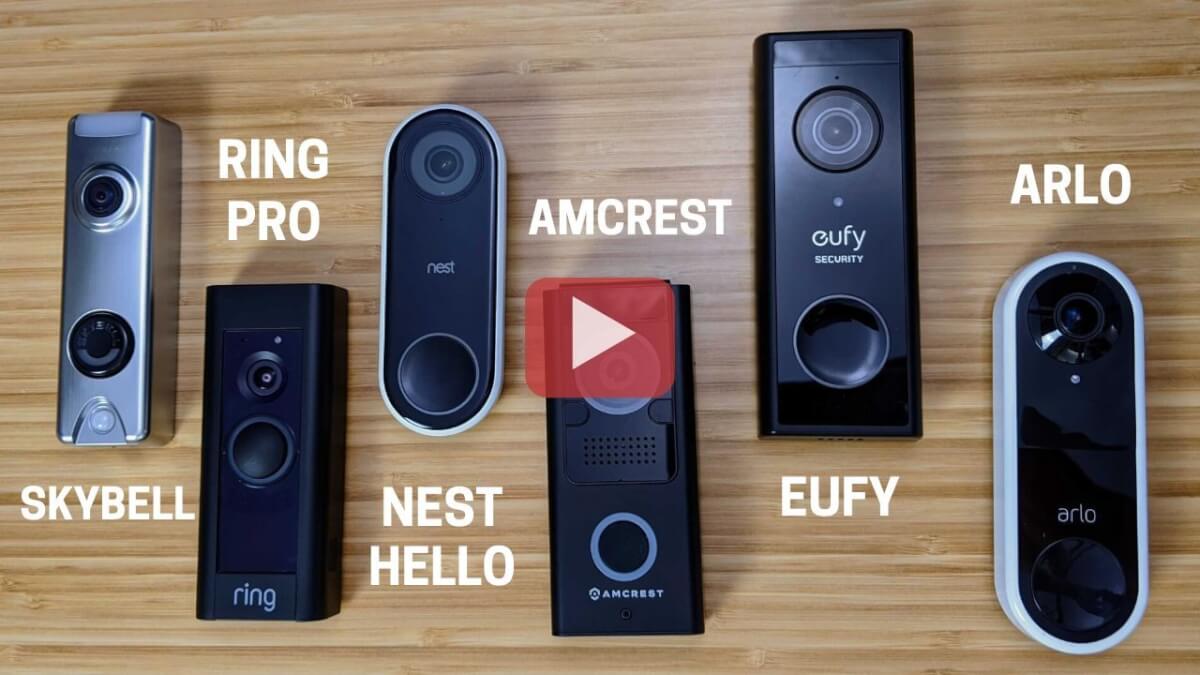 After you watch the video, you will want to read through the comparison table below for more details and specifics.
Just like the video, in this comparison we will be looking at: Amcrest vs Arlo vs Skybell Trim vs Eufy vs Nest Hello vs Ring Pro.
I know there are other doorbells out there, but these are some of the major brands. Comparing six head-to-head was already intense. We can always create a follow up comparison with more doorbells or corrections on anything— just comment below or on the video to let us know.
All right, let's jump in and compare!
---
Amcrest vs Arlo vs Skybell Trim vs Eufy vs Nest Hello vs Ring Pro
Affiliate Disclosure: This page has affiliate links, which earn us commission at no cost to you.
Amcrest
Arlo Video Doorbell
Honeywell SkyBell Trim
Eufy 2K Battery
Nest Hello
Ring Pro
See it on Amazon
See it on Amazon
See it on Amazon
See it on Amazon
See it at Home Depot
See it on Amazon
Resolution
1080p
1536x1536
1080p
2K (2560 x 1920)
HD 1600 x 1200
1080p
Power source
Wired only.
Wired only.
Wired only.
Wired or battery powered.
Wired only.
Wired only.
Custom motion zones
Yes
Only with Arlo Smart subscription
No zones.
Yes
Only with Nest Aware subscription
Yes
Field of view
140°
180°
180°
160°
160°
160°
Amcrest
Arlo Video Doorbell
Honeywell SkyBell Trim
Eufy 2K Battery
Nest Hello
Ring Pro
2.4 or 5GhZ
2.4GhZ only
2.4GhZ only
2.4GhZ only
2.4GhZ only
2.4 or 5GhZ
2.4 or 5GhZ
Alexa or Google
No
Alexa: Yes. Routines for both motion and doorbell press.
Google: Yes.
(Only if the resolution is NOT 1536 x 1536 for either.)
Alexa: use the skill to arm it, but can't view or automatically display video.
Google: No.
Alexa: Yes. Live video feed and routines only for doorbell press.
Google Home Hub: View live feed, but can't announce the doorbell was pressed.
Alexa: No.
Google: View live feed automatically, talk and listen.
Alexa: Yes, live view automatically. Routines with motion and doorbell press.
Google Hubs: No.
SmartThings or HomeKit
No
No
No
No
No
Works with SmartThings, but not HomeKit
RTSP
Yes
No
No
No
No
No
Amcrest
Arlo Video Doorbell
Honeywell SkyBell Trim
Eufy 2K Battery
Nest Hello
Ring Pro
Chimes
Works with existing chimes, or purchase Chime Kit.
Works with existing chimes, Arlo Chime, or Echo devices.
Works with existing chimes. No other options.
Works with existing chimes, plus the home base has a chime. Echo devices.
Works with existing chimes, or use Google Homes as chimes.
Works with existing chimes, use Echo Devices as a chime, or buy the Ring chime.
Video storage
MicroSD storage up to 128GB. Cloud storage requires subscription.
Local storage when connected to an Arlo base. Cloud storage requires subscription. $3/mo single camera or $10/mo for multiple cameras.
7 days of free rolling cloud storage.
16GB on HomeBase, (approx 180 days). Cloud storage requires subscription.
No local storage. Cloud storage requires subscription. New Nest Aware pricing $6/mo or $12/mo for 24/7 recording. Same price for 1 or multiple cameras.
No local storage. Cloud storage requires subscription. $3/mo for one device or $10/mo for all devices.
Outdoor use
IP55 weatherproof; -22°F to 122°F
Weather resistant; -4°F to 113° F
IPX4 weatherproof; -40°F to 122°F
IP65 weatherproof; -4°F to 122° F
IPx4 weatherproof; 5° to 104°F
Weather resistant; -5°F to 120°F
Amcrest
Arlo Video Doorbell
Honeywell SkyBell Trim
Eufy 2K Battery
Nest Hello
Ring Pro
Unique features
RTSP and local recording.
1:1 aspect ratio to see packages on ground.
7 days of free cloud storage.
Local storage, free person detection and 1 motion zone, WDR.
24/7 recording with paid plan, facial recognition, HDR.
Works well with Alexa, multiple motion zones.
Default and custom pre-recorded responses
Not available
Default options available in the live view.
Not available.
Default and custom options available in the live view.
Default options available in the live view.
Not available.
---
Amcrest Doorbell
Affordable doorbell with local storage that gets the job done, but is lacking some advanced doorbell features that some may want to pay extra for.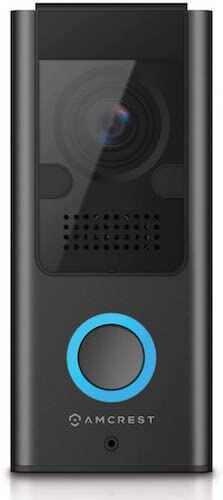 Pros
Affordable and simple doorbell. Integrates with other Amcrest cameras.
Local microSD storage up to 128GB. This worked well in my testing. RTSP storage is also available.
Motion zones. It's difficult to configure, but it's great this is offered at this price without any subscription fees.
Very low latency. Notifications and answering the door were both quick, and it also captured footage before motion.
Cons
Difficult setup compared to others. The cover isn't easy to remove and the screw on the bottom is very small.
Very limited smart home integration. It shows up in the Alexa app as a generic camera, but you can't have it trigger anything from motion or a doorbell press. For example, it won't show up on Echo Show.
No person detection. In my testing, it would alert me for birds flying in my front yard.
Some app frustrations. To see the latest events, you have to scroll all the way over, which feels backwards. Also, it kept going back to standard resolution after I set it to HD for the view in the app.
Possibly easy to steal, since it's only held in place with one phillips screw on bottom.
---
Arlo Video Doorbell
Software issues and a big push for their subscription mean I don't recommend this doorbell.


Pros
1:1 aspect ratio. This makes more sense on a doorbell because I can see packages on the ground better. It's still not perfect though, since I won't see the package if it's leaning on the wall where the doorbell is.
Works within the Arlo ecosystem which may be a good thing if you're already using their app and cameras elsewhere.
Screenshot on the notification for a quick glance at who is there (subscription required).
Multiple activity zones are available (subscription required).
Advanced notifications reduce false alarms from traffic and birds (subscription required). There is also a notification if someone is trying to steal the doorbell. I received this notification when I was uninstalling it.
Default responses are available to quickly select while on the live view. That way you can tell someone to leave a package if you are in a meeting.
Cons
Software glitches. When someone rings the doorbell, the video feed is gray and doesn't load correctly. This is an issue others have experienced as well, and I noticed it on the Arlo audio doorbell. I troubleshooted this for a long time, and any fixes were only temporary before it switched back.
Subscription (basically) required. If you want cloud storage or premium features like smart notifications, you will have to pay a monthly fee.
Very limited local storage. While Arlo says you can have local storage with the base station, you can't access it remotely. Unless you set up a VPN so it's not user friendly.
Doesn't work like it should. The notifications were slow and live feed was 6 seconds behind at times. "Leave a message" feature didn't work well either. It also can't display on an Echo Show or Google Home Hub unless you downgrade the quality in the settings to 1080p.
---
Honeywell Skybell Trim
Free cloud storage is awesome, but Skybell Trim doesn't let you dial in the notifications. For the price, this doorbell doesn't quite deliver.


Pros
7 days of free cloud storage. This is rolling cloud storage, not a free trial. It's really generous compared to competitors.
RGB LED light on the top and button. You can change the color in the app. It's brighter and better than I expected.
Cons
Notification issues. I received almost no notifications during my testing at night. During the day, there were nonstop notifications even on the lowest sensitivity.
No IR for night vision. Instead, it changes the color of the light on top of the doorbell to a bright white to shine on faces.
No motion zones or people detection. This explains why I receive way too many notifications with this doorbell. This many false alarms makes you become numb to notifications, even if someone is actually at your door.
Lower quality app, packaging, and installation. For the price, I expected more from the Honeywell Skybell Trim. The app and packaging were both very basic and dated. The installation was a headache.
---
Eufy 2K Battery Doorbell
Eufy has high quality 2K footage and extra features without any subscription fees. This version also works on a battery.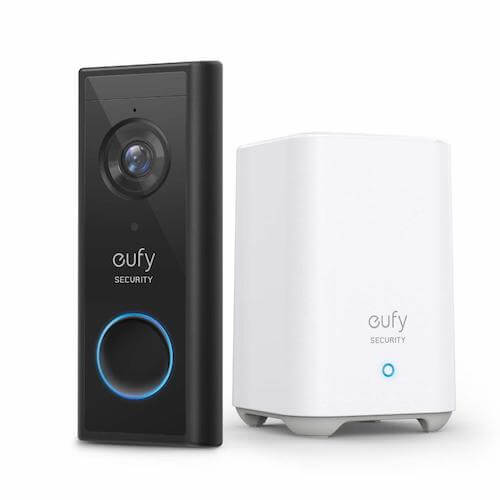 Pros
Premium features without fees. Eufy offers human detection and a custom motion zone without charging monthly fees for these features like Arlo and Nest. These helped reduce false notifications in my testing.
2K footage and WDR. The 2K video looks high quality compared to others. WDR helps you see the details of shadowy faces better.
Custom pre-recorded responses. This is a nice extra feature offered by Eufy that adds convenience for recording custom replies for guests. You can also choose default responses.
Lots of settings. In the settings, you can change the quality to make it stream to your smart display faster. You can also turn off the thumbnail notification to receive alerts faster. Eufy is always updating their doorbell with more settings and features.
Cons
WDR can wash out the background. This makes the background look very bright to expose the face correctly. Although you do have the option to turn that off.
Limited to one motion zone. While one is better than none, it would be easier to set up if you could create multiple zones.
No option to trigger an Alexa routine on motion. The only option available right now is if the doorbell is pressed. Then an Alexa routine can be triggered.
Audio isn't recorded from the phone on the video recording. Only audio from the doorbell.
---
Nest Hello
Nest Hello looks and feels high quality. It has advanced features and 24/7 (paid) cloud recording that set it above the others.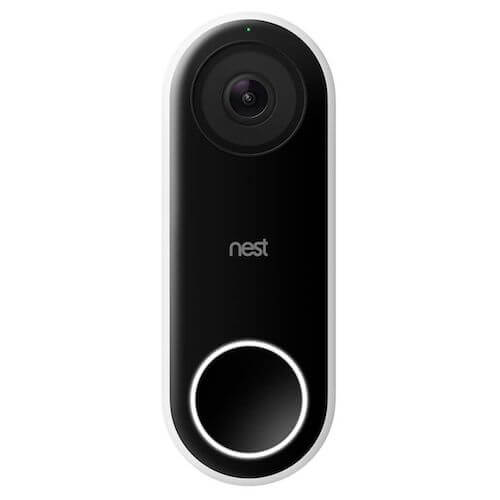 Pros
24/7 cloud recording. This is only available with a Nest Aware subscription, but it lets you jump around in your timeline so no motion is missed.
Excellent design and app. The doorbell looks sleek, the packaging is high quality, and the app is easy to use. I can set multiple zones and specify what types of notifications I want for each one. Pre-recorded messages are also available.
HDR looks excellent. The colors aren't blown out like on Eufy's WDR.
Facial detection alerts. You can save familiar faces in the app and assign a name to them. When they return, Google will announce that specific person is at the front door. It can also recognize packages. Note that in Illinois face detection is turned off because of state laws.
Live feed automatically displays on Nest Hubs. Even if you set it to silent, the video feed shows up without alerting you with a noise.
Cons
Subscription fee required. Since there is no free cloud storage or local storage available, you have to pay a subscription for the 24/7 cloud video storage. Nest also requires the subscription for their premium features, including face detection and activity zones.
Notification "cool down" period may mean missed motion notifications. Nest created this so you wouldn't get annoyed with too many alerts. But I also wasn't alerted about some packages because I had walked past recently, so Nest Hello wasn't sending notifications for a moment. You also cannot temporarily disable notifications.
All Google Home devices announce when someone is at the door… even if you don't want them to. There is no option to specify which devices announce and which do not.
---
Ring Pro
This is Ring's most feature-packed doorbell, but it doesn't quite stack up to competitors in its price range. This one is good if you're into Ring and Amazon.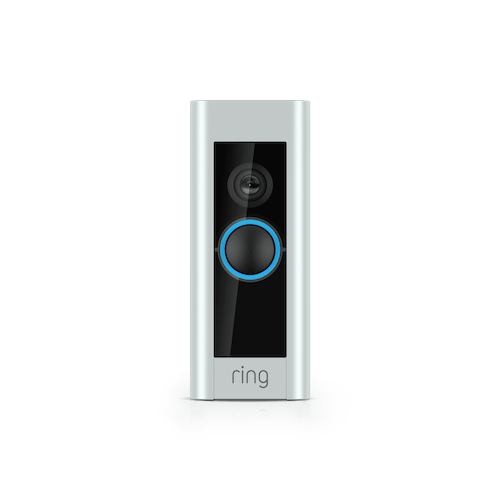 Pros
Good design. Ring Pro was easy for me to set up. It came with several face plates included, which I appreciate. It's also smaller than previous versions.
Works quickly. There is very low latency and quick notifications. It works on 5GHz, which may help its speeds.
Integrates with Ring and Amazon ecosystem. The live feed automatically displays on Echo Show devices. You can also use it with your Ring Secure alarm system.
Easy to use app with several great features. You can set up multiple motion zones or use person detection to reduce false notifications. Its timeline is easy to scroll through, somewhat similar to Nest's.
Cons
Subscription fees. Ring doesn't offer any local or free cloud video storage, so you can expect to pay a subscription fee. This fee also covers monitored security with Ring Protect, so if you have both then it could be worth it for you.
No option to snooze the chime temporarily. You can snooze motion alerts, but it would be nice to set the chime to quiet for awhile.
Some glitches. The audio cuts out as you can see in our video. The recordings were also sometimes slow to load.
Video quality not as good as competitors. For example, Eufy's 2K footage looks better, and so does Nest Hello's HDR. The notifications also don't show a preview like the others do. Ring is just missing some of these "extras" that push the other doorbells ahead.
---
Overall
So which is best?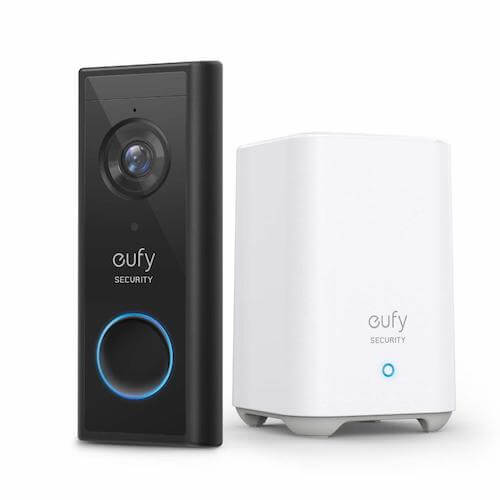 As I mentioned in the video, now that I've set up and tested each doorbell in my home, I think the one I leave up will be… Eufy.
I love the local video storage and 2K quality. Eufy keeps pushing app updates, which is impressive since it already has quite a few features. Plus they don't charge a subscription for these premium features, which is great.
Nest Hello is also very high quality. It's really easy to scroll through the timeline, and the only option here for 24/7 recording. I'm very excited to see where their facial detection takes us since that feels like a true "smart doorbell" feature.
Thanks for watching and reading this article. Hopefully we were able to help you in your search for the best smart doorbell.
If you have any questions, feel free to comment here or on the video.