What's the best video doorbell in 2021?
Whether you already have one installed, or are shopping for your first smart doorbell, I can help you out.
I've been testing 6 doorbells and comparing them head-to-head to find the very best.
But first, if you haven't seen the video that goes with this article, make sure you watch that here. It explains everything in an overview, and this article will go into more depth.
Also, a little over a year ago, we did a similar comparison with other doorbells not mentioned here, including Skybell, Amcrest, and Arlo. You can check that out at this link.
All right, first let's look at a comparison table with the different specs of each doorbell.
Video Doorbell Comparison
Affiliate Disclosure: This page has affiliate links, which earn us commission at no cost to you.
Ring Pro 2
Wyze Doorbell
UniFi Protect G4
Netatmo
Nest Hello
Eufy 2K Battery
See it on Amazon
See it on Amazon
See it on Amazon
See it on Netatmo's website
See it at Home Depot
See it on Amazon
Video
1536p square
1080p 3:4 aspect ratio
2K sensor with future OTA update.
1600 x 1200 (4:3)
1080p 9:16 aspect ratio
HD 1600 x 1200
2K (2560 x 1920)
Power source
Wired only.
Wired only.
Wired only.
Wired only.
Wired only.
Wired or battery powered.
Custom motion zones
Yes
Yes, but only one zone. But it's more flexible so not as big of a deal.
Yes
Yes but they can't overlap
Only with Nest Aware subscription
Yes, but only one zone. Not flexible when you're drawing it.
Field of view
150° horizontal; 150° vertical
H: 88°
V: 120°
H: 138°
V: 114°
D: 155°
140° diagonal
160°
160°
Ring Pro 2
Wyze Doorbell
UniFi Protect G4
Netatmo HomeKit
Nest Hello
Eufy 2K Battery
2.4 or 5GHz
2.4 or 5GHz
2.4 GHz only
2.4 or 5 GHz
2.4GHz only
2.4 or 5GHz
2.4GHz only
Alexa or Google
Alexa with live video to show up automatically on an Echo Show.
Alexa and Google
Neither
Alexa and Google
Alexa: No.
Google: View live feed automatically, talk and listen.
Alexa: Yes. Live video feed and routines.
Google Nest Hub display with voice command.
Smart Things or HomeKit
SmartThings
No
No
HomeKit
No
No
RTSP
No
No
Yes
No but FTP to server is an option.
No
No
Ring Pro 2
Wyze Doorbell
UniFi Protect G4
Netatmo HomeKit
Nest Hello
Eufy 2K Battery
Chimes
Works with existing chime, Ring Chime Pro, and Echo devices as chimes.
Doesn't with existing chimes. Includes Wyze Chime and you can add more.
Works with most existing chimes as listed on their website.
Works with existing chimes.
Works with existing chimes, or use Google Homes as chimes.
Works with existing chimes, plus the home base has a chime. Echo devices.
Video storage
No local storage. Cloud storage requires Ring Protect Plan.
No local storage. Free cloud storage is 12 second clips for 2 weeks. Cam Plus subscription required for full videos.
24/7 to a hard drive using Unifi Protect.
Free local storage on microSD card. Optional Dropbox or FTP. No subscription.
No local storage. Cloud storage requires subscription but includes 24/7.
16GB on HomeBase, (approx 180 days). Cloud storage requires subscription.
Outdoor use
IP65 weather resistant; -5°F to 120° F
IP65 weather resistant
IPX4 weather proofing
Weather resistant; 14°F to 104°C
IPx4 weather proof; 5° to 104°F
IP65 weather proof; -4°F to 122° F
Unique features
Smart replies. Alexa can answer the door if you aren't there. It needs improvement though.
LED light in the front to help with night vision.
LED light on the bottom and a display for quick replies.
Only one of these that works with HomeKit.
24/7 recording with paid plan, facial recognition, HDR.
Local storage, free person detection and 1 motion zone, WDR.
Quick replies
Default and custom responses using Quick Replies or Alexa Greetings.
Default audio.
Default and custom text quick replies on the screen.
No.
Default options available in the live view.
Default and custom options available in the live view. Only one of these with voice recordings.
Ring Pro 2
Wyze Doorbell
UniFi Protect G4
Netatmo HomeKit
Nest Hello
Eufy 2K Battery
---
Wyze Doorbell
For the low price you get a lot, but in my opinion it's worth paying more for better features.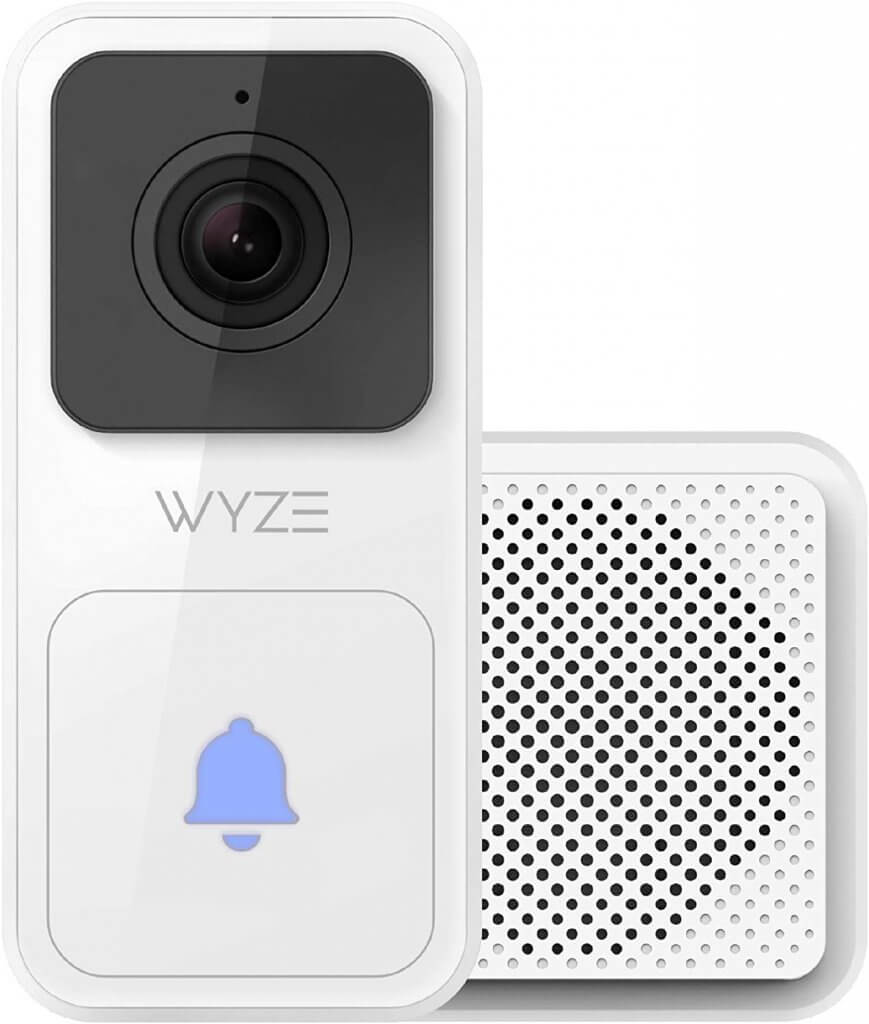 Pros
Very affordable. Even with the monthly fees it's still the least expensive option here.
Motion zones. It was easy to not get notifications from the road.
Night vision. The light on the front helped when it was dark.
Cons
Notifications. Motion notifications are slow with person detection. Plus if the doorbell notification is pressed it doesn't load the live view unless the app is running in the background.
Field of view. It's great you can see more up and down but it's very limiting on what you can see side to side.
CAM Plus subscription. It's not expensive and you might get by without it, but the fact that you need to pay or you will probably miss notifications is annoying.
Echo Show. It shows up sideways.
---
Unifi G4
Worth looking at for reliability, privacy and no fees. The cost to get started is steep.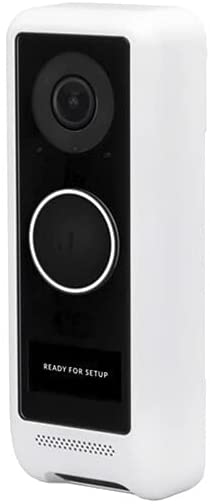 Pros
Video storage. The 24/7 recording works amazing because it's not relying on the cloud.
Image quality. HDR and a very wide viewing angle.
Mobile app. Playing back the footage is very smooth, it's easy to find motion events, and adjusting the image is a bonus.
Person and zone detection. Even though it doesn't have any fees, the person detection works great and the zones are very flexible.
Home Assistant. This works very well with my Home Assistant hub. I can trigger automations from motion or the doorbell press. I can even have a live view of the doorbell in my Home Assistant dashboard.
Cons
Two-way voice. When trying to talk to someone, it's so choppy that the person at the door usually can't understand. Plus a major delay when listening to the audio from the phone on the live view. It's way behind the video feed.
Night vision. The night vision is so bad, but you could automate the porch lights with motion and that will make a big difference.
Extra hardware. If you already have a Unifi network this won't be a con, but it requires more to get started vs. the others.
---
Ring Pro 2
Almost all the problems with the original Ring Pro are fixed with this second version. This means it's a great video doorbell that will integrate well with your smart home.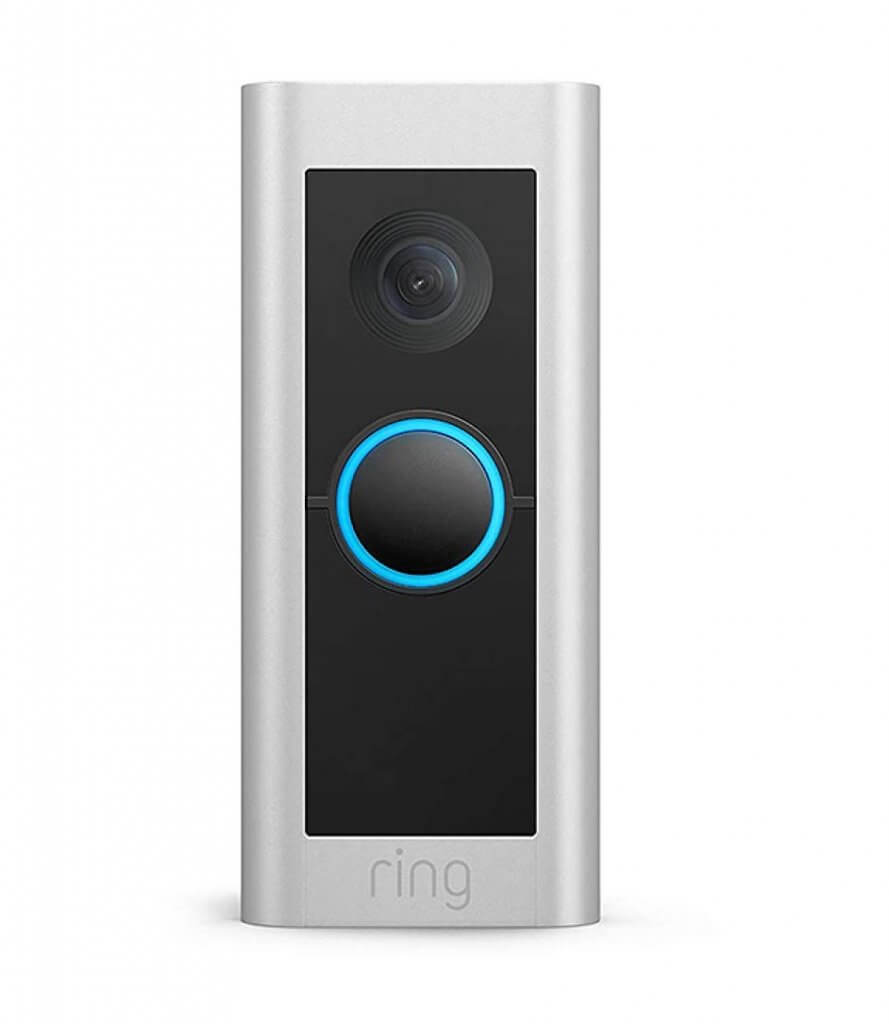 Pros
Wide viewing angle. It will be difficult to miss anything with how wide the viewing angle is.
Image quality. HDR looks really good and night vision shows a lot of detail.
Fast live view. It was one of the fastest doorbells to see the live view from a doorbell press. When trying to talk to someone at the door, every second counts.
Person and zone detection. Both worked very well and the zones are flexible.
Two way voice. Very loud and clear. After listening to them all side by side, this was the best.
Improved app. Scrolling through the app is much more smooth than it has been in the past.
Cons
Monthly fees. There are no other options to view recordings without paying a monthly fee.
Quick replies. To use quick replies from the live view, they have to be enabled. When they are enabled, the quick reply will always play if the doorbell is not answered on the phone. To me this is very annoying.
Echo Show. The image is small due to the square image.
---
Netatmo
If you're a HomeKit user, then Netatmo will work well.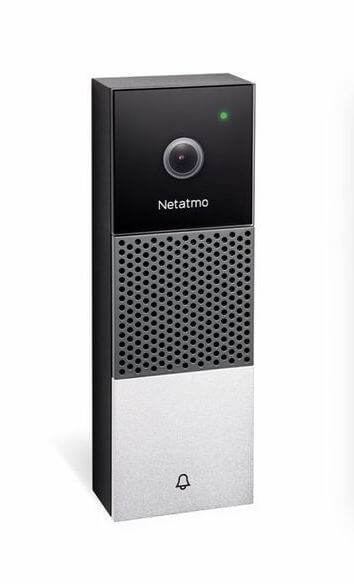 Pros
Live view. The latency was so low that the live view had almost no delay.
Storage options. Recordings are stored on a micro SD card in the doorbell. You can also use your own FTP server or Dropbox.
Video quality. It has HDR, which I forgot to mention in the video, so everything is clear during the day or night.
Person detection. I didn't get any false notifications.
Cons
Motion notifications. They were very inconsistent and there wasn't a motion sensitivity setting to help fix it.
Field of view. It's so narrow. It might make it difficult to see people walking up or standing in front of the door.
Doorbell button. When pressing the button it doesn't make a noise like every video doorbell out there. Also the button might not be so obvious to visitors it is a button.
---
Nest Hello
After being released almost 4 years ago, this is still a great doorbell. It's still the best option for 24/7 cloud recording.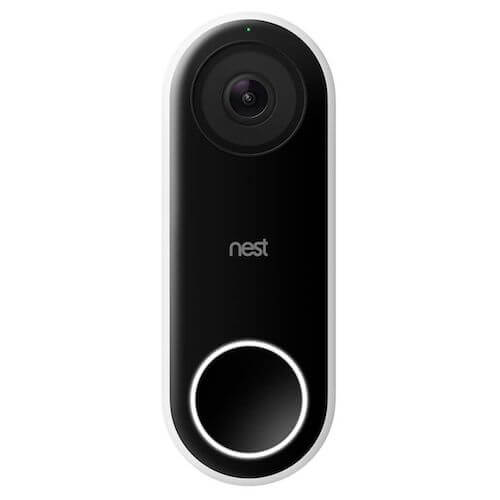 Pros
24/7 recording. Paying for the more expensive monthly fee compared to others will give you 10 days of rolling 24/7 recordings stored in the cloud. Once you have a 24/7 timeline, it's difficult to have anything else.
Image quality. The HDR and wide viewing angle make everything look great.
Great UI. The app is easy to use and is very responsive when scrolling through the 24/7 recordings.
Facial detection alerts. You can save familiar faces in the app and assign a name to them. When they return, Google will announce that specific person is at the front door. It can also recognize packages. Note that in Illinois face detection is turned off because of state laws.
Live feed automatically displays on Nest Hubs. Even if you set it to silent, the video feed shows up without alerting you with a noise.
Cons
Subscription fee required. Since there is no free cloud storage or local storage available, you have to pay a subscription for the 24/7 cloud video storage. Nest also requires the subscription for their premium features, including face detection and activity zones.
Notification "cool down" period may mean missed motion notifications. Nest created this so you wouldn't get annoyed with too many alerts. But I also wasn't alerted about some packages because I had walked past recently, so Nest Hello wasn't sending notifications for a moment. You also cannot temporarily disable notifications.
Poor night vision. Not much detail and difficult to see faces.
---
Eufy 2K Battery
No monthly fees required and still plenty of features. It's not perfect, but it gets a lot of things right.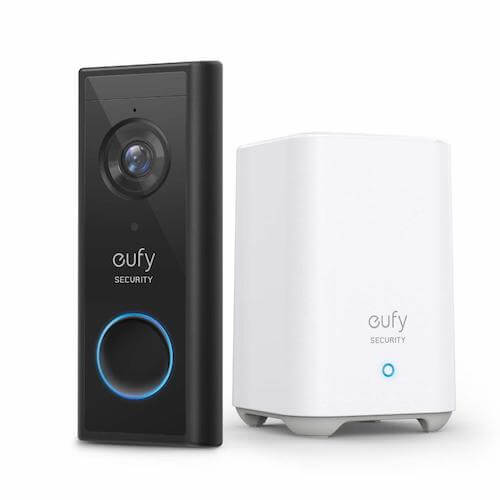 Pros
No fees. Person detection and recordings are all included. Not having to worry about monthly fees increasing over time is great.
Battery powered. If you don't have wires, then you can just attach this to the wall and you're good to go. Or you can still wire it up if you would rather not deal with charging it.
Local storage. The recordings are stored on the base station. This will still work even if the internet is down.
Notifications. They are fast and have image previews.
Alexa Routines. Trigger an Alexa Routine with either a doorbell press or motion. For example, this means you could use a custom action to automatically pull up the doorbell feed on your Echo Show from motion.
Cons
Field of view. All the other doorbells in this group can see more top to bottom.
No HDR. It has WDR which will expose for the face, but the background will be washed out. Even though this has 2K resolution the HDR on other doorbells is more useful. Unless it's ideal lighting conditions, and then 2K would be better.
Motion zone. It's good that one motion zone is included with no extra fees, but it's extremely difficult to avoid a middle section. Seems like Eufy could update this by adding for multiple motion zones.
---
My Ratings
Now that you've seen the specs, pros, and cons with each doorbell, I want to show you how I compared them using my rating system. As you will see in the table below, I rated each doorbell in several categories.
This will give you an idea on the "best" doorbell. Of course, if there's a certain feature that you value more then you can buy accordingly.
| Doorbell | Total score | Price & monthly fees | 24/7 & local storage | Video quality | Night vision | Viewing angle | Person & zone detection | Live view load time | Notifications (speed & image preview) | Two way voice | Quick replies | Smart home compatible | Doorbell |
| --- | --- | --- | --- | --- | --- | --- | --- | --- | --- | --- | --- | --- | --- |
| Wyze | 32 | 4 | 0 | 3 | 4 | 3 | 4 | 3 | 1 | 3 | 4 | 3 | Wyze |
| Unifi G4 | 39 | 3 | 5 | 5 | 2 | 4 | 5 | 5 | 3 | 2 | 3 | 2 | Unifi G4 |
| Ring Pro 2 | 44 | 2 | 0 | 5 | 4 | 5 | 5 | 5 | 5 | 5 | 3 | 5 | Ring Pro 2 |
| Netatmo | 33 | 3 | 3 | 4 | 3 | 2 | 4 | 4 | 1 | 5 | 0 | 4 | Netatmo |
| Nest Hello | 44 | 2 | 3 | 5 | 2 | 4 | 5 | 5 | 5 | 5 | 4 | 4 | Nest Hello |
| Eufy 2K Battery | 41 | 4 | 3 | 3 | 3 | 2 | 3 | 5 | 5 | 4 | 5 | 4 | Eufy 2K Battery |
Scroll for more columns→
---
Overall
So which one will I keep using? The Unifi G4 doorbell, but not because it's the best overall. It has terrible 2 way voice and poor night vision, but I love the 24/7 local recording. Every video doorbell has pros and cons, but for me this has the best features for what I need.
Some of you may already have a camera on your porch and all you need is an inexpensive way to be notified when the doorbell is pressed. Wyze would work well for that since you don't need to pay for anything else.
Ring and Eufy are both excellent as well. Ring is nice for the quality, reliability, and features, while Eufy is great for avoiding monthly fees.
Hopefully all this info will help you find the best doorbell for your house! I'll review more doorbells and show how to automate them in future videos, so please subscribe here if you haven't already.