We've been "fans" of Haiku smart fans for a long time, and we finally installed and tested it in our own space. It has incredible design from the maker of Big Ass Fans. Plus its smart features are impressive: it can turn on when you enter the room or if it's a certain temperature. Read and watch our video review to find out how it worked in our full Haiku L Series fan review.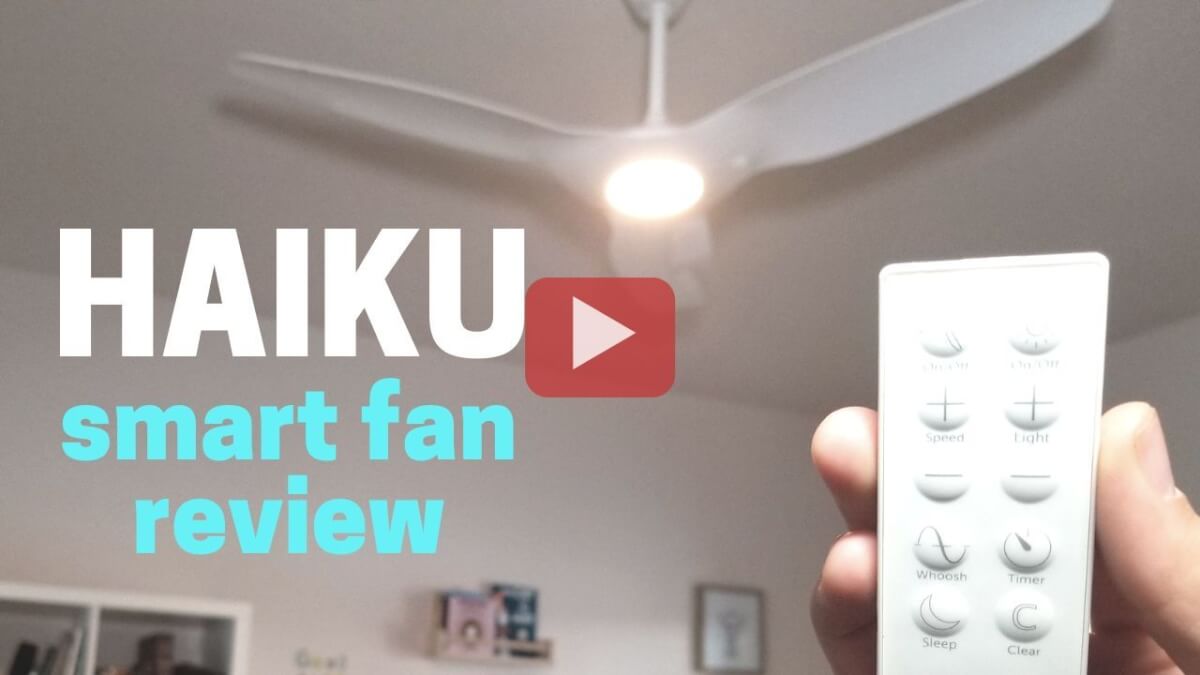 Haiku L Series Fan Review
Affiliate Disclosure: This page contains affiliate links, which earn us commission at no cost to you. Disclaimer: The writers of this blog received a free sample of the product for review. They were not compensated in any other way. The opinions are 100% their own and not influenced.
Setup
Let's just start this section off by saying: setting up any fan is never truly easy, unless you're an electrician. It always requires a ladder and takes a couple of tries fiddling around with wires.
When setting up for our Haiku L Series fan review, we installed the ceiling fan with the WiFi module, in addition to the wall controller. Both the WiFi module and the wall controller are separate pieces you may want to consider purchasing alongside the fan, but we'll dive into that more in a moment.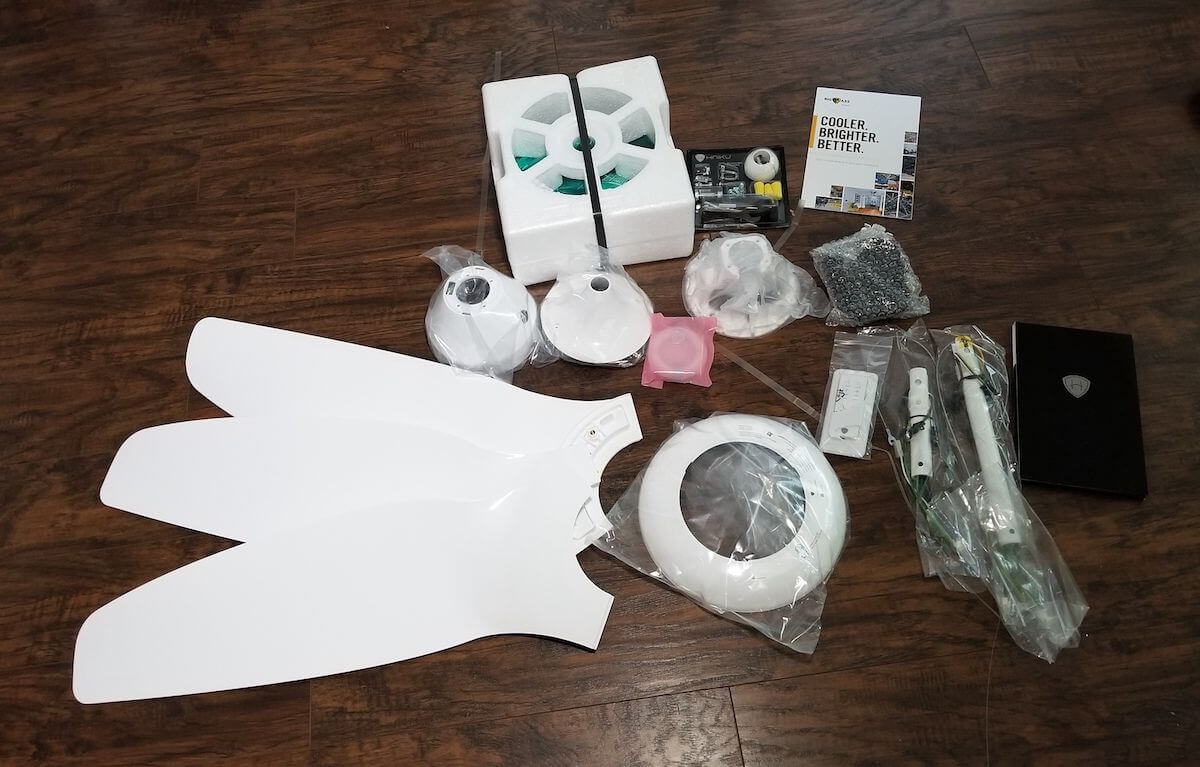 For how complicated we thought set up would be, it was relatively easy, in part because of the extremely detailed 30+ page booklet of photos and instructions. Serious props to Haiku for providing helpful resources to make sure their customers don't get lost along the way.
The Haiku L series fan by Big Ass Solutions is designed very well. Everything snaps together easily during set up, with each step written in the booklet. The fan feels like an Apple product, with excellent design that works easily.
There are a few important notes we jotted down during set up:
A shorter and a longer pole are included. Just make sure you select the one you prefer before you begin setup. If you change your mind after it's already set up, it will cost you extra time swapping out the poles. It seems obvious, but we didn't notice that two poles were included at first, so it's worth noting.
As always, take photos of the wiring with your original fan before detaching to make it easier to rewire with Haiku. You will also want to flip the breaker to stay safe when installing any wires.
The fan is just 11 pounds, so it's very lightweight and easy to hang. It wasn't heavy or difficult to balance on the ladder during setup for our Haiku L Series fan review.
There are a variety of mounts available for different ceiling heights or flat/sloped ceilings. When purchasing directly on the Haiku website, you are guided through the purchase to find the best mount for your ceiling and room.
Design
Haiku has won more than 75 awards for design and technology, and it's easy to see why. Haiku's smart fans have exceptional design, with a minimalist look that transformed our little library. With awesome lighting and a cool breeze, I can see myself hanging out in here more.
Before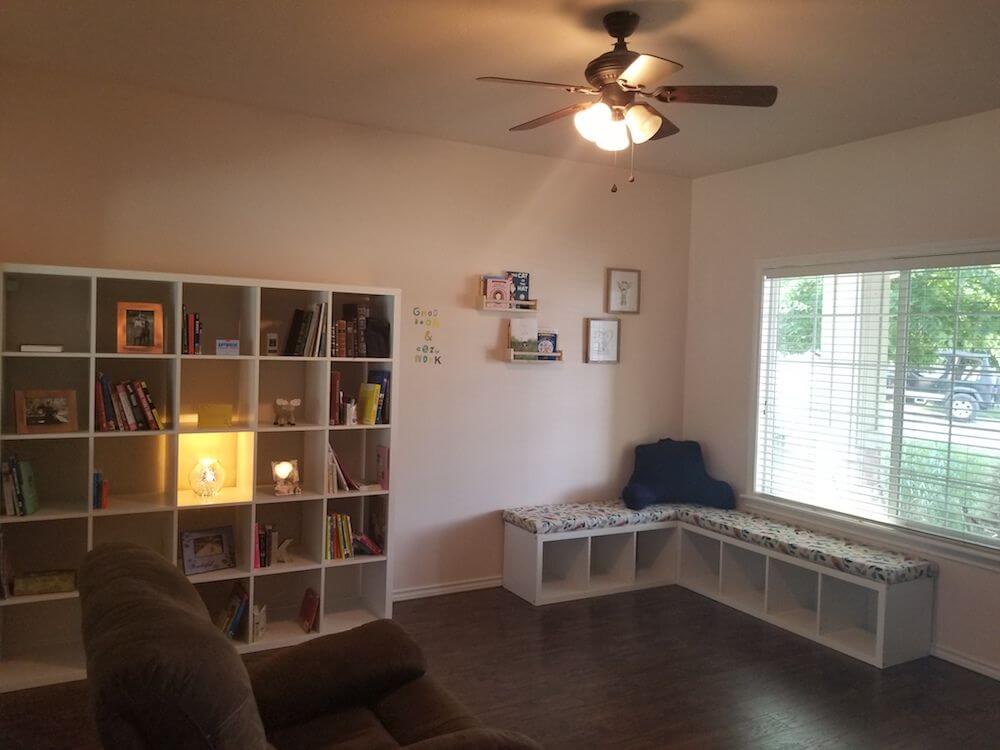 After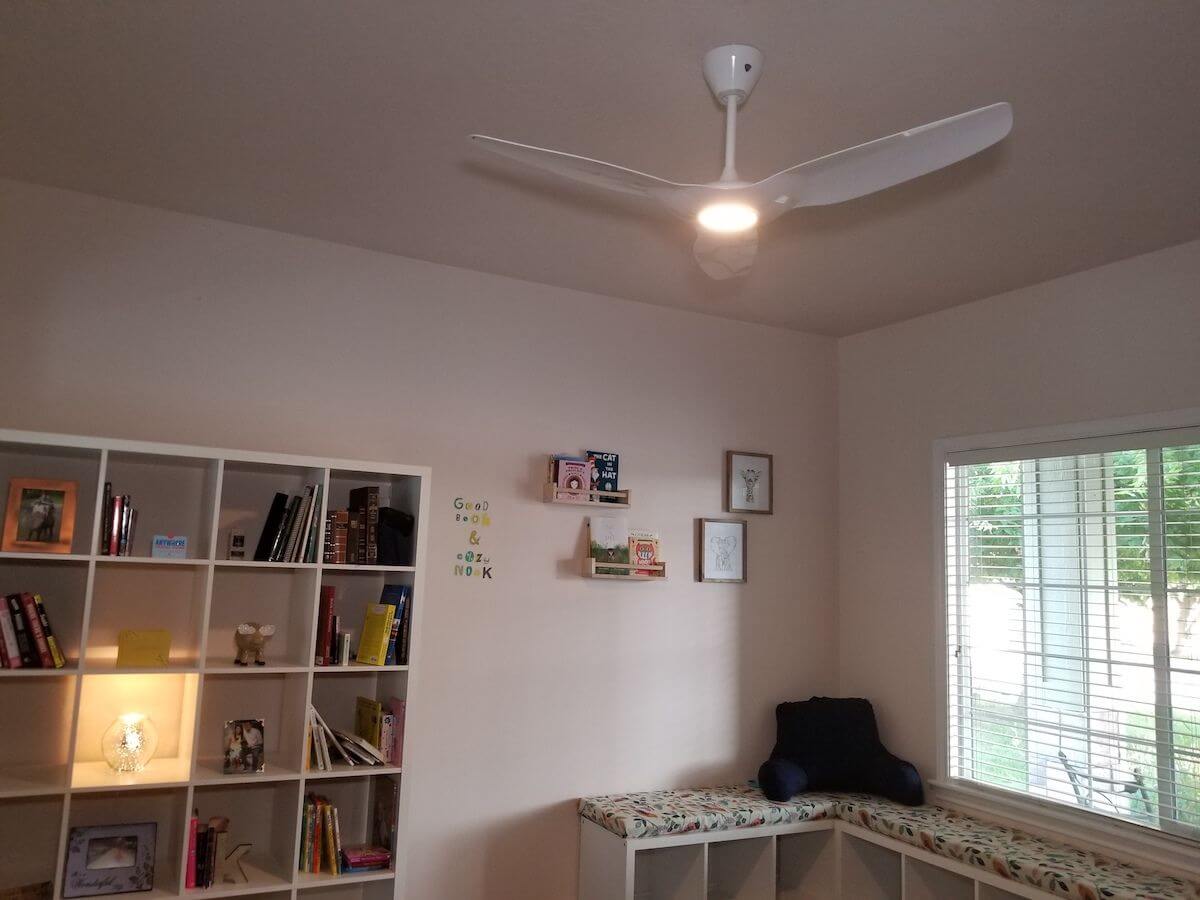 The fan is built with very high quality materials and has a glossy finish.
The only exception is the blades (AKA: airfoils, as Haiku calls them), which are built from plastic. With its heavy price tag, the plastic may surprise you or initially feel cheap, but the airfoils are actually quite advanced since they are very energy efficient — more on that later. The L Series fan is the least expensive of Haiku's lineup, so if you want to pay more for airfoils made from bamboo or aluminum, the Luxe or H Series are excellent options.
Look & Function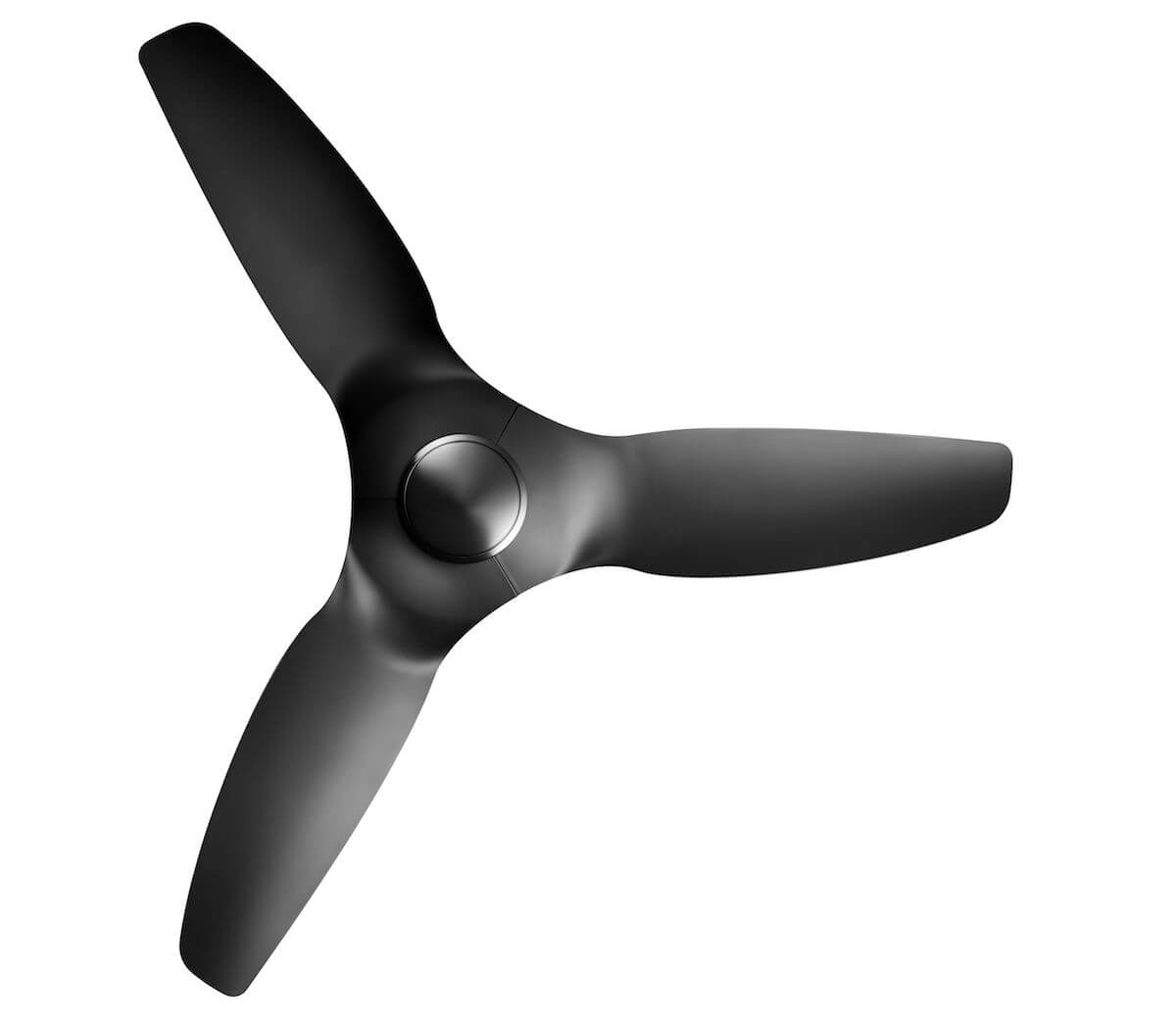 The fan is quiet. No, seriously, it's silent. During our Haiku L Series fan review, even on its highest setting, the only noise we heard from the fan was the actual air moving around because of how effective it is at cooling. Part of the reason for the silence is Haiku's patented silent motor, which was tested in a sound chamber.
There are two finishes offered for the L series: white and black. If you go with a bigger fan by Haiku, then you can get other finishes and artisan designs by professional artists."The L Series fan is designed for indoor use only, however, Haiku offers several finishes and options designed for outdoor use.
---
Controls
The L Series includes a remote with a mounting bracket. This remote can turn the fan and light up or down, on or off, and also set a timer, sleep mode, or Whoosh Mode for a big burst of air.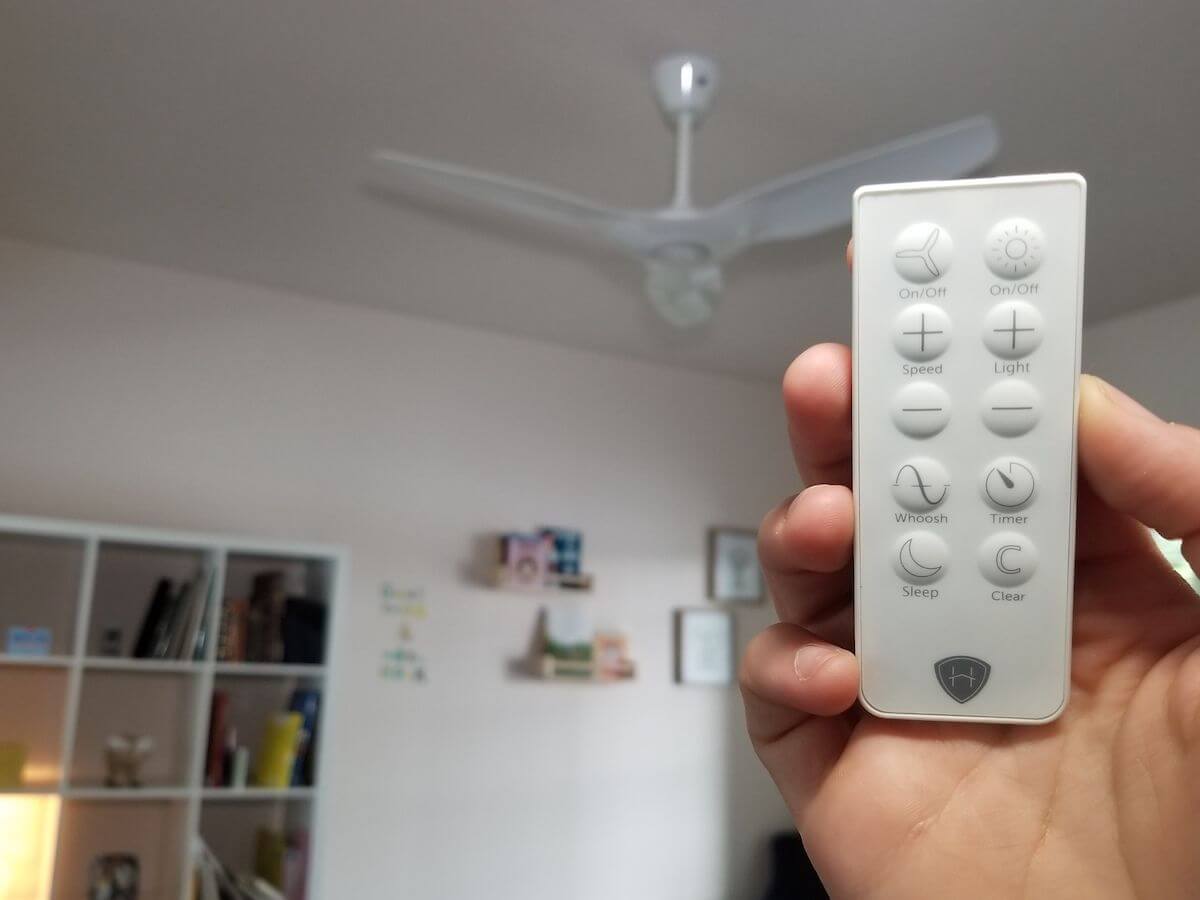 The wall controller is only sold at HaikuHome.com and has some interesting functions. First, it works as a traditional wall controller for the light and fan, with indicator lights showing how high it's turned up.
But what really made the wall controller special in our Haiku L Series fan review was its sensors, including thermostat, humidity, and motion sensors. These allow you to make the fan feel truly "smart," with automation like turning on the fan or light when you enter the room, turning it off after you leave,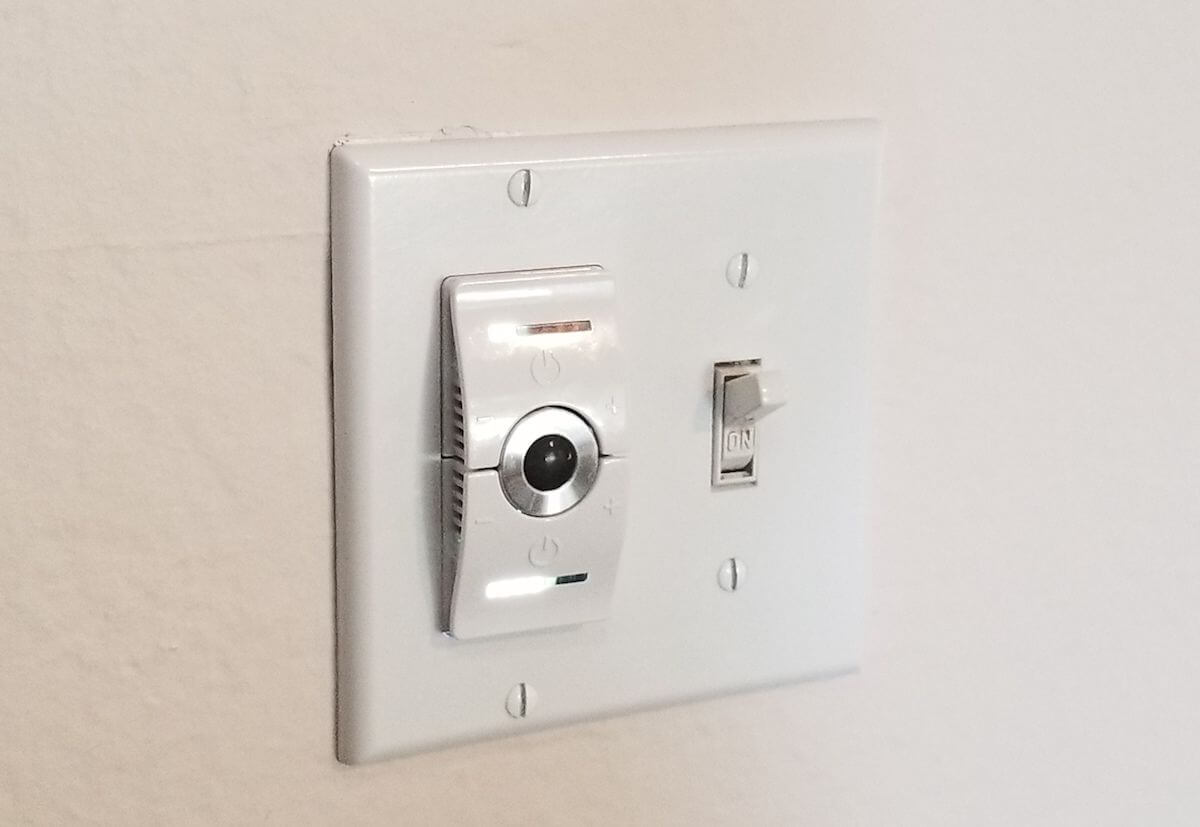 and automatically turning it on if the room reaches a certain temperature. The automation for temperature is excellent for nighttime, since the fan can turn on if the bedroom gets warm while you are sleeping.
Haiku calls this feature SenseME™. While the wall controller adds an extra cost and installation time, it certainly adds value and makes the fan feel more futuristic. The L Series fan only offers SenseME™ technology when paired with the wall control.
---
Lighting
The integrated light is flush with the bottom of the fan, keeping its design simple and low profile. The light is dimmable, and at its brightest setting it is very bright. We couldn't look at it directly when turned up to full brightness, but it's very easy to dim to a comfortable setting.
The light is 988 lumens, with a soft color temperature of 2700K. The black fan comes with 2 lens diffusers to make the color white or smoky, but the white fan only comes with the white diffuser. The light guarantees 50,000 hours of use.
The fan has a small blue indicator light near the base. Whenever you change settings, this lights up briefly to notify you that it registered your request and is making the changes. This adds convenience, but it also simply looks cool.
---
Smart Features
Without buying a WiFi module or SenseME™ wall switch, you can only control the fan using the included remote. It won't be connected to your WiFi or have fancy smart features that make the Haiku L Series fan unique.
The WiFi module is a small piece that connects to your fan and allows you to turn it on and off using the app. It allows you to connect Haiku with Alexa to control the fan with your voice, using commands like "Alexa, turn front room fan on" or "Turn front room light to 50%." During my Haiku L Series fan review, I connected Haiku L Series with Alexa and it made controls even easier. However, it did take some extra effort to set up.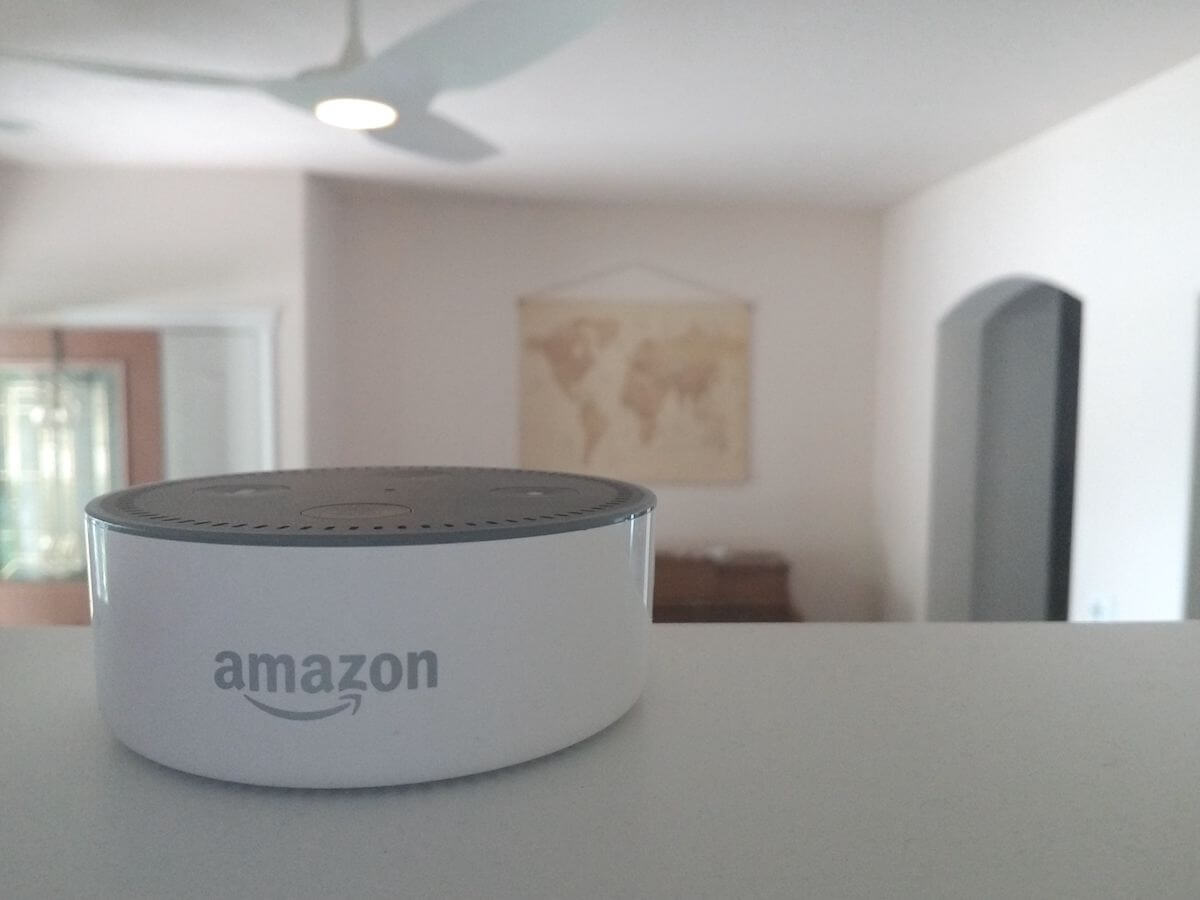 After using the Alexa app and selecting discover devices, the fan was not discovered right away, even after rebooting it. Eventually, I had to reset network settings by holding down the power button on the remote and push the plus button on the fan. This required me to reconnect the fan to the app a second time, but luckily Alexa discovered the fan this time around.
While its set up wasn't free of challenges, using Alexa with Haiku was worth it in the end, since it allows you to turn on and customize the fan from anywhere.
Smart Thermostats
Haiku smart fans with the WiFi module and SenseME™ installed also work with Ecobee and Nest. This integration is pretty amazing. Since your fan will know if the thermostat is heating or cooling, it will automatically help heat or cool your home as you prefer. It also saves you energy by working with the thermostat to reduce your energy consumption.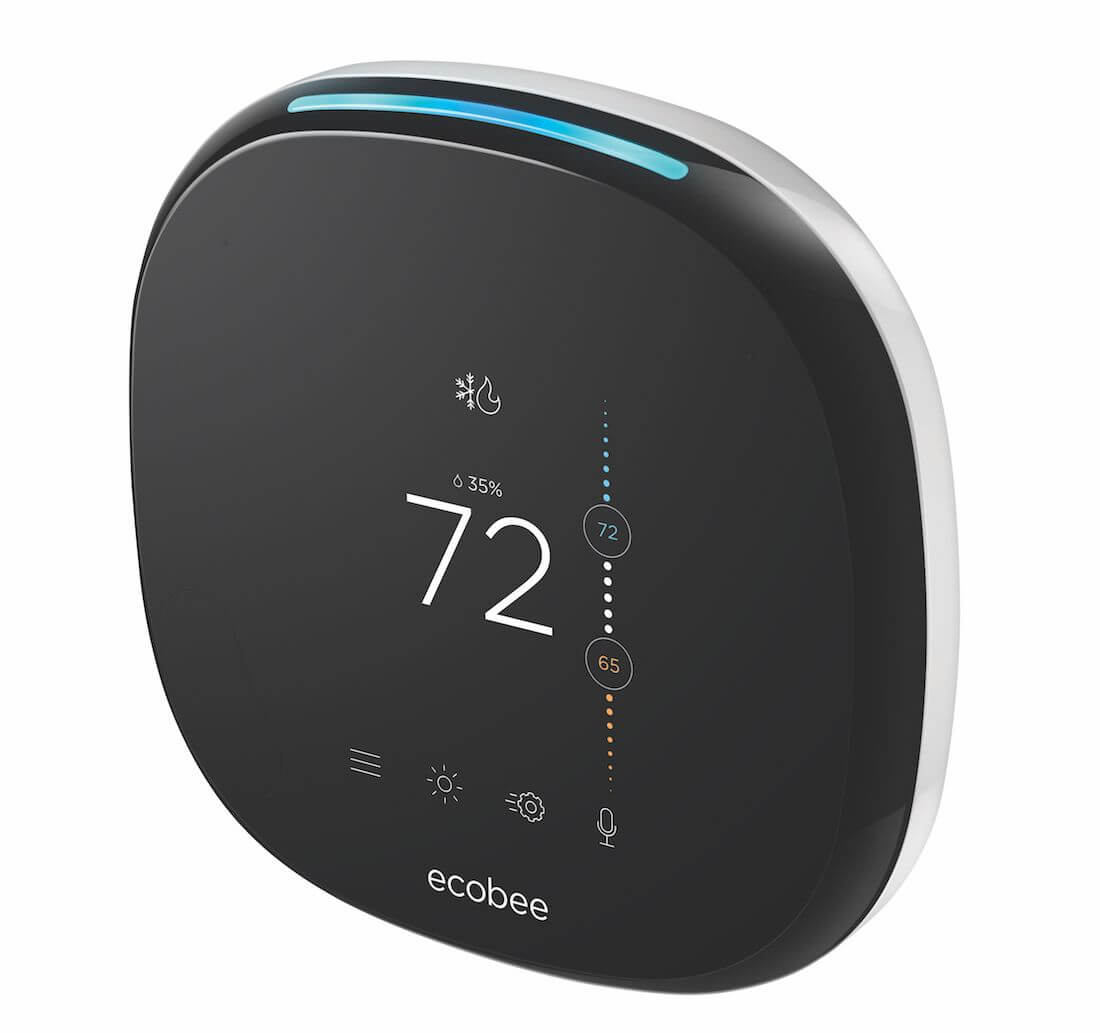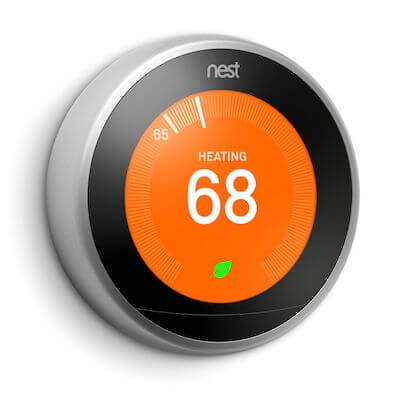 For example, Nest tells Haiku the temperature of your home. As temperatures rise, your fan will automatically speed up.
Future smart home integration we would love to see added include SmartThings or Wink, IFTTT, and Google Home.
---
App
The Haiku Home app is available on both iOS and Android. I found that it wasn't the most advanced app while I tested it for my Haiku L Series fan review, but it provides basic in-app controls for turning the fan and light up or down, with 7 speeds for the fan and 16 brightnesses for the light. You can also enable the SenseME™ sensor, create custom schedules, set timers, or turn on Whoosh Mode.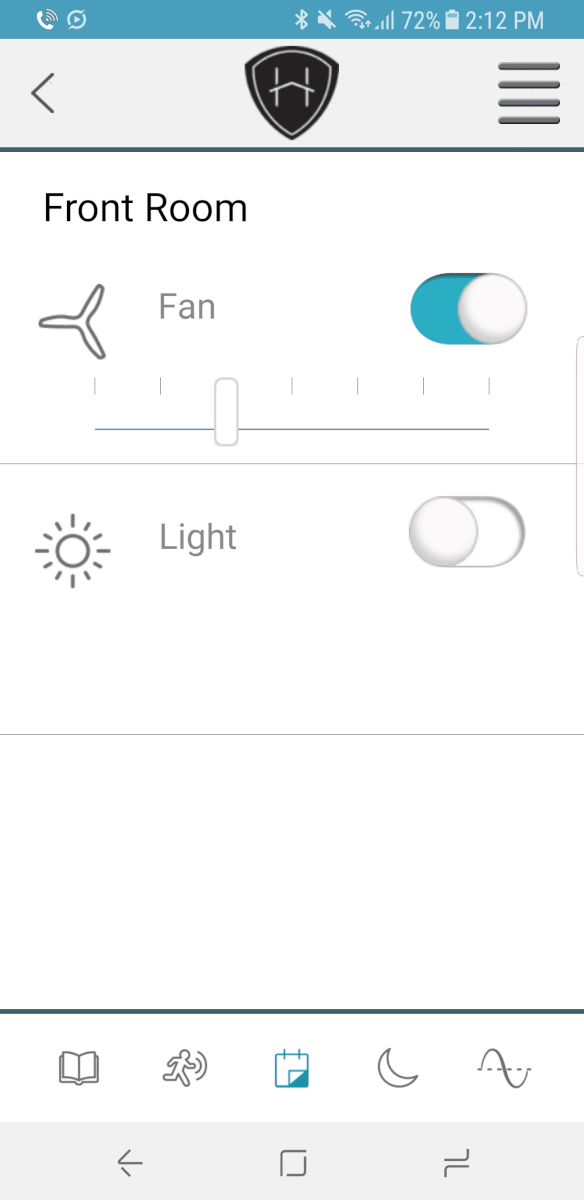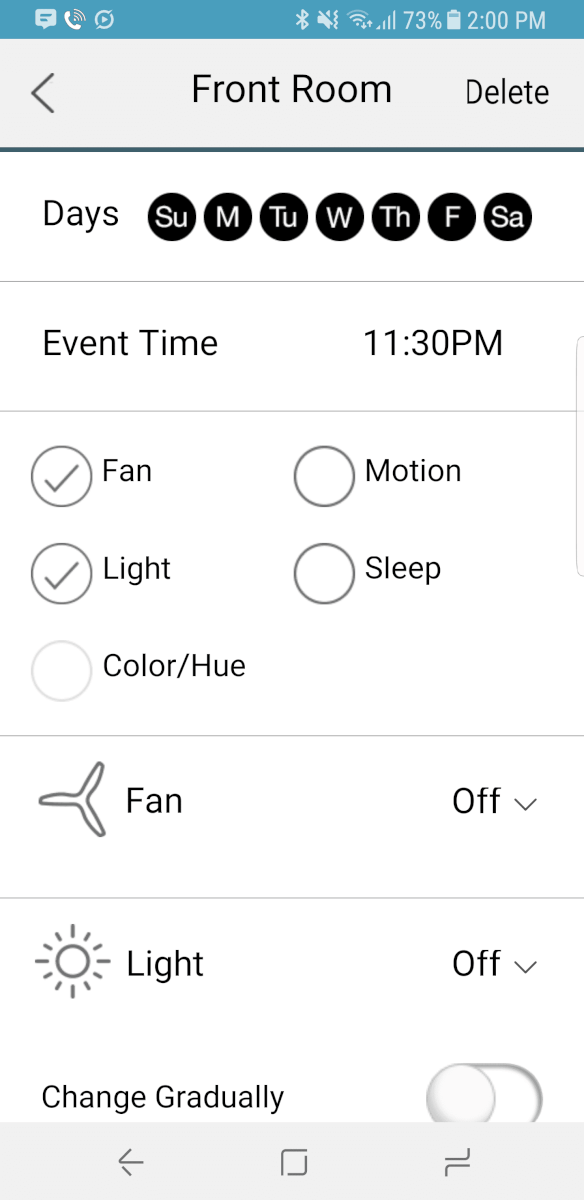 Whoosh Mode is exactly what it sounds like: the fan basically turns on a big boost of air. The default for Whoosh Mode is to turn on the fan to its highest setting. If this feels too much like a wind turbine, you can also customize it with a lower maximum speed. There is an additional sleep mode, where you can have the fan reduce speeds every hour until it turns off, or set your ideal temperature and have the fan automatically turn on if it gets warm while you're sleeping.
While the app's basic design and mixed reviews aren't the most impressive, it's mainly for specifying your settings so that you can control the fan with the remote, wall controller, or automatic SenseME™ technology. I don't really see myself opening the app to just turn the fan on and off. That being said, I didn't have any connectivity issues with the app and it worked just fine for my purposes. It's also a perk that you can control multiple Haiku fans and lights within the Haiku Home app, to automate multiple devices in your home within one app.
---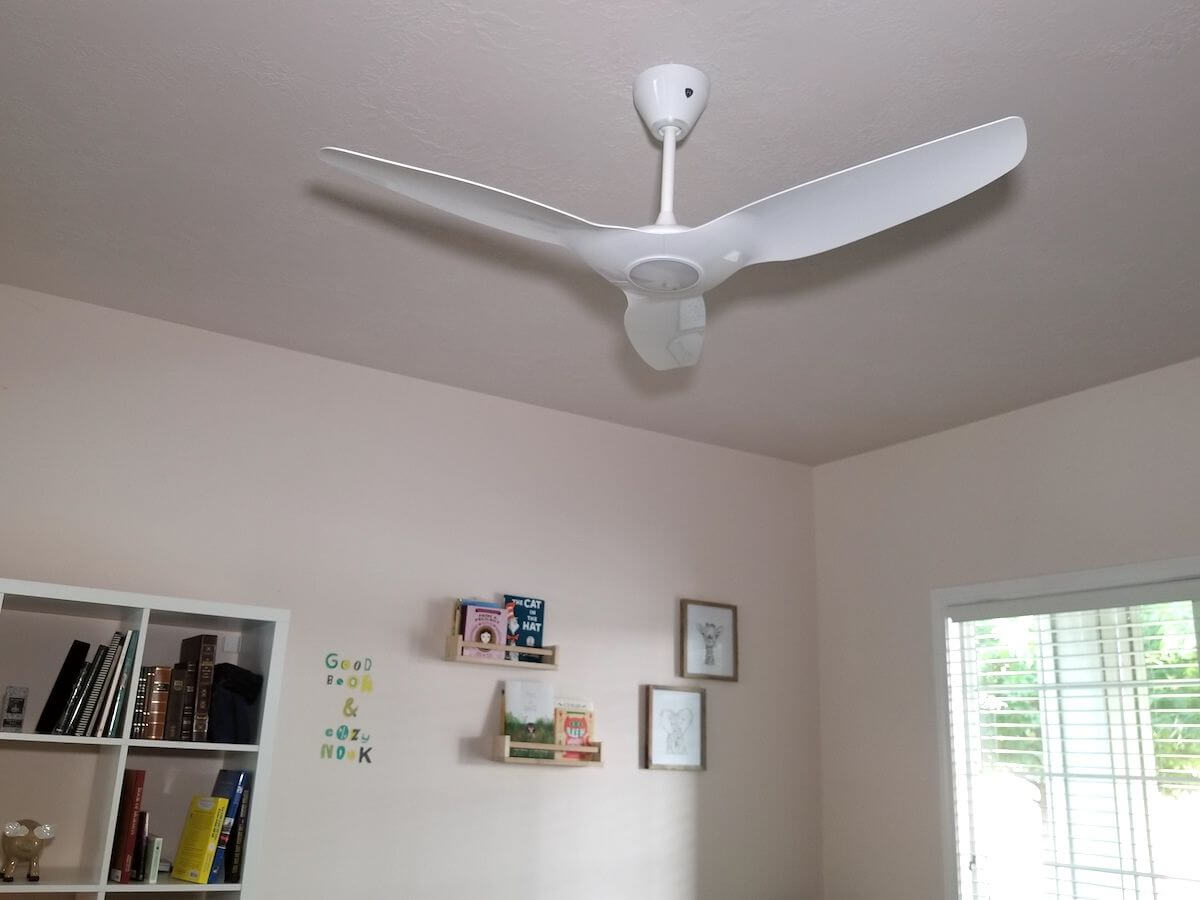 Energy Efficiency
While it will cost you a pretty penny, the Haiku L Series fan may make up some of the cost through energy efficiency. It actually exceeds ENERGYSTAR® requirements by a whopping 850%. If you're comparing it with other fans, you'll want to note the CFM per watt, or cubic feet per minute, to find airflow efficiency.
667 cfm/watt on low
519 cfm/watt on medium
306 cfm/watt on high
Smarter Cooling adjusts your fan's temperature when temperatures rise.
Smarter Heating slows the fan during cold months to gently push down the warm air that usually gets trapped by the ceiling. When you leave the room, it will pick up speed to mix the air fully.
Part of the reason for energy efficiency in the Haiku L Series fan review is the fan's unique airfoils. Most fan manufacturers call these blades, but Haiku makes a careful distinction that these are better than blades. Their unique curved shape, inspired by airplane wings, makes them produce more air using less energy.
---
Why Haiku?
So the question remains: is Haiku worth it? There's no doubt that the price is higher than a normal fan. But if you compare it with other fans that have impressive design, the price difference is not as ridiculous. Of course, adding in energy efficiency and convenience helps make Haiku more worth it.
Haiku smart fans are expensive, and the L series is no exception. But it's also very high quality; it's probably one of the most carefully designed smart home gadgets we've ever seen. This isn't some gimmick where you're spending hundreds and wondering where the quality is. The smart technology and automations in this fan will blow you away (sorry, I had to).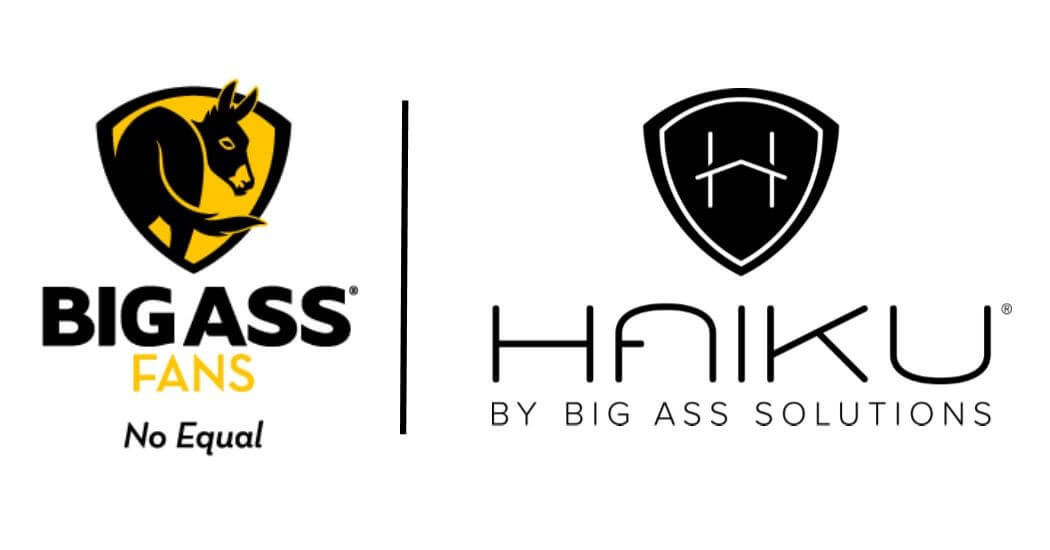 There's a reason people spend hundreds on an Apple phone even though they could buy two or three Android phones for the same price. If you don't mind paying more for exceptional quality that makes your life easier, it's easy to see why. Our Haiku L Series fan review found that the product is similar to Apple in this way, and its high ratings on seller websites prove it.
Sure, it's expensive, but I also just drained thousands into remodeling my kitchen last spring, so it's all relative when it comes to home products. Plus, if it's too pricy for every room, it might still be a good buy for your family room or bedroom, where you want maximum levels of comfort.
If you're willing to pay an arm and a leg, then this fan will make your home's airflow a little smarter, with automation based on Alexa commands, when you enter the room, the temperature, and what your thermostat says. It can reduce your energy bill and light up your home, all while looking beautiful and minimalist.