A smart thermostat is a smart investment. It immediately adds value to your home. Consumer Reports estimates that millennials will pay 3 to 5 percent more for a home with smart amenities. Plus, a smart thermostat can pay for itself in energy savings.
Each thermostat works via WiFi to let you control your thermostat with your phone from work, your beach vacation, or really anywhere. But their individual features can vary widely, which is why I want to compare some of the best-selling smart thermostats to find an overall winner. Let's break down the pros and cons of Sensi vs. Ecobee3 vs. Nest.
Sensi vs. Ecobee3 vs. Nest
Affiliate Disclosure: This page contains affiliate links, which earn us commission from Amazon at no cost to you.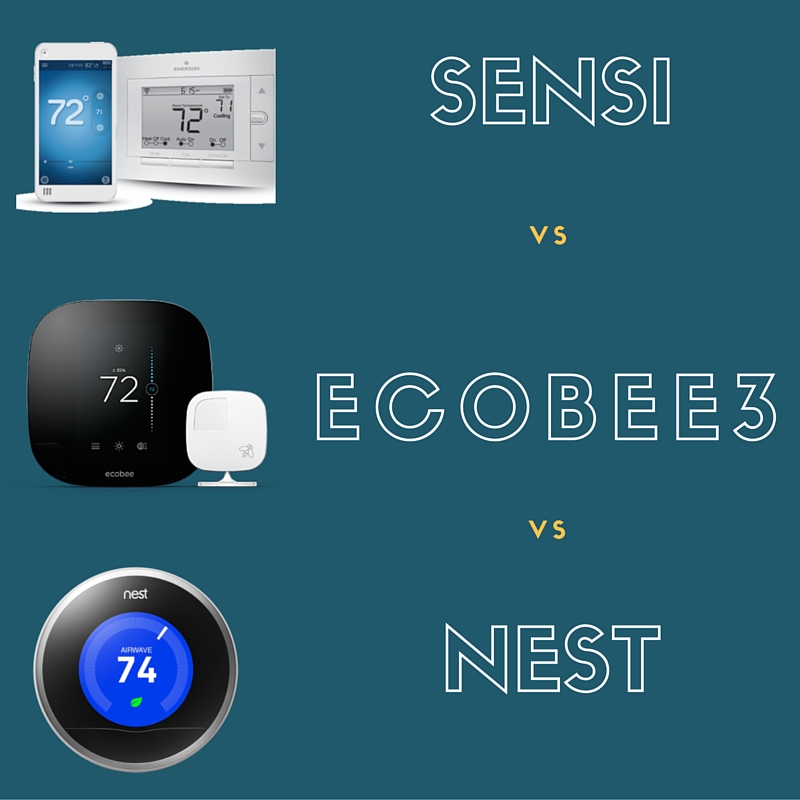 ---
 Installation
In addition to simple DIY installation, each brand also offers professional installation for ~$65 depending on your location.  Labels for keeping wires organized are also included with each thermostat.
Sensi

Doesn't require C wire
Compatible with the most systems
Simple In-app instructions
Support Center open 7 days a week
Ecobee3
Come with complimentary Power Extender Kits for those who don't have a C wire
Offers LiveExpert through Amazon for customer support chat and 24/7 email support
Requires a C wire
Requires extra installation for remote sensor (although it is a very quick set up, just stand in front of the Ecobee3 thermostat and remove the plastic battery tab to pair the devices)
Nest

24/7 phone support
Online compatibility checker for a personalized wiring guide
Requires a C wire
Amazon reviews show more customer complaints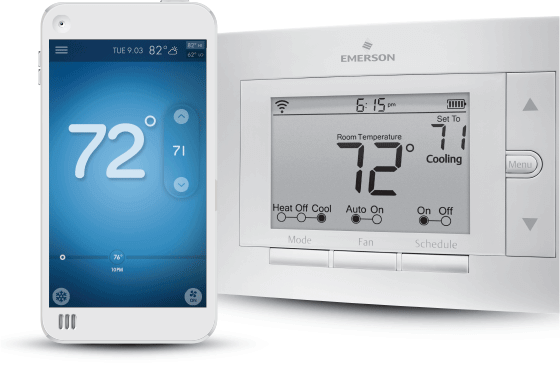 Reading through the Amazon reviews for these three products can be intimidating. Each home is unique and some customers have a difficult time installing these thermostats. However, many customers say that Sensi was easier to install than Nest. Since it doesn't require a C wire, don't worry about calling an HVAC specialist to add specific wiring and it claims to work with the most systems of any Wi-Fi thermostat.
Even if your home doesn't have a C wire, you can still get Nest or Ecobee3, you just need to do a little re-wiring using a Power Extender Kit, but this does make it more difficult to set up.
---
Energy Efficiency
Sensi
Estimated savings: up to 33%
Energy Aware Qualified® (meets rigorous energy-saving requirements)
7-day scheduling to reduce energy usage when you're away
No usage data offered
Ecobee3

Ecobee users save an average of 23% based on a 2013 analysis
Provides very comprehensive data about your energy usage with HomeIQ
Built-in local weather functions.
HomeIQ is only available in the web portal and not within the app
Nest

Nest saves customers 10-12% on heating and 15% on cooling (less savings than competitors)
Energy History shows how much energy you use, helping you understand where to usage
Uses geofencing to find out when you're not home and adjust the temperature
Green leaf appears on display when you select an energy-saving temperature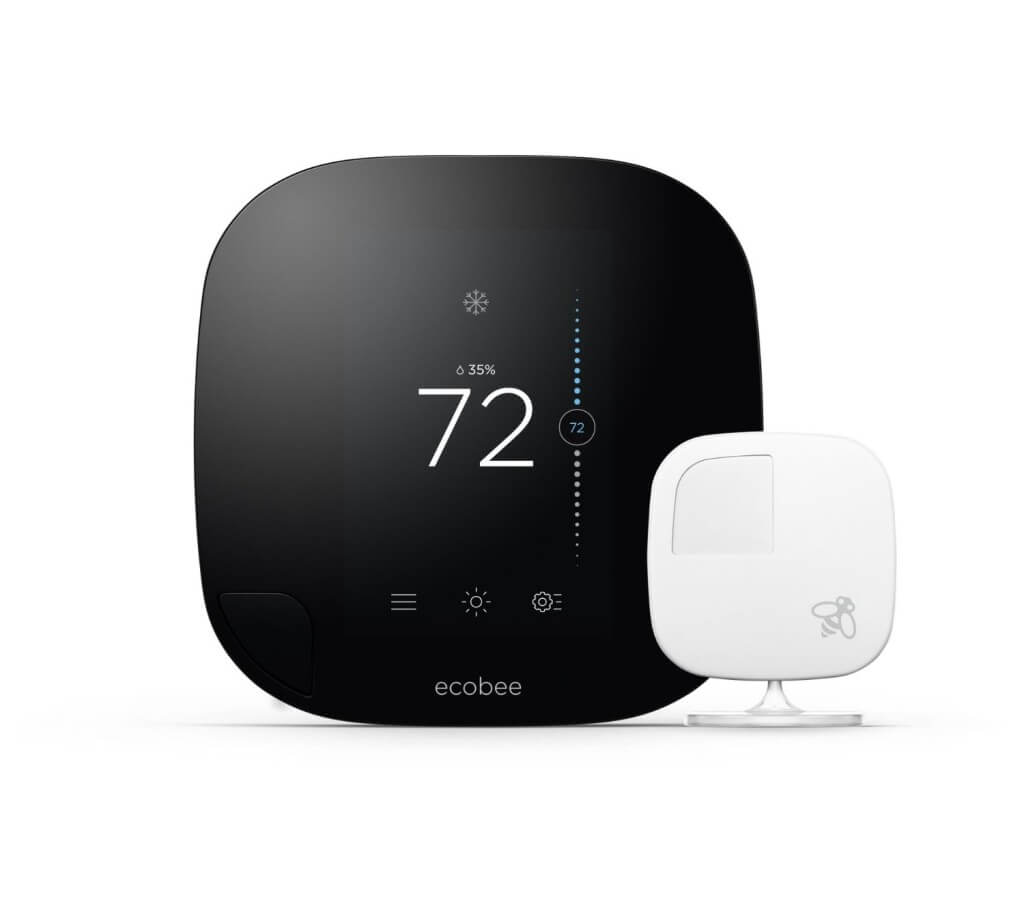 Ecobee just deserves to win this category. The thermostat is an absolute data-lover's dream, allowing you to truly cut back your energy savings. Compare your energy usage regionally through HomeIQ reports. Data includes percent saved, system runtime, average monthly temperature, and plenty of other information. Its weather functions also make perfect sense. If it's cold tomorrow, then there's no reason to blast the AC. Ecobee3 is smart enough to figure this out and let you just enjoy your comfortable home environment.
---
Security
As always, the easiest way for a hacker to get inside is with a weak password. Make sure your password is unique, long, and not predictable.
Sensi
Has a random 15-digit security key along with a password protecting it from attacks
App and Sense create a IPSEC VPN "tunnel," encrypting the data so hackers cannot interfere
Depends on Sensi web servers. When you change the temperature in the app, the information is sent to the Sensi servers, which tells the thermostat to adjust. While this is more secure, it means that if Sensi's servers go down, so do your smart features.
Ecobee3

SSL protocol
 WEP, WPA, WPA2 security
 Can implement an optional security code to access thermostat
 Reports, alerts, reminders, and remote controls all go through ecobee's servers
Nest

 AES 128-bit encryption and Transport Layer Security (TLS)
 HTTPS, SSL, AEA, RSA data encryption
 stores data using AWS and Google Cloud Platform (GCP) for cloud storage
Offers bounties to anyone who can find vulnerabilities in their security
Depends on Nest servers.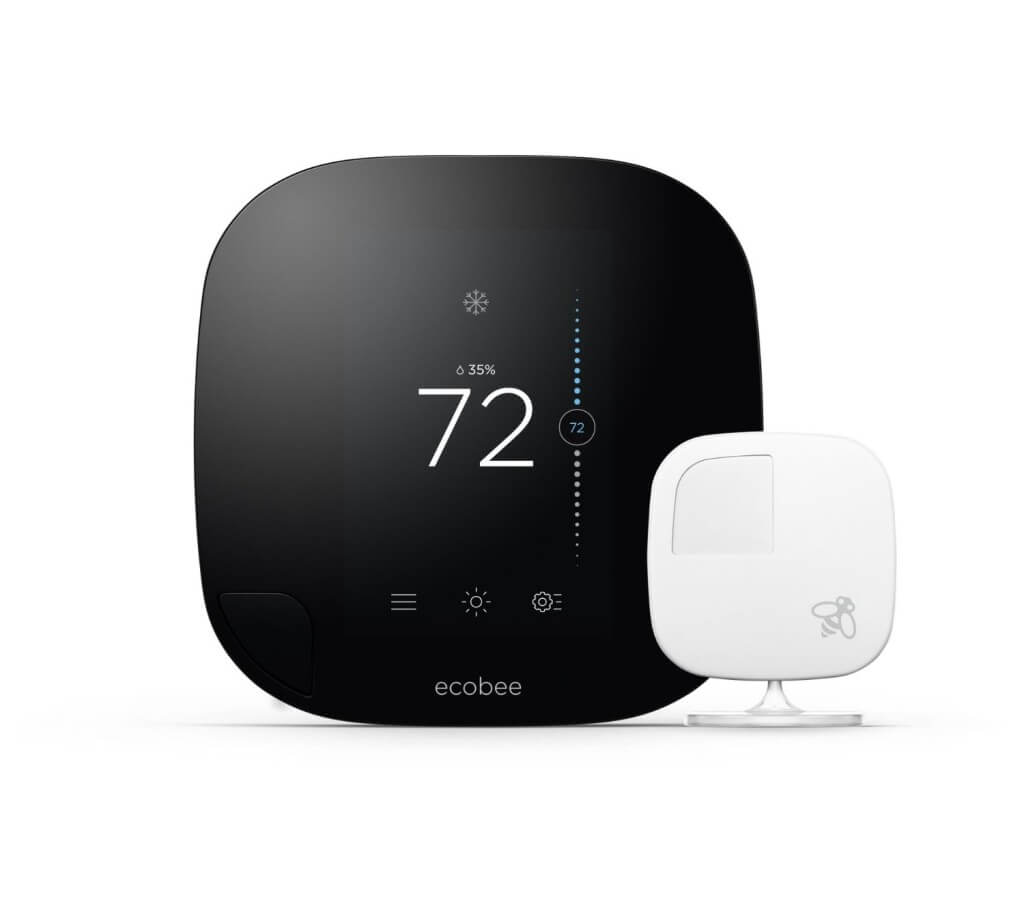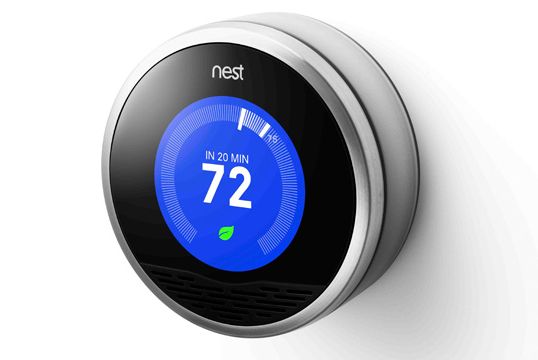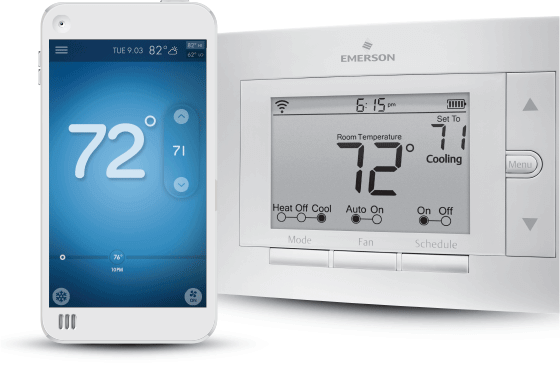 Winner: Tie
All of these thermostats have good security, but none stand out as a clear leader. All three depend on manufacturer servers to pull data, which can be a negative if servers are down or the company goes out of business. It seems that this is the way industry trends are leading, for better or for worse.
---
Smart Features
All three thermostats are directly compatible with Alexa.
Sensi

Works with Wink hub
Ecobee3

Learns faster because sensors can help the system more easily notice if you are home or away. 1 sensor is included and you can add up to 32
Compatible with Apple Watch
HomeKit enabled (works with Siri); supports 5 HomeKit scenes, including morning, evening, away, home, and resume schedule
Uses geofencing to supplement its sensors and determine when you are away with high accuracy
Works with: SmartThings, Wink, and others
Get notifications in the Notification Center on your phone
Nest

Learns your schedule and adjusts itself
Works with Nest WiFi camera Dropcam to let you set Away mode (turns down the air, activates motion detection in the camera)
Works with Nest Protect CO monitor. If CO is detected, it will notify Nest thermostat to turn off the furnace.
Motion detection by Nest (AutoAway, which detects Farsight and near sight motion) doesn't work as well without sensors. For example, if Nest is in your hallway and doesn't detect motion, it might assume you are away and turn off your air, when really you are just in the kitchen.
Requires you to "teach" it your schedule by turning the thermostat up and down when you get home or leave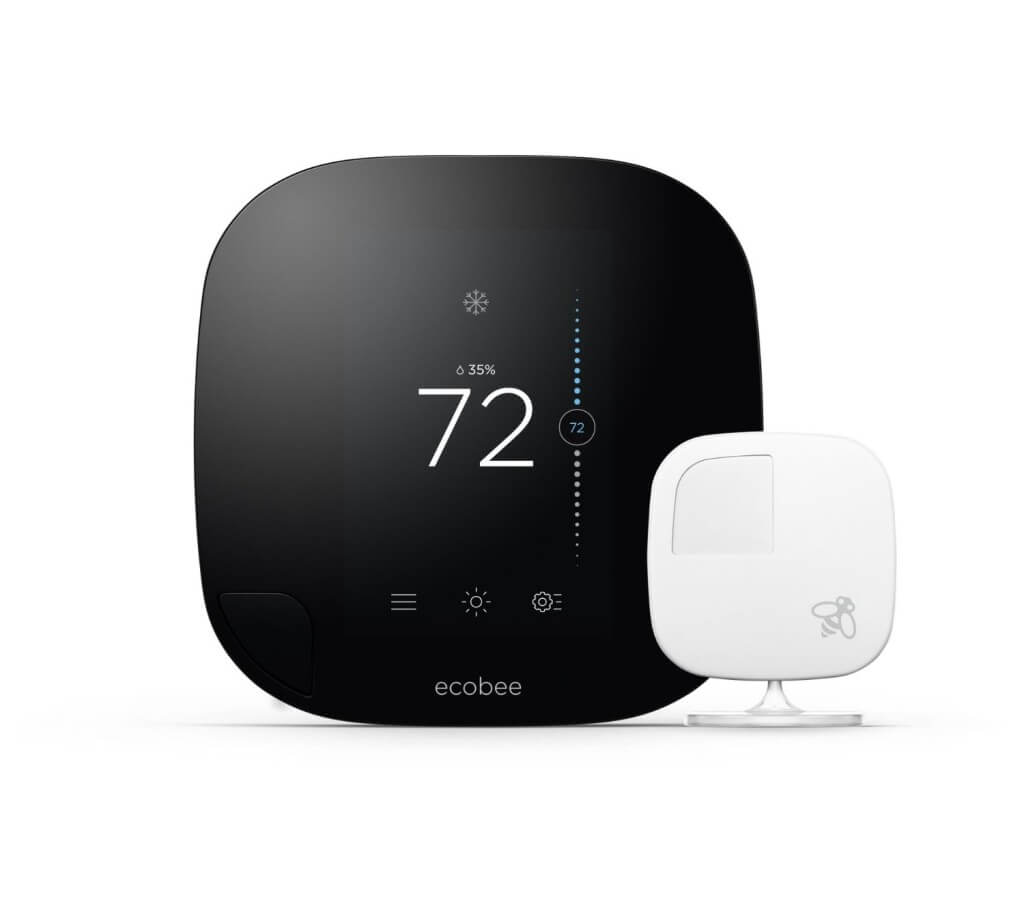 The checkmarks show the winner of this category! While Nest and Sensi don't have anything seriously wrong with their smart features, Ecobee3 does a lot of things right. Its long list of compatibility and ability to learn your schedule in a way that makes sense (via sensors placed throughout your home) is why I consider Ecobee3 the smartest smart thermostat available.
---
Design
Sensi

Has physical buttons for those who don't like touchscreens
Doesn't look "smart," and has a basic programmable thermostat design
Ecobee3

Sleek black design that still looks futuristic
Less sophisticated touchscreen compared to Nest and others, making it difficult for some users
Nest

Very beautiful and eye-catching design
Displays a wall clock or weather with personalization
 Easy-to-use turning mechanism for changing the temperature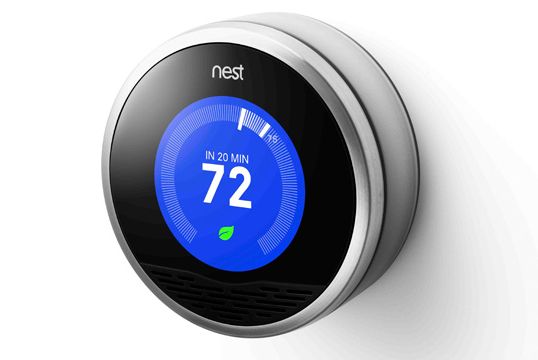 You can't argue with Nest's relaxing blue display when it's cooling or brilliant orange when the heat is running. Nest's display looks like how we imagined our smart homes would look. Simply turn the dial to change the temperature and watch the display estimate how long until it reaches your target temperature. The little green leaf indicating energy savings is a fun touch.
---
Hardware
Sensi
Three-year warranty included, maintenance and repair services
Very accurate 1 degree temperature swing (customizable)
Requires 2 AA batteries
Ecobee3

Three-year warranty included, materials and labor under normal use
Very accurate 1 degree temperature swing (customizable)
Offers alerts and reminders for maintenance, high/low temperatures
Customer reviews point out that Ecobee3's internal sensor is consistently 1-2 degrees warmer, giving it accuracy issues (can be fixed by installing a Power Extender Kit)
Remote sensors can disconnect at times
Nest

Two-year limited parts warranty included, no labor coverage
Set a heating and cooling temperature. This allows you to heat in the evenings and cool in the afternoons without having to constantly adjust the target temperature.
Uses software called Heads-Up to monitor and alert you of furnace issues (i.e. clogged filters) and help you maintain your furnace so it doesn't just randomly die
Works on a battery. This automatically recharges as it is plugged into your HVAC system, but during the recharge the thermostat is shut off with a red blinking light indicating that the thermostat is charging.
Doesn't display current temperature, displays "target" temperature
3 degree temperature swing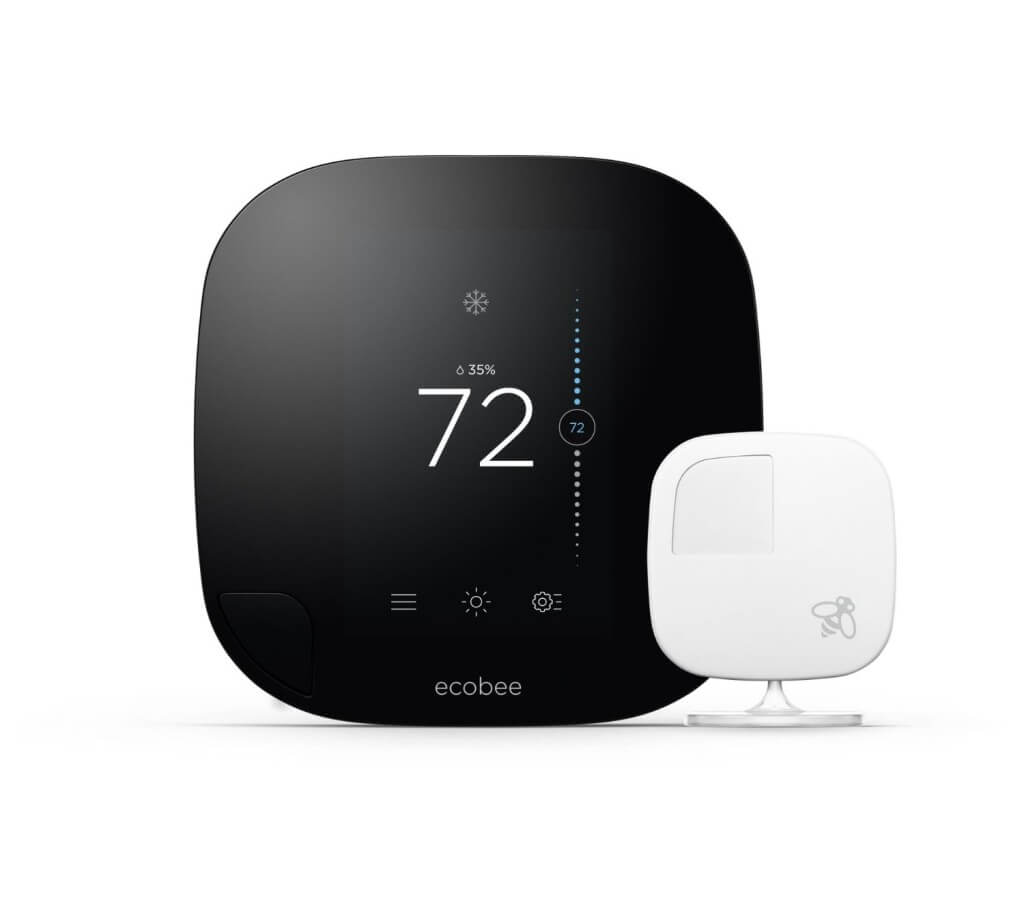 This was a very tough call between Nest and Ecobee3. While Ecobee has its flaws with interior sensors, Nest's warranty with lower coverage and 3 degree temperature swing are the game changers here. Ecobee3's parts and labor warranty can give you peace of mind that you won't be fixing it yourself if something goes wrong.
---
Overall Winner
And the winner of Sensi vs. Ecobee3 vs. Nest is…
Drumroll…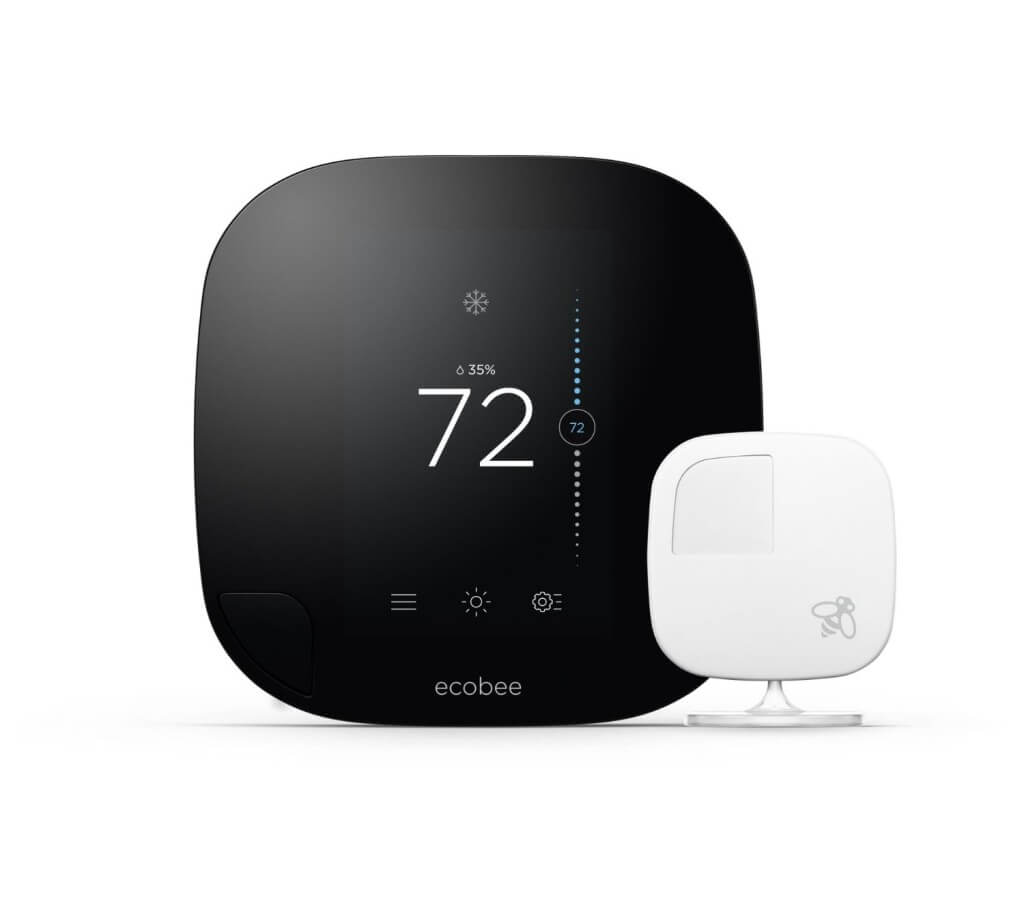 Ecobee3 is simply an excellent thermostat. Use it for a month and you'll become obsessed with its beautiful and intricate reporting system. Hook it up with HomeKit (as long as you have Apple TV 3rd gen) to control your thermostat via Siri. Then you can connect with HomeKit compatible lights like Philips Hue to set up an away mode that effortlessly saves you energy when you walk out the door.
Of course, Sensi and Nest are incredible products. Sensi is way cheaper than the alternative products, typically landing around the $105 range on Amazon, while the other thermostats are in the $250 range. Some people want easy smart home products that they can simply control with their smart phone, and Sensi delivers this. If you aren't concerned with fancy designs and reports or are on a budget, install a Sensi for sure! You can't argue with its nearly 5-star ratings and Best Seller rank on Amazon.
Additionally, if you're looking for one device that easily works with WiFi cameras and a CO monitor, then Nest may be the way to go. Plus, it certainly wins for beautiful design!
For more smart thermostat information, head to our Smart Thermostat Comparison to compare these products with Lyric, Honeywell, and others. If you need help selecting the smart thermostat that best matches your needs, use our Solver tool, where you can prioritize the features you want and get matched with a smart thermostat compatible with your home in less than 30 seconds.