When looking at smart sprinkler controllers, two of the most popular options on Amazon are Orbit B-Hyve vs Rachio.
Both options let you run your sprinkler controller using an app on your phone. There are several other similarities between the two, but also a few key differences.
We tested both Orbit and Rachio side-by-side in a video for our YouTube channel.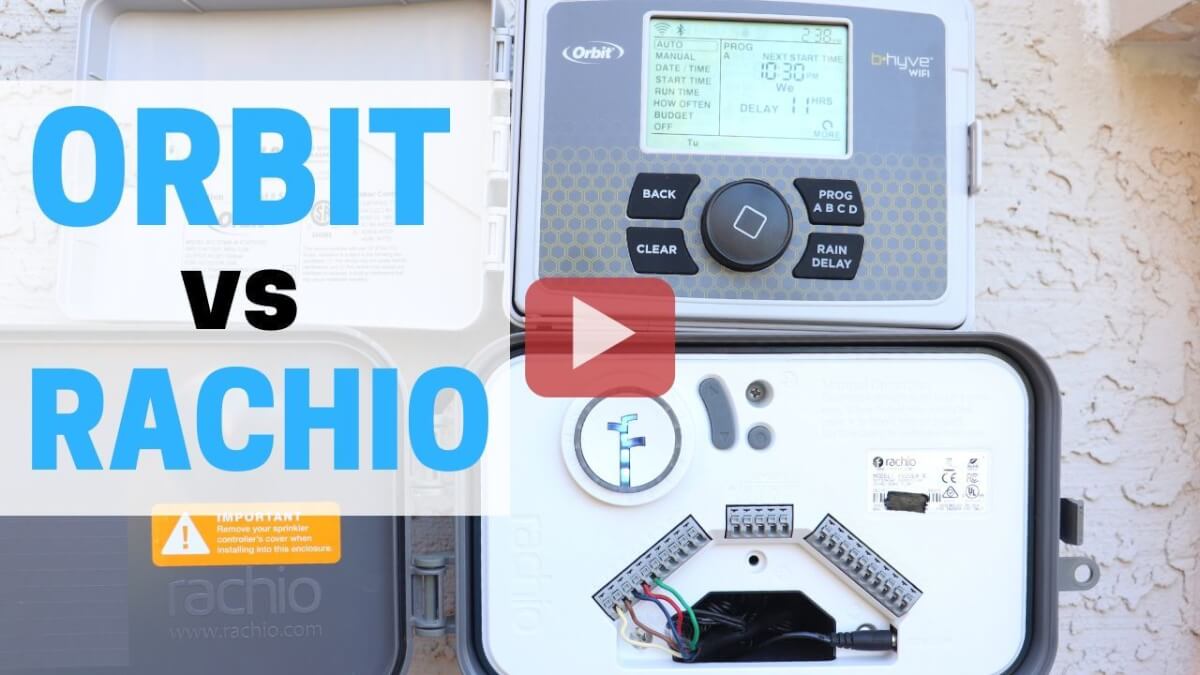 For more details and comparison, read on.
Orbit B-Hyve vs Rachio
Affiliate Disclosure: This page has affiliate links, which earn us commission at no cost to you. The writers of this article received a free sample of both Rachio and Orbit B-Hyve for review. They were not compensated in any other way. The opinions are 100% their own and not influenced.
Before we begin, one important factor in our comparison is that Rachio is at least twice the cost of Orbit B-Hyve.
This makes a big difference.
If your decision is close, you'll want to lean towards the Orbit B-Hyve since it provides a better value. Rachio has a few extra features that may push it ahead for you, but otherwise they are very similar.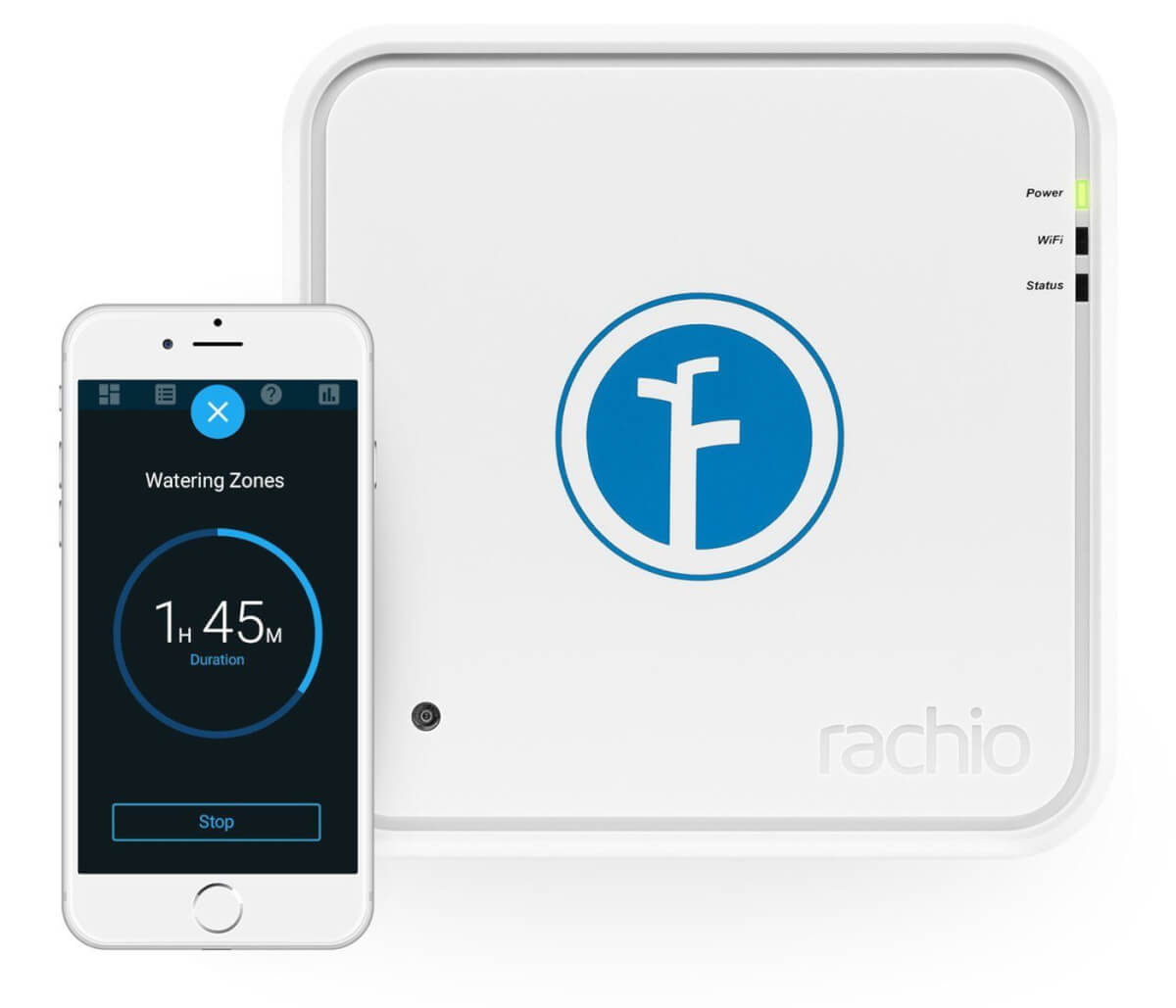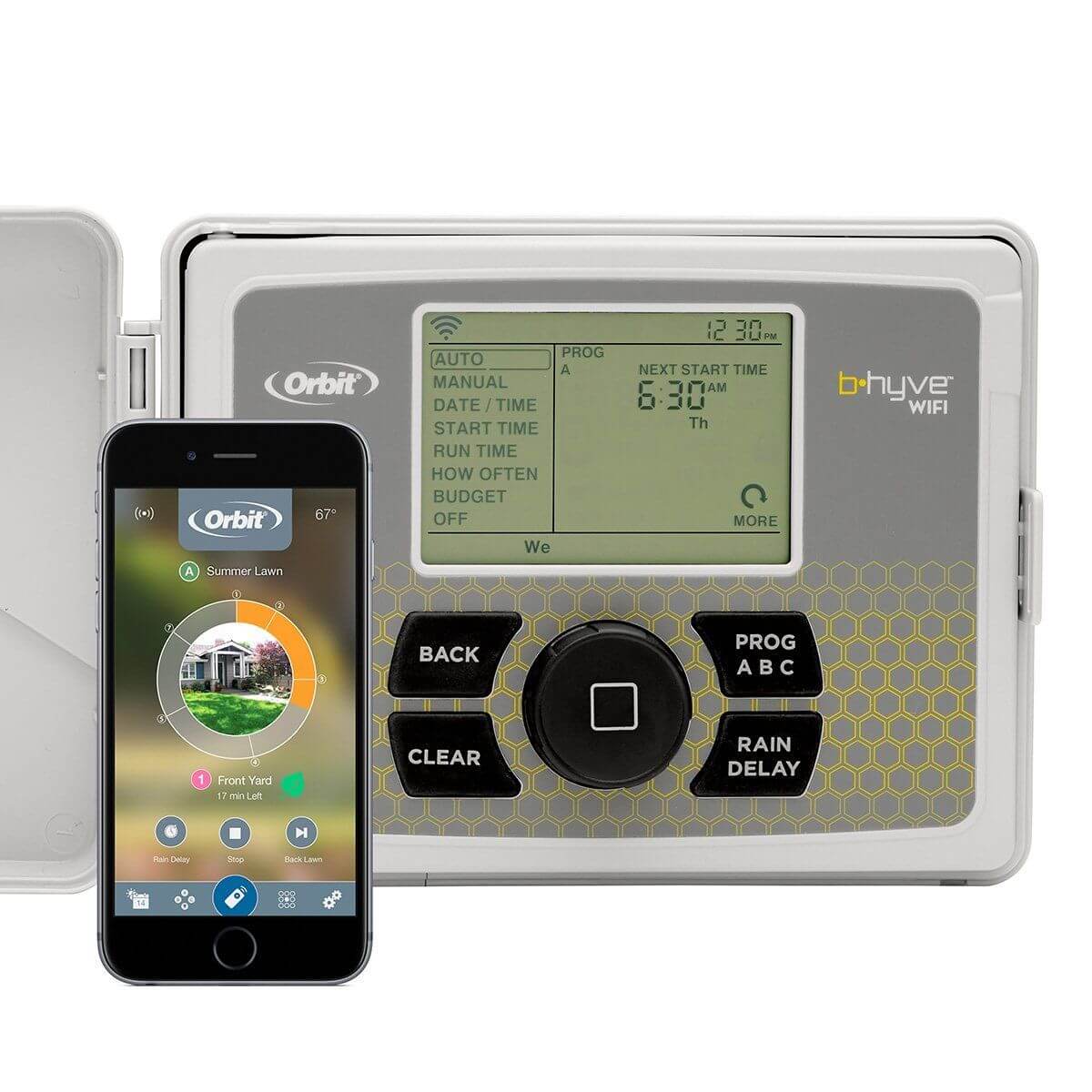 Even despite the price difference, both Orbit B-Hyve and Rachio have very similar features and are worth comparing, especially as the two top sellers on Amazon.
Let's dive in.
---
Hardware
Both Orbit B-Hyve and Rachio are easy to install.
Simply switch out your old controller and plug the wires into your new one. It's just like how you would install any sprinkler controller.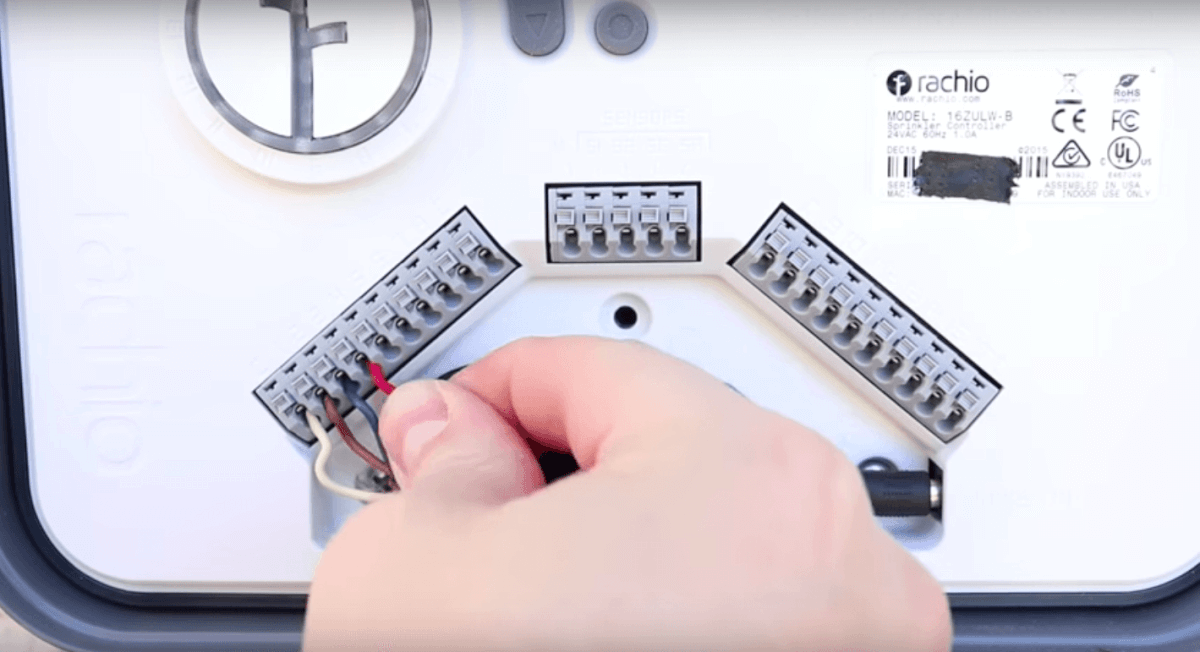 Once the controller is installed, it syncs with the app for mobile controls. The app walks you through the rest of the set up. You can easily access the wires later by removing the covers of either controller.
They both come with a 2 year warranty.
Something to keep in mind: the number of zones in your yard. Make sure you buy a controller that is designed for the correct number of zones, since both Rachio and Orbit B-Hyve support different number of zones, as outlined below.
There are a few other important hardware differences to be aware of when comparing Orbit B-Hyve and Rachio.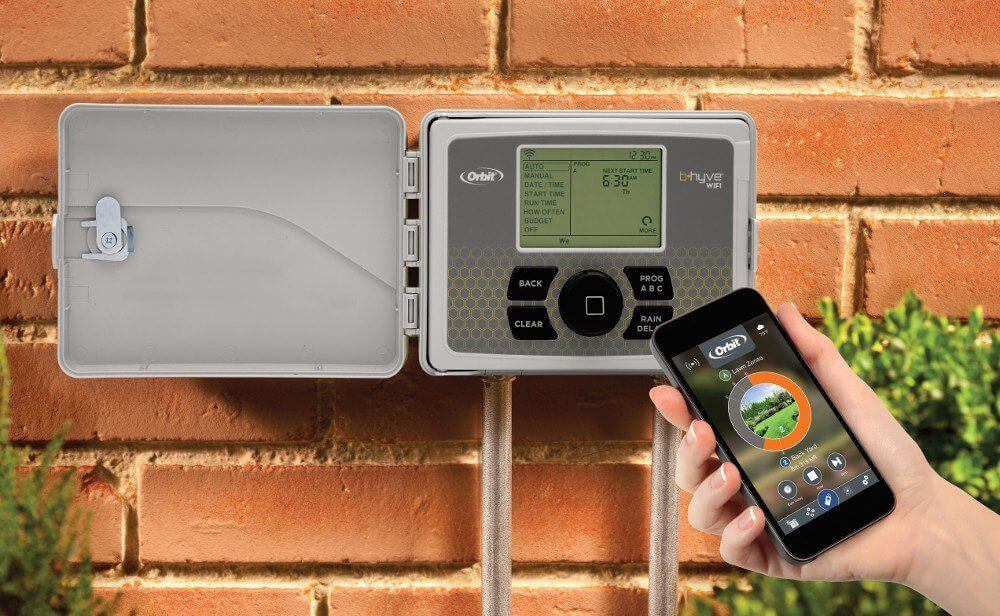 Orbit B-Hyve
Buttons and turn dial for full controls. Doesn't depend on the app
LCD screen for easy selection
Includes weatherproof indoor/outdoor case, which is compatible with a lock to make sure it's secure
Available in 6 or 12 zones
Basic design – looks like a classic sprinkler controller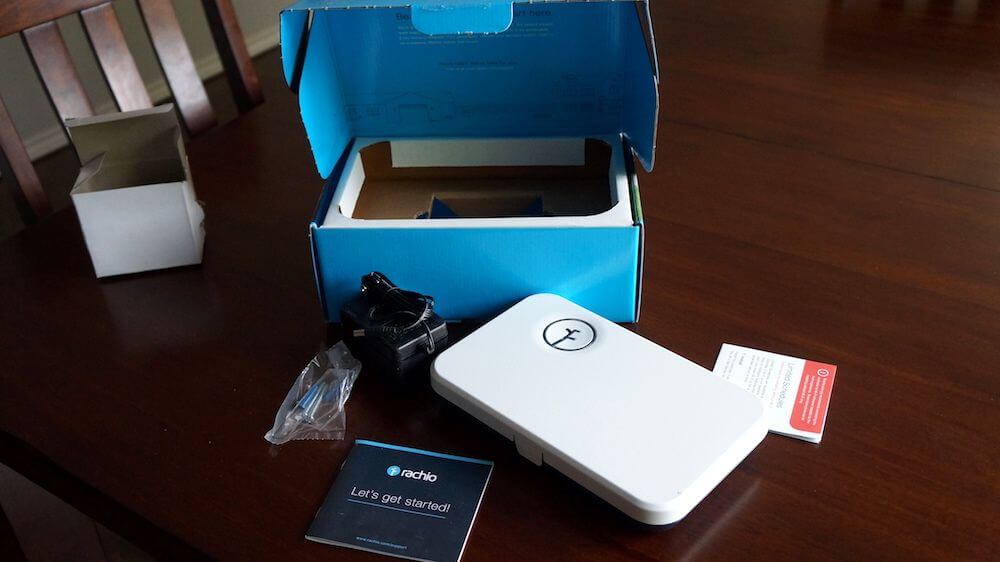 Rachio
Only a few buttons for limited physical controls: you can just select the zone and manually start/stop watering
No screen built in, depends more on the app for advanced controls
Weatherproof case and plug sold separately
Available in 8 or 16 zones
Advanced design that looks "smart"
Winner: Orbit B-Hyve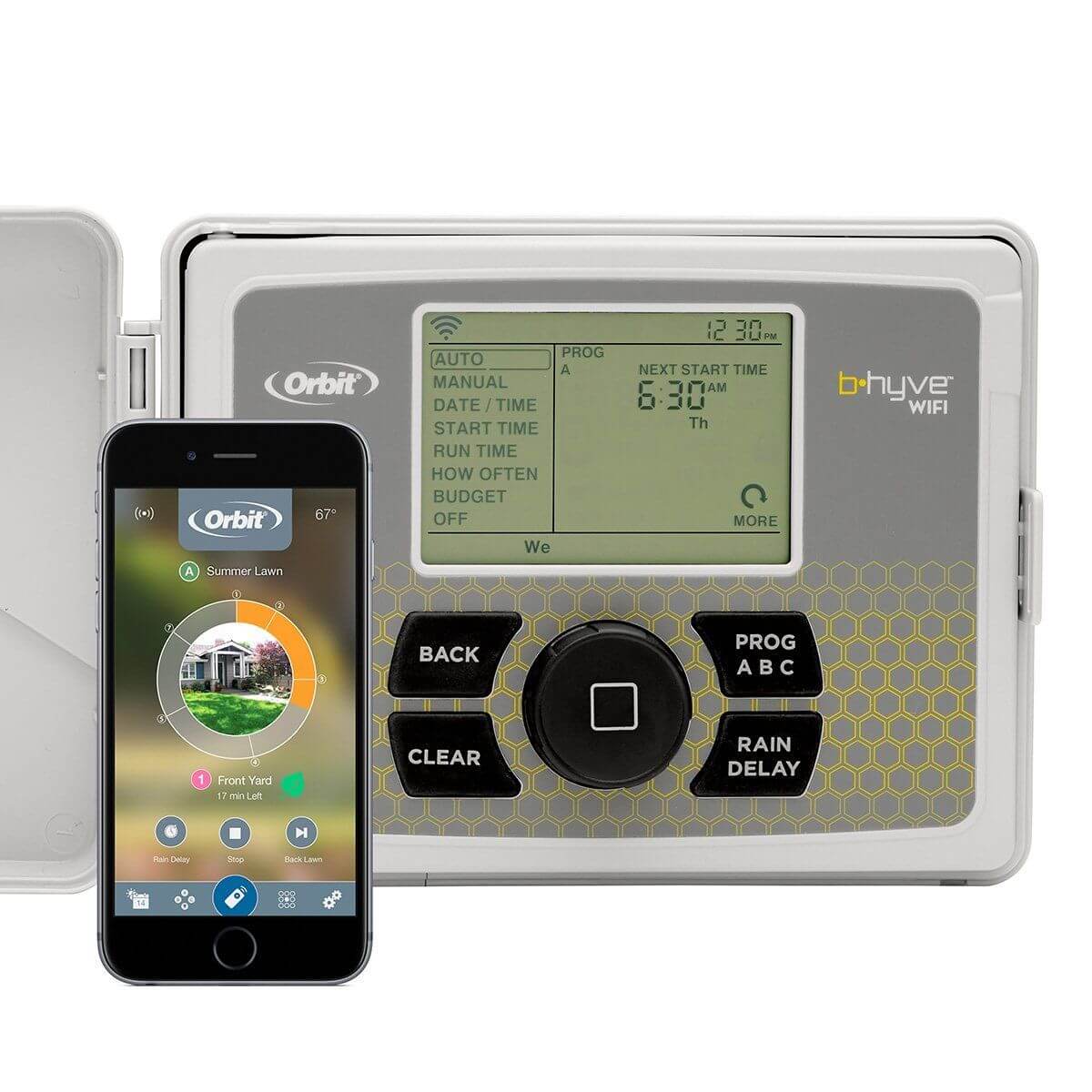 While Rachio has a more advanced look, Orbit B-Hyve is easier to control directly on the device since it has an LCD screen and easy to use buttons. The app controls add plenty of functionality, but it's nice that B-Hyve is easily controlled directly on the device.
These onboard controls add convenience when you're giving access to landscapers. More importantly, if Orbit's software ever goes out of business, you could still use their controller by pressing the buttons—it doesn't depend on the app to function.
If Rachio ever goes down, then you would probably need to buy an entirely new controller.
The included outdoor enclosure also pushes B-Hyve over the edge, since Rachio customers with an outdoor controller will be forced to pay extra for a waterproof enclosure.
Long story short: Rachio may look prettier, but B-Hyve works better, and that's what really matters for this category.
---
App
Both Orbit B-Hyve and Rachio have nice iOS and Android apps for controlling your sprinklers on-the-go.
The apps have high ratings in the Google Play and iTunes stores, indicating that most people find them user-friendly and helpful. Both also have web apps for controlling your sprinklers in your computer's browser.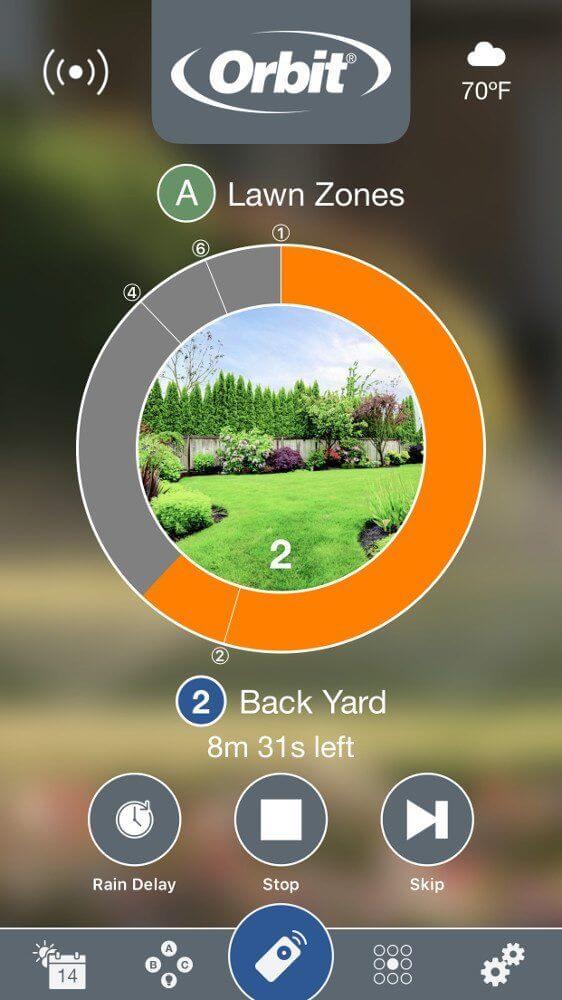 Comparing the Orbit B-hyve vs Rachio mobile apps shows that they both have similar features. You can name and take pictures of different zones to easily identify them. You can also manually run zones for testing.
The few differences are minor, but worth noting below since the app is likely the main way you will schedule and adjust your sprinklers.
Orbit B-Hyve
Requires more clicking to find all of the features
Only notifies you when it's done watering, not when it's starting to water
Adjusts watering based on the plant, slope, soil, sun/shade, head type, and head count.
Easily use pre-set schedules for even/odd days, or specific intervals
Some history and data is available about water usage
Watering budget allows you to specify how much water you want to use with a percentage. 50% means you want less than normal, while 150% shows that you're willing to pay money for overwatering and greener grass. While it's nice for changing all zones at once, it's also confusing to manage the app.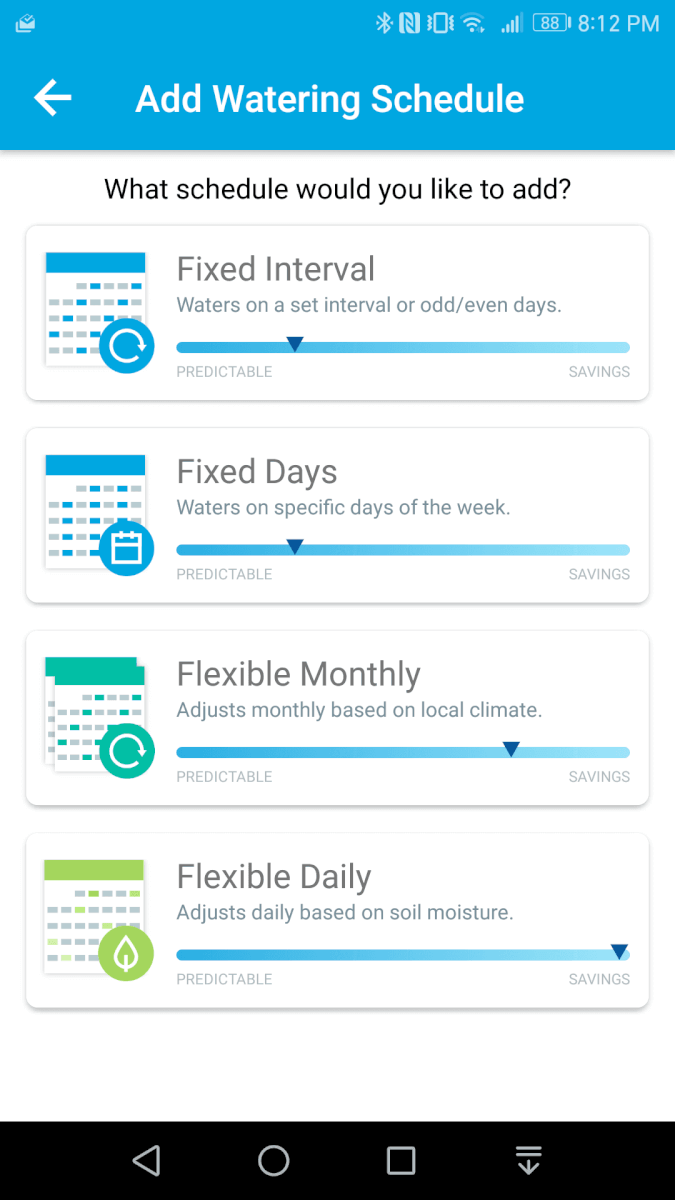 Rachio
More intuitive. Everything you need is in one place
Notifies you when it's starting to water and done watering
Input the types of soil, plants, grass, watering nozzle, and slope to specify the watering for your yard.
Specify your watering schedule using a calendar in the app. Only set options for watering schedules. For example: doesn't let you water your lawn every 3 days or 14 days
Quickly add a watering schedule for fixed intervals, fixed days, or flexible monthly/daily watering.
Detailed data and charts about how many gallons of water you've used or saved, with a counter for how many rain delays your device has initiated
Seasonal shift automatically adjusts watering time for all sprinklers
Winner: Rachio
It's a close call since both sprinkler controllers have apps that are user friendly. In the end, Rachio pulls ahead because it has additional features like data to see how much water you've saved and an improved design overall.
Its watering schedule options for Fixed Intervals, Fixed Days, Flexible Monthly, and Flexible Days also allow you to customize exactly how flexible you are with your watering.
B-Hyve's watering budget is their version of setting your flexibility, but it's a little more vague and limited in what you can specify compared to Rachio. Plus, the Orbit app is a little confusing to navigate. Adjusting the watering is confusing and not as straightforward as Rachio.
Again, you can't really go wrong here since both apps are nice, but Rachio is slightly better and more user-friendly.
---
Efficiency
Both sprinkler controllers use local weather data and forecasts to delay or change the watering schedule.
Rachio and Orbit both have the option of selecting a specific weather station nearby (though you'll have to dig a little bit to find it in the Orbit app).
The controllers have similar auto-watering features that automatically delay watering based on the weather. Even when on a fixed schedule, either controller can skip watering when it's raining, too windy, or freezing outside.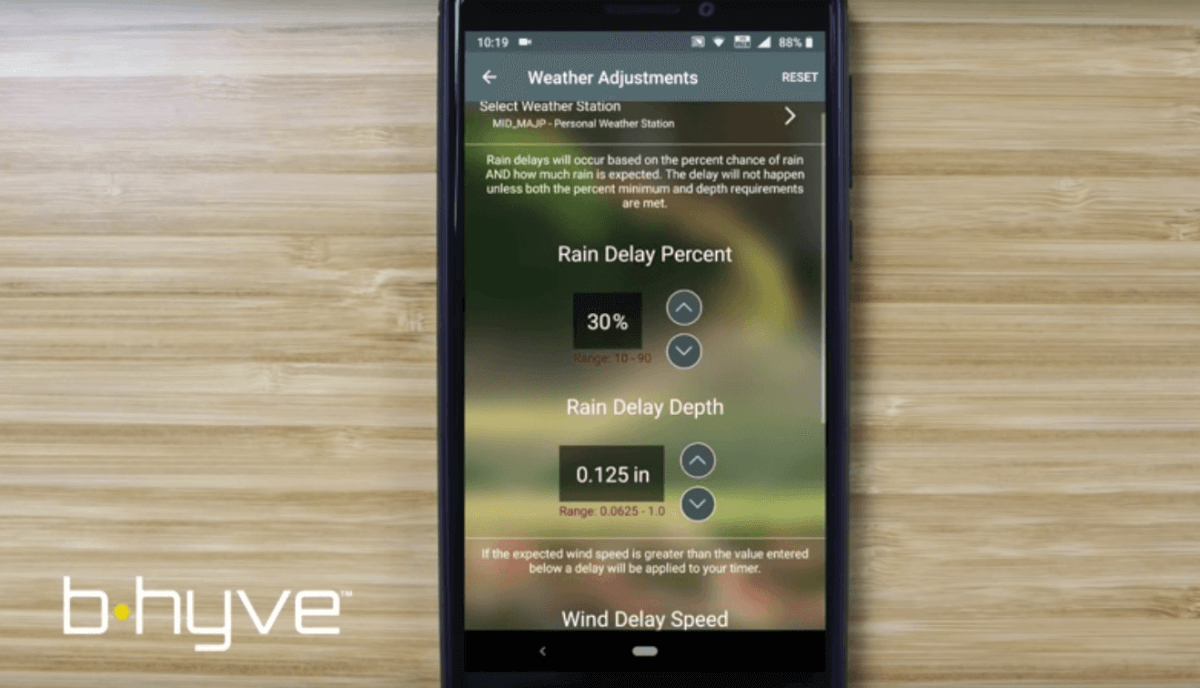 They are also both EPA WaterSense certified, indicating that they will save you on your water bill and may also be eligible for rebates. Check with your local water utility company for details on if these are offered in your area.
Orbit B-Hyve and Rachio are also both compatible with external rain sensors, which can act as an on/off switch to turn off your sprinklers when it's raining in your yard. Forecast data is never perfect, but these sensors help track when there is rainfall on your grass. These can change your watering pattern when unpredicted rainfall surprises your sprinkler controller.
The only difference in this category is that Rachio works with many third-party wireless or wired sensors, while the Orbit B-Hyve works with only the Orbit Wireless Rain/Freeze sensor.
Winner: Tie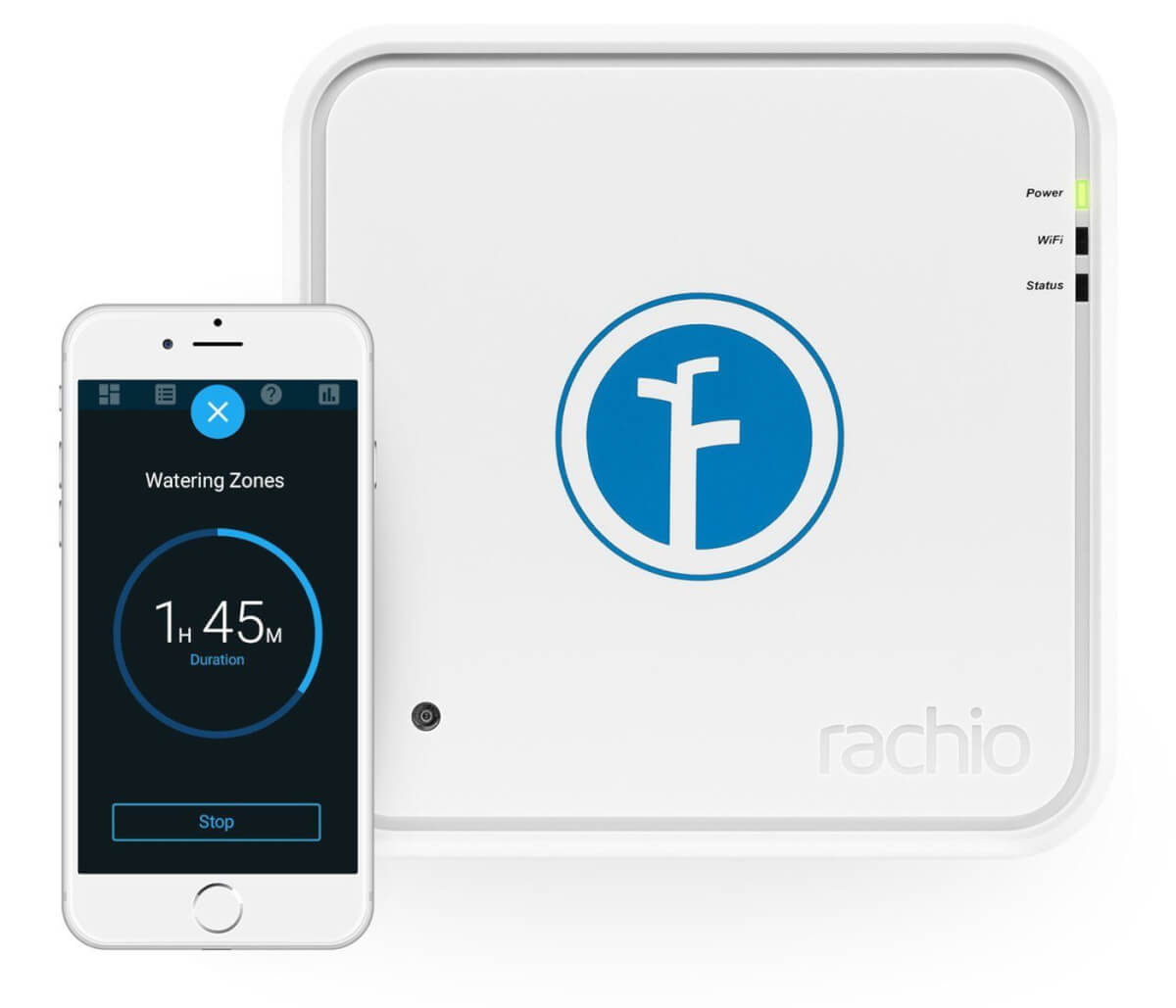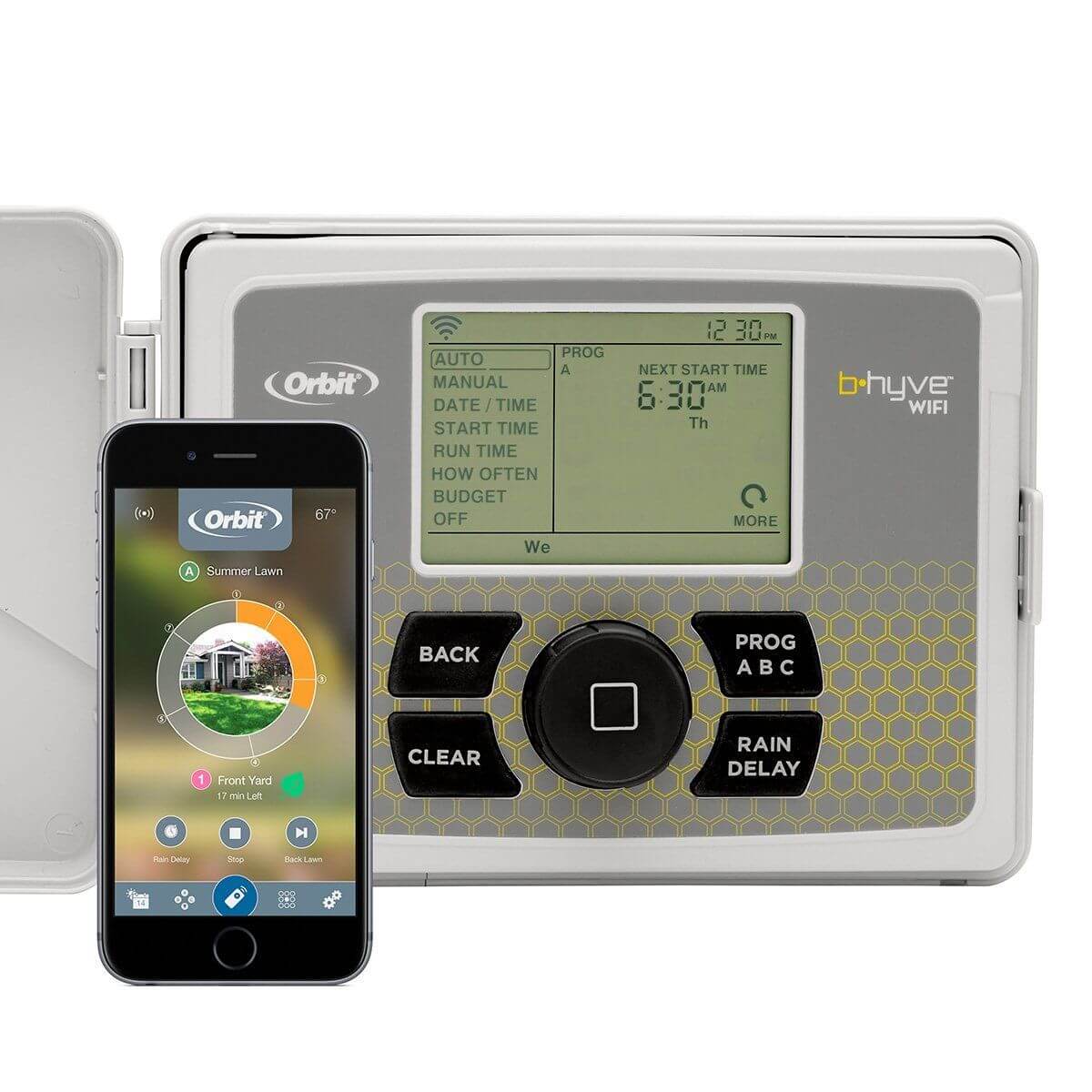 Since these two offer the same efficiency features for forecasts, delaying watering, and working with external rain sensors, we count this category as a tie between Orbit B-Hyve and Rachio. The only thing that may sway your decision is if your local utilities offers a rebate for a specific sprinkler controller, which might make you want to purchase that one.
---
Smart Features
Smart home compatibility may seem unnecessary, but there are some interesting scenarios for using Rachio in conjunction with your home.
For example, if the Nest Protect smoke detector senses smoke, you can have Rachio drench your lawn. In the event of a fire, this would at least stop it from spreading to neighboring homes. You can also view water usage in your Nest home energy report.
One funny idea: some of our YouTube subscribers commented with the idea of having Alexa water the lawn if their neighbor's dog if it's leaving a "present."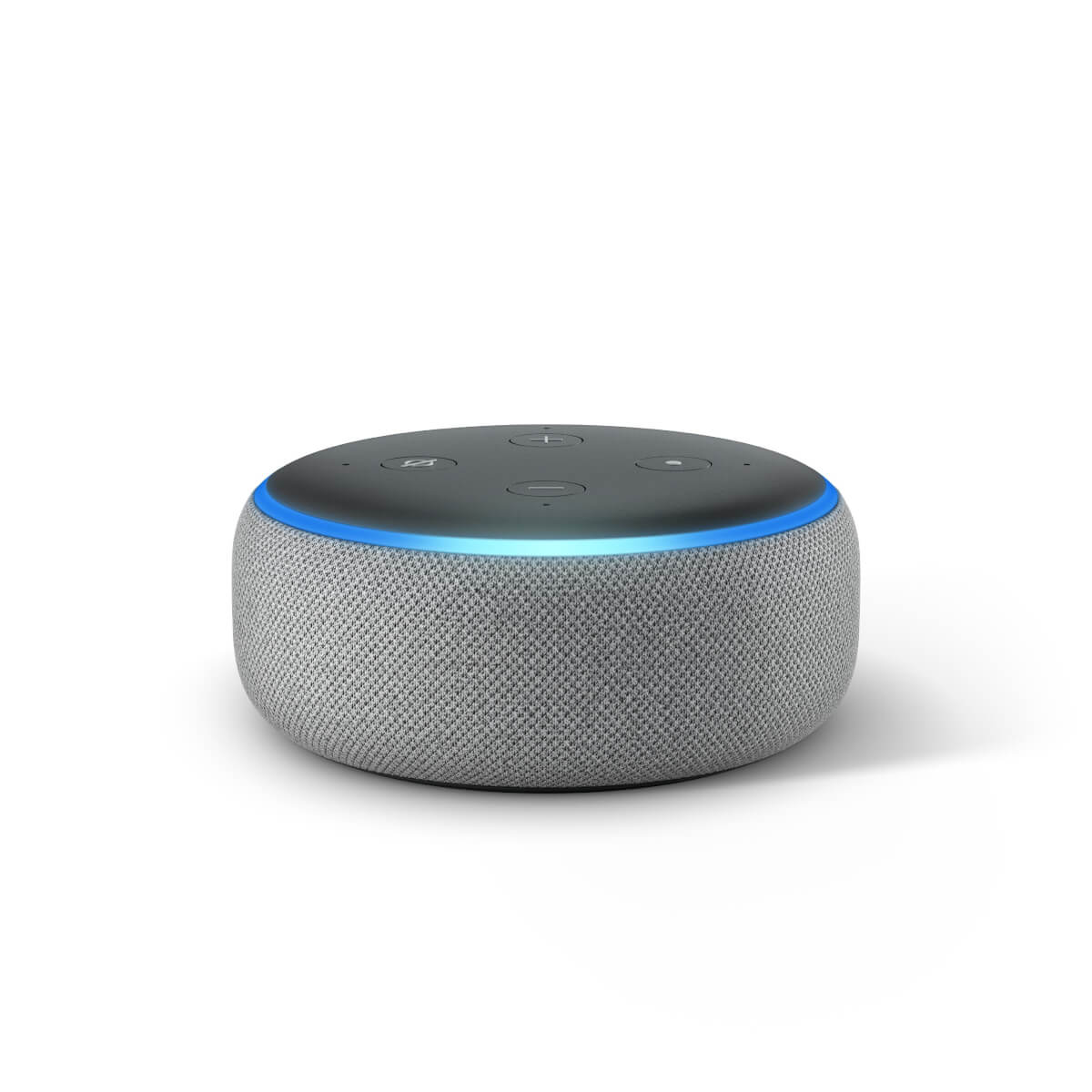 Both sprinkler controllers work with Alexa and Google Assistant. Simply say "Alexa, start Zone 1 for ten minutes" for easy watering. This is a feature I haven't used as much, because I usually pull out my phone when I want to quickly run the sprinklers.
Here is more information about which devices both sprinkler controllers are compatible with.
Orbit B-Hyve
Works with Alexa and Google Assistant
HomeKit integration was announced at CES 2018. No updates since that time, so I wouldn't get my hopes up.
No other smart home integrations or IFTTT at this time
Rachio
Works with Alexa, Google Assistant, Nest, Alarm.com, SmartThings, Wink, IFTTT, and a few others. We tested Rachio with SmartThings in our full Rachio review and found that it connected easily and added a lot of functionality.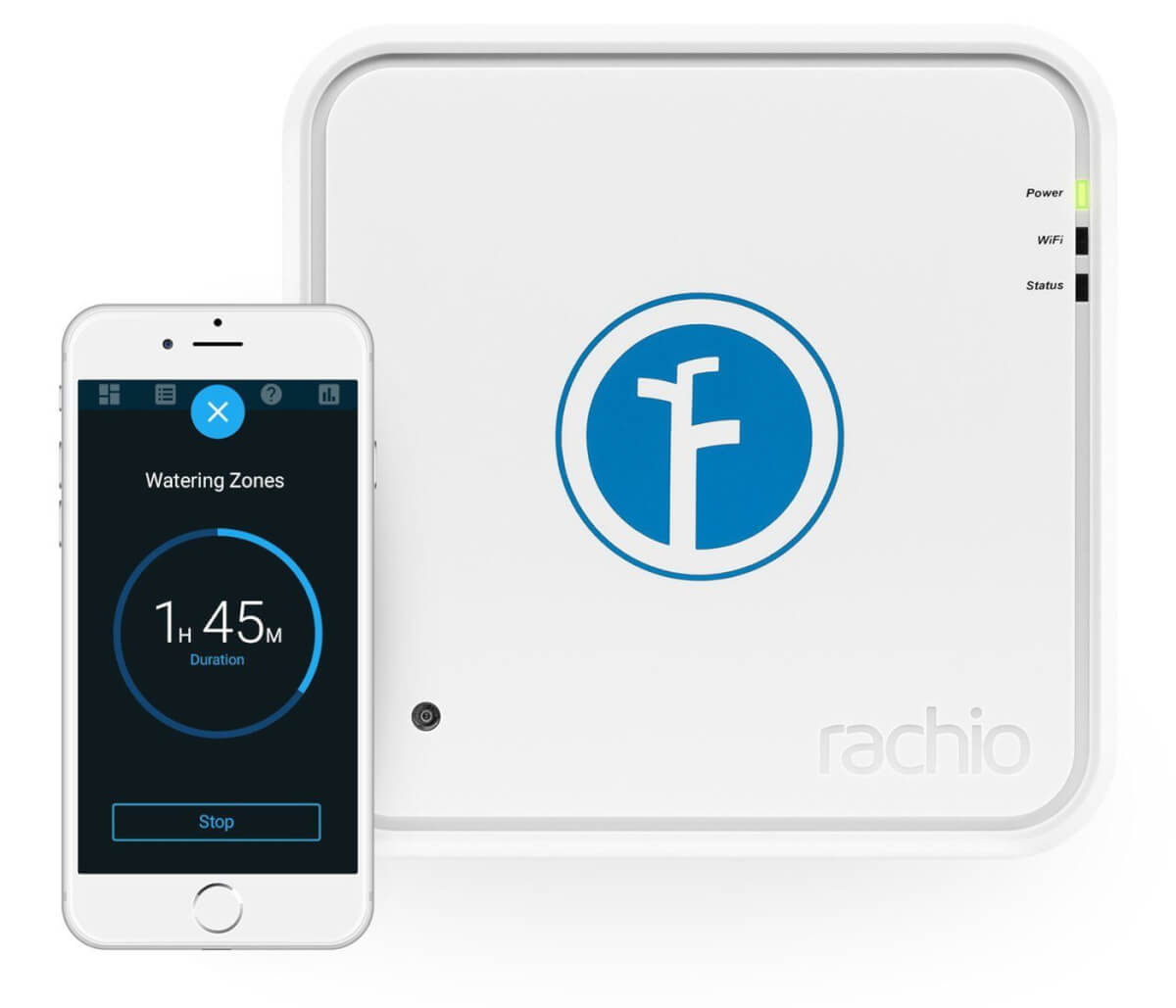 Winner: Rachio
When comparing Orbit B-Hyve and Rachio, you can quickly see that Rachio offers far more smart home integrations with other smart devices and hubs.
The compatibility with SmartThings and Wink is also significant because it makes it possible for Orbit to work with all of the devices that work with each hub. In other words, the possibilities are almost limitless.
If you prefer SmartThings or the other smart home tech limited to Rachio, then that will be the way to go.
---
Overall Winner
It's a tough call between these two smart sprinkler controllers since each offers different benefits.
If you are purely looking at features of both controllers, then Rachio is the overall winner. It has an excellent app that's slightly easier to use than Orbit's. Plus it works with several more smart home devices for whole-home automation. Its integration with Wink and SmartThings alone may help you choose it over Orbit B-Hyve.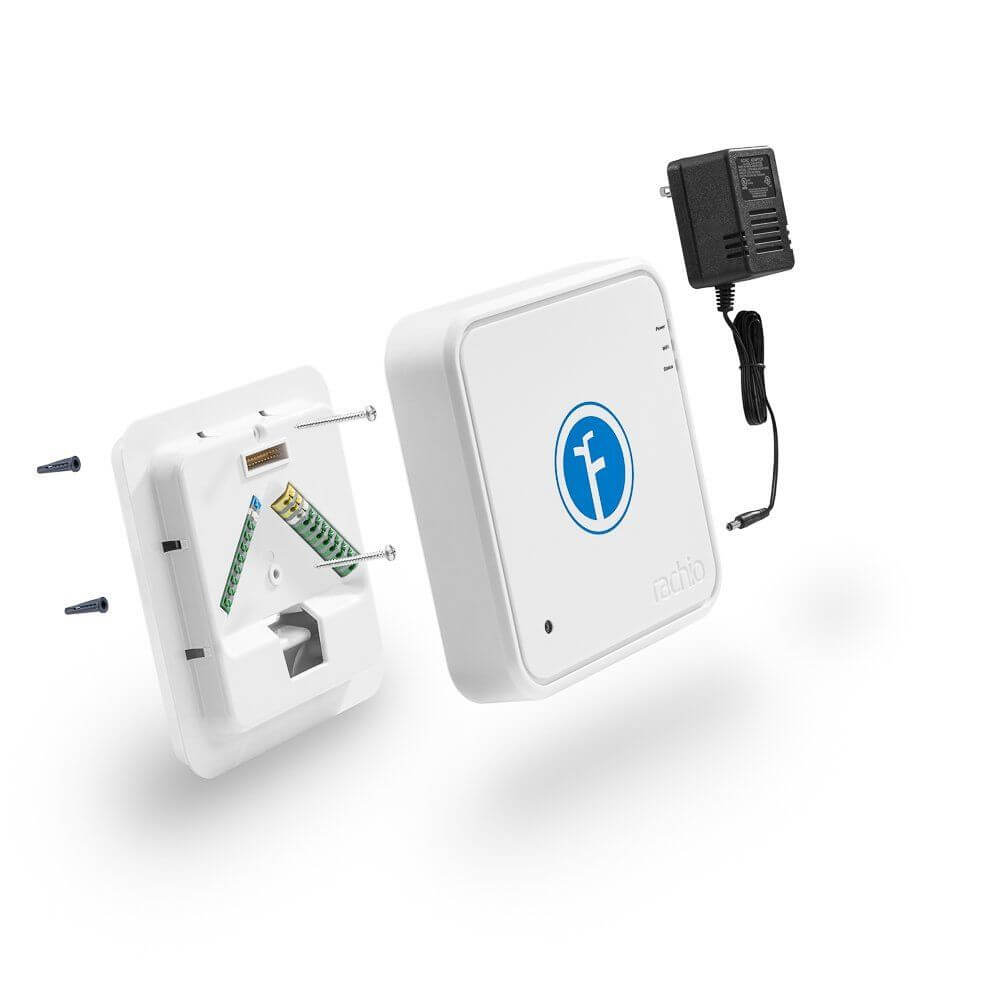 If you factor in price, then Orbit B-Hyve is the real winner.
It offers nearly all of the same features as Rachio at a fraction of the cost. It also has a few enhancements, like working with HomeKit and having additional buttons for manual controls. If fancy looks and extra smart home integrations don't matter to you, definitely go with B-Hyve.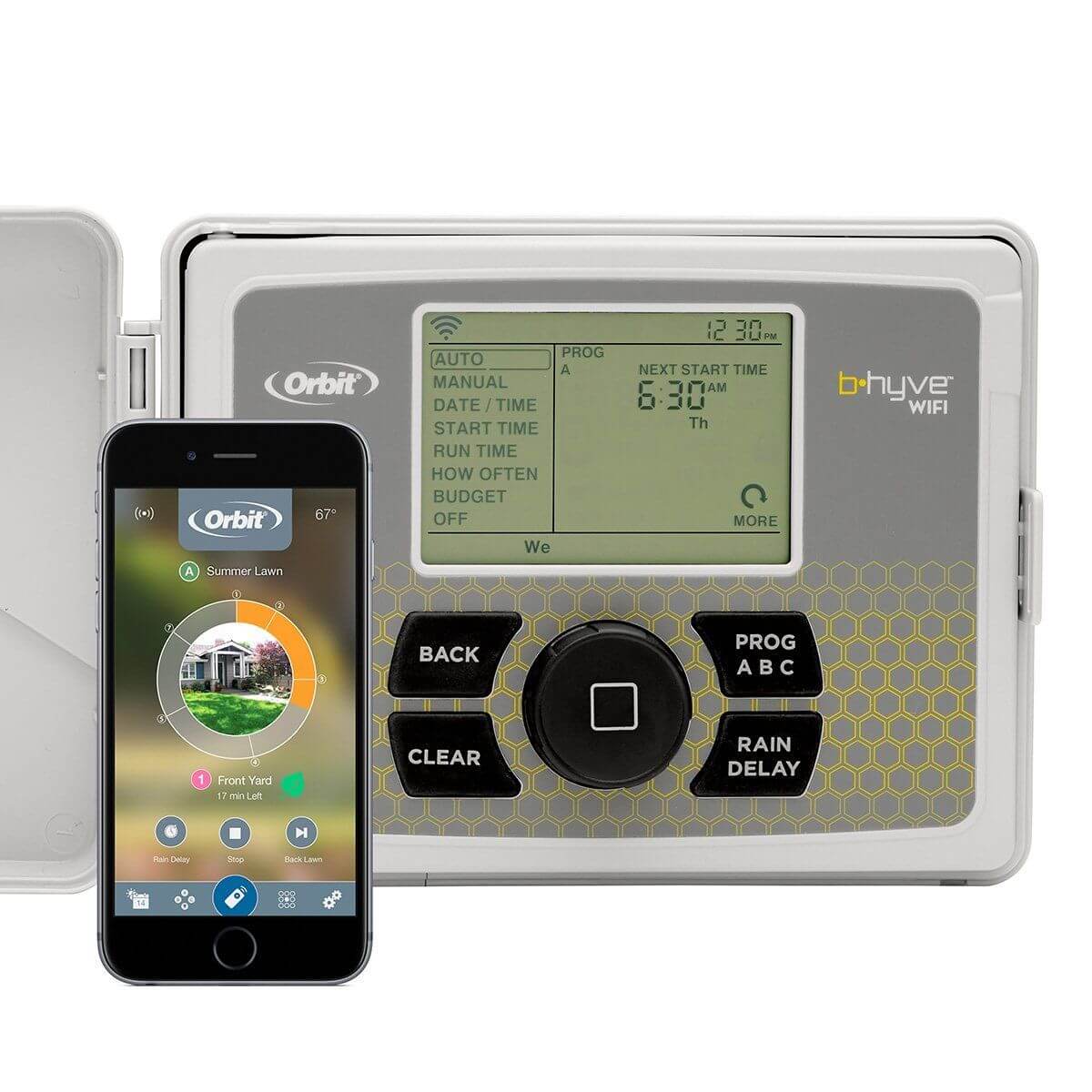 Looking for more options? A few other smart sprinkler controllers to check out are RainMachine and Skydrop.
In the end, the best sprinkler controller between Orbit B-Hyve vs Rachio depends on your preferences. I would probably buy the Orbit B-Hyve and keep the extra money… or use the money buy more smart home tech.
Which would you choose? Let us know in the comments below!