Your home's entry points aren't just first impressions for guests—they are also your first line of defense against intruders. Protecting your home while still looking classy is a tough balance, but you don't have to install unattractive security cameras just to keep your family safe. Kuna's porch light with hidden camera offers the level of security you need, while looking impressive.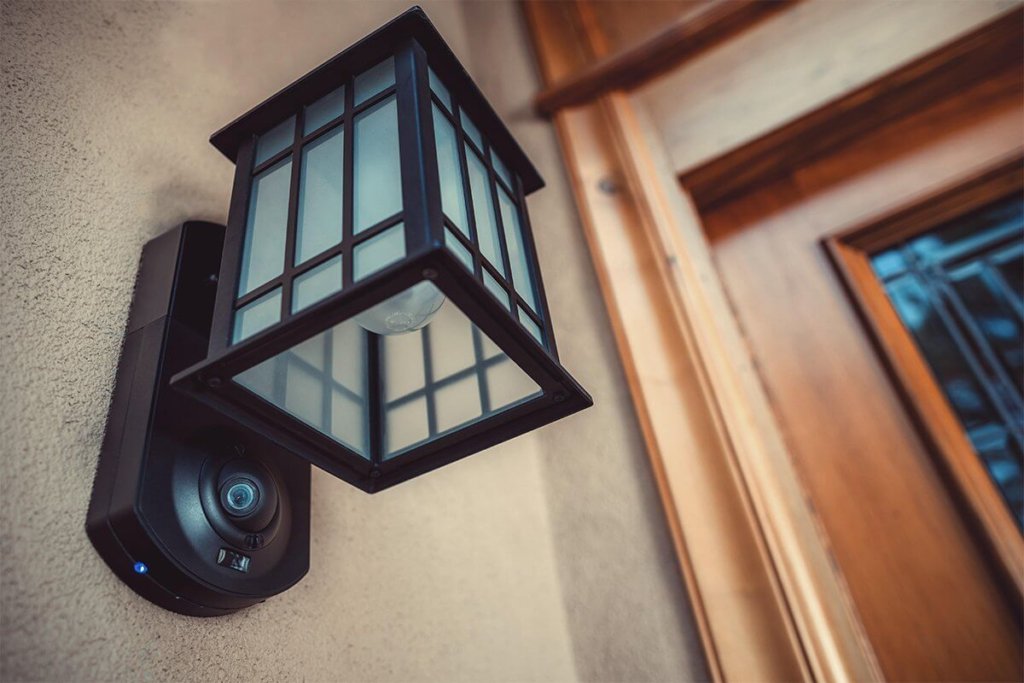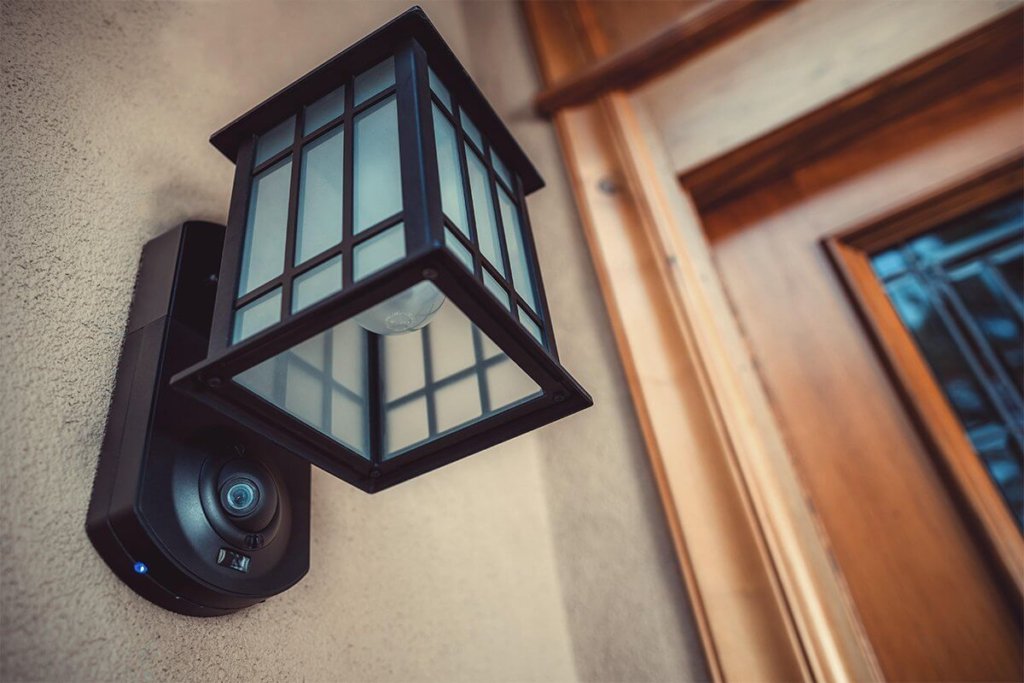 With the looks of a classic porch light and the security of a modern HD smart camera, Kuna offers subtle security that will keep you safe without making guests feel awkward with a camera staring them down. Let's break down Kuna camera's pros and cons to see if it could really protect your home.
Kuna Porch Light With Hidden Camera
Affiliate Disclosure: This page contains affiliate links, which earn us commission from Amazon at no cost to you.
Features
 Easy installation. 
You know how hanging picture frames sucks? Kuna is easy to hang; it comes with guides to help you secure the brackets, along with a hook to hold the light during installation.
 Now works with Apple HomeKit.
Not many products are HomeKit compatible (maybe it's because Apple requires a monopoly on these products, refusing to let them work with other smart home systems). That's why it's exciting to have Kuna announce last week that they will join the ranks in HomeKit-compatible products. This partnership is in its early phases, but expect to say something along the lines of "Siri, disarm my Kuna alarm" and similar simple phrases for easily controlling the device.
 Awesome notifications.
When someone comes within Kuna's line of vision, it will begin recording and alert you on your phone to watch the live video. It will also continue sending the notifications while the visitors stand in front of your camera.There are so many ways that this is useful, but a few include warding off intruders, finding out when your kids are locked out, and taking a peek at the solicitors on your doorstep before letting them in.
 Two-way audio.
Besides reenacting scenes from Seinfeld, the two-way audio is an excellent feature for communicating with those on your porch. "Hey, what are you selling?" "Who are you and why are you touching my door?" "Hi neighbor, thanks for bringing by cookies!" "Kids, what's wrong? Locked out? The garage code is 9340. Bye." The uses are pretty much endless, and the audio quality is surprisingly excellent.
 Loud alarm for scaring off intruders.
So what if someone really does try to break into your home? You can easily scare them off with the 100-decibel siren built in (in case you're wondering, that's pretty loud). Sound the alarm remotely from your phone and you'll send your intruders running away from your porch light with hidden camera in no time.
 3 cool designs.
Recognizing that not all homes are the same style, Kuna comes in Contemporary, Craftsman, and Traditional styles to match your home's exterior. This has to be one of Kuna's most unique selling features—instead of a creepy panning eyeball placed conspicuously in the corner of your entryway, the camera is mostly hidden by the porch light.

 HD footage.
When protecting your family, blurry video is basically useless. Luckily, Kuna offers HD 720p, wide angle footage, letting you see clear video of everyone who comes by.
 Turn off or sleep alerts.
Getting nonstop alerts on the phone when you're mowing the lawn would be irritating, but luckily it's not an issue with Kuna. Simply turn down your sensitivity or turn off alerts altogether within the app to enjoy your yard without your phone buzzing or your alarm ringing.
Issues
 Monthly fees.
This is a big one. Here are you storage options:
Free: 2 hour "look back" window to review, rewind, and download 3 videos per month
$5/month: 7 days of footage
$10/month: 14 days of footage
$20/month: 30 days of footage
While these prices aren't that bad compared with full security systems, it's still higher than what other cameras offer. Competitor security cameras, such as Canary, offer 12+ hours for free, while Piper lets you store a whopping 1,000 videos on the cloud for free. While it doesn't have the siren or two-way talk, Vimtag is an excellent camera for recording onto an SD card, and its price tag is half that of Kuna. Netatmo recently added DropBox support, allowing you to upload footage to the cloud for free.
Of course, none of these cameras are designed for outdoor use or double as a porch light with hidden camera, so that might be why Kuna charges a little more for cloud storage.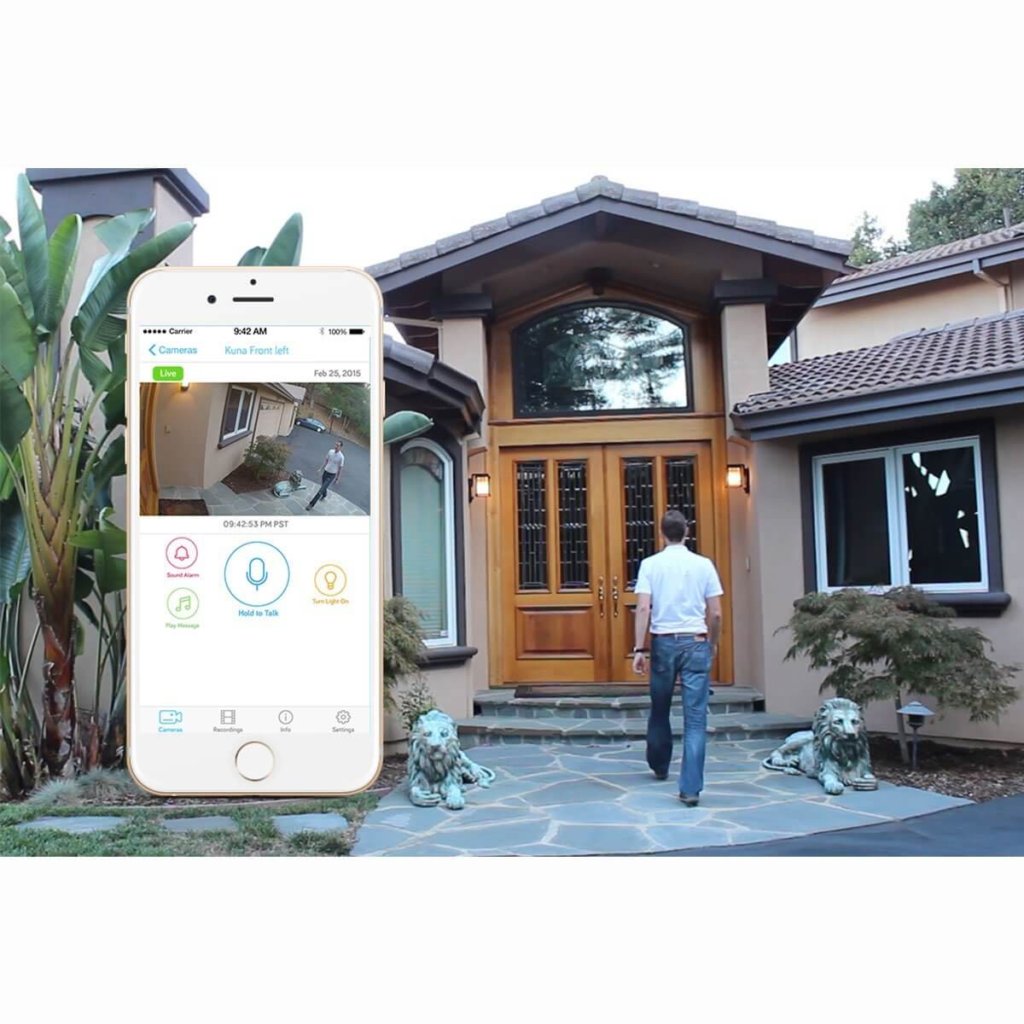 Slow alerts (sometimes).
Browse through some of the reviews on Amazon and you'll start seeing a trend: Kuna is a little on the slow side when it comes to security alerts. Clearly this varies, based on the Internet connections both at your home and remotely on your smart phone, and some customers have reported no issues at all, with a quick response time to motion detection. But a few seconds can go a long way when an intruder is breaking into your home.
Limited smart home integration.
While HomeKit is a big win, Kuna could use more integration. Most other cameras work with IFTTT (If-This-Then-That), allowing you to automate your system based on anything, from your movement within the camera's view, to the weather, to even the score of your favorite sports team. Kuna also doesn't allow you to record to an NVR (network video recorder), microSD, or similar personal storage devices; your videos have to live on their servers, unless you download them. If a power outage hits or your burglars decide to cut the power, you'll be in trouble. It's also missing an option for in-browser viewing.
---
Kuna's website says they prevents break-ins before they even happen, while indoor cameras find out after someone has already made it inside.
There's no doubting that Kuna is a nifty concept with even better execution. The siren and 2-way audio all wrapped up in a porch light with hidden camera make it a useful tool for any homeowner. But in order to cut it in the competitive smart home space, Kuna needs to adapt its strategy towards the customers. Boost the amount of free storage to (at least) 12 hours, allowing customers to use it through a full night for free. Consider adding another model with an SD card or other form of back-up storage. And above all, please work with IFTTT.
Kuna's recent integration with Apple HomeKit is promising, and we are excited to see what's next for this beautiful porch light with hidden camera.