Smart lights are awesome, and so are outdoor lights.
That means smart outdoor lights are extra awesome, right?
Yes, as long as you buy the right ones. There are plenty of options for connected outdoor lighting. We tested several affordable smart outdoor lights in a recent video.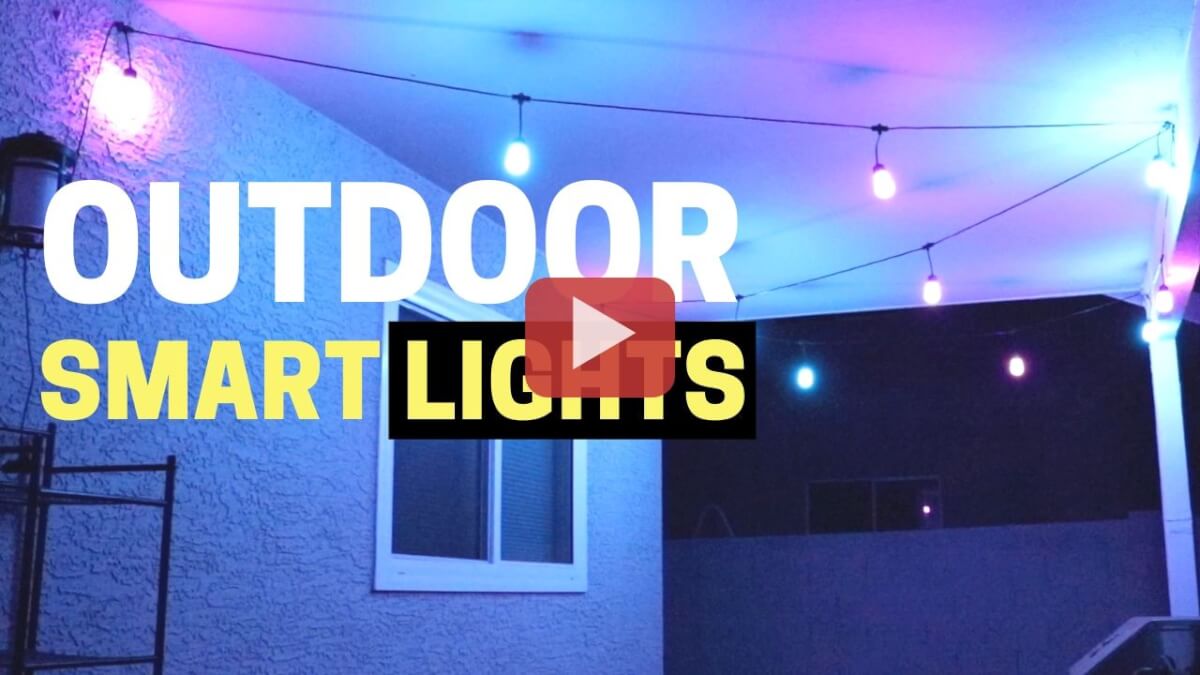 Read on for more of a comparison of the best smart outdoor lights, with the pros and cons of each option.
5 Best Smart Outdoor Light Options
Affiliate Disclosure: This page contains affiliate links, which earn us commission at no cost to you. The writers of this blog received a free sample of Govee LED String Lights for review. They were not compensated in any other way. The opinions are 100% their own and not influenced.
1. Philips Hue Outdoor Lights
Philips Hue is the most recognized smart light brand. It integrates with HomeKit, Alexa, and Google Assistant.
Hue offers indoor and outdoor lights that all sync with the same Hue bridge. This bridge is a small white device that plugs into your router and connects each light to your internet.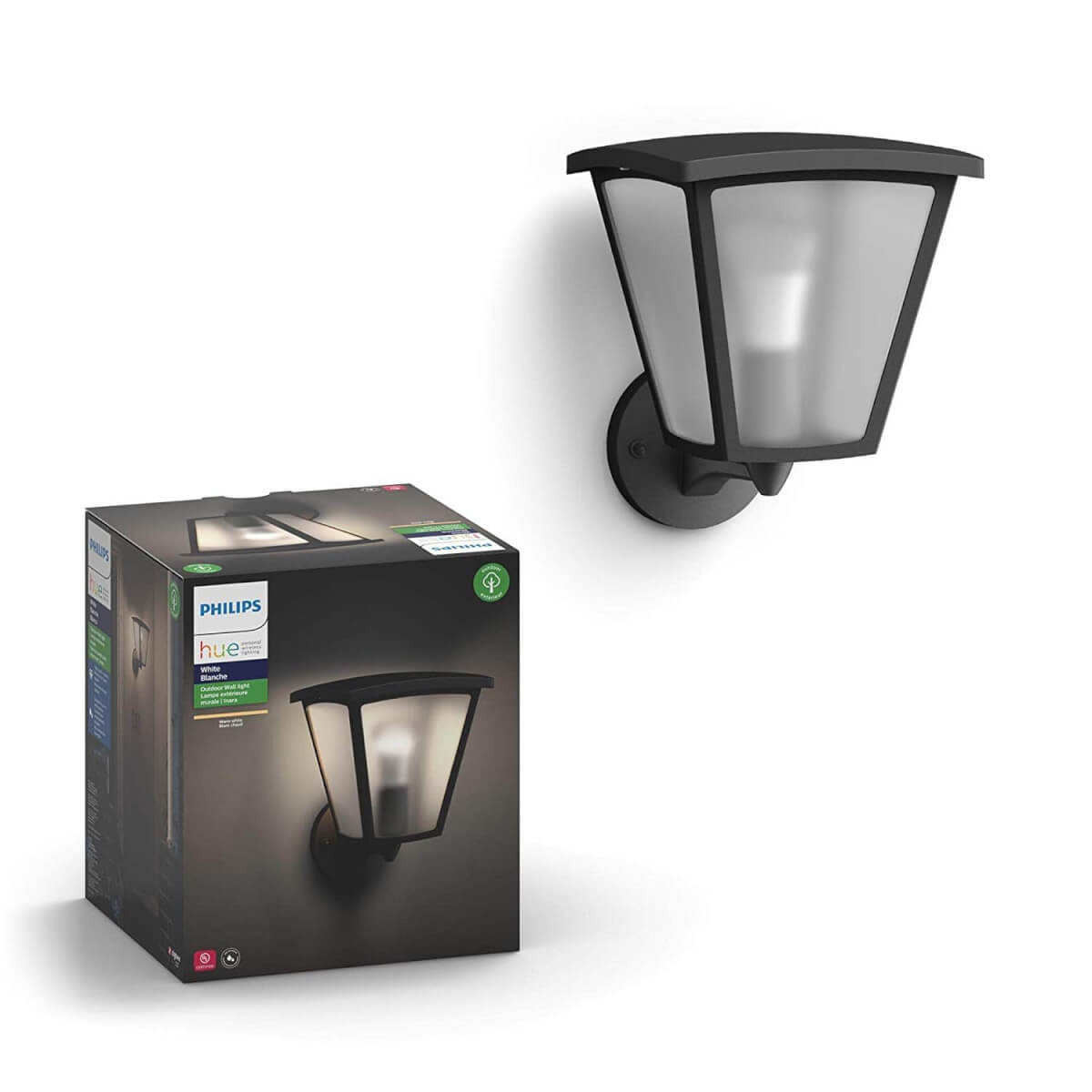 Hue has several outdoor lighting options that are automated using the Hue app.
Pros
Controlled locally. Since Hue lights connect with the bridge, they are actually controlled locally. This means the lights aren't communicating with Hue's servers every time you turn them on or off in the app, so they respond more quickly and have less connection issues.
Variety of lights. Whether you are purchasing indoor or outdoor lights, Hue offers a huge variety of smart bulbs and specialty lighting.
High quality. With Hue, you are paying for one of the top lighting brands available, so you can expect incredibly high quality lights.
Cons
Expensive. Philips Hue lights are nice, but that also means they are expensive. There are plenty of more affordable options out there compared to Hue.
Bridge required. While the bridge speeds up the lights' response time to your controls, it also means another device plugged into your router. When you initially purchase Hue, you will also have to add in the cost of the bridge—you can't just buy one Hue bulb, but you'll need a starter kit with the bridge as well.
---
2. LIFX Outdoor Bulb
Besides Hue, the other major smart light creator is LIFX. The major difference is that LIFX doesn't require a bridge, so it's all controlled within the LIFX cloud.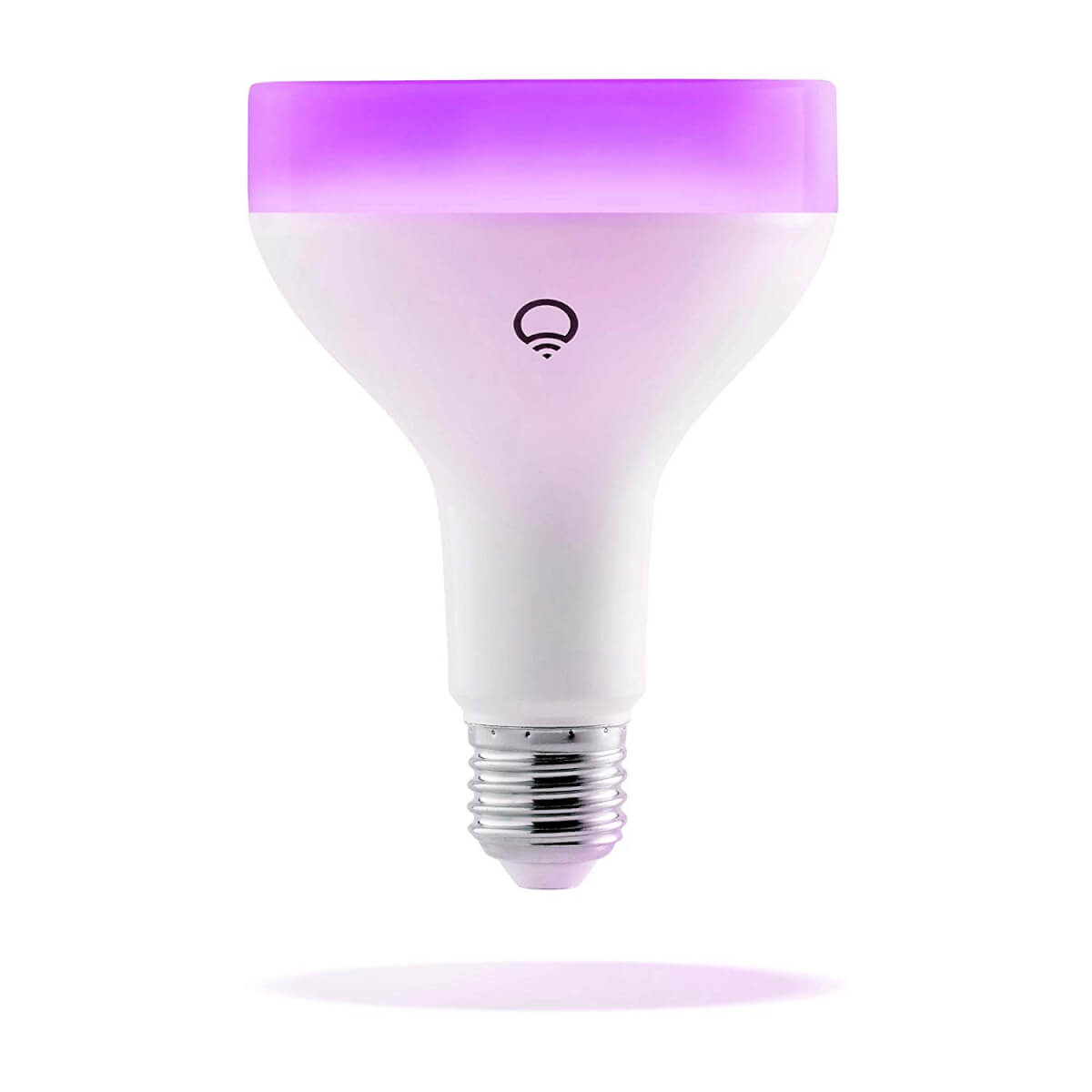 Similarly to Hue's outdoor PAR38, LIFX also offers an outdoor BR30 bulb. This works in outdoor light fixtures, as long as they are not exposed directly to water. The BR30 is also recommended for bathrooms where there is more moisture.
At this time, this is the only outdoor light offered by LIFX.
Pros
Multicolor. Like the other LIFX bulbs, the BR30 is also multicolor with 16 million vivid colors. LIFX is especially known for their bright and accurate colors; you won't have to worry about your blues looking too white or green.
No bridge required. LIFX bulbs do not require a bridge or hub to work. As we mentioned when describing Hue, this saves you money on extra hardware plugged into your router.
Keep your current light fixtures. If you don't feel like removing your outdoor lights and rewiring new ones, LIFX BR30 bulbs are a good option. Installation is as easy as screwing in a light bulb. Just make sure your light switches are kept on after they are installed, since you will control the lights in the app going forward.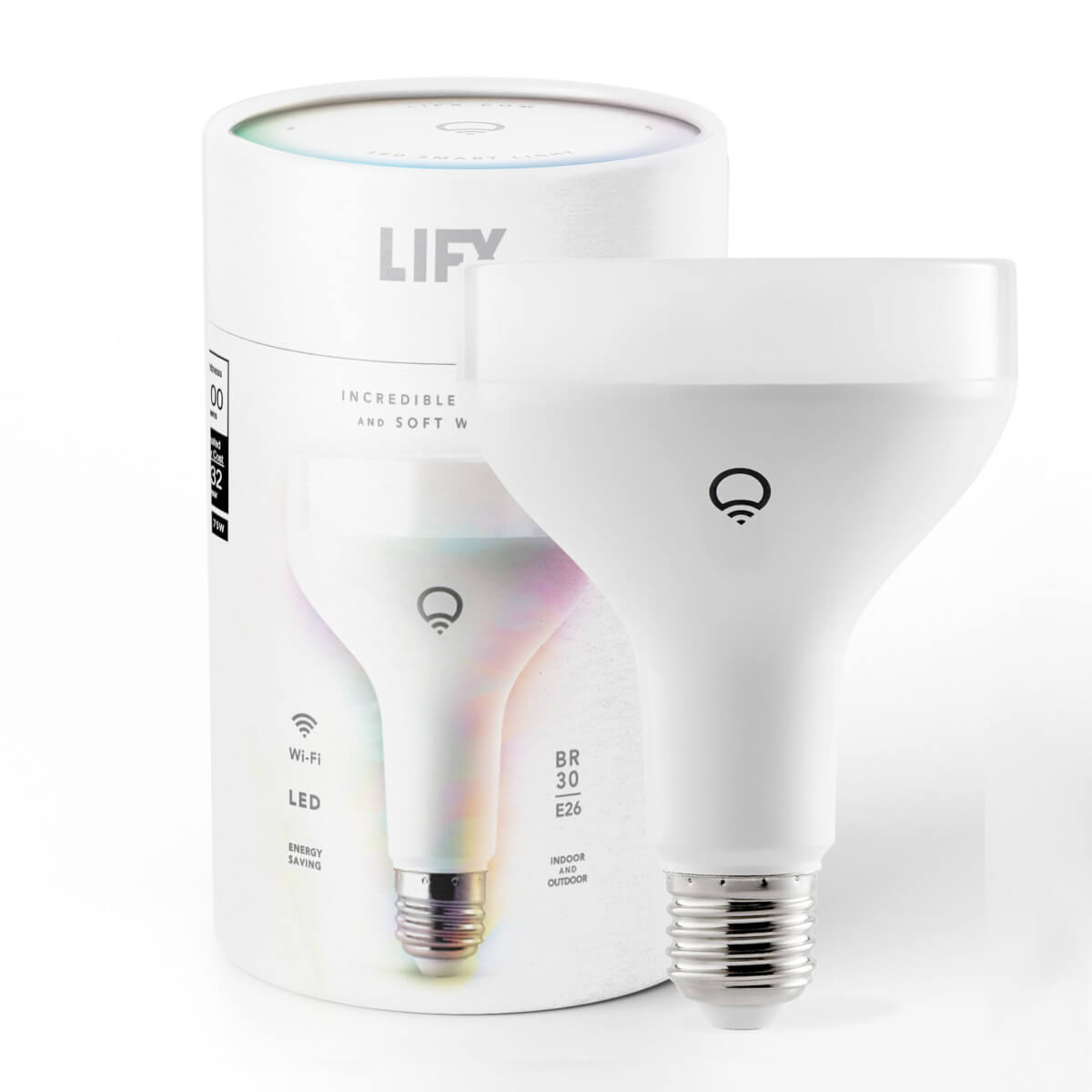 Cons
Cloud controls. The downside of skipping a bridge is that these bulbs depend on LIFX's cloud to function. If their servers go down, so does your control of your lights.
Expensive. LIFX's BR30 bulbs are usually priced around $60, which adds up quickly if you need more than one.
---
3. GE Z-Wave Outdoor Smart Plug
But what if you want to make inexpensive string or holiday lights smart? That's also an option.
Just plug basic string lights into a smart plug like the GE outdoor plug. This syncs with a smart home hub like SmartThings. You can use the SmartThings app to turn the lights on and off or schedule them.
This plug is especially great for automating your holiday lights. You can also use it to schedule other outdoor devices that plug in, such as pool pumps or fountains.

Pros
Flexible. Use your existing string lights, or buy some cheap ones. If you want to upgrade or change out your lights, you can keep the same plug and automations. You can even repurpose the same smart plug during the holidays.
Affordable. If you already have a Z-Wave hub, this can be an inexpensive way to make your outdoor lighting smart by plugging in some basic weatherproof lights.
Cons
Cannot control specific bulbs. The only option within the app is to turn the lights on and off or schedule the on/off switch. You can't adjust the colors or control bulbs individually using the app.
Hub required. Since this device does not connect directly with your Wi-Fi, you'll need a third-party hub to get it working. Two of the most popular options are Wink and SmartThings. The plug will communicate wirelessly with either hub using Z-Wave radio protocol. Then the hub connects your plug to your internet, allowing you to control it from your phone anytime, anywhere.
---
4. Sylvania Gardenspots
These small LED lights have a garden stake on the bottom, so you can easily install them in your yard and have them light up your home or pathway. We used garden staples during installation to secure the cord between the lights.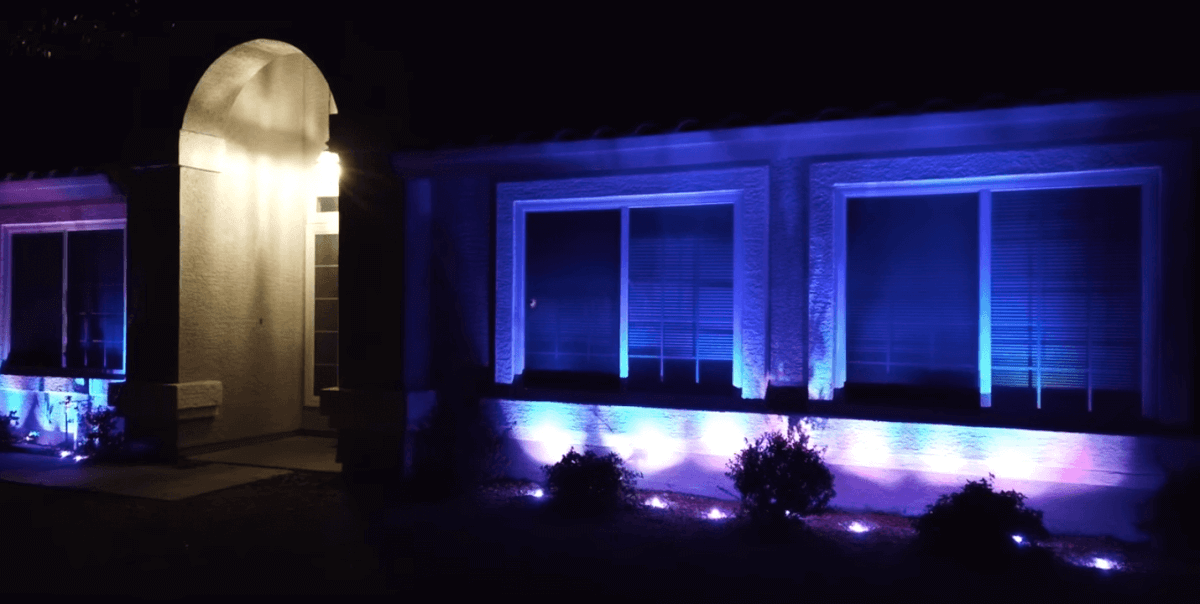 The Sylvania Gardenspots use ZigBee for controls, so you can easily automate them with a SmartThings, Wink, or another hub, similarly to the GE outdoor plug.
You can buy these as a starter kit or expansion pack.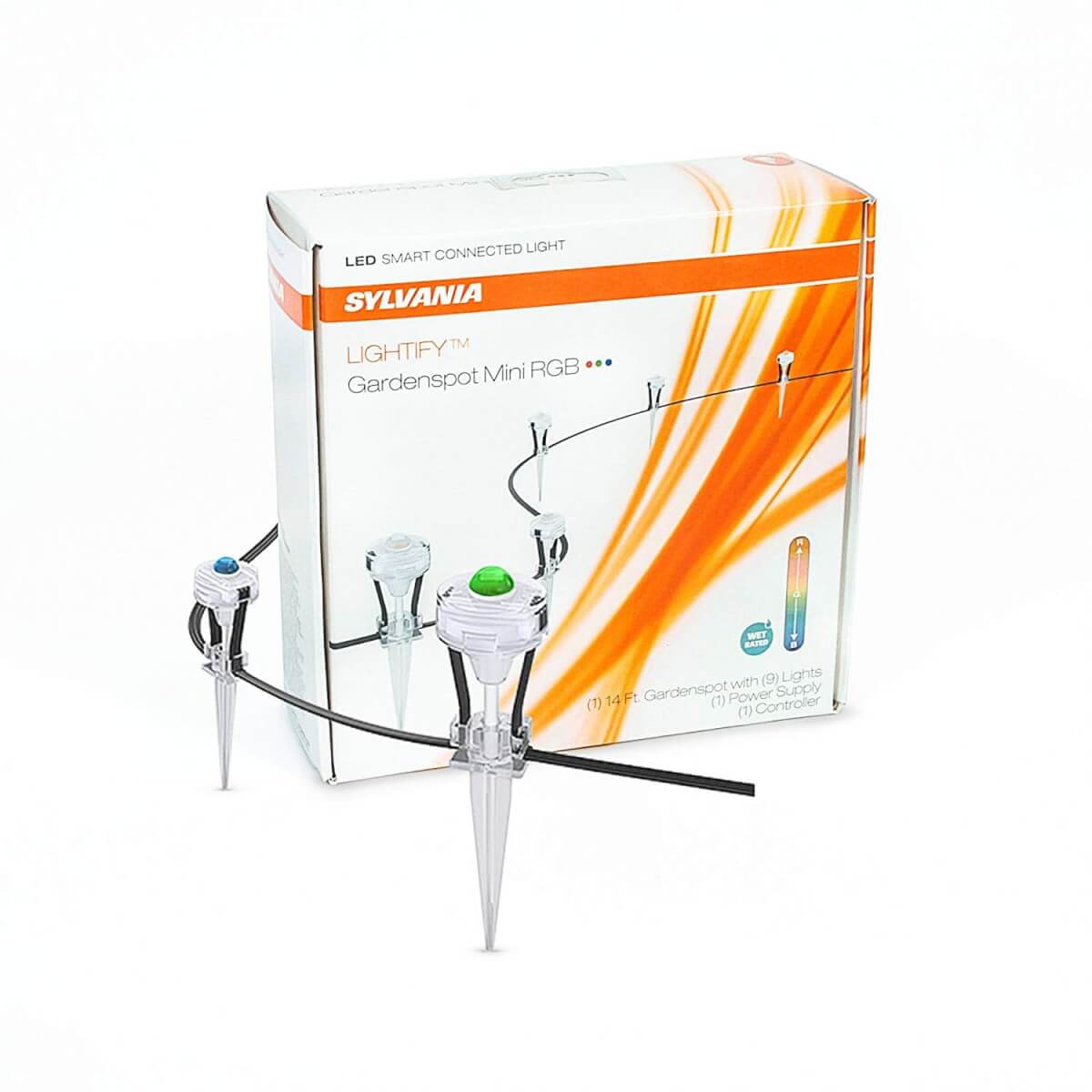 Pros
Smart home compatibility. Automate within your existing smart home hub using ZigBee.
Affordable. Compared to other outdoor smart lights, Sylvania Gardenspots are pretty inexpensive, with the starter kit available for around $47. As long as you already have a smart home hub, these won't set you back too much money for colorful, unique outdoor lighting.
Cons
RGB only. These are only RGB, not RGBW. This means that there is no "true" white; instead, the bulbs combine colors to make a white that has a blue or yellow tint.
All bulbs must be the same color. You cannot alternate between colors for each LED light – the entire strand of lights has to be one color. If you want two different colors (like red and green for the holidays) you have to buy two different starter kits so they can each be their own color.
---
5. Govee LED String Lights
As you'll see in our video review above, the Govee colorful string lights have an impressive design. While they only work using Bluetooth, you can still use their basic app to change the color of each individual bulb.
On our back patio, Govee's Bluetooth-only functionality still offers enough controls in the app to be convenient and feel "smart."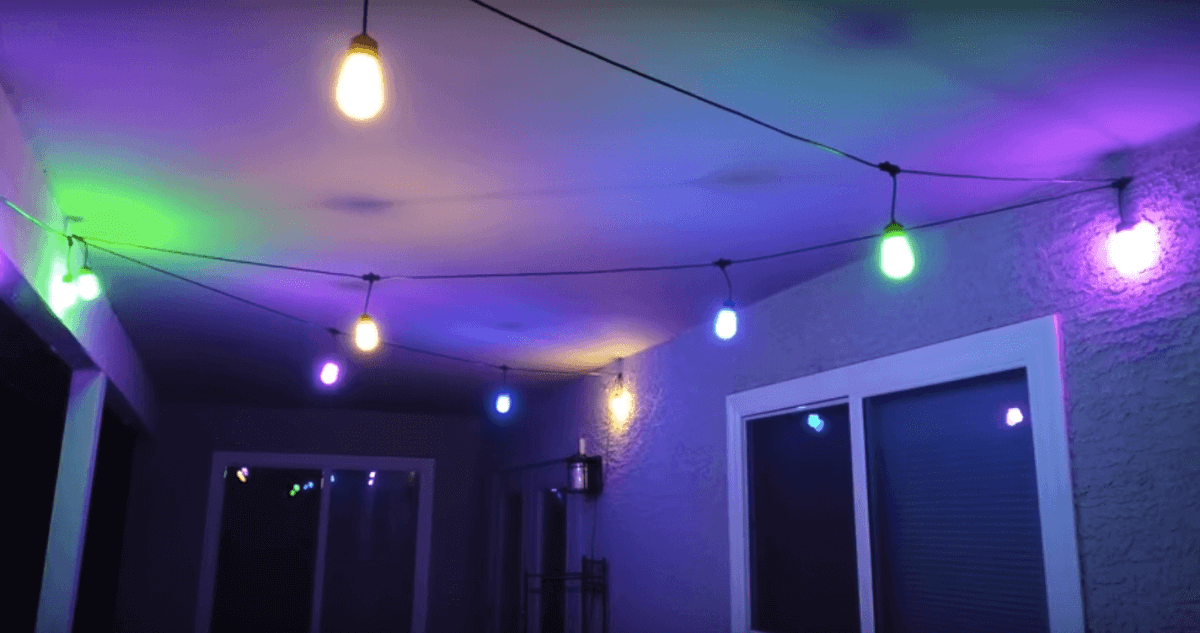 These lights are newer and less well-known. Govee sent us these lights to test in our yard and we've had positive results overall.
Pros
Nice design. These lights look impressive. The bulbs' shape and bright colors look modern and really stand out at night when they are lit up.
Customization options. Whether you want your lights to sync to music or be customized to your own preferences, you can specify the color of each individual bulb and use special effects to have them change colors.
Change brightness. You can easily increase or decrease the brightness of the Govee string lights. This functionality is not offered by most string lights. It's great to have the option of lowering the lights so they aren't so harsh on the eyes late at night.
Cons
Bluetooth only. If you want to control these while you are away from home or automate them in SmartThings or a similar system, you will be disappointed.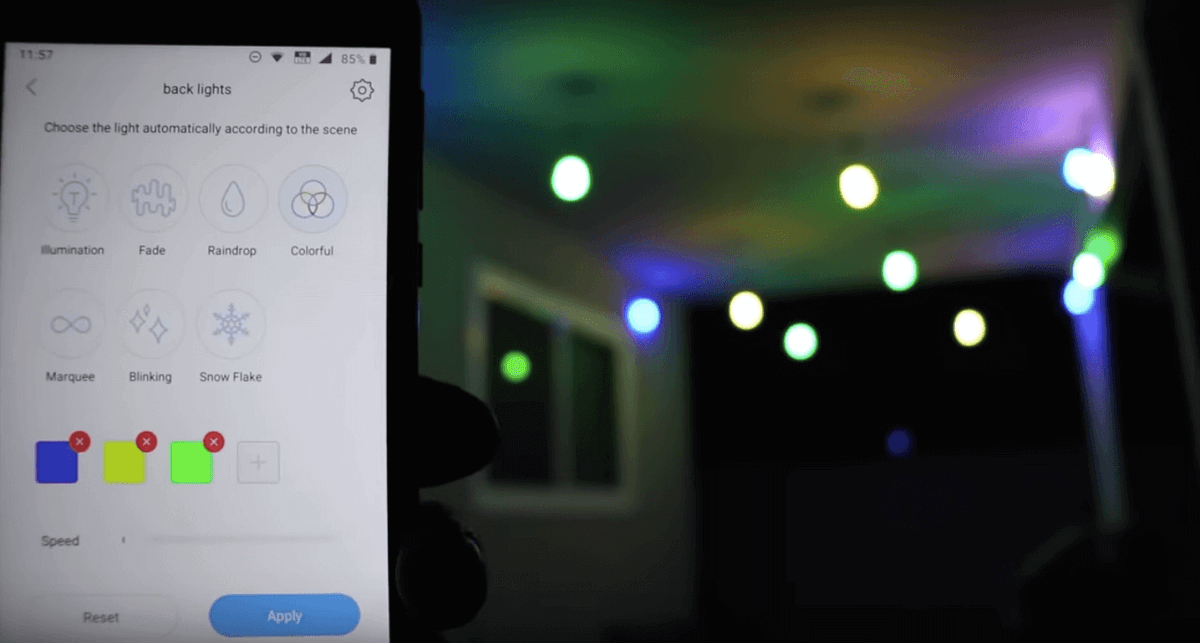 Not that affordable. For Bluetooth-only string lights, you would expect these to be very inexpensive, but they are actually not that affordable. You can expect to spend around $76 for 36 feet and 12 bulbs (though Amazon prices always vary).
---
Which One to Get?
Buy all of them! Just kidding.
But really, all of these smart outdoor light options are nice and offer different functionality. What you choose will really depend on your home and its needs.
For my home, I have the Govee string lights hanging at my back patio. I also installed the Gardenspots in the front to light up the exterior of my home. Finally, I use the GE Z-Wave outlet during the holidays to automate my outdoor lights.
While it's hard for me to pick a "favorite" out of these options, I do own 3/5 of them and they are all reliable and nice.
What do you think: which outdoor smart lights do you think are best to install outside of your home? Comment below with your thoughts or any questions you have!