When researching the Ring 2 Video Doorbell battery life, you might be wondering how long the battery actually lasts.
Manufacturers' promises of battery life sometimes don't match up with real world use.
Well we've tested Ring 2 for nearly a year and have all of the information you need to know about how long its battery lasts.
---
Ring 2 Video Doorbell Battery Life
Affiliate Disclosure: This page contains affiliate links, which earn us commission at no cost to you. 
One of the best features of Ring 2 is its options for either battery or hardwired power. This makes the doorbell work for anyone.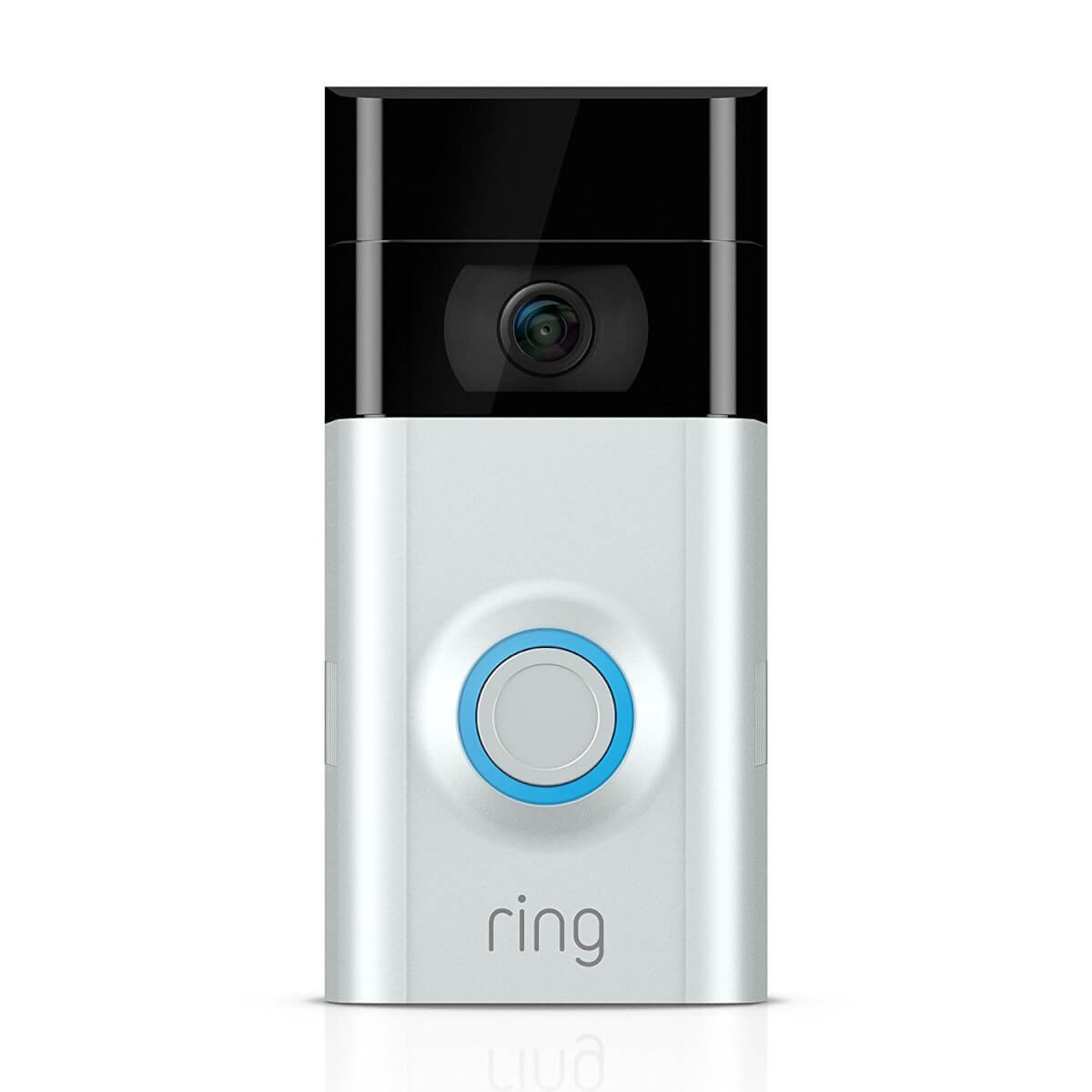 While Ring 2 also has an option to be hardwired, its battery life is still a big deal. No one wants to be stuck recharging their doorbell once a month if they are relying solely on battery power.
Ring 2 Battery Expectations vs Reality
So how does the Ring 2 Video Doorbell battery life stack up against what Ring promises? Let's take a look at the expectations vs reality of the situation.
Expectations
Ring says that the Ring 2 battery should last 6-12 months with average use.
What's "average use?"
Well Ring defines this as 3-5 events per day. Every time your doorbell records a clip and sends it to the cloud is an event. So guests, dog walkers, packages, kids coming home from school, going on a run, and more could all potentially trigger your Ring doorbell and be separate events. 
Obviously, frequent events triggering the doorbell to record more often will use the battery faster.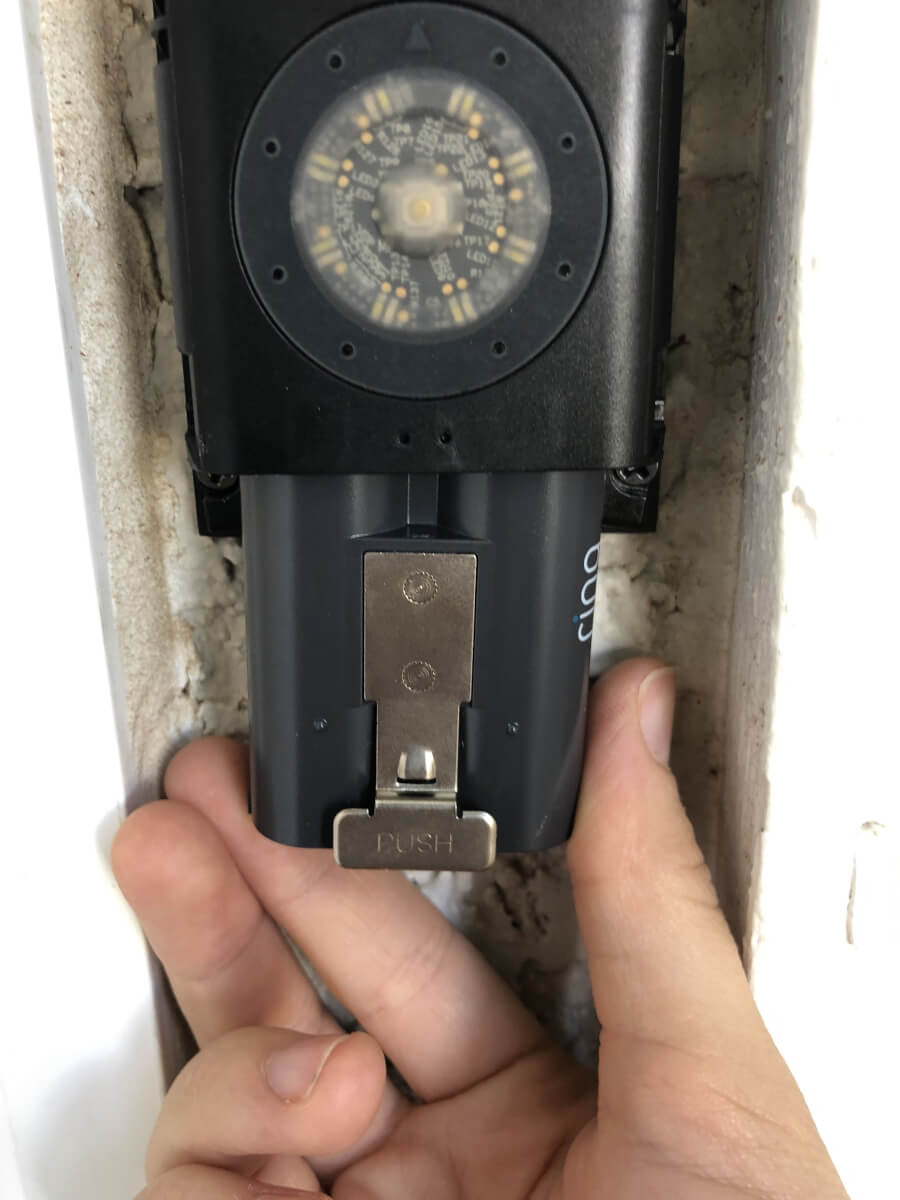 Reality
In reality, the battery life on Ring 2 can be less than 6 months if you use it too often. We'll get to how to optimize its life in a second, but first how long did the Ring 2 battery last for us? 
In our experience, the Ring 2 battery lasts about 5 months. 
This isn't too terrible. While it's slightly less than their predicted battery range, you are still not recharging it too often. 
So far the battery has been steady within that timeframe, which indicates to me that the battery health is good and won't need replacing any time soon.
I'll talk more about how often we use our Ring 2, but first let's look at how you actually recharge the battery. 
Recharging the Battery
Since you may be recharging your doorbell every few months, it's good to know how difficult the process is.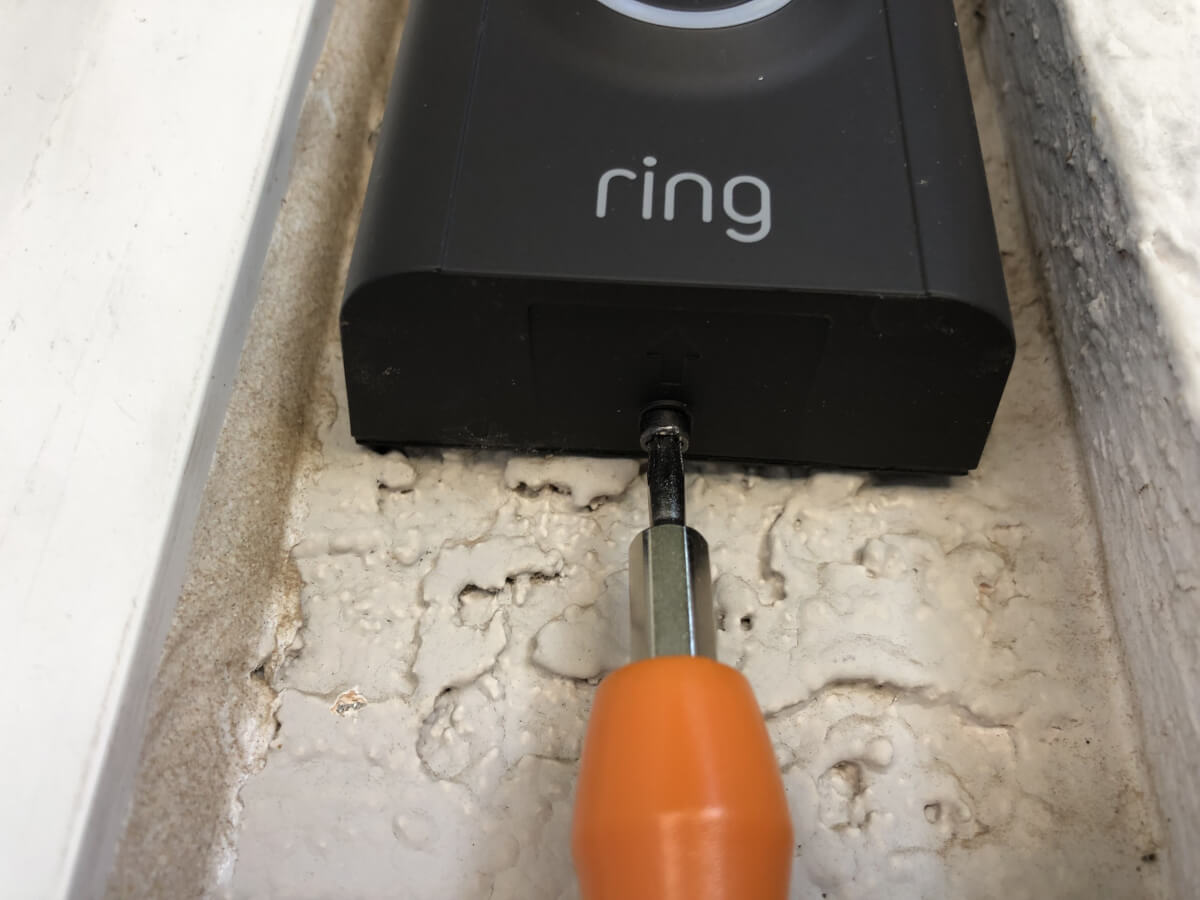 To recharge your Ring 2 battery, here are your steps:
Unscrew the security screw on the bottom of the doorbell. Make sure you use the included orange Ring-branded screwdriver as it's a unique hexagon-type shape.
Remove the faceplate by lifting it up
Press the black tab on the bottom to slide the battery out 
Plug the battery into the mini USB charging cable
When it's first charging, the red and green will be lit up. Once it's done charging, only the green light on the battery will be illuminated.
As you can see, it's fairly simple to recharge.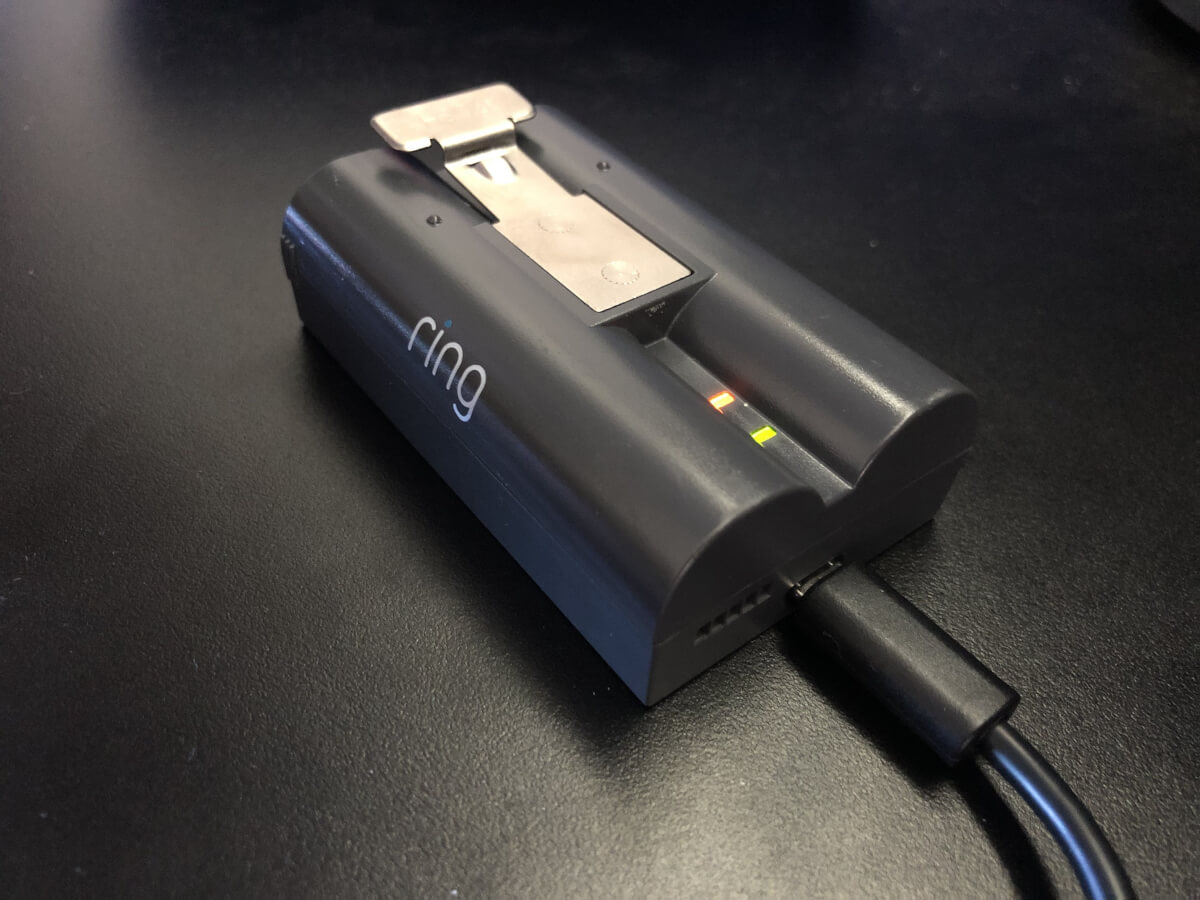 The Ring 2 battery has a mini USB port directly on the battery for easy charging. You can plug in any mini USB cord and it will charge up the battery. 
It's nice that there is no extra hardware like a separate charger required.
The battery usually takes 5-10 hours to fully recharge, depending on how depleted it is.
This feels a little longer than you would expect, but we have an option to help you still keep your doorbell going while it's charging. 
Extra Batteries
The USB charging on the battery is way better than the original Ring doorbell, which requires you to uninstall the entire doorbell and plug it in for charging.
Going without a doorbell for that long is annoying. 
Since the Ring 2 batteries are removable, you can actually have no downtime at all.
Simply purchase an extra Ring 2 battery pack.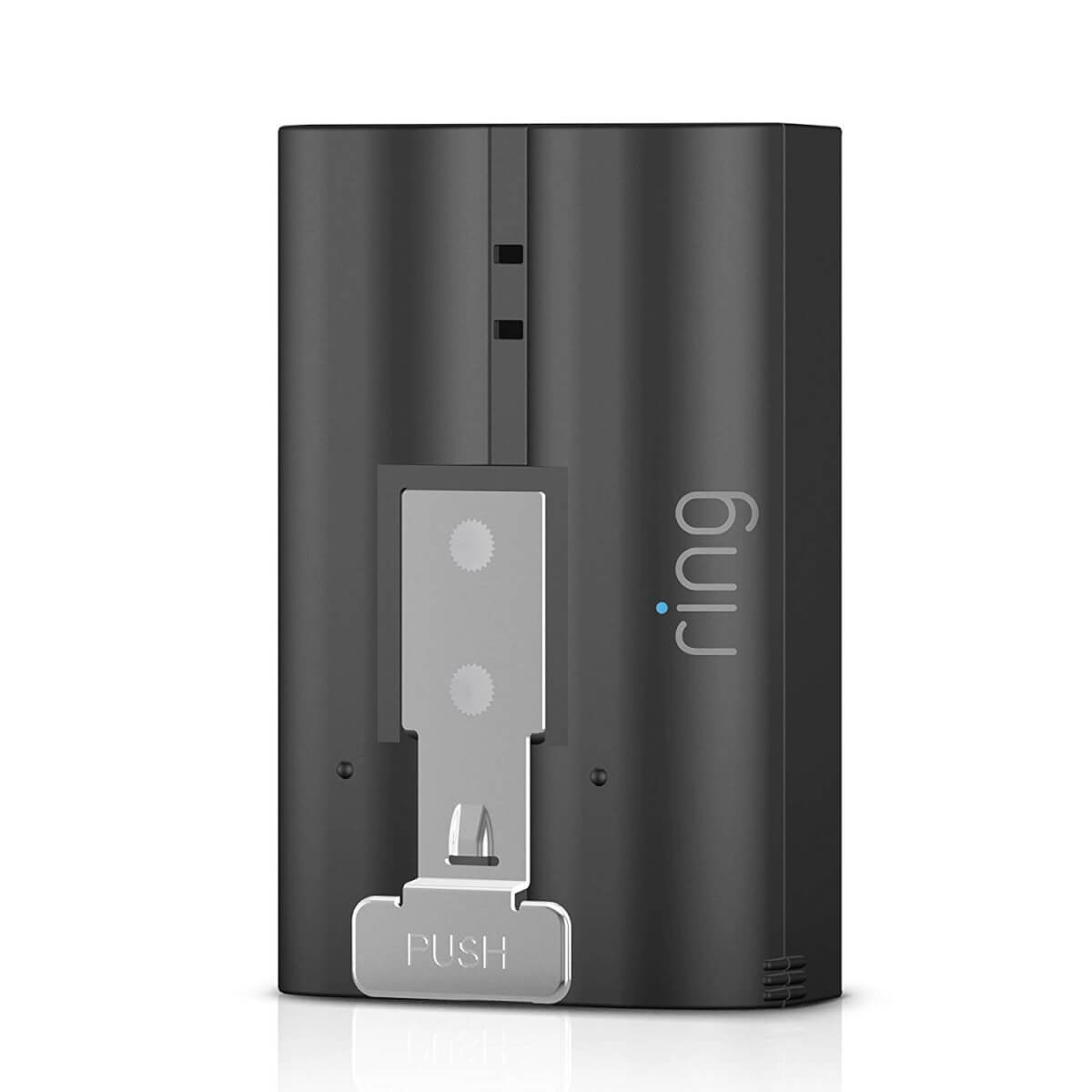 Charge up the extra one and keep it in a drawer so you can quickly swap out batteries when it's time. No need to keep it on the charger so you don't deplete the battery. 
Preserving Ring's Battery Life
As we mentioned, the more you use your Ring doorbell, the more it drains the battery.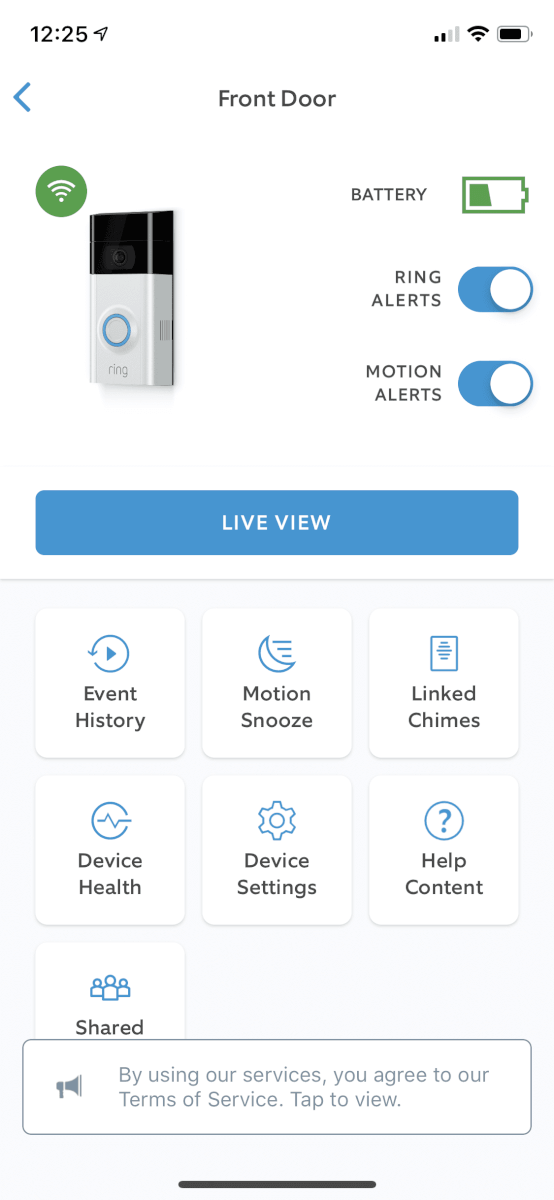 But there are ways to preserve your Ring 2 battery life so you aren't stuck constantly recharging it.
According to Ring, here are a few factors that can drain your Ring 2's battery life:
Temperature. If it drops below 40° F, your battery will be less effective at staying charged. The Ring 2 battery is lithium polymer, which drains faster in cold temperatures. Once it warms up, you can expect your batteries to hold a charge more effectively again.
Too much activity. Every time your Ring 2 communicates with its servers, it uses the battery. If it's sending clips to the cloud 20+ times per day, you can expect the battery to die more quickly. This may be fixable. If you lower the sensitivity, disable motion zones, or change the direction of your doorbell using a wedge kit, you will reduce the alerts on your doorbell. You can also change the Smart Alerts to Light mode, so you are alerted less often. 
Viewing the live feed too often. Pulling up your doorbell's live feed to watch its current video or talk through its speaker will use its battery. You may want to think twice before pulling up the live stream to check in multiple times each day.
Turning off Live View. Another option to preserve your battery is to turn off Live View in the settings. This means you can't check on the live feed from your doorbell unless there is motion or the button is pressed. This has a positive impact on battery life because your doorbell doesn't have to keep a constant WiFi connection. 
Important: If you do turn off Live View and decide you want to turn it on later, it requires you to press the doorbell to activate it.
So you wouldn't want to turn it off while on vacation since you couldn't re-activate it until you are home.
My experience
I have tested Ring 2's battery life for almost a year on the front porch of my home. My home isn't hardwired for a doorbell, so its battery life needs to be solid. 
Since I live in a warm climate in Arizona, I didn't test how quickly low temperatures can drain Ring 2's battery. But since my battery lasted 5 months, which is slightly less than the 6-12 month estimate, I do think too much activity is a factor.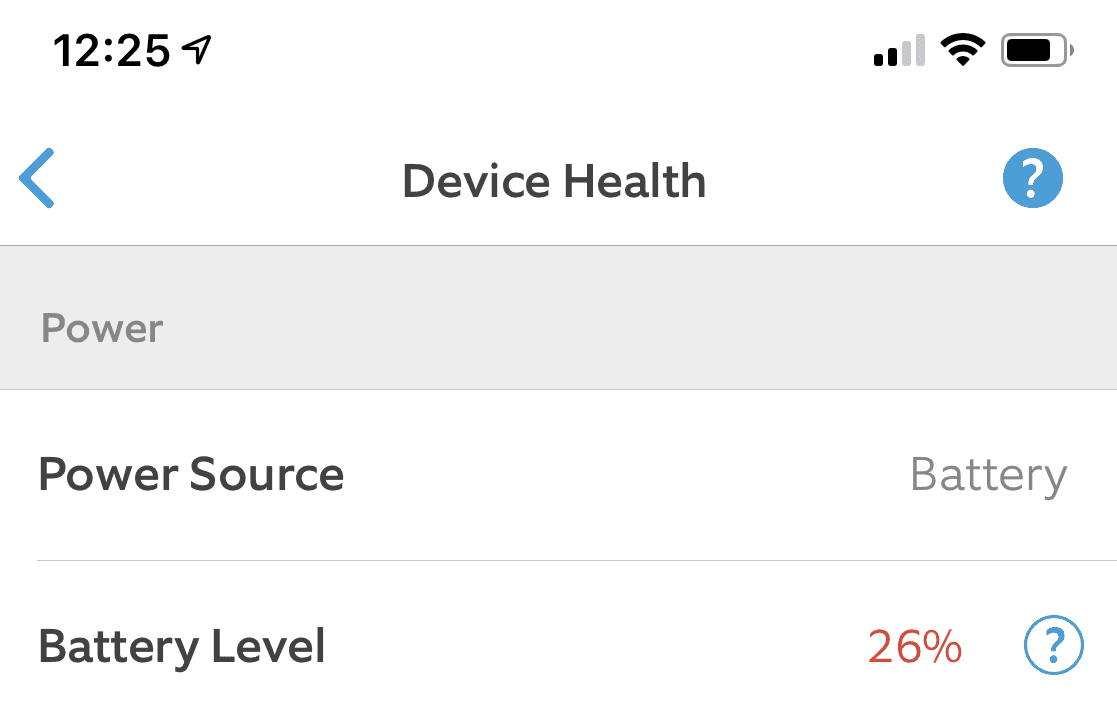 We have quite a few Amazon packages, guests, and people coming in and out, so I think recording too often caused my battery to drain a little faster.
One way we preserved the battery life is by adjusting the motion sensitivity. Our Ring 2 initially alerted us for passing cars, but after we adjusted it we were only alerted when someone actually walked up to our door. 
Now, our Ring doesn't have very many false alarms, so I feel like I don't need to change the positioning. That could be a good option to pursue if my Ring 2 was still sending false alarms and I wanted to lengthen the battery life.
I'm pretty satisfied with recharging every 5 months, especially since it's a painless process.
Solar charger
If you follow all of Ring's recommendations and still find that your Ring 2 is draining too quickly, you can also check out the solar charger for Ring 2.
This is a pretty cool accessory that many people don't know about. It's usually priced around $49 and works as a mounting bracket behind the doorbell.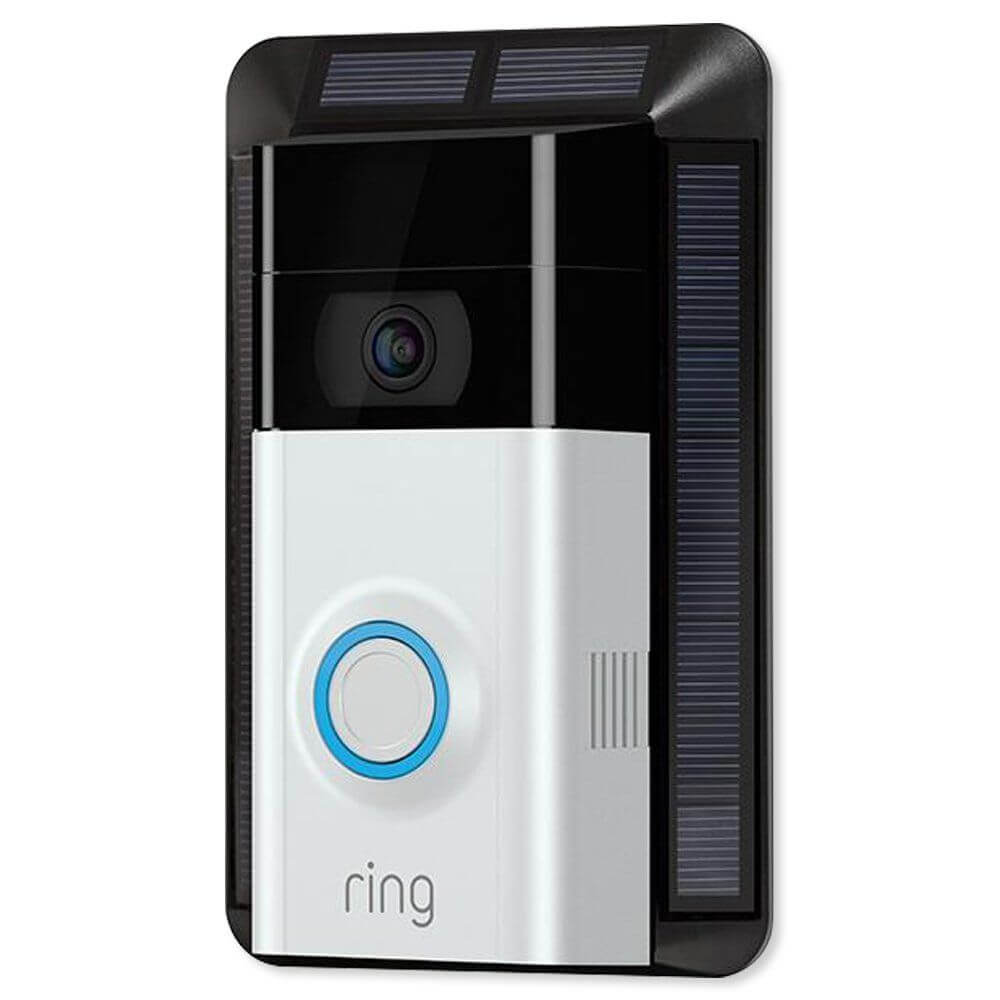 It's weather-resistant and installs behind your doorbell. You can connect the wire connector from the solar charger into the terminals on the back of the doorbell and screw them into place (more details at this link).
The solar charger requires a few hours of direct sunlight everyday, so if your front porch is shaded like mine then that won't be an option.
It also makes the Ring 2 look even larger, which is surprising since it's already a bulky doorbell.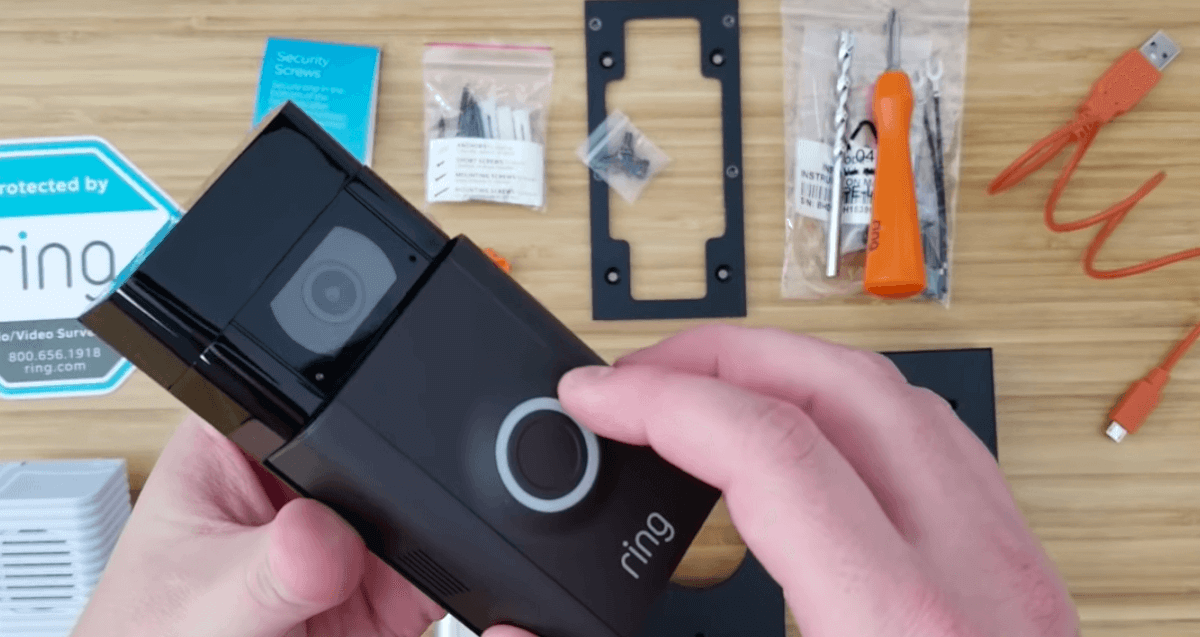 If you buy it, make sure you keep an eye on how well it keeps your doorbell charged since it has some mixed reviews on Amazon. If it doesn't work, you could still be within the window of returning it if you're quick enough. 
There are also third-party solar chargers on Amazon that you can also check out.
Other Doorbell Batteries
If you're looking at Ring Pro or other Ring doorbells and want to know about their battery life, you'll want to check out our Ring Doorbell battery review.
This goes over all of your options for Ring doorbells and makes sense of how each doorbell is different.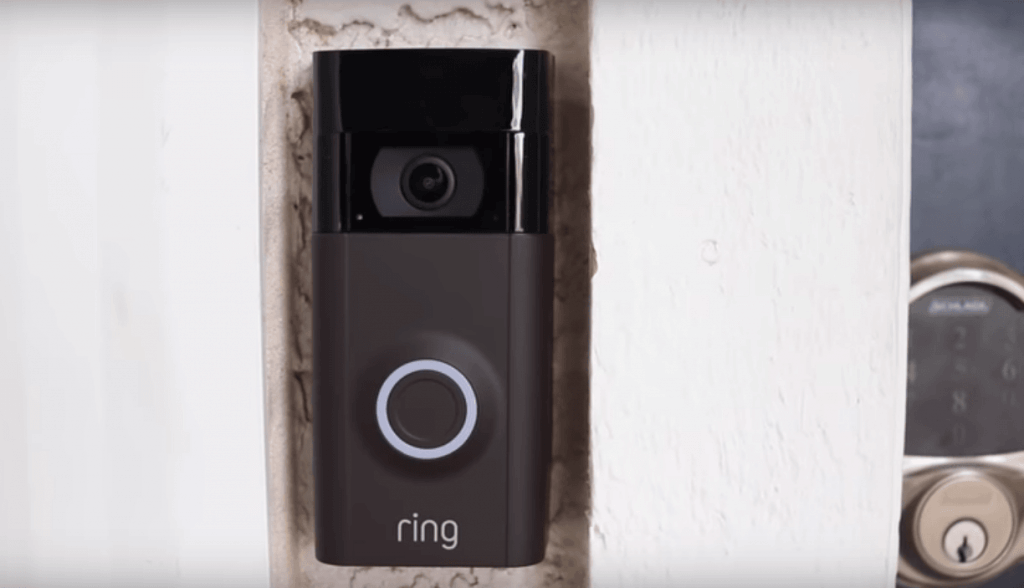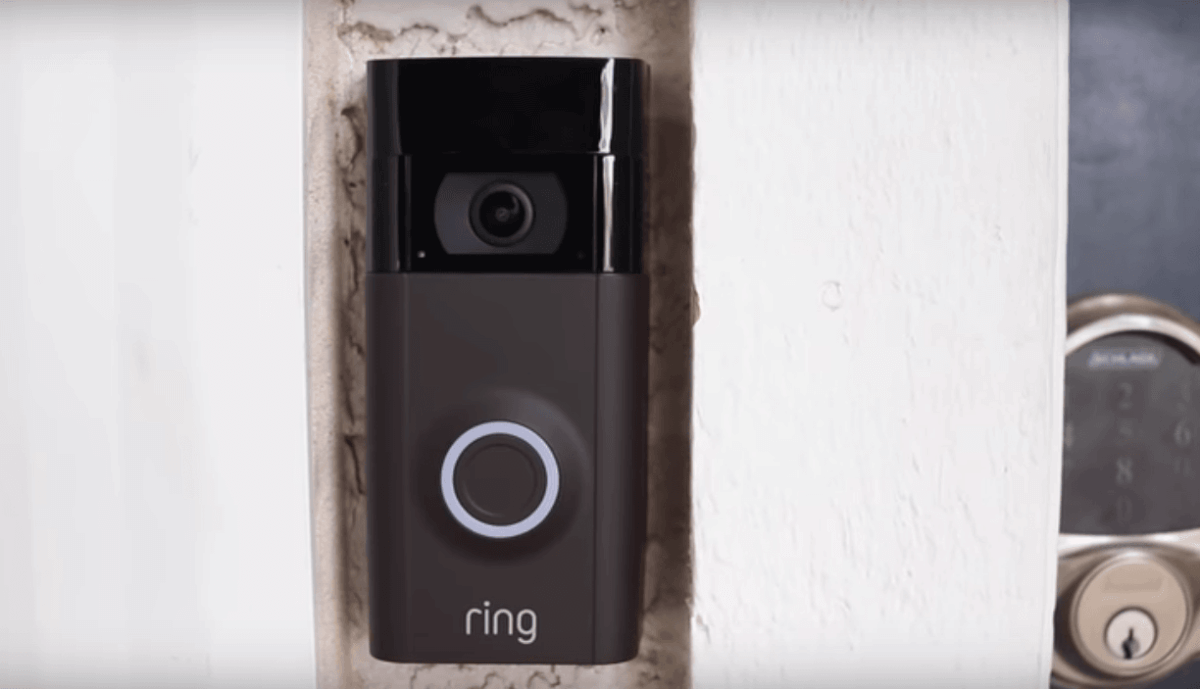 For example, the original Ring doorbell is known for having a shorter battery life based on user reviews. It requires recharging much more often, which is a big negative because you have to remove the entire doorbell rather than just the battery.
Ring Pro is hardwired only. If you're needing a battery doorbell, you will want to skip Ring Pro.
We also have full comparisons of Ring vs Ring 2 vs Ring Pro vs Ring Elite features and Ring vs August vs SkyBell.
There are a lot of factors besides battery life to consider if you're doorbell shopping. We go over cloud storage, video quality, doorbell size, and other important features to consider for each doorbell.
If you're just wanting to keep an eye on your front porch and don't care about the doorbell functionality, then an outdoor security camera could be a good alternative as well.
Our video Ring 2 vs Arlo Pro goes over why you may want a security camera instead of a doorbell.
---
Overall, we've experienced decent battery life for the Ring 2. Even though it's a little less than the promised 6-12 months, we're still pleased with how long its battery lasts.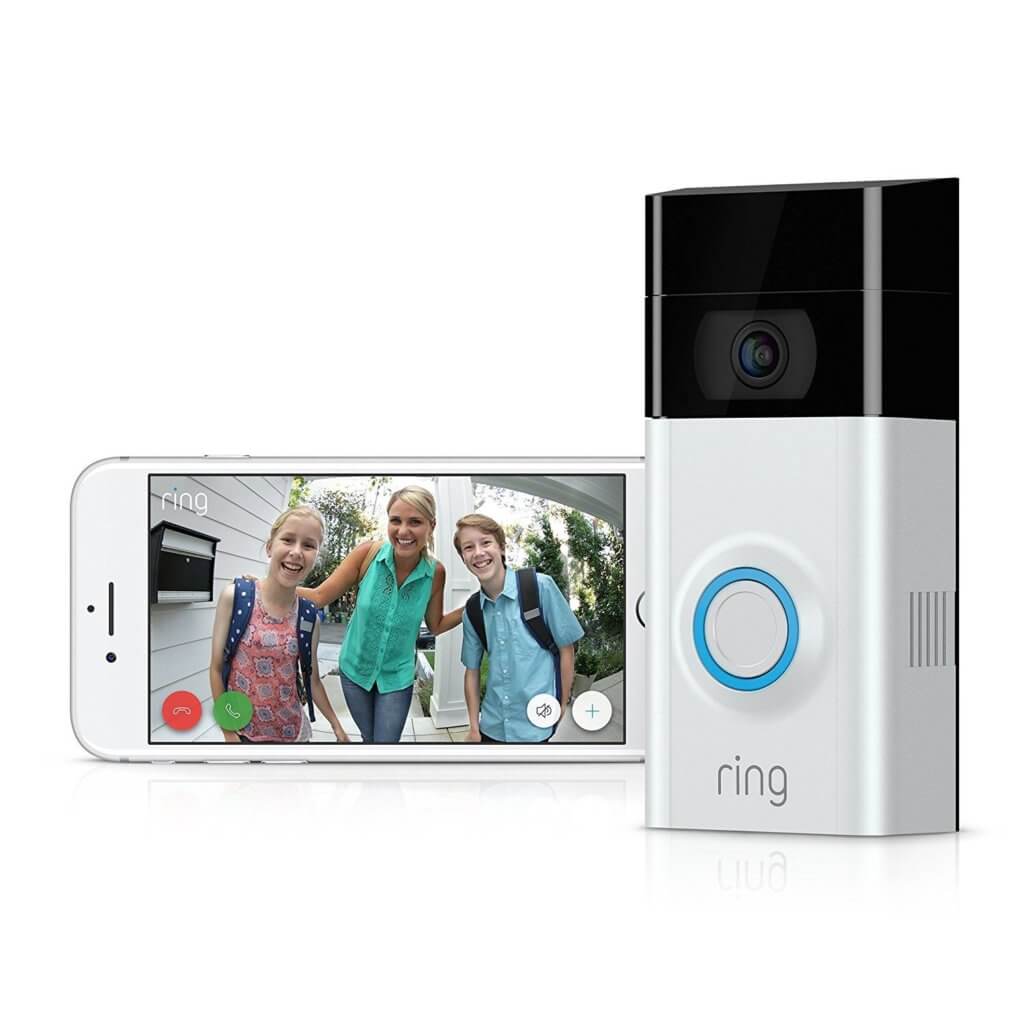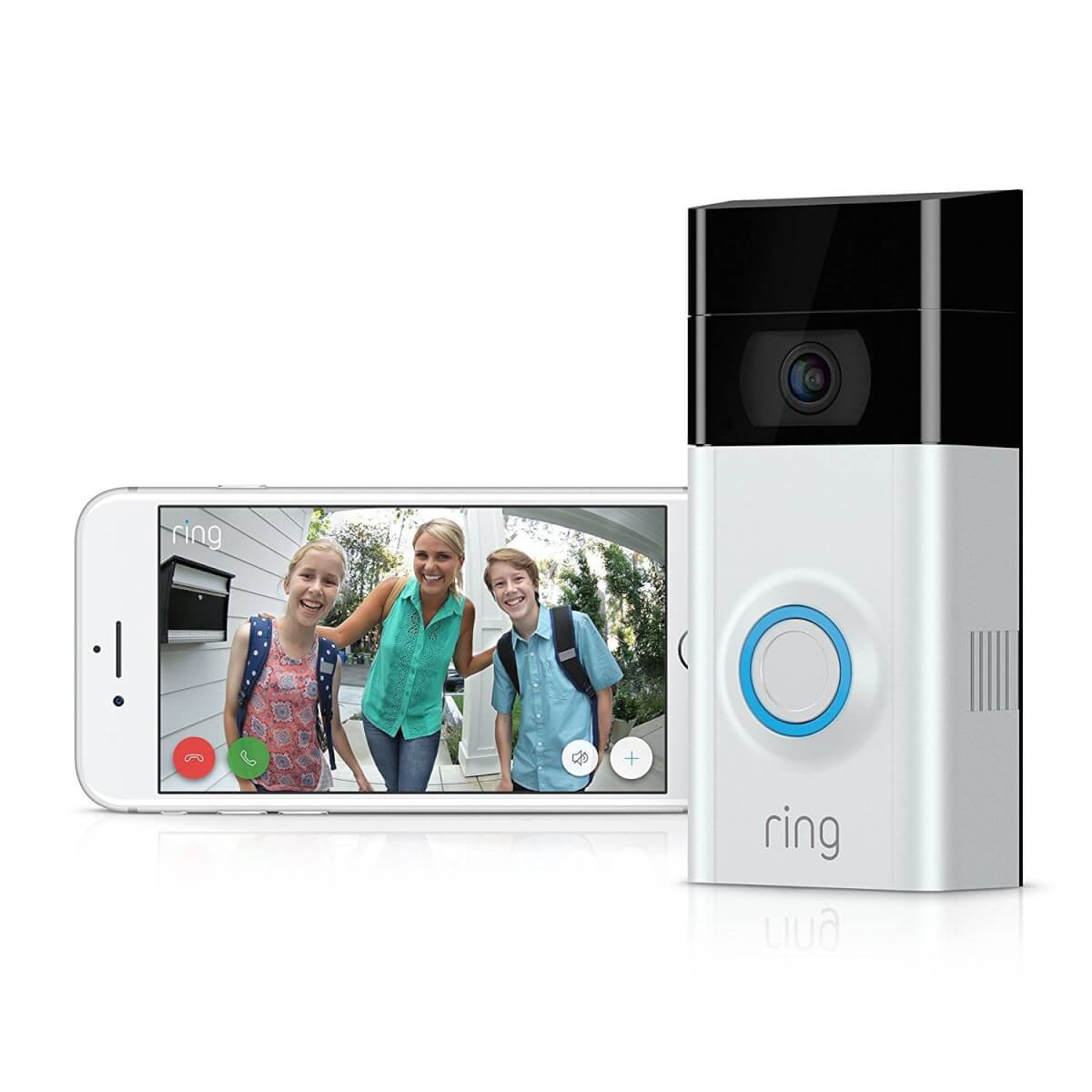 Plus it's so simple to plug in and recharge.
Swapping out an extra battery makes it even more convenient.
Of course, there are a lot of factors that can change how long your battery lasts, and you may experience shorter or longer battery life on the Ring 2 than we do.
What are your experiences with the Ring 2 Video Doorbell battery life? Comment below and let us know!