Two of the biggest smart home names are Arlo and Nest, but their cameras are not cheap. 
When it comes to outdoor security, both brands offer premium options for securing your home. We want to compare Arlo Ultra vs Nest Cam IQ Outdoor to help you find the best camera for your set up so you can spend your money wisely.
Arlo Ultra vs Nest Cam IQ Outdoor
Affiliate Disclosure: This page contains affiliate links, which earn us commission at no cost to you. The writers of this blog received Arlo Ultra for an unbiased review. They were not compensated in any other way. The opinions are 100% their own and not influenced.
First, let's look at price tags.
The prices on these cameras vary based on sales, but they are typically comparable.
Arlo Ultra is usually $400 for one camera and the SmartHub. Nest Cam IQ Outdoor typically costs $349 for one camera (no hub required). Check Amazon and Home Depot at the links in the table for an accurate look at the latest prices.
Arlo Ultra
Nest Cam IQ Outdoor
Price
See it on Amazon
See it at Best Buy
Video Quality
4K UHD
1080p, with 4K sensor
IR Night vision
✔
✔
HDR
✔
✔
Zoom and track
✔
✔
Field of view
180 degrees
130 degrees
Camera dimensions and weight
3.5 in x 2 in x 3.1 in
331 grams
3.7 in L x 3.7 in W x 5 in H
568 grams
Battery operated
Yes, rechargeable proprietary batteries
No
Outlet power
Yes, optional
Yes, required
24/7 Continuous Video Recording (CVR)
Yes. Additional fee separate from Arlo Smart, or free via local storage
Yes. Included with paid Nest Aware subscription
Local storage
Yes. MicroSD card on SmartHub
No
Weatherproof
✔
✔
Microphone and speaker (two-way voice)
✔
✔
Spotlight on camera
✔
No
Siren on camera
✔
No
Secure mount included
✔
✔
Hub required
Yes, SmartHub required. Ultra does not work with previous Arlo base stations.
No
Free cloud storage plan
7 days of 1080p footage for the first year
3 hours of snapshots (no video or audio)
Person alerts
Requires Arlo Smart subscription
Included, free of charge
Subscription
Starts at $2.99 per month (but doesn't include CVR)
Starts at $5 per month (includes CVR)
Alexa and Google Assistant
✔
✔
HomeKit
Coming soon
No
SmartThings
No
No
IFTTT
✔
✔
Other smart home compatibility
SmartHub works with Z-Wave to sync with sensors
Works with Nest program makes it compatible with many devices
Click Next to see more information comparing the cameras. 
---
Video Quality
We put this category first for good reason. If you're spending hundreds on your outdoor security cameras, you want high quality footage.
Arlo Ultra
4K video footage
HDR (for accurate lighting and colors)
8 megapixel image sensor zooms and follows motion, but this typically decreases the quality.
Night vision, live streaming, view in app or browser
Very wide 180° field of view with de-warping so that the image looks less like a fisheye lens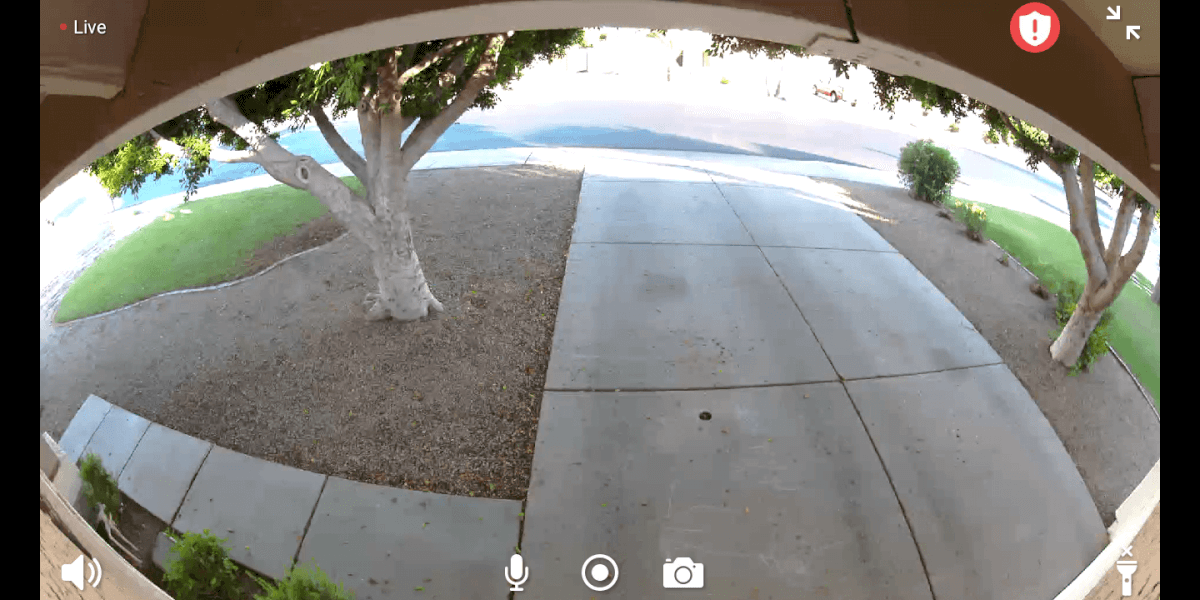 Nest Cam IQ Outdoor
1080p video footage, with a 4K sensor. While it has high quality footage, it's not 4K like Arlo Ultra.
HDR
8 megapixel image sensor. Nest calls this "Supersight." It tracks movement using zoom and enhance, but just like Arlo's motion tracking, this makes the footage look more blurry compared to just recording it steady and zooming in afterwards.
Night vision, live streaming, view in app or browser
Narrower 130° field of view
Winner: Arlo Ultra
While both cameras record nice footage, Arlo Ultra is the only one that actually records in 4K. Nest Cam IQ Outdoor has a 4K sensor, but it's footage is still 1080p. CNET's video at this link shows footage from both Arlo Ultra and Nest Cam IQ Outdoor.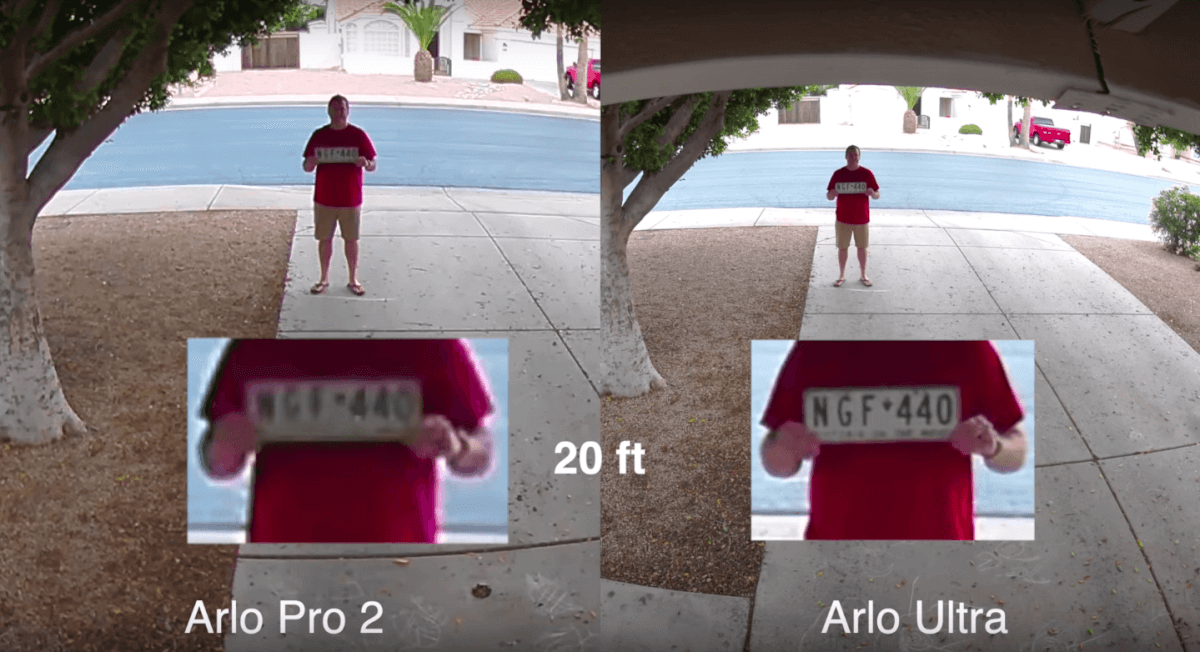 We don't have our own footage to compare Arlo Ultra vs Nest Cam IQ Outdoor, but here you can see Arlo Ultra (4K) vs Arlo Pro 2 (1080p) for reference. You can also look into our comparison of the Arlo cameras for more information.
As you can see, the 4K makes Ultra better for viewing faces and license plates. Though Nest has "Supersight" to track moving people, you will probably be better off recording steadily on Arlo Ultra and zooming in to see details. Ultra also has a wider viewing angle, which pushes it over the top.
---
Design
Both cameras look similar, since they have a white exterior and a black camera.
Arlo Ultra
Smaller size. The Arlo Ultra takes up less space, since it's more tall and skinny rather than rounded.
Wireless, works on batteries. This allows you to easily install Arlo Ultra anywhere that your WiFi can reach; we've even put it in a tree before using Arlo mounts.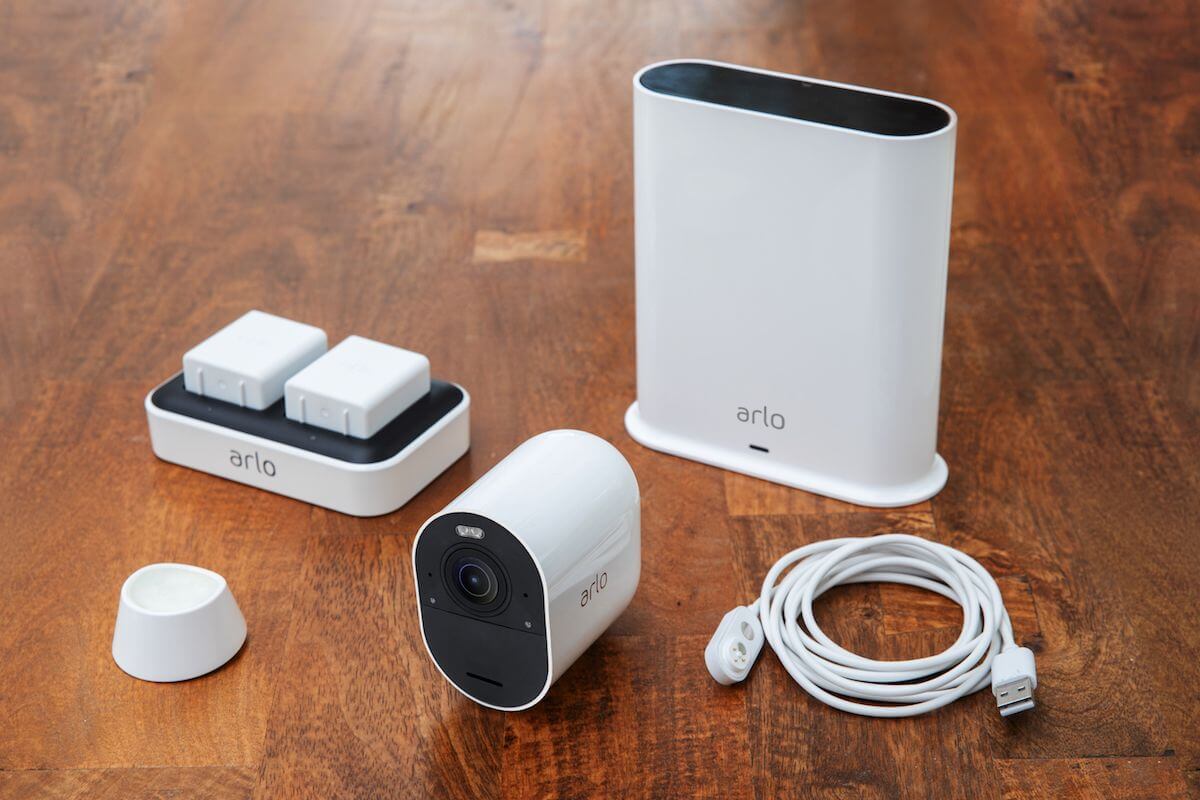 Battery life should be 3-6 months in ideal conditions. When it's time to recharge, you can remove the proprietary batteries and place them on a charger, or simply plug in your Arlo Ultra camera and it will charge. It will take 3.5 hours to fully recharge again.
Slightly less secure software. Arlo doesn't offer two-factor authentication or have the other heightened security measures that Nest does.
Nest Cam IQ Outdoor
Larger size.
Wired. This requires you to plug it into power, making installation a little more difficult. However, Nest Cam IQ Outdoor can record 24/7 footage since it has a constant stream of power. It also may be simpler in the long run to not have to worry about recharging the batteries.
Slightly more secure software. Nest offers two-factor authentication to make it harder for your account to be hacked. Since it's owned by Google, Nest has advanced security, and even offers bounties for any vulnerabilities found.
Winner: Arlo Ultra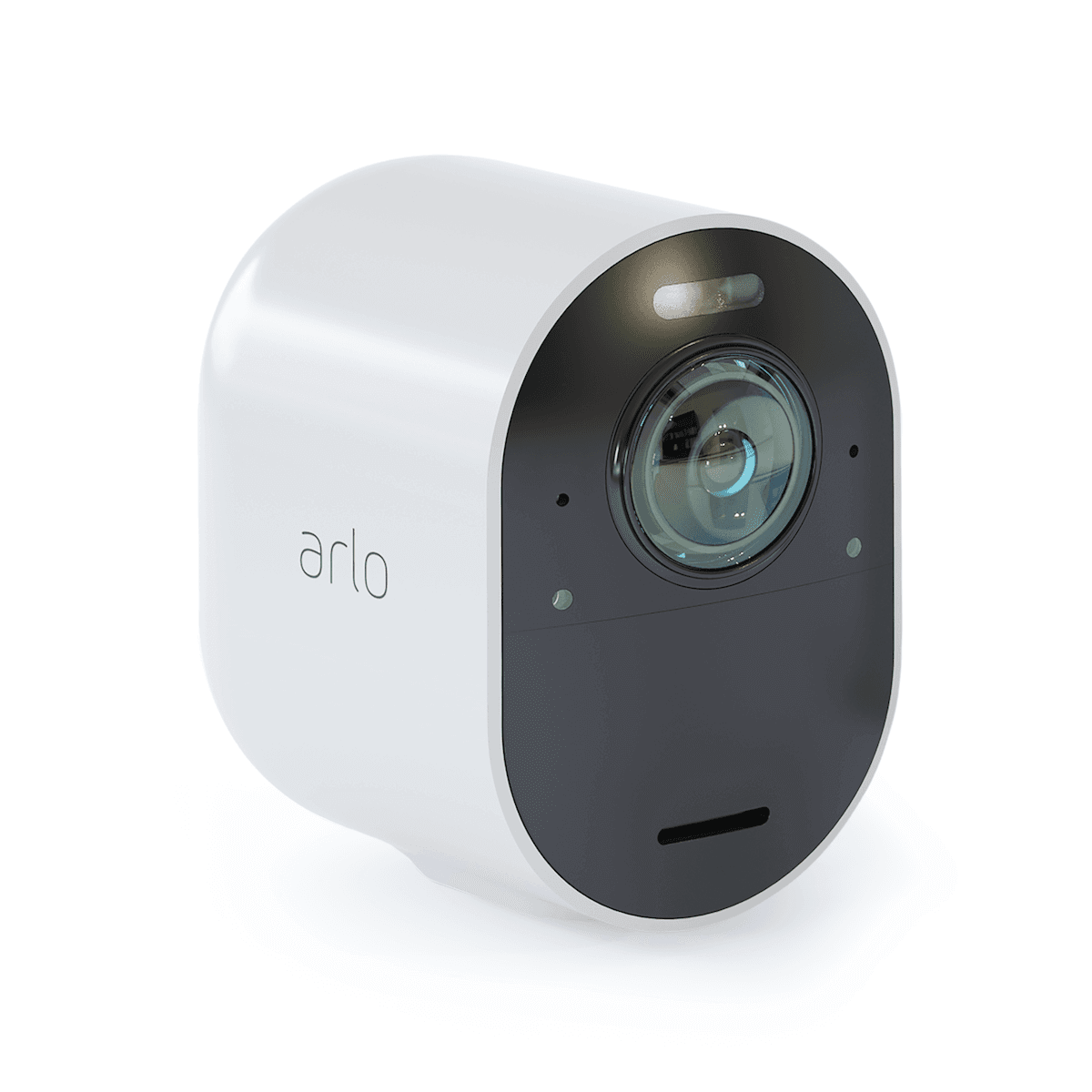 If you are wanting a battery-powered camera to save you from plugging it into an outlet, go with Arlo Ultra. This will limit your options for 24/7 recording, but the rechargeable batteries make for a clean and simple installation. You can always decide to plug in your camera to outlet power later on, which will allow for 24/7 continuous video recording.
Nest Cam IQ Outdoor only lets you plug the camera in for power, so don't buy it if you are considering using a battery-powered camera.
---
Features
Both Arlo Ultra and Nest Cam IQ Outdoor have similar and different features that are important to know.
Arlo Ultra
Weatherproof
Talk and listen with microphone and speaker
Spotlight and siren built into the camera. These can be triggered by motion, making Ultra more of a security-focused camera.
Magnetic mount and screw mount included
Hub required. Arlo Ultra requires the SmartHub to be plugged into your router to work. It doesn't work with the previous Arlo base station. This hub is Z-Wave compatible and adds a few other features over the previous versions.
Software can be buggy. Arlo is known for having its servers go down. The Ultra launched with some major software issues that have since been (mostly) resolved.
Nest Cam IQ Outdoor
Weatherproof
Talk and listen with microphone and speaker
No spotlight or siren.
Locked mount included so the camera isn't easy to steal
No hub required. Nest Cam IQ is a WiFi camera that doesn't require any hub or other hardware other than the camera itself.
More dependable software. We've used the Nest app for years and it's very dependable and easy to use.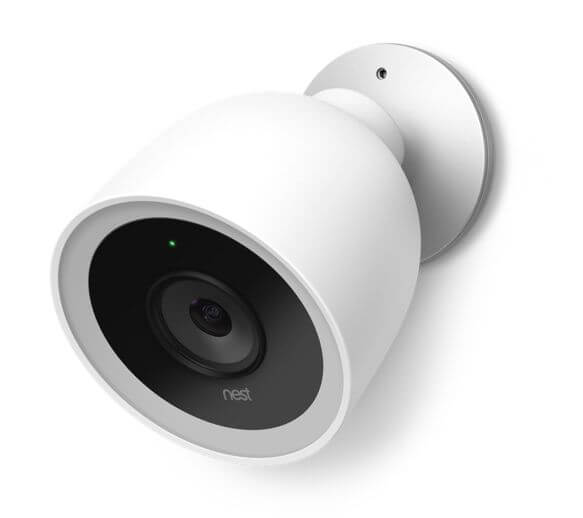 Winner: Nest Cam IQ Outdoor
It's great that you can use the Nest Cam IQ Outdoor with no hub required. This saves you from plugging in hardware to your router to get it working. While Nest's cam doesn't have a spotlight and siren like Arlo's does, the siren on the Ultra is pretty weak in our testing, and you can easily add an inexpensive flood light nearby.
When looking at reliability for Arlo vs Nest, Nest app and servers are more dependable overall. If you are looking for an indoor or less expensive version, read our comparison of all Nest cameras to make sure you buy the right one.
---
Subscription & Storage
Storing your video footage is an important factor to consider. Both of these cameras have monthly subscription fees, but they vary in what is or isn't offered for free.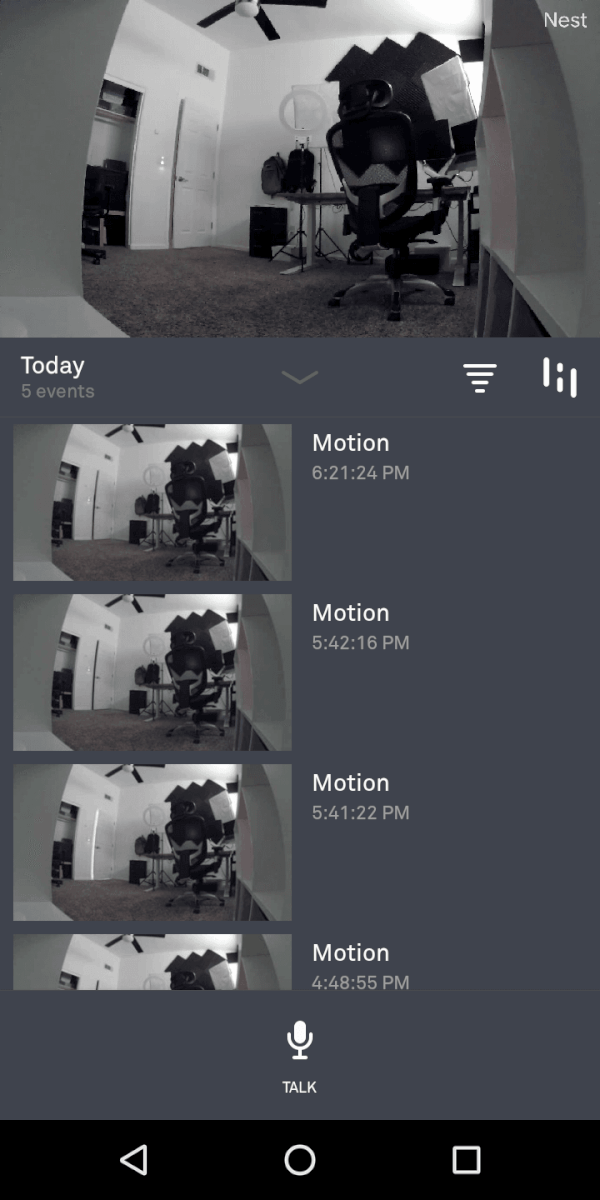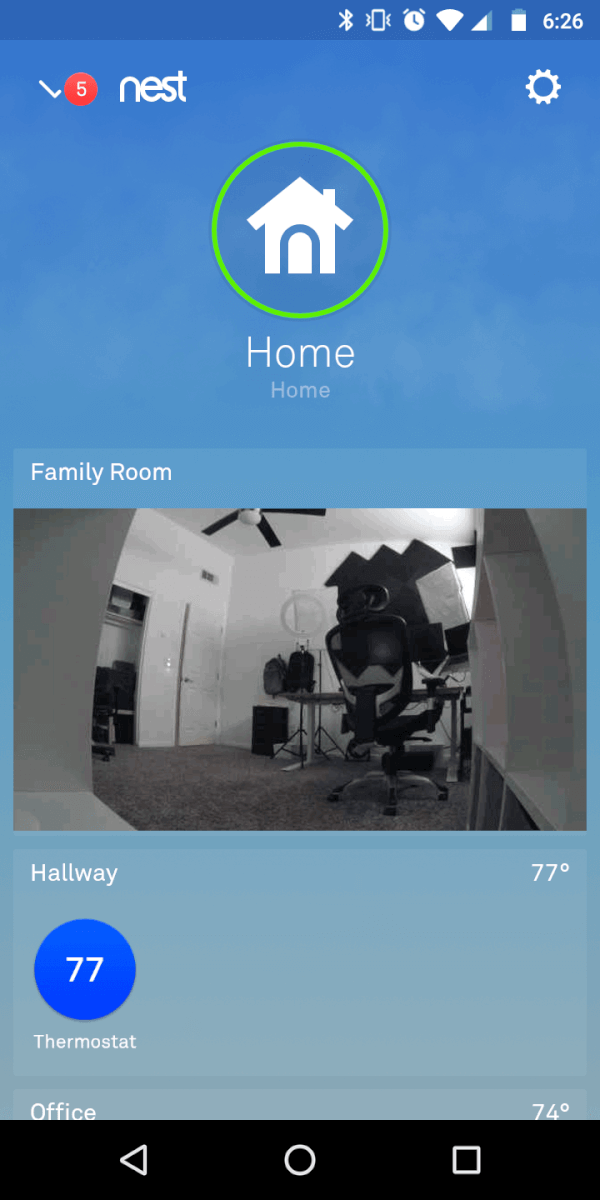 Arlo Ultra
Free storage: After a one-year free Arlo Smart trial ends, there is no free cloud storage on the Arlo Ultra. In addition to paying for cloud storage, if you want to store 4K footage in the cloud, that will cost you $1.99 per month, per camera with the Premium Video Recording plan.
Person alerts: These require the Arlo Smart subscription (starts at $2.99 per month). With Arlo Smart, there are also alerts available for animals, vehicles, and packages.
Facial detection: No option for familiar face alerts; it only tells you if it sees a person.
Free trial: Arlo Ultra includes a free year of Arlo Smart Premier. This adds in additional features like person alerts and motion zones, but it does not add 4K videos, since that's a separate subscription.
Continuous cloud recording: Recording 24/7 to the cloud (also called Continuous Video Recording or CVR) is only available with yet another separate subscription.
Local storage: This is available on the SmartHub if you want to avoid the subscription fee altogether. This lets you store your 4K footage for free. For now, you have to eject the microSD card to view the footage, but eventually you will be able to view this remotely using the Arlo app.
Nest Cam IQ Outdoor
Free storage: Nest offers very limited free storage. Without a subscription, you will only get snapshots from the past 3 hours. These will be still images, and no video or audio will be stored. If you want the Nest Aware subscription, storing the last 5 days of footage will cost you $5 per month.
Person alerts: These are included with Nest Cam at no extra charge or subscription.
Facial detection: This lets you know if a loved one is spotted (Nest Aware subscription required).
Free trial: Nest Cam IQ Outdoor includes a free month of Nest Aware.
Continuous cloud recording: CVR available with your existing Nest Aware subscription. So if you pay the $5 per month for additional storage, it comes with 24/7 continuous recording at no additional charge.
Local storage: No local storage available.
Winner: Arlo Ultra for free storage, Nest Cam IQ for paid storage
If you're wanting to use local storage and avoid monthly fees, Arlo Ultra is definitely the way to go. You can store your videos locally and avoid subscription fees. It's feasible to use Arlo cameras without any subscription at all, but you can also take advantage of the included Arlo Smart Premier trial for a year of free cloud storage.
But if you know you'll be paying a subscription fee anyways for CVR or facial detection, Nest Aware might be the one to go with. It includes CVR for 24/7 cloud recording, while Arlo up-charges for this.
---
Smart Home Compatibility
As you build and improve your smart home, it's important to note which technology these cameras work with. Each camera is compatible with different gadgets.
Arlo Ultra
Works with Alexa and Google Assistant
HomeKit support coming soon
No SmartThings
Works with IFTTT
Arlo Ultra includes the SmartHub, which syncs with Z-Wave devices
Nest Cam IQ Outdoor
Works with Alexa and Google Assistant
No HomeKit support
No SmartThings
Works with IFTTT
Extensive Works with Nest program, so the Nest Cam IQ Outdoor works with many devices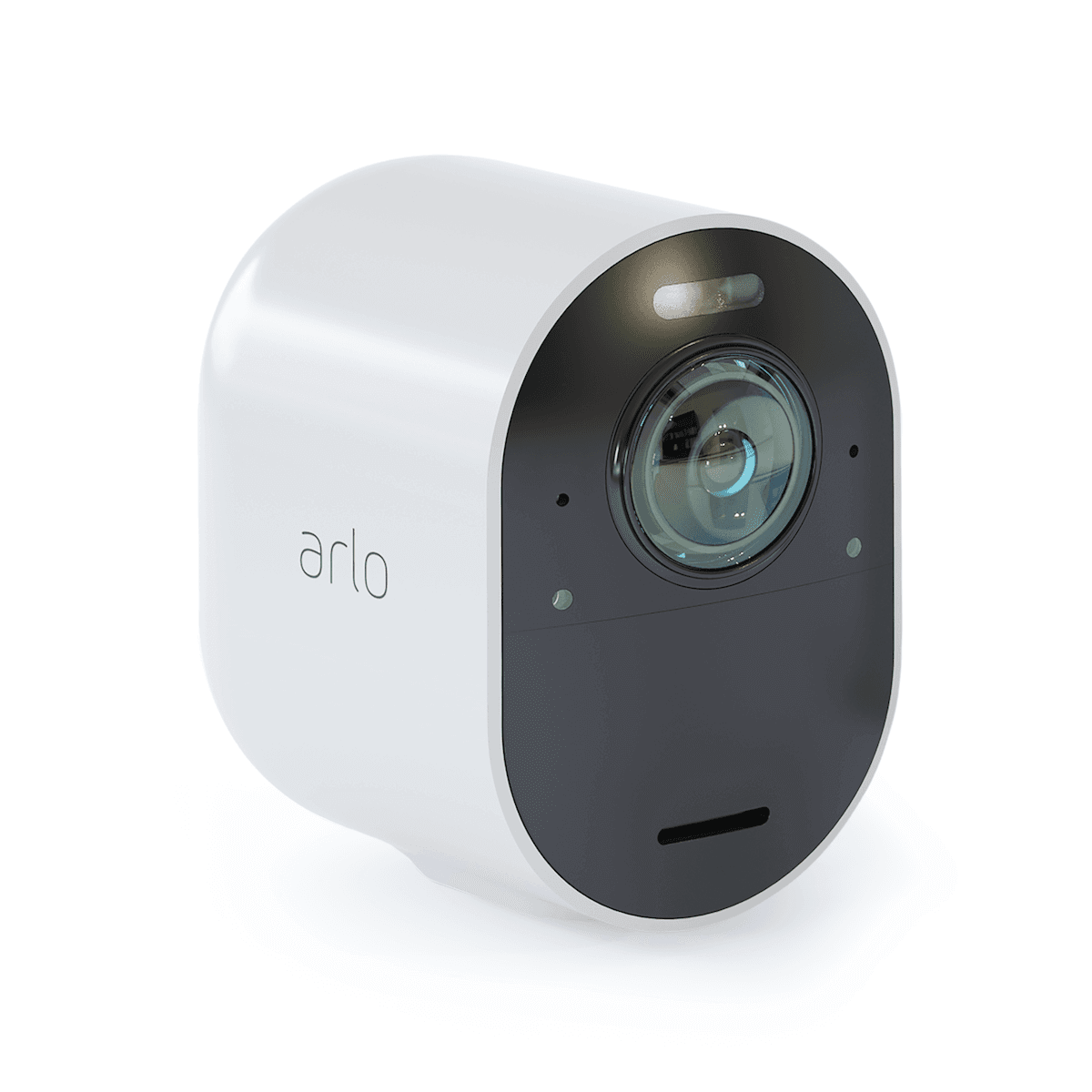 Winner: Arlo Ultra
This is a tough one. Since they each work with different smart home devices, you should really buy whichever one will sync with your smart home tech best.
Overall, Arlo Ultra is my pick. Its SmartHub works with Z-Wave devices, so eventually it could become a replacement for SmartThings and similar home automation hubs. HomeKit is also on its way, but the lack of SmartThings is a big negative worth noting.
---
Overall Winner
And the overall winner when comparing Arlo Ultra vs Nest Cam IQ Outdoor is…
Arlo Ultra!
The Ultra has some big perks over Nest Cam IQ Outdoor. You can't ignore local storage and 4K footage.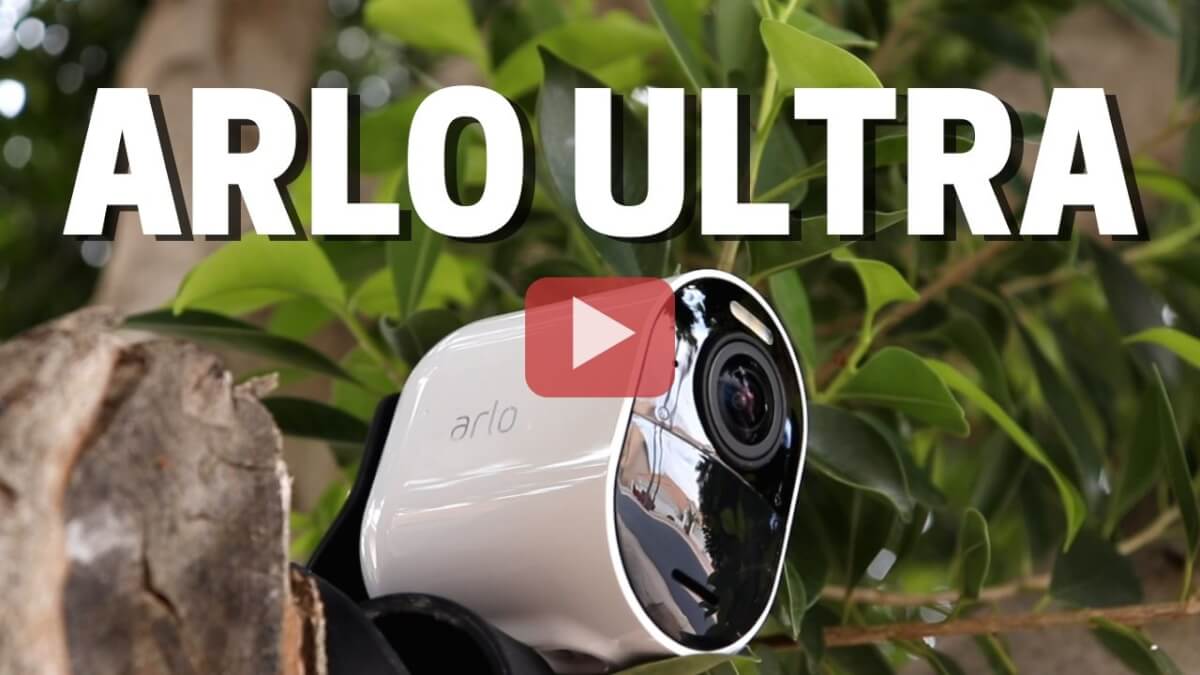 We've used Arlo cameras for years, and the Arlo Ultra has worked just as well as its previous versions. Despite some negative reviews due to software issues when it first shipped, the Ultra is working better now and we didn't experience any issues.
Why to Buy Nest
Nest Cam IQ Outdoor is still a very good camera. It's an excellent pick if you want to avoid the Arlo system and its hub. Its app and servers are less likely to have issues than Arlo. Nest Aware also has facial recognition, which is a big perk.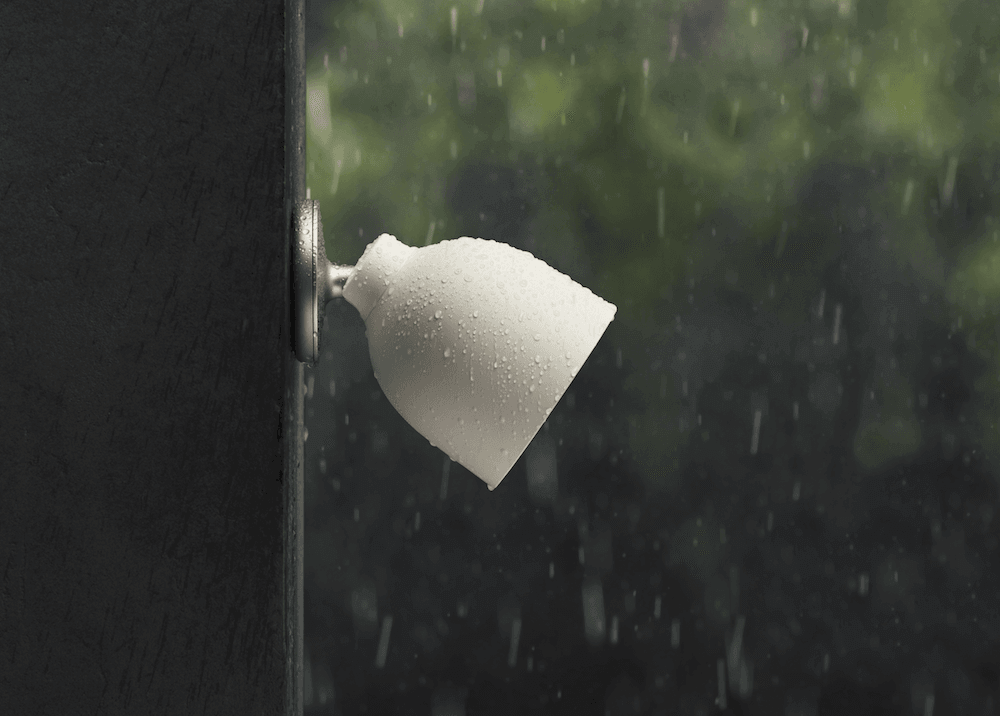 See it at Home Depot
If you are already planning on wiring your camera and paying a monthly subscription, Nest is a great choice. Its cameras are high quality and the app is easy to use, especially if you have other Nest devices around your home.
Other Options
Besides Arlo and Nest, there are much more affordable options available now. While Wyze doesn't offer an official outdoor camera (yet), many people use the Wyze Cam outdoors in a cover. Check out our Wyze Cam vs Nest vs Arlo comparison, as well as our Wyze Cam outdoor review for more information.
---
Nest Cam IQ Outdoor has been out for a few years, so it's possible that a newer version with 4K and local storage will come along soon.
In the meantime, these cameras are strong competitors with each other. Both are very high quality, so you can expect to get what you pay for.
Which is your pick between Arlo Ultra vs Nest Cam IQ Outdoor? Comment below with your experiences!