Rewatching Back to the Future 2 in 2020 is very entertaining.
While we don't quite have flying cars and hydrating pizzas, there is a lot of smart home tech that the creators of the movie got right.
So is the Back to the Future 2 smart home better than mine?
Back to the Future 2 Smart Home (what I use)
Affiliate Disclosure: This page has affiliate links, which earn us commission at no cost to you. The writers of this article received U-Bolt Pro, Wyze and Arlo cameras, as well as Nest Hub Max, for previous unbiased reviews, but this has no impact on their opinion.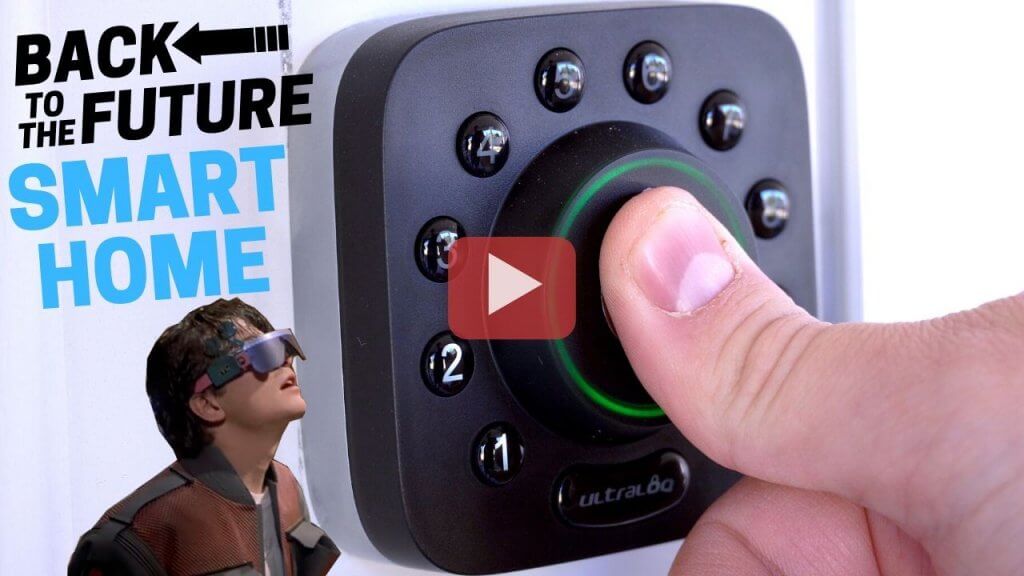 In my recent video, I show the home automation from the McFly home and compare to what's available today. Check out the video linked above if you haven't already.
This article is going to have more detail not covered in the video. Okay let's dive in!
---
Thumbprint Door Lock
In Back to the Future 2, Jennifer unlocks the front door with her fingerprint. This probably seemed really futuristic when the movie was released in 1989, but now biometrics like this are available on most smart phones in our pockets.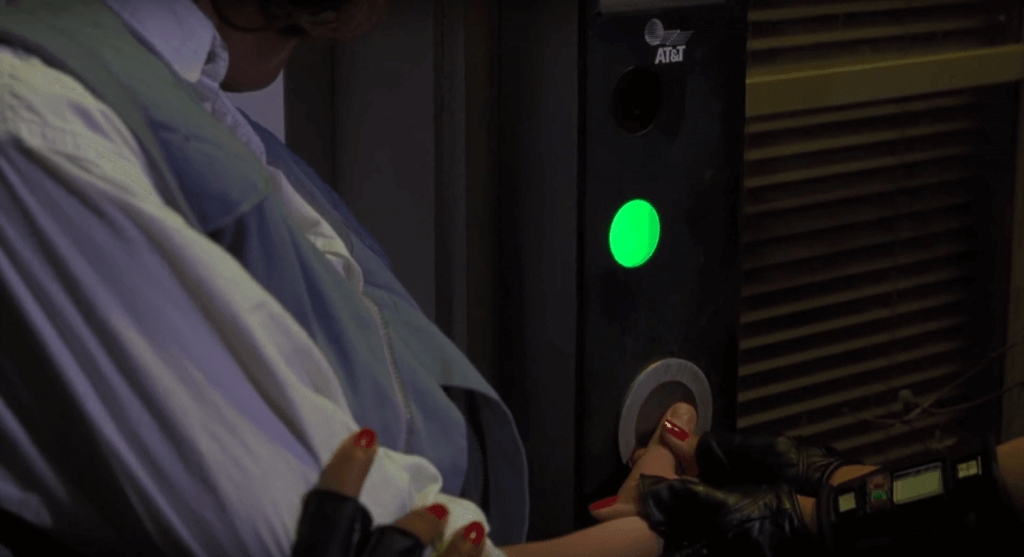 There are a few smart door locks that work with a fingerprint. Using this may be more secure since it can't be compromised like if someone gets your door code.
For this video, we installed the ULTRALOQ U-Bolt Pro deadbolt. It has both a keypad or fingerprint option. The lock is compact and sleek compared to other smart locks we've tested.
It also has some interesting features. The lock's anti-peeping feature lets you put in any numbers before or after your passcode. This might throw someone off if they only caught a few numbers you typed.
Comparing it to the movie, the ULTRALOQ is slightly faster than the McFly's front door lock, which spins before finally unlocking. Not that it means anything since the one in the movie is fake.
Pros and Cons
On occasion, I did have to press my thumbprint on the fingerprint reader multiple times to get it to work. The lock is small, but also doesn't feel as high quality as the Schlage locks we have been using.
Not that the lock itself doesn't feel high quality, but the lock doesn't open and close very smoothly. Also the lock doesn't fully retract to be flush and you can see it in the video if you look closely.
However, the installation wasn't difficult just like most smart locks we have tried. Setup was also very painless.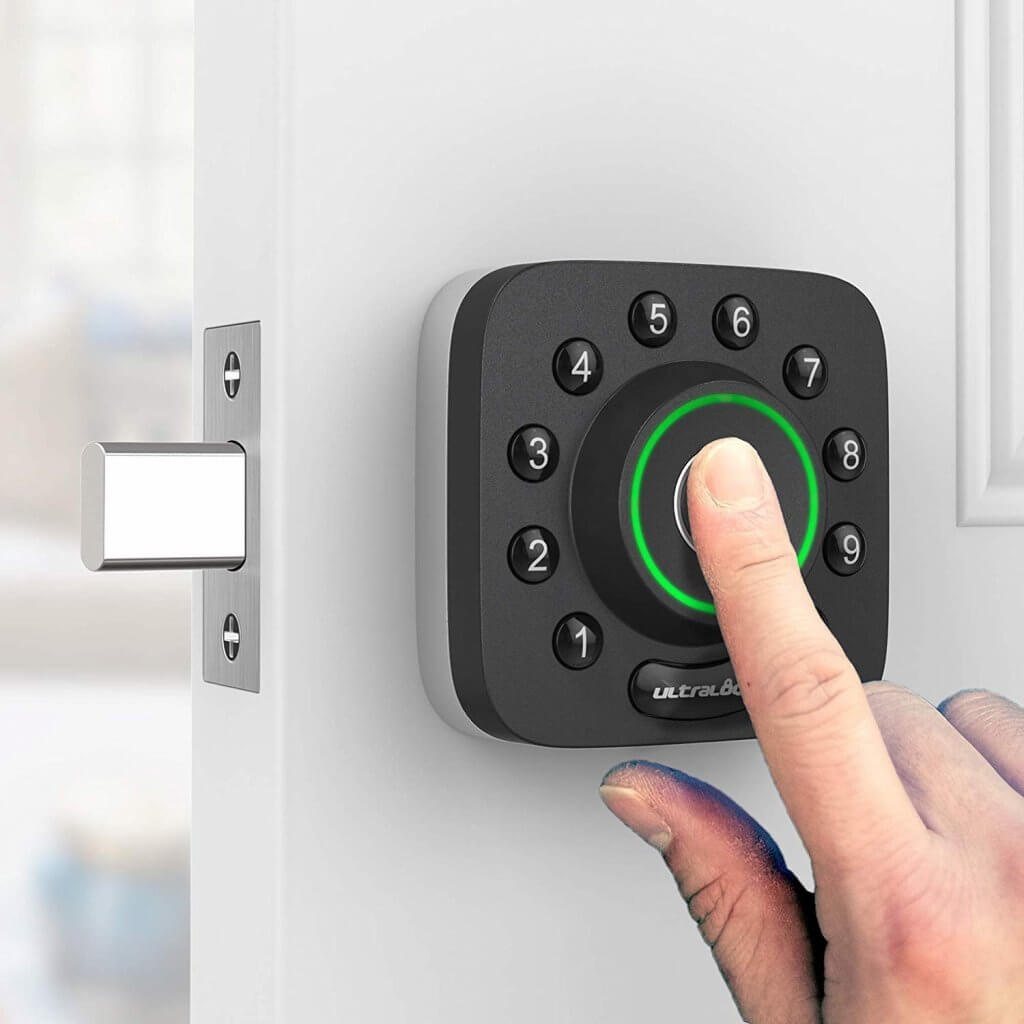 It's also a plus that the lock can either work with just Bluetooth or WiFi with the bridge. This is important because you might not want to hook up your lock to the internet so you would only use Bluetooth.
If you want to use it with Alexa, Google Assistant, IFTTT, and control remotely then you can connect it to the bridge.
It also has a few other features like auto opening when you get home using geofencing. This feature works even if you don't have the bridge.
The lock can also open up to reveal a physical key lock. This is a good backup for emergencies. It also has a micro-USB in case the lock dies and you need to power it.
I personally don't like a physical key lock to avoid lock bumping. I'm sure some people prefer to have the physical key lock so I may be in the minority.
Overall, it's an impressive lock with more features than the competition. The fact that you can unlock it with a fingerprint feels futuristic.
---
Huge Front Door Camera
Even thought they don't show a closeup of the front door camera used in the movie, you can still see it in the background. It's difficult to miss since it takes up most of their front door frame.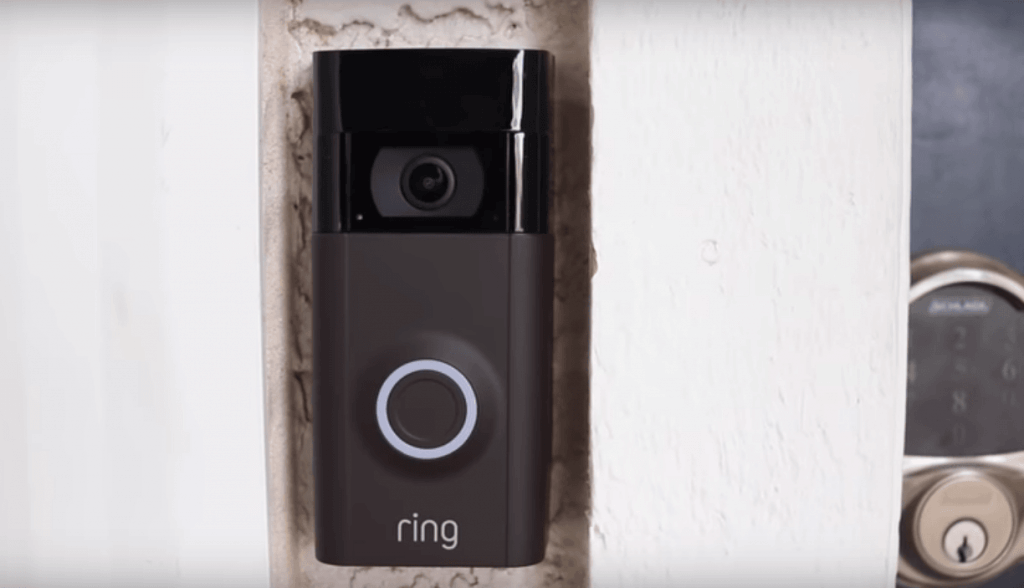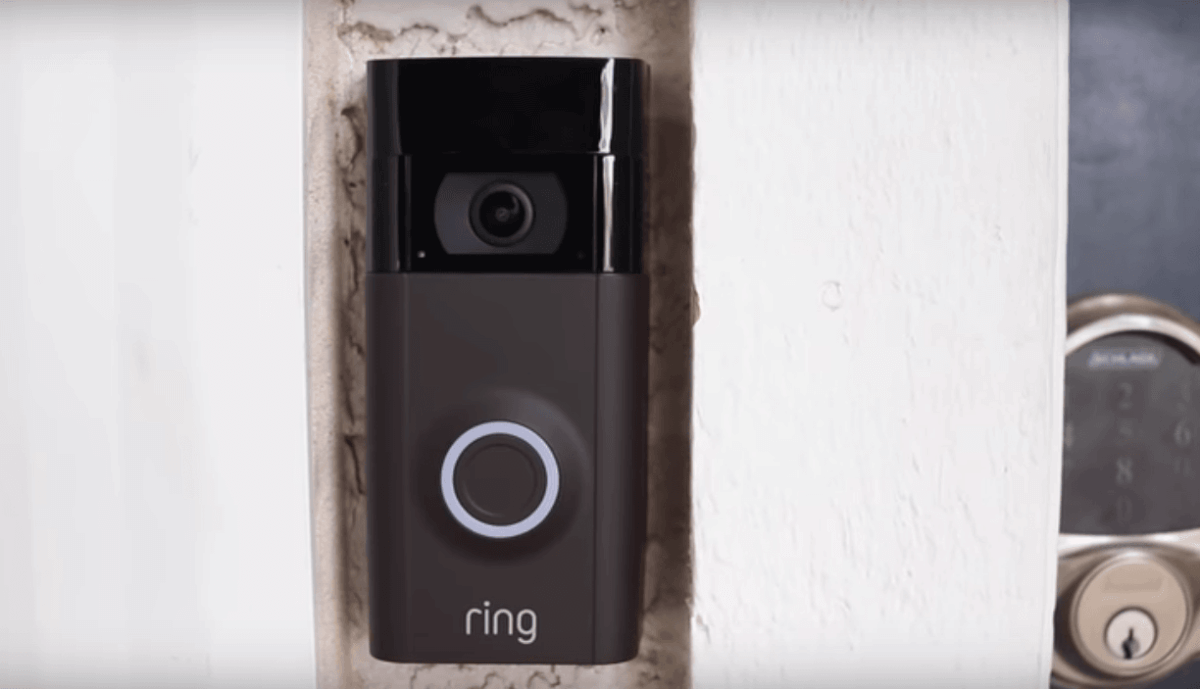 Nowadays it's common for most people to have video doorbell like Ring. We have used a Ring 2 doorbell for about a year and it has worked well.
It might not be the best option because of monthly fees for video cloud storage. If you don't pay the subscription fee, then you can only use Ring's live view and not view video clips of who came to your door.
If this seems annoying to you, there are other smart video doorbells like the Eufy 2k doorbell. We haven't reviewed it yet but we will soon. It doesn't have monthly fees and has local storage, which are great perks over Ring.
Alternatives to doorbell cameras
Most people think that a video doorbell is the only option for a front porch camera, but that's not the case.
We did a video comparing video doorbells to video cameras on the front porch that you can find here. We have used Arlo Pro 2 and it's worked very well on the front porch.
For a more affordable option, Wyze Cams work great as well. While they aren't intended for outdoor use, with a little cover it may be safe to use outside, as we tested in our own yard.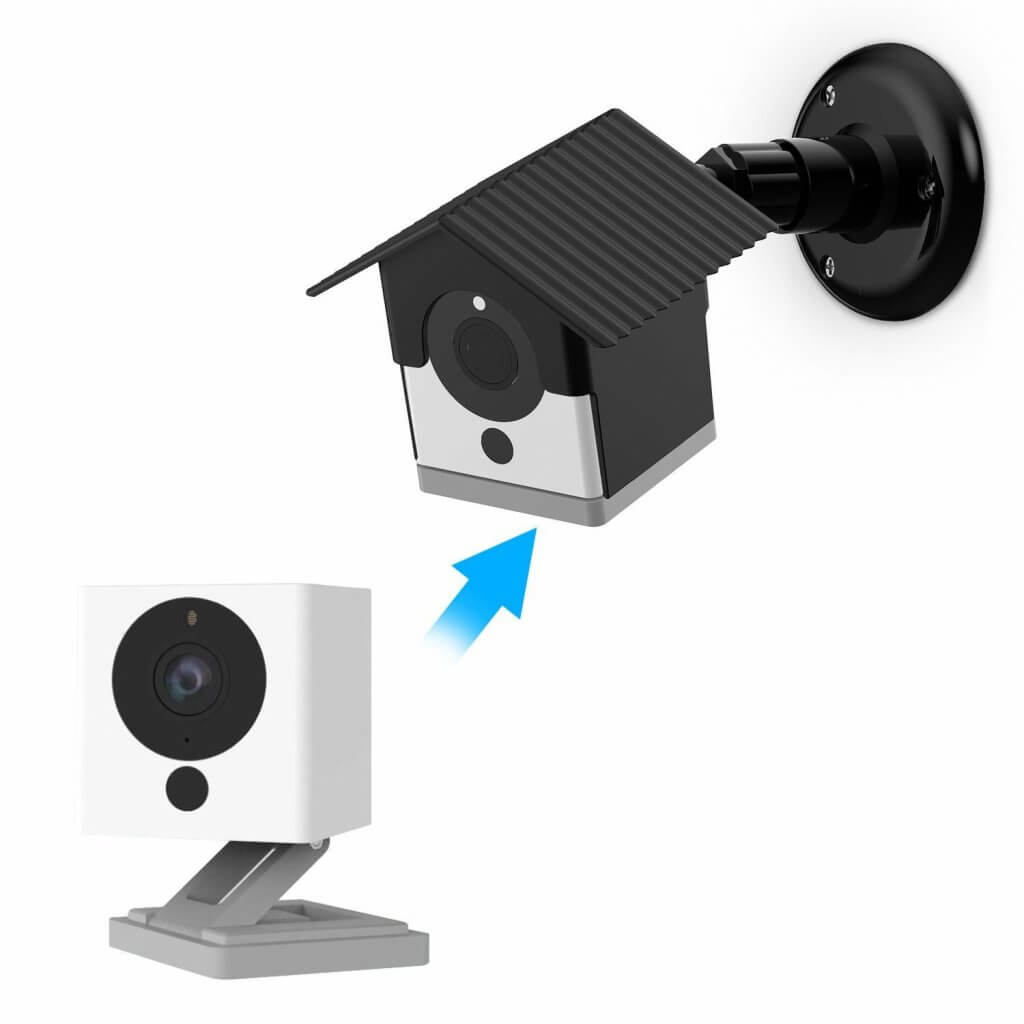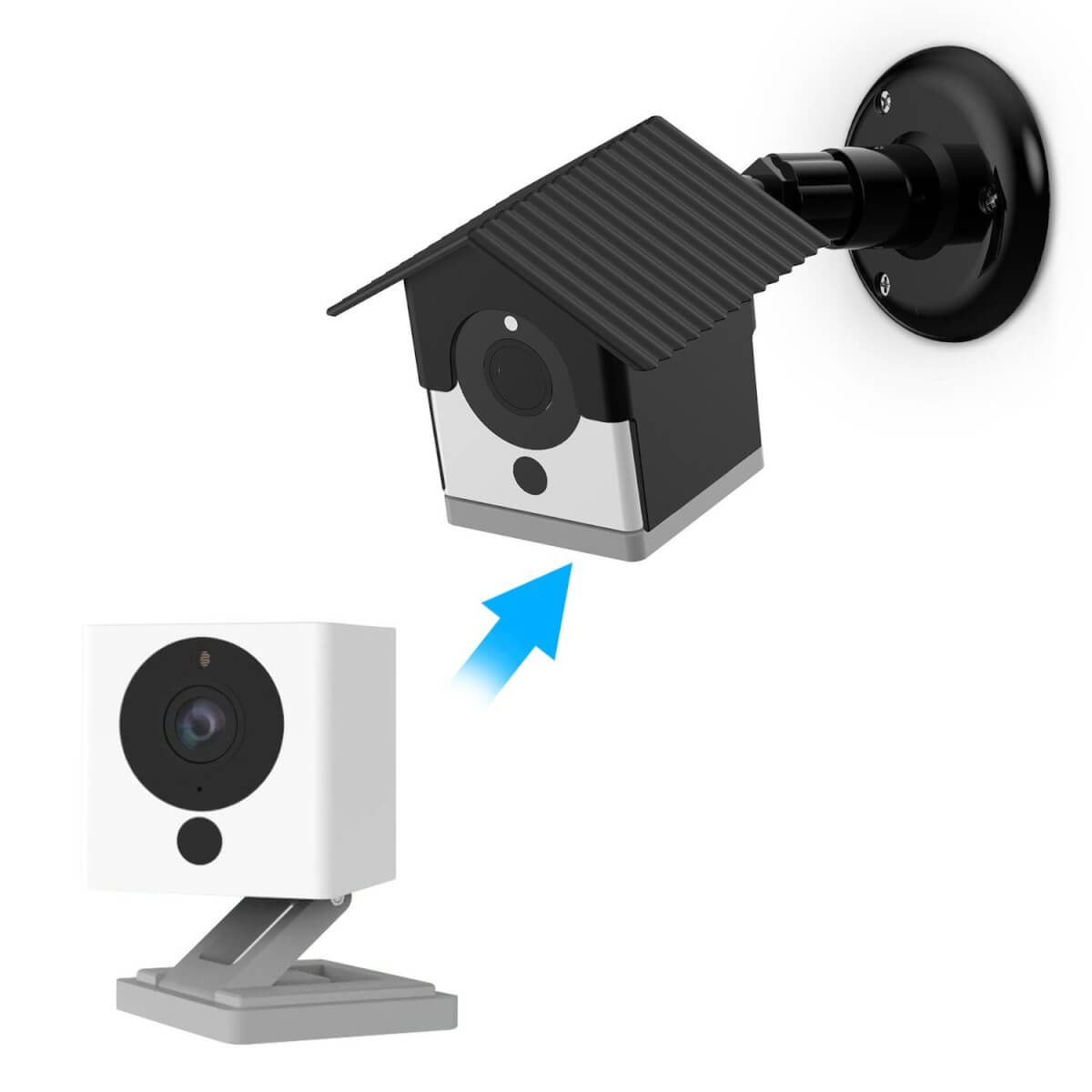 There are rumors that Wyze will release an outdoor camera. Who knows if that will ever happen, but while we're waiting, I'll keeping using Wyze outdoors since it only costs $25 if I have to replace it.
---
Welcome Home Automation
In the clip of the Back to the Future 2 smart home, the McFlys are welcomed home with a personalized message.
If you have an Echo device, then this is actually very easy to set up. What you can do is set up an Alexa routine to play a message when your phone arrives home. Select "Location" for the trigger.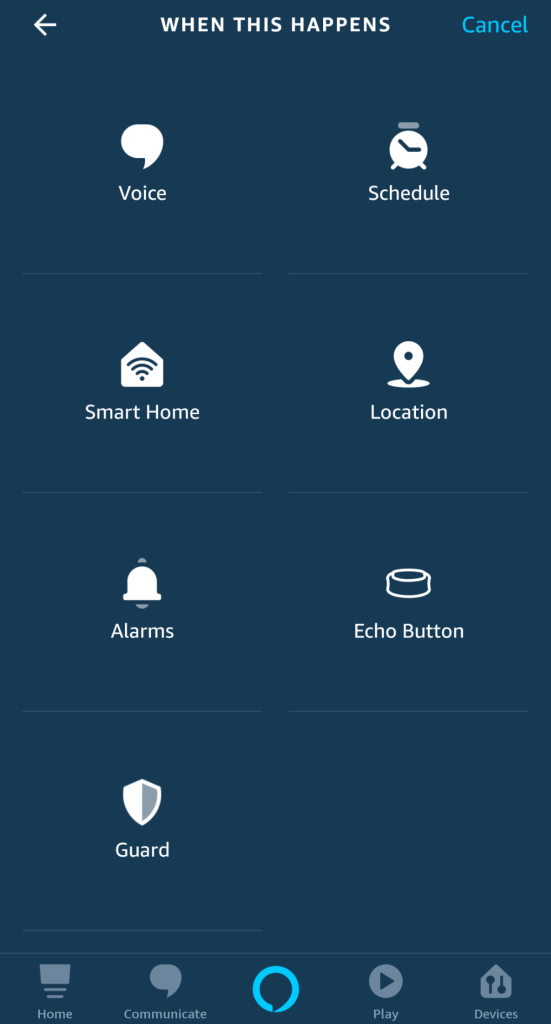 Select your phone's location for when you arrive home.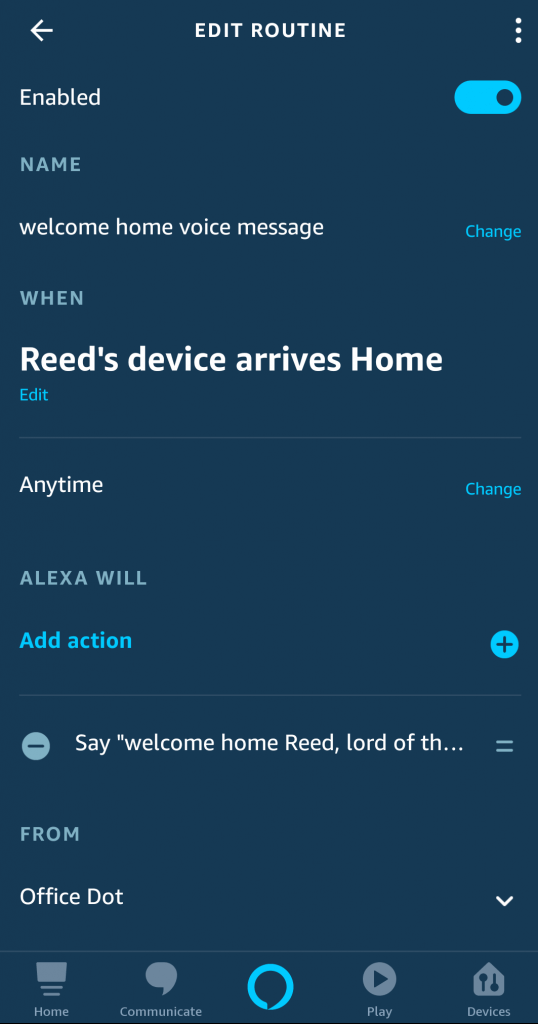 Then you can announce a custom message on all your Echo devices or just play it on one/a few Echo devices. Another option is to have it play your favorite song.
You can also set this up with SmartThings using the same logic. You can use Echo devices as well with smart apps like Echo Speaks.
It's much easier if you have something like the Bose speaker that works out of the box. I use the Bose SoundTouch 10 for automations with SmartThings.
---
Voice Controlled TV
Finding the remote to turn on the TV can be frustrating, but if you can use your voice it doesn't matter if you have a remote nearby.
In Back to the Future 2, Marty Jr. uses his voice to pull up 6 channels at once.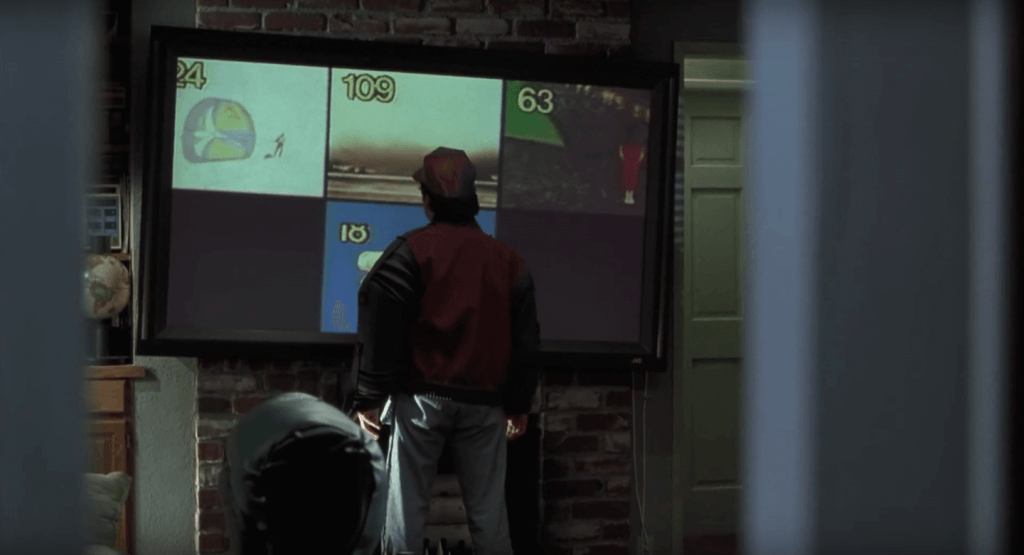 There are a few ways you can control the TV with your voice. One is using the Harmony Hub.
It works like a stationary universal remote that is smart, integrating with Alexa and Google Assistant for controlling your TV with your voice. I integrated Harmony Hub with several smart home devices in this video if you're interested to see more.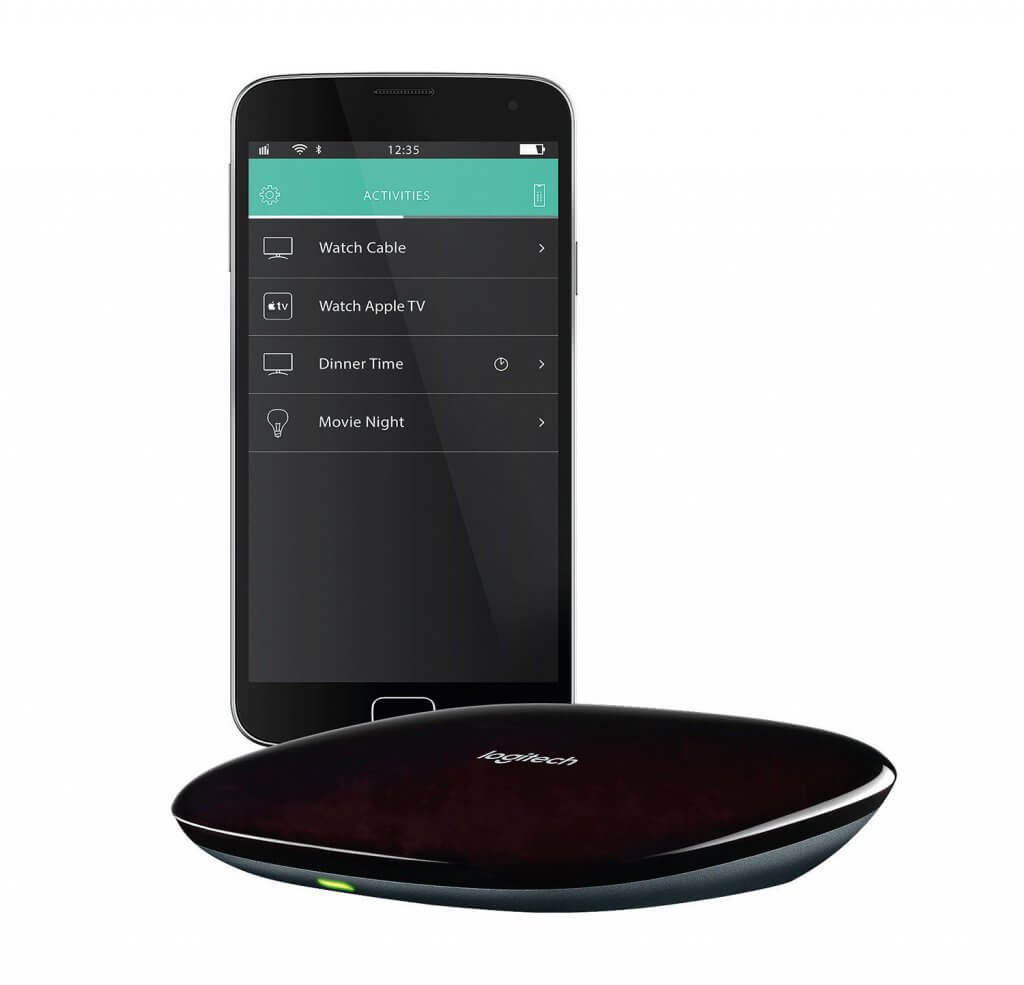 It can turn on your TV as well as any other device like your stereo that uses IR. From there you can control the volume with your voice and select the channels.
You can also take your TV automations to the next level by integrating light strips, or having Harmony automatically select a streaming app like Netflix.
If you have a Chromecast you can use a Nest Hub Mini to control your TV. If you want to pull up a show on Netflix all you have to say is "Hey Google, play Arrested Development on Netflix" and it will just start playing the show.
It also works with YouTube TV, so jumping between sports channels is really simple. You can also pause, play and record shows.
If you are looking to get started or a list of some commands check out the page on Google website.
---
Voice Assistant Not Always 100%
Well if you have a voice assistant you know how it goes. Sometimes they can hear you from across the room if you accidentally say "Alexa," and other times you have to shout a command multiple times to be heard.
Here are a few things I've noticed about the voice assistants.
If I had to pick a more accurate voice assistant it would be Alexa. The reason why is Google Assistant is a little too aggressive in trying to "guess" the command.

For example, if I say "Alexa, family room fan 20 percent" it will turn the fan to 20% power. That's great. If I say the same thing to Google Assistant it will turn the "family room fan light" to 20%. It just assumes that I am talking about the fan light and not the fan.
Same goes for controlling lights in a room. If you name a light "office light" and tell Google Assistant "turn off office light" it might turn off all the lights in the room "office." It can be annoying.
There are plenty of pros and cons of each assistant, but overall the voice assistants these days are pretty dang good. They still don't get it right 100% of the time, which is why I have to laugh when Back to the Future 2 predicted this frustration.
I also have a video that compares Echo Dot vs Google Home Mini sound quality if you want to check that out.
---
Small Screen Displays
The Back to the Future 2 smart home has screens on the walls throughout their home. While they don't zoom in close to show exactly what these are, it looks like control panels, cooking demonstrations, and possibly a thermostat.
In our video, we showed a few screens that control our smart home. Brilliant light switch has been great for our family to control lights throughout our smart home. It really serves as a smart home control panel for all of your devices and even has built-in cameras for calling and intercoms.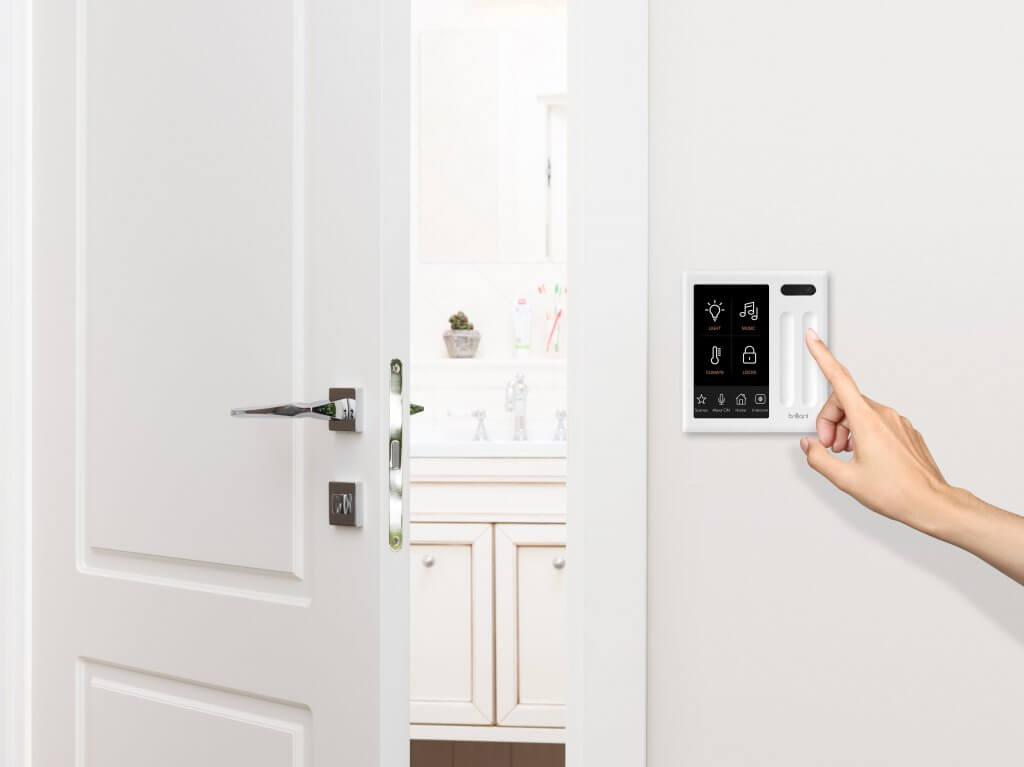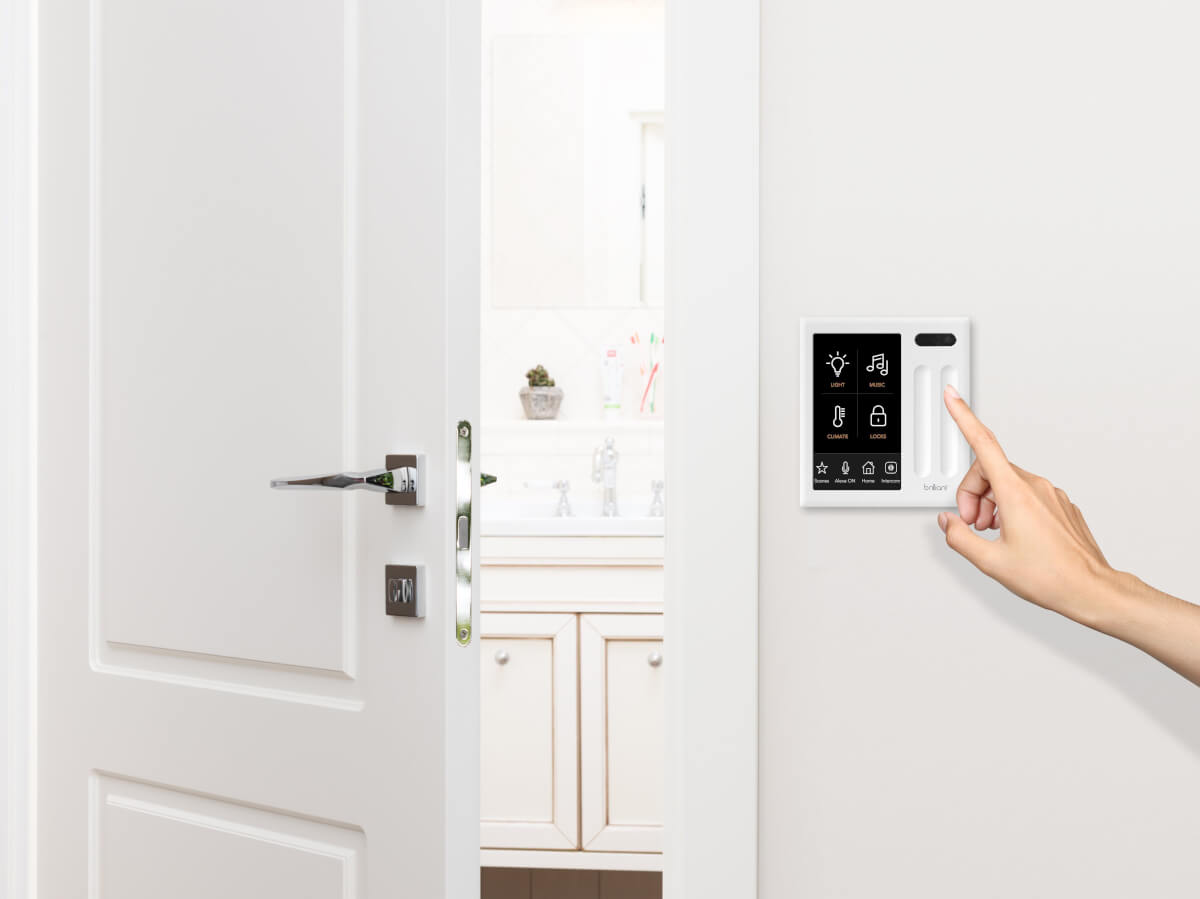 Having screens in the kitchen is also great to help with cooking or entertainment. We have been using the Nest Hub Max for a little while and it's been an awesome device.
Retrieving recipes is easier on the Nest Hub Max than it used to be especially if the recipes are on the first page of Google results. If I say "Hey Google, find buffalo chicken sandwich recipes," then it pulls up Google results and I can easily select the right recipe.
Then you can have it walk you through cooking the food step-by-step, or just keep the recipe displayed on the screen.
Similarly to the Brilliant, you can control multiple smart home devices right on the Nest Hub. It also plays videos really well, making our kitchen feel a little bit more like the McFly's.
---
Video Calls
Video calling now is even easier than they show in Back to the Future 2. You can place a video call on your phone using FaceTime or Google Duo and it's simple and fast. The call quality can vary depending on your internet connection, but it seems like it's always improving.
You can even answer video calls in your smart home. Marty answers the call on his TV using his voice. You can easily answer incoming video calls with your voice on a Google or Alexa device.
My favorite way to do this is on my Nest Hub Max, which I covered earlier. If you're more of an Alexa user, then the Echo Show 5 or 8 are good options as well.
---
What's Missing?
While plenty of Back to the Future 2 smart home predictions were accurate, there are a few components missing in real life.
Food hydrator: In the movie, Marty's mom puts a tiny disc-sized pizza in the "hydrator," which basically looks like a microwave. The pizza expands and becomes full size. Unfortunately this kind of amazing food science doesn't exist yet.
Flying cars: We still are stuck navigating on the roads. While self-driving cars are more available, flying cars are still a dream of the future.
Another funny tidbit is that the movie has someone send a fax to Marty McFly. So while they predicted plenty of things right, they just couldn't imagine a world without home fax machines.
---
Thanks for reading and watching. If you have any questions, don't be afraid to comment below and I'll see what I can help with!
If you enjoyed this, please think about subscribing to our YouTube channel so you don't miss our future smart home content.