Brilliant isn't just smart, it's brilliant.
The new smart home control panel that's designed to replace a light switch looks amazing and works effortlessly.
Using different smart home devices can be a mess of apps and automation. Brilliant organizes your entire smart home into one easy-to-use interface.
Of course this comes at a high price tag. In this Brilliant smart home review, we'll evaluate whether Brilliant is worth its high cost by sharing our experience with you.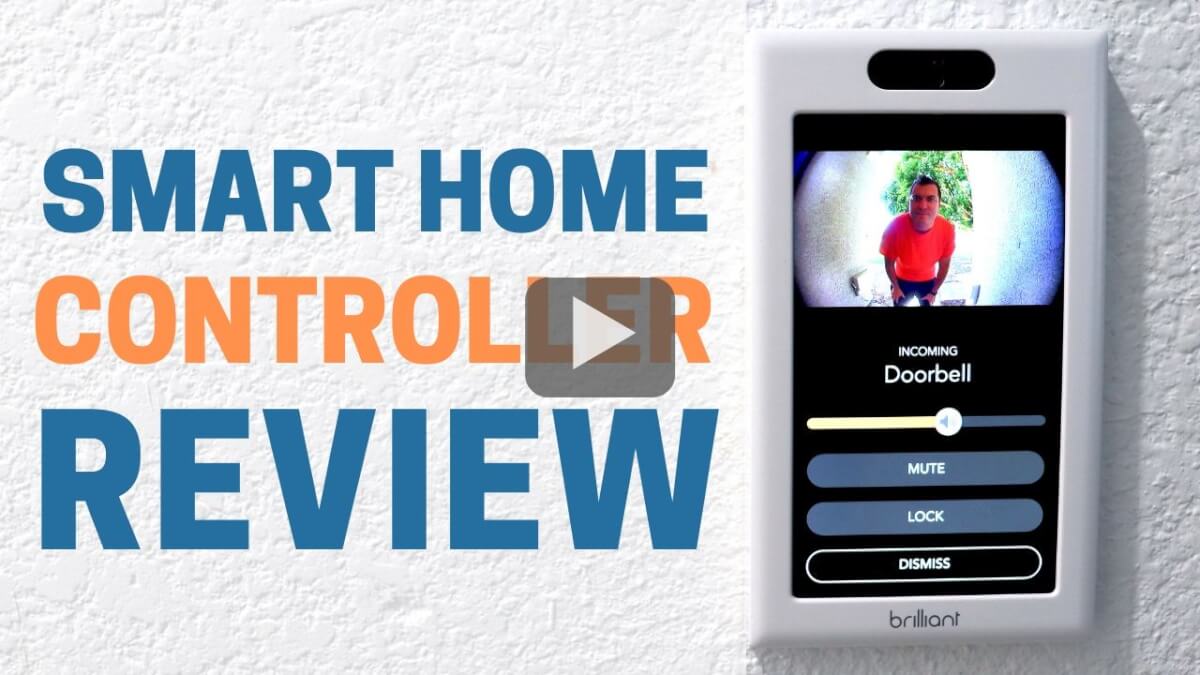 Brilliant Smart Home Review
Affiliate Disclosure: This page contains affiliate links, which earn us commission at no cost to you. The writers of this blog received Brilliant smart light switches for an unbiased review. They were not compensated in any other way. The opinions are 100% their own and not influenced.
Set Up
Setting up Brilliant was surprisingly fast. If you have wired up other light switches, then you should have no problem.
There are basically two steps for setting up Brilliant: wiring it, and syncing with your devices.
Wiring
I set up 2 Brilliant switches. I wasn't sure if it was going to work with my 3-way light switch. It worked great though. As long as the other light switch in the 3-way configuration isn't a dimmer.
Both were easy to wire, and I'm no electrician. It was the same wiring as any light switch. It does require a neutral wire for power but most homes should have these. Just remember to turn off the power before getting started.
There is a lot of documentation about installing and setting up the switches, which is great since other smart home tech companies can leave you in the dark.
Syncing with Devices
Once it's wired, you set up all of Brilliant's functionality on its screen. Even adding the individual smart home apps requires you to login on Brilliant's touch screen rather than the app. This is a little annoying during set up, but something that could easily be improved with a software update.
Overall, installation and set up were straightforward and I didn't run into any issues. If you're concerned about wiring it, you could always hire a professional to take care of that part.
---
Scenes
There are several ways to customize the scenes in a way that works for your home and lifestyle. Once they are set up, you can schedule the scenes or pin them on the home screen for quick access.
Here are the scenes that I set up on my Brilliant: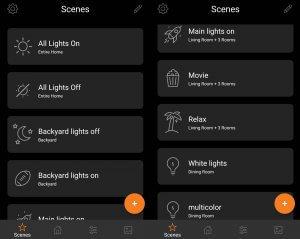 Two default scenes at the top can turn all the lights on or off. I don't use the All Lights On because it can be overkill. I have some random lights like the pantry light connected to Brilliant that I normally don't want on.
Instead, I created a scene called Main lights on which turns on the dining room and kitchen lights at 100% brightness. I normally do this every evening, so I can schedule this scene to run every day at 6 pm.
After the kids go bed and the house is a bit more quiet I have another scene. This is the Relax scene where the kitchen light turns off and the rest of the lights dim.
I have this pinned to the home screen so I can quickly press it as I'm walking back to the family room after putting the kids down.
---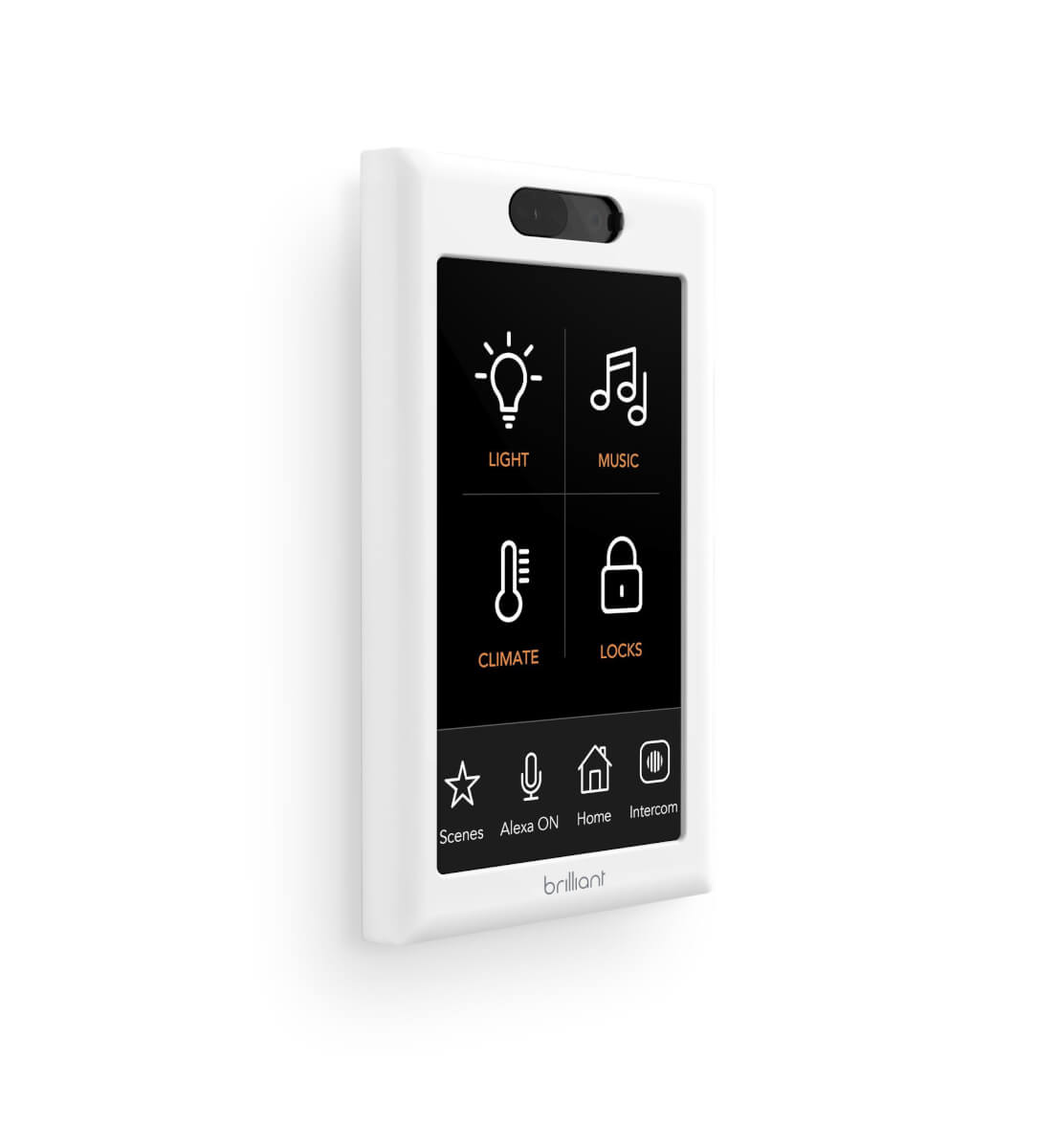 Smart Home Integrations
Brilliant integrates with quite a few of the leading smart home brands, making it a smart home control panel.
This is what really sets it apart.
Instead of just turning the lights on and off, Brilliant integrates with the rest of your smart home for controlling everything in one place. It's designed well and easy to use, so everything is just one or two clicks away.
Here a few smart home devices that you can control with Brilliant.
Smart Lights
Philips Hue: The Philips Hue lights work very well with Brilliant. Once integrated, you can turn on/off or dim all of your Hue lights using the Brilliant controller. You can also integrate your Hue lights into scenes (more on this later), but unfortunately you can't import Hue's scenes or change the colors of the bulbs. I did figure out a workaround for scenes by creating a virtual switch to turn the scene on and off in SmartThings – scroll down for more information on the virtual switch setup.
SmartThings: Brilliant integrates with the SmartThings hub for light control. So you can get your LIFX or other Zigbee/Z-Wave lights working with Brilliant, even if they are not directly compatible like Hue is. Unfortunately, it doesn't work with other SmartThings sensors for now. The devices it's compatible with include lights, switches, outlets, and locks.
Assistants
src="https://smarthomesolver.com/reviews/wp-content/uploads/2018/10/amazon_echo_dot_heather_gray-compressor.jpg" alt="amazon echo dot v3 heather gray" width="124″ height="124″ />Amazon Alexa: Alexa is actually built into Brilliant, so she is always listening for her name and will tell you the weather, answer questions, or complete home automation tasks. You can also turn this off if you have other Alexa devices nearby and don't want both to reply to you. Our Brilliant heard us from far away when we were using the speaker, so we decided to mute it.
You can also use Alexa to turn on or off lights wired to Brilliant.
Google Assistant: While it's not built into the device like Alexa is, you can use your Google Assistant to control the lights wired to Brilliant. This is a nice integration for Google users.
Thermostats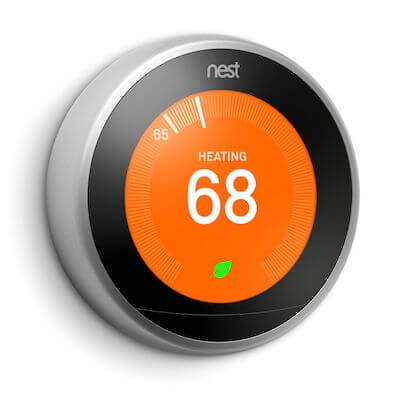 Nest: Control your Nest thermostat from your Brilliant device. This is great for large homes if your Brilliant is far from your thermostat. Of course, Google almost killed off Works with Nest before they had an uprising on their hands. So if they ever pull the plug on it again, then Nest may not work with Brilliant. 
Honeywell and Ecobee: Just like Nest, you can also control your Honeywell and Ecobee thermostats. We tested it with our Honeywell Home T9 and it was very easy to connect and control with Brilliant.
Other
Ring and door locks: See who is at your door and talk to them through Brilliant.  If you have August, Schlage, or a compatible lock, it's also easy to unlock your door right on that screen.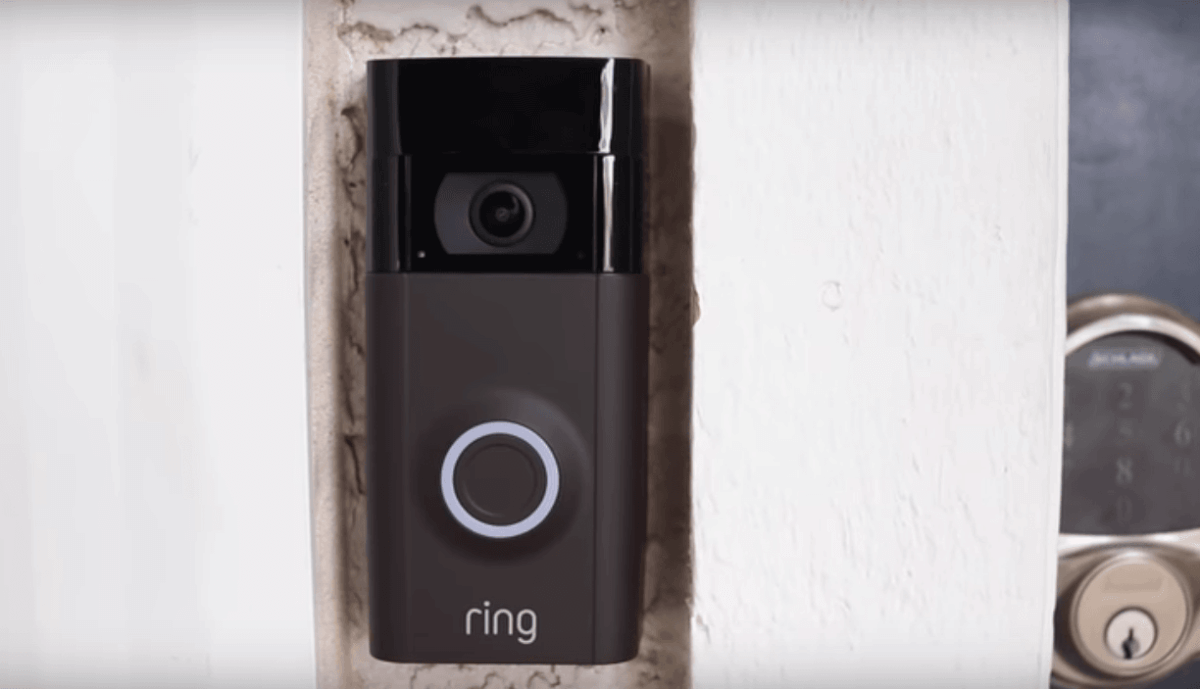 This is one of my favorite integrations since it's a quick way to communicate with guests and unlock the door to let them in. It took a second to pull up Ring's video stream and microphone, but it was still fast enough to use for answering the door.
Sonos: Brilliant's Sonos integration is awesome. You can play Spotify or Pandora on all of your Sonos speakers and select the song and volume level within Brilliant. This offers great local controls so you aren't dependent on the app.
Coming Soon
HomeKit: This integration is in the works and coming soon. We spoke to people from Brilliant who said it should come as a free, overnight software update in June or July 2019.
---
Virtual Switch
I wanted to create scenes in Brilliant that would change the color of my smart lights. Since there isn't an out of the box solution right now, I had to figure out some workarounds.
If you don't care about multi-color lights or like to keep things simple, feel free to skip down to the next section.
To get this working, I created two scenes in SmartThings. Yes, Brilliant and SmartThings both have scenes… so don't be confused.
One of my SmartThings scenes changes the smart lights to multiple colors and another to white lights.
I then created two Virtual Switches. One for each SmartThings scene that I just created. Then I made an automation that every time the Virtual Switch was triggered, it would turn on the SmartThings scene. This is very easy to do in SmartThings in the Smart Lighting app.
Then I imported the Virtual Switches into Brilliant. Now if I turn on the Virtual Switch in Brilliant, the scene in SmartThings gets triggered.
This worked…until it didn't.
Turns out that the Virtual Switch needed to be turned off after it turns on. This was an easy fix. I created a SmartThings Routine that every time one of those Virtual Switches turned on, to automatically turn it off.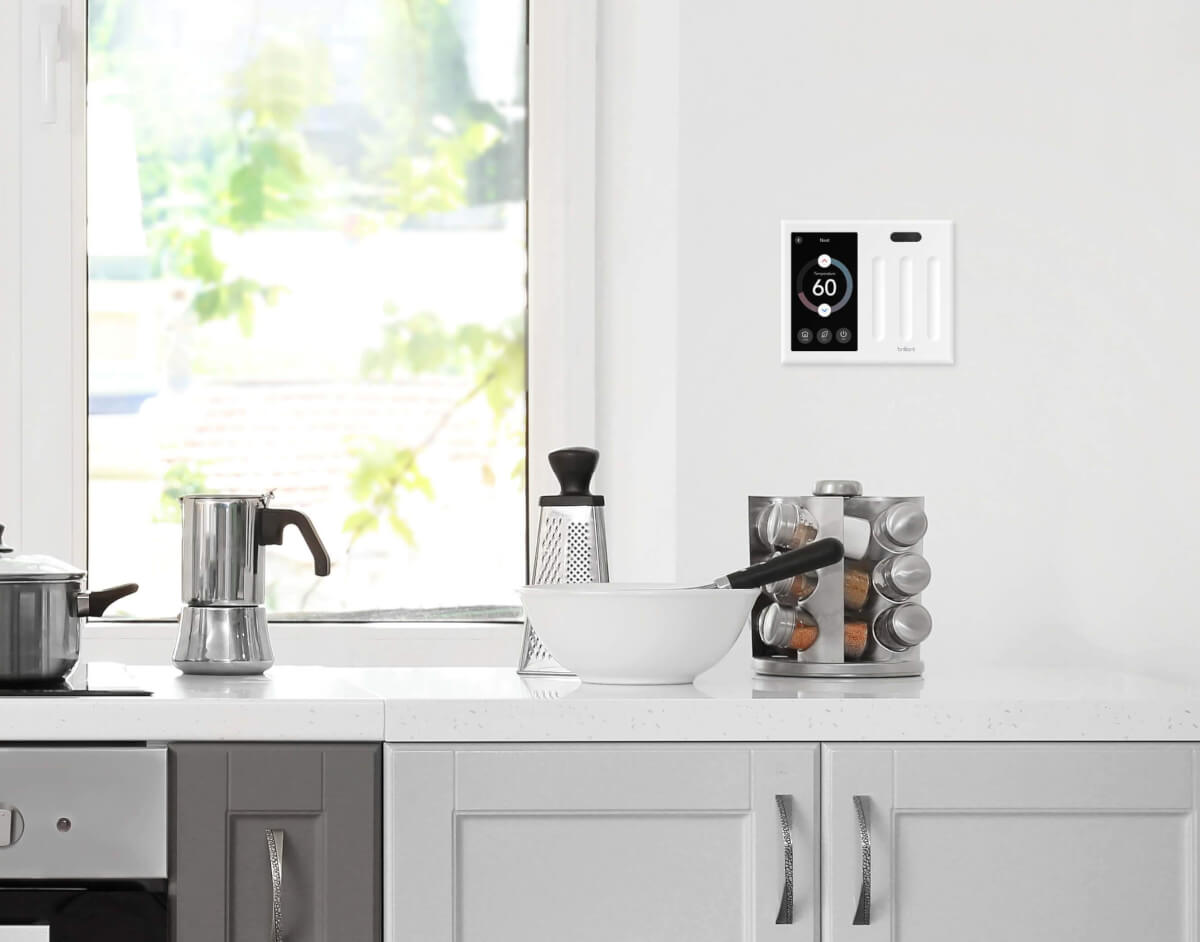 I also had to do one last thing.
When I created the scene in Brilliant to change the color of the lights, I turned off the Virtual Switch for the white lights in that scene. I do the opposite for the White light scene in Brilliant.
Wow, all that work to get some lights to change color when a Brilliant scene is pressed. It's worth it though!
---
Light Controls
As you can probably tell, Brilliant is so much more than just a light switch. It's really for controlling your entire smart home.
However, since it does replace a light switch, you will want to be able to easily turn on and off the lights wired to it, along with other smart lights around the house. Here are some of the options for controlling lights with Brilliant.
To turn your lights on, swipe up anywhere on the screen (even if it's black). To turn them off, swipe down.
To turn on and off multiple lights that are set to that room, swipe up or down with two fingers.
To dim the lights, hold down your finger as you slide it up or down.
If you install Brilliant on a switch that controls more than one light, then you can use the sliders on the white control panel to the right of the screen to turn each light on and off individually. Again, you can do this simply by swiping up or down, or tapping on the slider to toggle the light.

You can also customize what the panels control, so if you would rather have it turn on/off your connected Hue light strip instead of the light wired to it, then that's an option.
Brilliant has a motion sensor built in, so you can use this to turn on the lights or Brilliant screen when motion is nearby. You can very easily adjust the motion sensitivity if you're worried about false alarms with this.
Overall, it's very easy and intuitive to turn the lights on and off. Even my 4-year-old has no problem swiping on it.
Other features
Beyond controlling your smart home, there are other interesting features that really sell Brilliant.
You can video call between Brilliant devices. I could see this being useful in a large home. You can also use the intercom feature for audio announcements on all of your Brilliants, for example: you can say "dinner's ready!" and it will play through the whole home on every Brilliant.
These worked well, but will be more useful if they add support for calling from the app. You also have to hold down the microphone to speak, which isn't as easy.
Using the app, you can do some Brilliant controls, including changing the background to a personalized image. It's pretty cool to see a family photo on the wall where a boring light switch used to be.
---
Is Brilliant worth it?
Brilliant has a large price tag, especially if you install multiple throughout your home for video calling. So does it make sense to buy Brilliant?
In a time when people are automating their devices or activating them with their voice, Brilliant puts physical controls in the smart home. This adds convenience for guests or anyone who doesn't want to learn Alexa commands and download an app.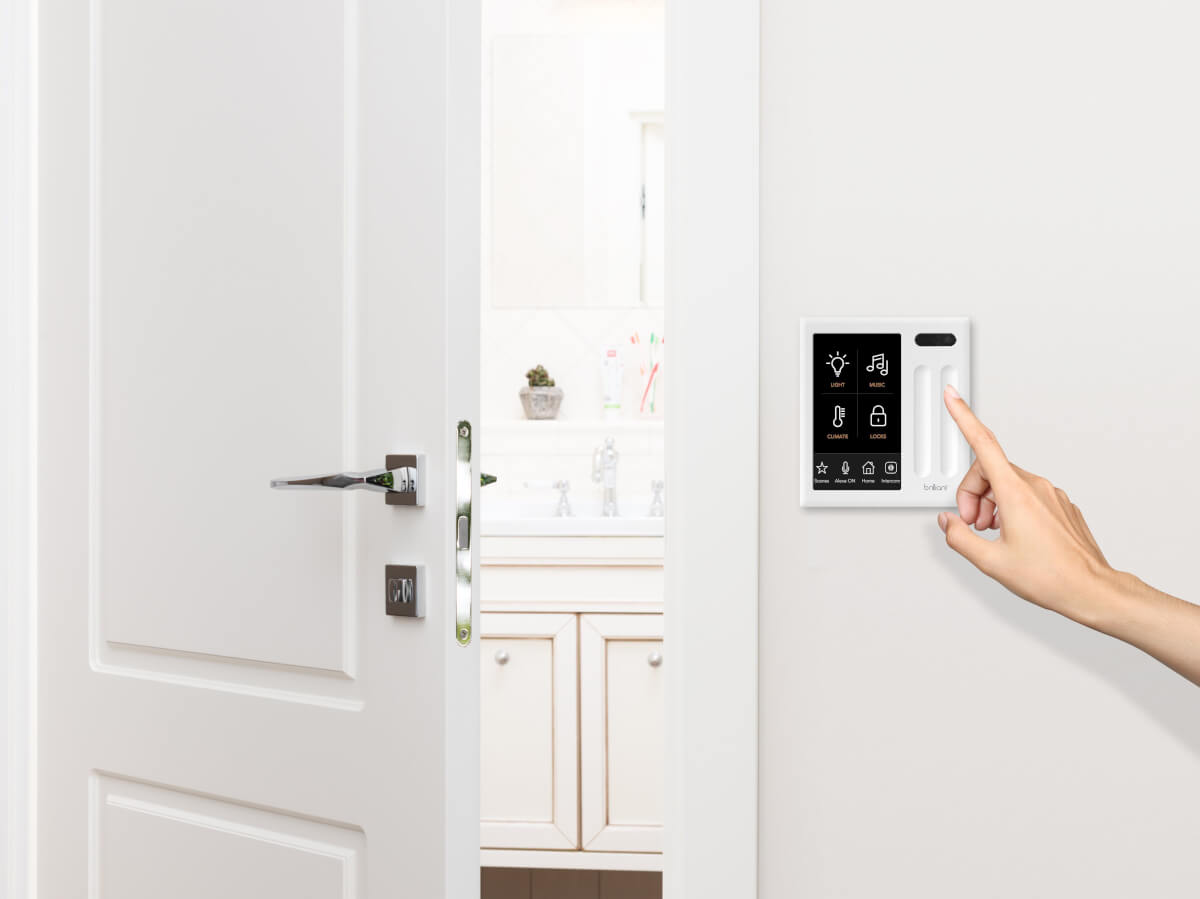 See it on Brilliant's website
If you have a lot of smart home devices and don't mind its higher cost, it makes sense to get Brilliant since it can work as a smart home control panel and integrate with your home tech. You won't be disappointed in its quality, and it will add a unique, high-tech flair to your wall.
What do you think – is Brilliant worth its cost? Comment below!