There's a new smart thermostat heating up the competition.
At CES 2019, Resideo (the spinoff company from Honeywell) announced the latest thermostat in their T-series lineup: Honeywell Home T9.
This thermostat includes a remote sensor for monitoring other rooms in your home. That way you can run the air to prevent one room from getting hot or cold.
We reviewed the T9 and Nest hands-on in this video. Check it out and then read on for more details.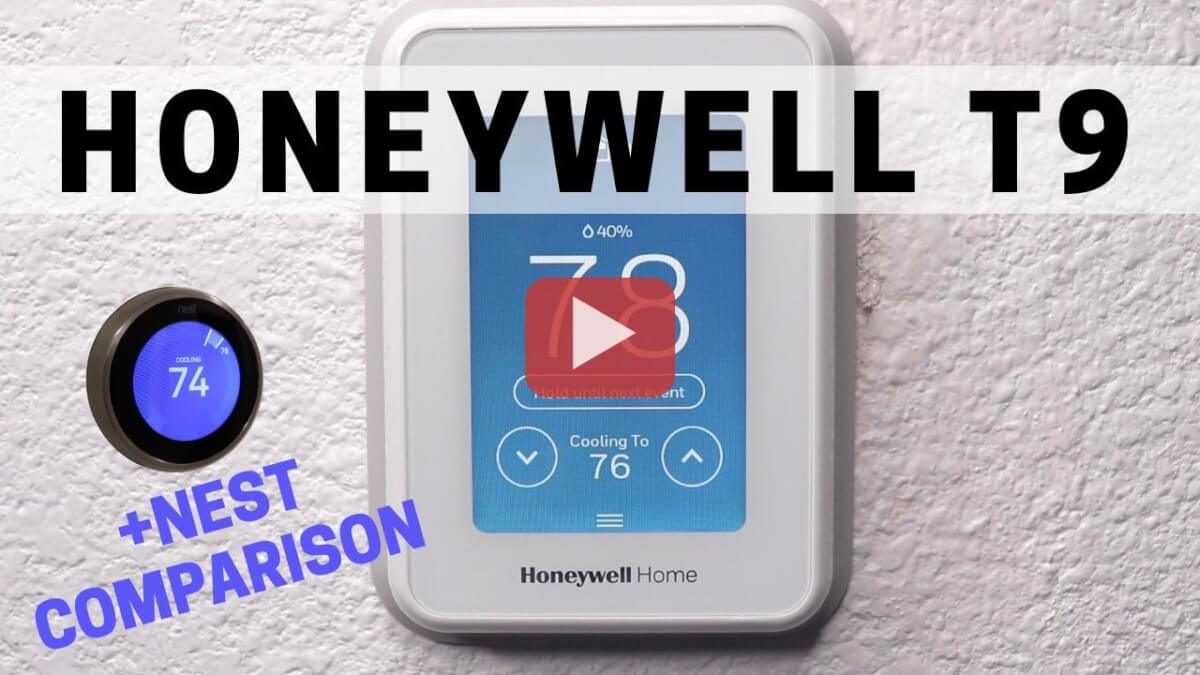 We wanted to stack up the T9 against some of the top thermostats on the market, so in this article we'll compare the Honeywell Home T9 vs Nest vs Ecobee4.
Honeywell Home T9 vs Nest vs Ecobee4
Affiliate Disclosure: This page contains affiliate links, which earn us commission at no cost to you. The writers of this blog received both Honeywell Home T9 and Nest thermostats for an unbiased review. They were not compensated in any other way. The opinions are 100% their own and not influenced.
Set up
These thermostats are fairly easy to set up. With each of them, you will install the base and connect the wires to it. Then connect the display by simply clicking it onto the base.

Before purchasing, you'll want to check 2 things:
If the thermostat is compatible with your HVAC set up. You can do this by removing your thermostat and looking at the wires (it's actually not as tricky as it sounds).
If you can get a rebate from your local utilities provider. They may provide rebates for certain thermostats, but not others. Note that each of these is Energy Star Certified, which may improve your chances of getting a rebate.
Follow the links below to each company's compatibility and rebate checkers for more information.
Important: Once you purchase a compatible thermostat and are ready to install, make sure you shut off the power so you can install it safely. Remove your old thermostat and take a picture of the wires. You'll refer to this later when connecting the wires to your new thermostat.
Now let's compare Honeywell Home T9 vs Nest vs Ecobee4 for setting up each thermostat.
Honeywell Home T9
C-wire required, or you can use the included power adapter if you don't have a c-wire.
Works with the same wall mount as previous T-series thermostats, so you can easily snap it onto the same mount if you're just upgrading.
No trim plate included. The thermostat was large enough to cover the holes from previous thermostats, but if the holes in your wall are wider than the T9, you will have to patch and paint them.
Links:
Nest
C-wire not typically required since it has a built-in battery and it pulls a small amount of power when your system is running. However, running a Nest system without a c-wire is not encouraged. It could damage your HVAC system over time because of how it draws power. If you run into these issues, you'll definitely want to add a c-wire later on.
Includes a trim plate to cover up any holes from your previous thermostat.
"Learns" your habits for the first week during set up. Nest programs itself by tracking your temperature preferences, the seasons, and your schedule as you come and go.
Links:
Ecobee4
C-wire required, or you can use the included power adapter if you don't have a c-wire.
Includes a trim plate to cover up any holes from your previous thermostat.
Links:
 Winner: Tie.
All three of these have a similar installation process. One difference is Nest's ability to program itself, but this may be a convenience or annoyance for you.
The real decider will be whether or not you have a c-wire. If you don't, then you can go with Nest so you don't need to use a c-wire at all. You can also use the power adapters that come with Honeywell Home T9 and Ecobee4.
---
Sensors
Each of these thermostats offer remote sensors for tracking the temperature of other rooms around your home. These can be used to automatically adjust heating or cooling to balance out the home's temperature.
So if one room gets too hot, your remote sensor can trigger your AC to run.
A traditional thermostat runs the air based on wherever the thermostat is installed. So your hallway might be 75 degrees, but other areas of your home are uncomfortable.
We previously tested the Nest Temperature Sensor and compared it with Ecobee's sensors.
All three sensors work differently and come in at different price points. Let's compare.
Honeywell Home T9
Price: 1 is included with the thermostat. After that it's $79.99 for a package of 2.
Battery life: Sensor requires 2 AAA batteries. These last for 1 year.
Occupancy detection: Room sensors have occupancy detection, not just motion. This means they can tell that someone is actually spending time in the room, not just walking past the sensor.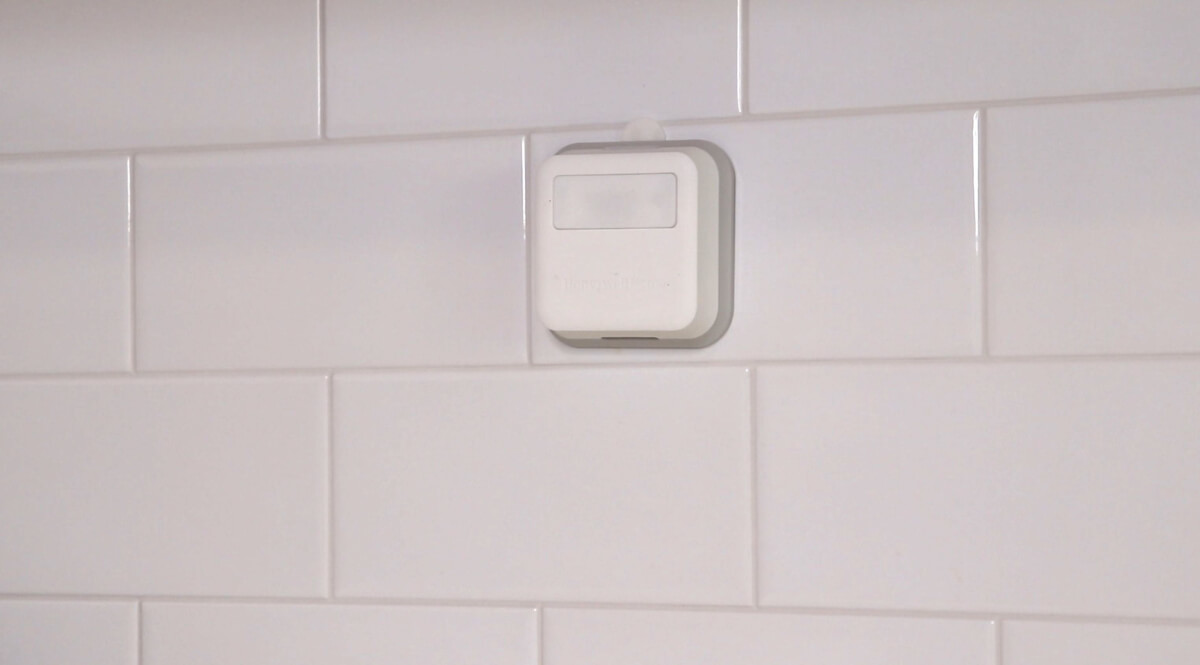 Installation: Install these by sticking to a wall using the adhesive on the back. You can pair up to 20 sensors per thermostat.
Function: You can schedule or manually select which rooms to prioritize to make sure they get comfortable. For example, you can have your bedroom prioritized at night so that your air runs until it's the perfect temperature. You can also prioritize more than one room, and it will just take an average of the rooms when setting the temperature. The other neat option is to have it recognize the active rooms, so that any room with occupancy will be prioritized.
Nest
Price: $39 per sensor. These are not included, but are a separate purchase.
Battery life: Comes with CR2 3V lithium battery. This is supposed to last 2 years.
Motion detection: No motion sensor. The Nest Temperature Sensor only tracks the temperature of other rooms and adjusts Nest accordingly– it doesn't have any motion detection.
Installation: Mount it to your wall with the included screw, or just lay it flat on a shelf.
Function: The Nest sensor can be scheduled within pre-defined time blocks (morning, afternoon, evening, or night) or manually turned on/off within the app. Nest doesn't take an average temperature of the thermostat and sensor for regulating your home. You can only select whether you want the sensor or thermostat to regulate your home's temperature.
Ecobee4
Price: 1 is included with the thermostat. After that it's $79 for a package of 2.
Battery life: Comes with a coin cell CR2032 battery. Battery life is around 18 months-2 years.
Motion detection: Ecobee's sensors have motion detection to notice when there is movement around the sensor and adjust the thermostat accordingly.
Installation: Many Ecobee sensors have a little stand that acts as a battery cover and makes it easy to place the sensor anywhere. You can also use the included adhesive or screws to mount it without the stand if that's preferred.
Function: Ecobee sensors work together with your thermostat to create an average temperature. You can use this average to regulate your home's temperature.
 Winner: Honeywell Home T9.
While the Ecobee sensors have a longer battery life, I prefer the T9 sensors. They can measure for occupancy rather than just motion detection and prioritize multiple rooms at once when setting your temperature. When you do have to replace the battery after a year, it's nice that it takes 2 AAA batteries since everyone has those at home.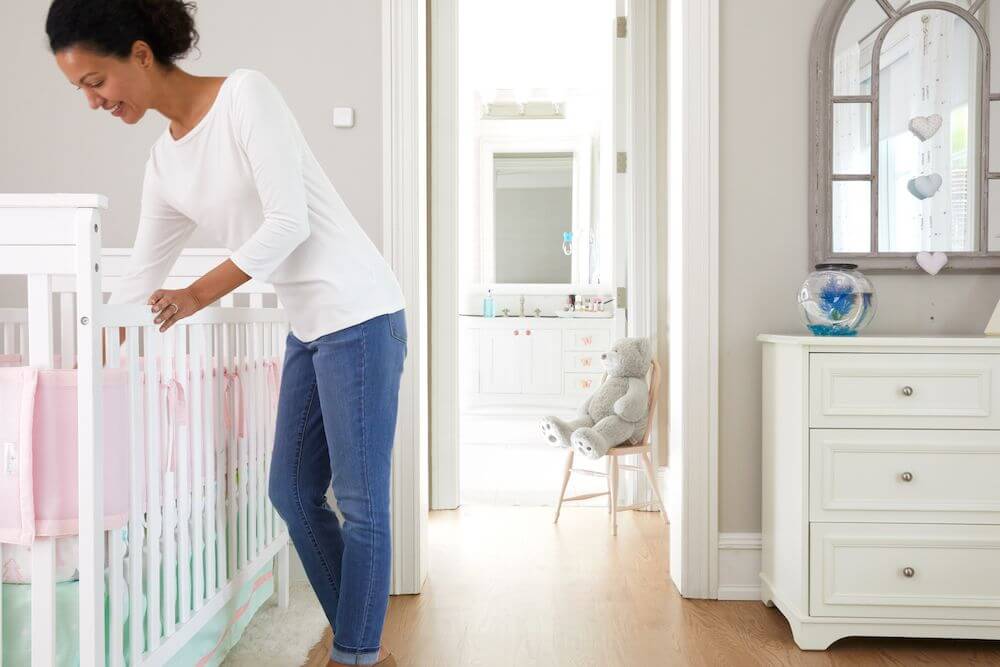 Here you can see the T9 sensor used in an infant nursery, which is a great idea.
---
Design
Design is one area where these three thermostats really differ. All 3 look very different and also have a variety of functionality as well.
One important feature that all three have in common? They can track indoor humidity. However, if you have your humidifier integrated with your HVAC system, you'll need the professional-grade T10 Pro instead of Honeywell Home T9.
They also each offer many controls directly on the thermostat rather than within the app. These onboard controls make it so you aren't entirely dependent on the app for most settings.
Now let's look more at their design and features.
Honeywell Home T9
Sleek design. The T9 is long and skinny. It's smaller and better looking than the previous T5+, and has a similar white aesthetic as the Nest E. Its color changes to blue when cooling and red when heating. It always shows the inside and outside temperatures and time directly on the screen, without any scrolling or clicks required.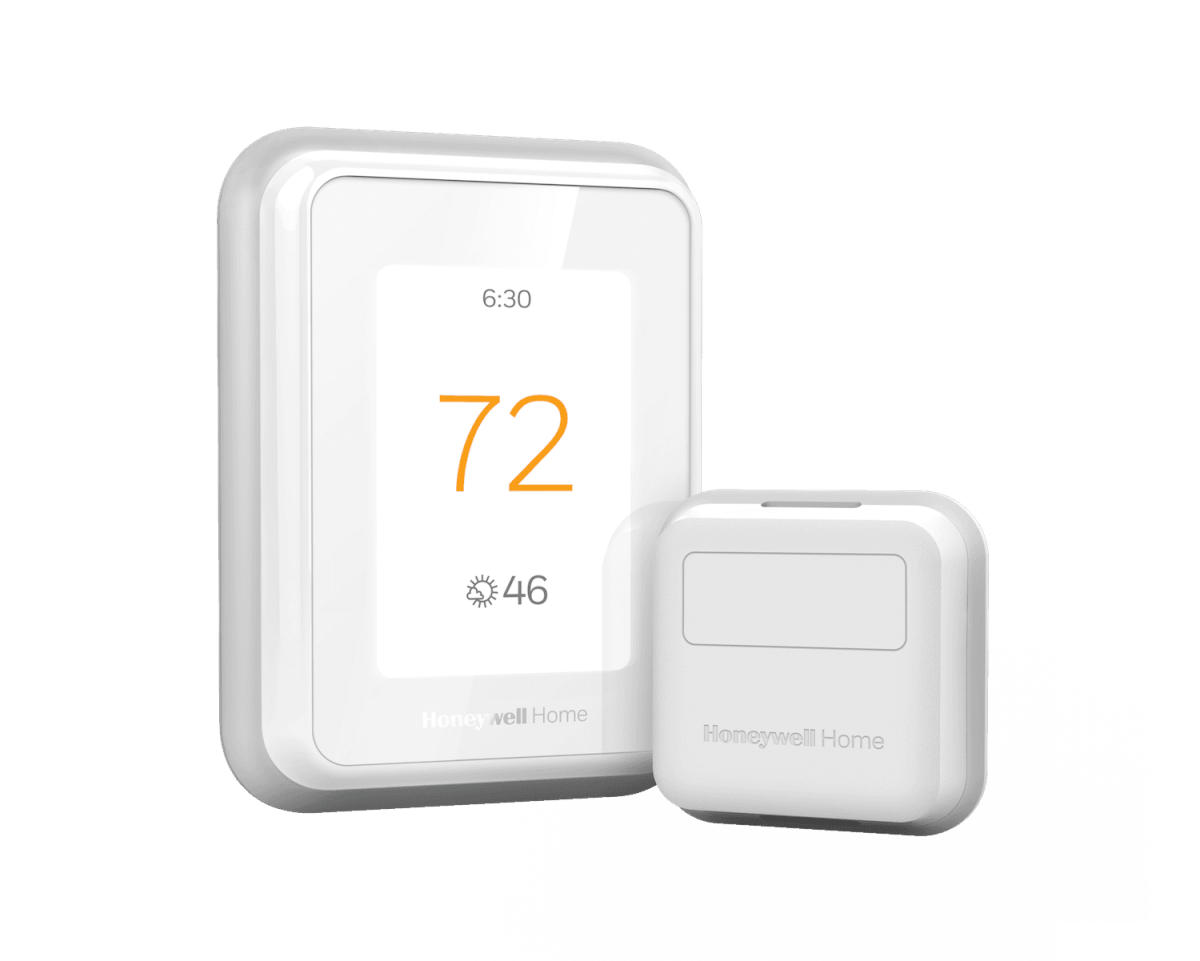 Touchscreen. This has a 3.5 inch touchscreen. While it's really easy to use, it will show fingerprints when not illuminated.
No motion sensor built in. Thermostat does not have a motion sensor. So if you wanted to monitor occupancy where the thermostat is, you would need to add a remote sensor next to the thermostat.
Nest
"Wow" design. If you want a thermostat that stand out on a wall and looks smart, Nest is your best bet. Its screen is vibrant and changes colors based on whether you are heating or cooling. When you are walking up to it, the thermostat only shows the current and target temperatures. To see other information like the date, time, or outside temperature, just click on the ring around the thermostat.


No touchscreen. Nest's 2.08 inch screen is controlled with the scrolling ring on the outside of the thermostat. The benefit of this is that it doesn't have any fingerprints on the screen.
Motion sensor built in. Nest thermostat has a motion sensor built in.
Ecobee4
Stands out. Ecobee4 is all black, so it won't exactly blend in with white walls. Its interface has a clean look, but if you're not a fan of the dark color, then it won't be your favorite. It shows the inside and outside temperatures directly on the thermostat.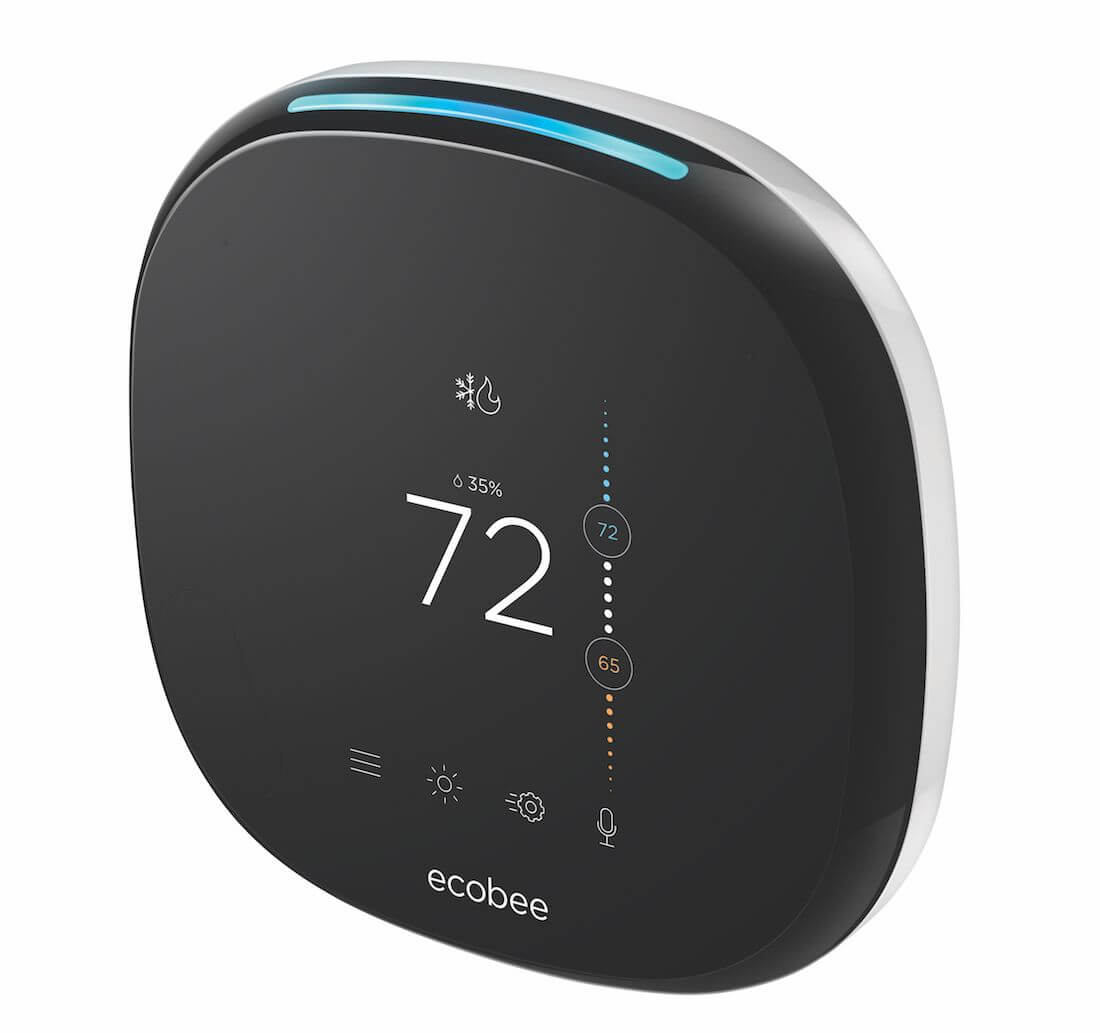 Touchscreen. Just like the Honeywell Home T9, Ecobee4 has a 3.5 inch touchscreen.
Occupancy sensor built in. Even better than their room sensors, the Ecobee4 thermostat has occupancy and motion sensors to track when someone is really in the room, rather than just quickly passing by the thermostat.
We also compared the designs of Ecobee4 vs Nest more in-depth in a previous article.
 Winner: Nest.
If we are deciding based on looks, Nest is still my favorite. It has an iconic look that is futuristic, smart, and bright on the wall. Nest's brilliant colors look amazing, but it's also packed with sensors so there is a lot of tech under its beautiful face.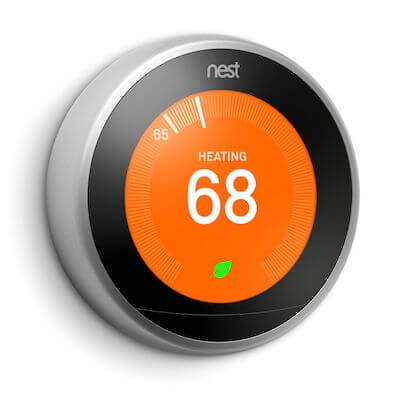 ---
App
Each of these thermostats' apps can:
Automatically adjust itself, or work on a set schedule
Track your location using geofencing
Let you access your thermostat remotely
Send you alerts for changing filters or if the indoor temperature is too high or low
As you can see, these thermostats have similar main features within the apps, which is why there is no clear winner here. While the apps look different, they are mostly the same in functionality.
Scheduling
The apps vary slightly when it comes to scheduling. For example, with the Nest you can easily have it change based on your location and schedule. The thermostat will use less air whenever you leave home using what Nest calls Home/Away Assist (it's basically geofencing).
If you are home and still want to use less energy due to peak pricing, you can set a schedule for it to follow, regardless of whether you are home or away. So from 3-6pm my Nest uses less energy since I am on a peak pricing plan during those hours.
The Honeywell Home T9 lets you do the same thing in its Resideo app, but you have to do a workaround.
I have geofencing turned on with Home and Away settings enabled, but the only way to get it to adjust on a schedule from 3-6pm was to create Sleep settings.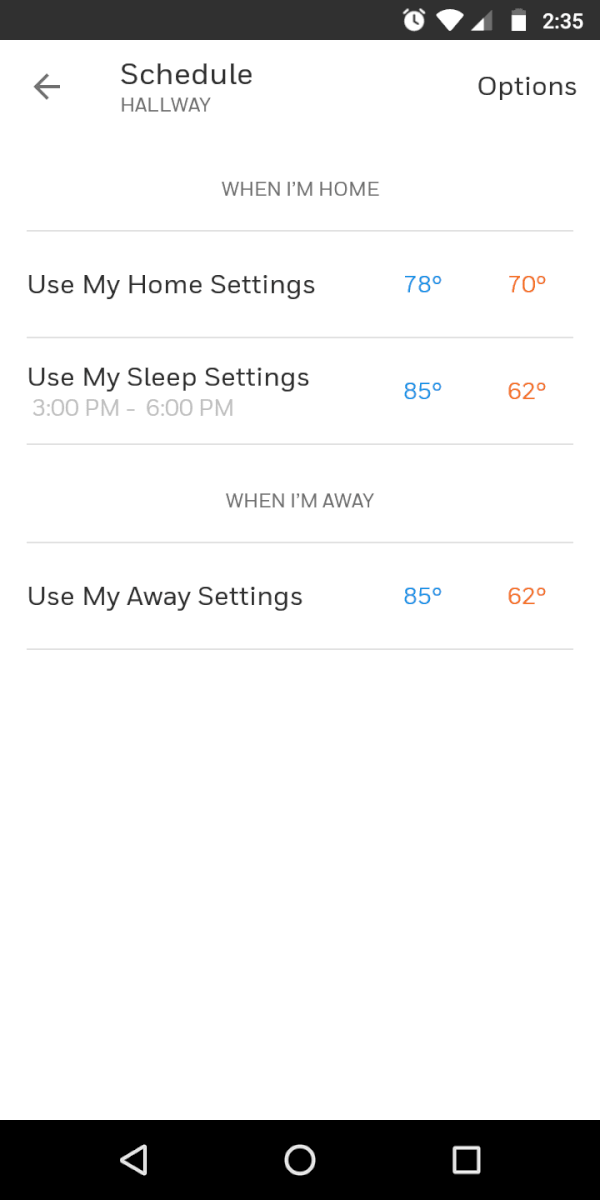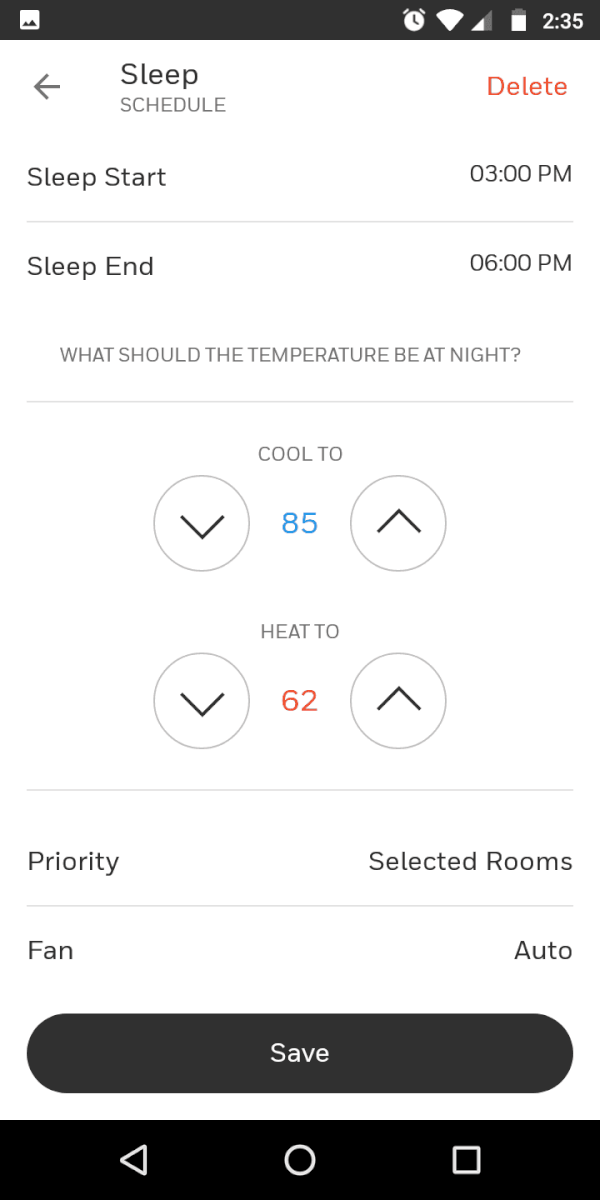 So during those hours, it goes into my set Sleep schedule to use less air.
Each app has its pros and cons, with different features that are difficult to find. They are all decent apps, but no matter which one you go with you may have to find little workarounds like this.
---
Smart Home Compatibility
Honeywell Home T9
Alexa and Google Assistant. You can easily use Alexa or Google Assistant to control your Honeywell Home T9 and its sensors. A few ideas include: asking the temperature of the thermostat or any room that has a sensor, and adjusting the thermostat so that room reaches a certain temperature.
IFTTT compatible. This opens up a lot of doors to get the T9 working with other automations and smart home tech.
Works with SmartThings. We are always excited to see new tech devices that work with SmartThings, especially since Nest is no longer compatible. To set it up with SmartThings, we had to select the Honeywell T5 since the T9 was not on the list (maybe because it's so new). After we connected it, anytime we changed the temperature in SmartThings there was around a 7 second delay before it showed up on the thermostat's screen.
HomeKit coming soon. These are the famous last words of all smart home companies. However, previous Honeywell Home T-series thermostats already have HomeKit, so we can actually believe this one.
Nest
Alexa and Google Assistant. You can use either assistant to control your Nest thermostat and find out the temperature of your sensors.
No other smart home compatibility. Since Nest announced that they were ending the Works with Nest program in 2019, it closed the doors on compatibility with IFTTT and other smart home devices.
Ecobee4
Alexa onboard. Alexa is built into the Ecobee4, with a microphone, speaker, and status light. In other words, not only can you control the thermostat with an Alexa device, but the Ecobee4 itself is an Alexa device. You can say "Alexa" to your thermostat and have it answer questions, run smart home automations, etc.
Google Assistant. Surprisingly, you can also integrate with the Google Assistant to control the thermostat using Google Home devices. Only Alexa is built-in to the thermostat, though.
IFTTT compatible. Just like the Honeywell Home T9, the Ecobee4 works with IFTTT so you can automate it with other smart home devices.
Works with SmartThings. There is direct integration between SmartThings and Ecobee4, so it's easy to get them working together.
Works with HomeKit. Ecobee4 works with HomeKit, and you can even use your remote sensors as HomeKit motion sensors for triggering automation around your home.
 Winner: Ecobee4.
It's nice that the Ecobee4 has IFTTT, SmartThings, and HomeKit compatibility, but the real star is the Alexa built in. If you were already going to buy an Alexa device to put near your thermostat, you can save your money since it's built into Ecobee4.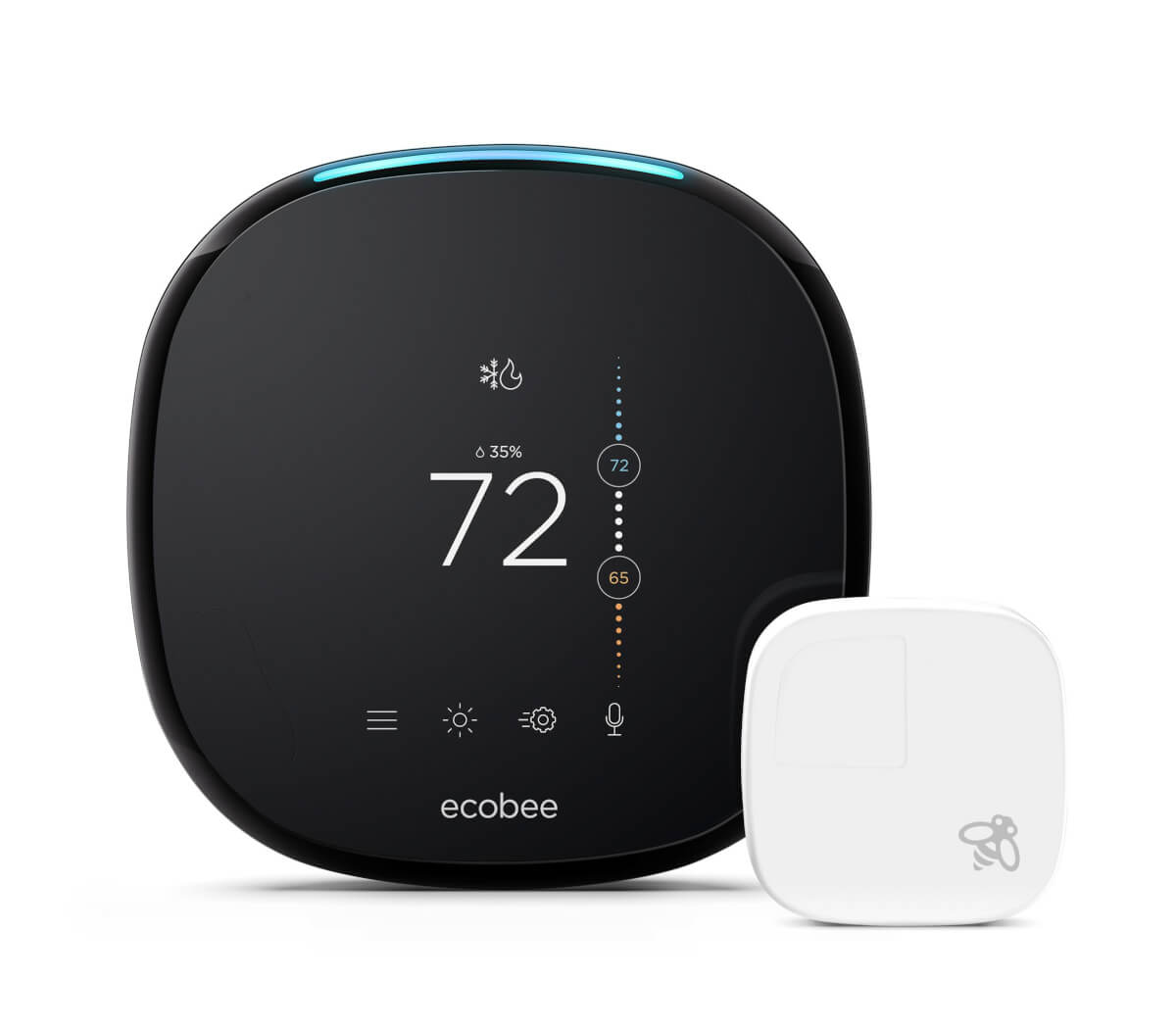 Of course, make sure you really want Alexa in your thermostat. If you turn off her microphone so that she isn't always listening for her name, there will be a permanent red light on the top of the thermostat indicating Alexa is turned off. We discuss this more in our Ecobee3 vs Ecobee4 comparison.
---
 Overall Winner
As you can see, each of these smart thermostats "win" in different categories.
If you are looking for an affordable, sleek white thermostat that comes with a sensor, Honeywell Home T9 is your best option.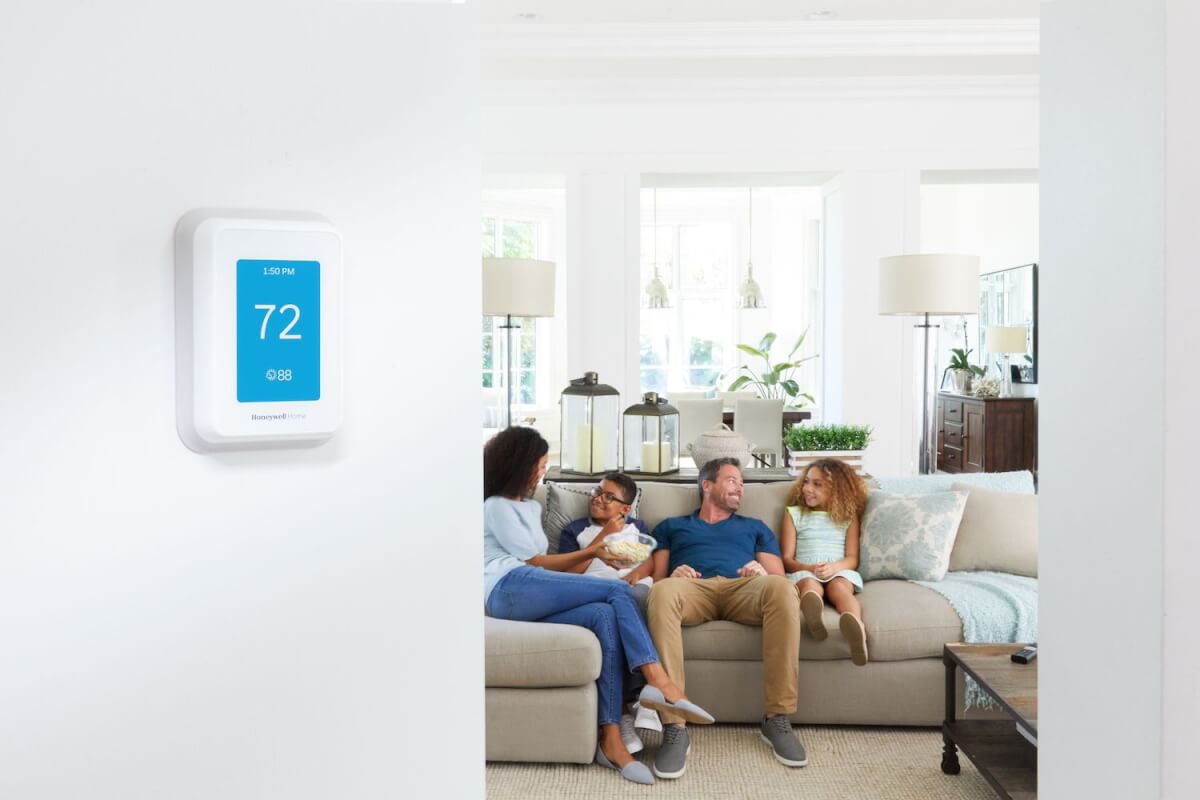 It is compatible enough to work with most smart home tech. Its touchscreen and lots of controls onboard make it easy to use. While there is no motion sensor built into the thermostat, this might not be a deal breaker since many thermostats are in the hallway anyways.
There are still plenty of reasons to go with Nest. If you don't really care about connecting it with a smart home hub other than Alexa/Google Assistant, Nest will work great in your home.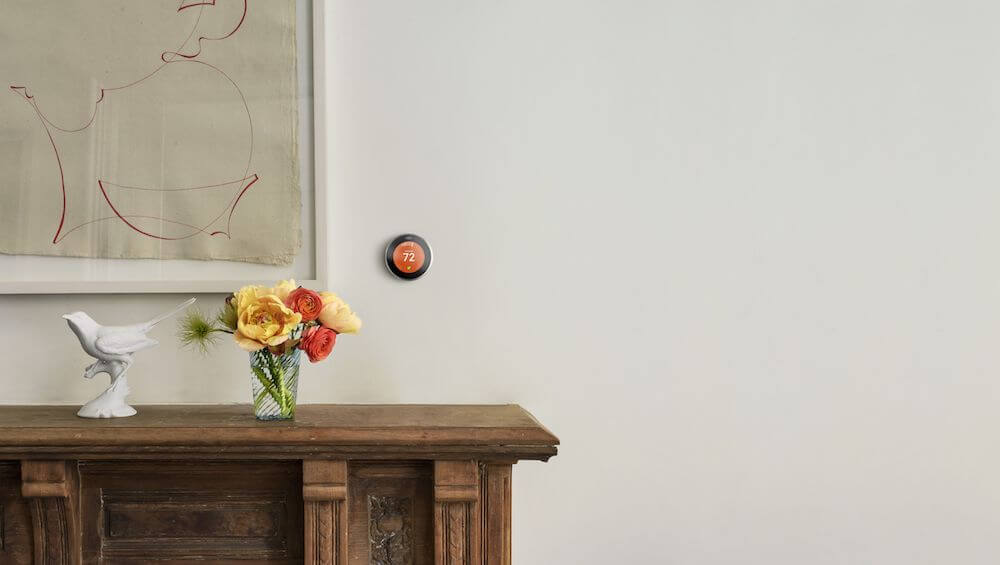 It looks amazing and is user friendly, plus it learns your habits to automate your temperature and program itself. The thermostat also has a built-in battery, so it doesn't require a c-wire or power adapter kit.
Alexa fans may want to go with Ecobee4. It's selected as the top smart thermostat by many websites because of the amazing value it offers with Alexa built-in.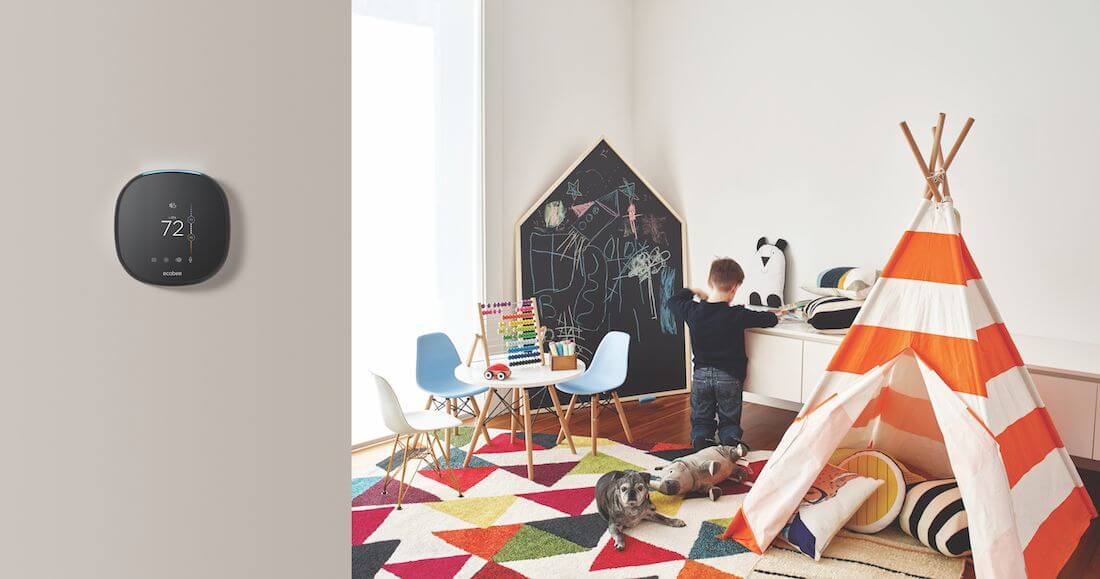 Ecobee already works with HomeKit and its sensors can even work as motion sensors for HomeKit automation, which is pretty impressive. This an expensive thermostat, but for everything you get it might be worth it.
---
I'll probably keep my Honeywell Home T9 installed for awhile since it's SmartThings compatible. I have all white walls and it looks nice, plus I can use the extra sensors to track and adjust the temperature based on my office, kitchen, and bedroom.
There is a lot to compare when looking at Honeywell Home T9 vs Nest vs Ecobee4. Are there any features we missed? If so, comment below and share your thoughts on your favorite smart thermostat.