If you're wondering about all of the gadgets in our smart home setup, you have come to the right place!
In our recent video, Reed added up the ongoing costs with a smart home.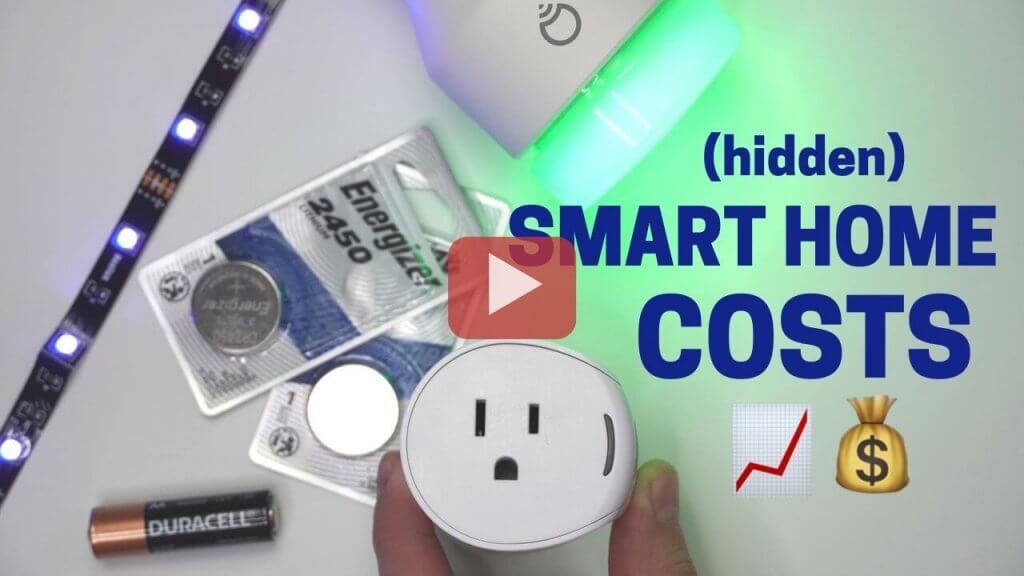 Since our smart home has quite a few connected things, we are constantly asked if we spend a lot on our energy bill and replacement batteries.
In this article, we will list all of our smart home products and describe how we use them. We also created Amazon lists for each room, so you can see the start up costs for this kind of technology.
By the end, you should discover several low-cost smart home products.
We will also go over more expensive tech, just in case you're ready to splurge.
Our Complete Smart Home Setup
Affiliate Disclosure: This page has affiliate links, which earn us commission at no cost to you. The writers of this article received several products for previous unbiased reviews.
A few quick notes before we dive into our smart home setup.
Our smart home is a little different from others. Since we are always reviewing new smart home products, we have more technology than the average home, including some more expensive products.
We also use gadgets sent to us, so some parts of our home are pieced together with different brands.
Of course, I'm sure many of you have smart homes similar to ours, with different brands under one roof.
While some people only get products compatible with a certain system like SmartThings or Nest, it's not required. You don't have to buy everything within the same ecosystem, but it might be a little more work with several apps in your phone.
Important: For each product, we put dollar signs for how expensive it is. Here are the price ranges:
$ = $0 to $39.99
$$ = $40 to $99.99
$$$ = $100 to $199.99
$$$$ = $200+
The estimated prices are only accurate from when this article is published.
Prices are always fluctuating. For the latest prices, click on the red buttons below, which will take you to a list on Amazon with all of the products in each room.
---
Kitchen
I'm surprised how many smart devices I've added to my kitchen over the past year.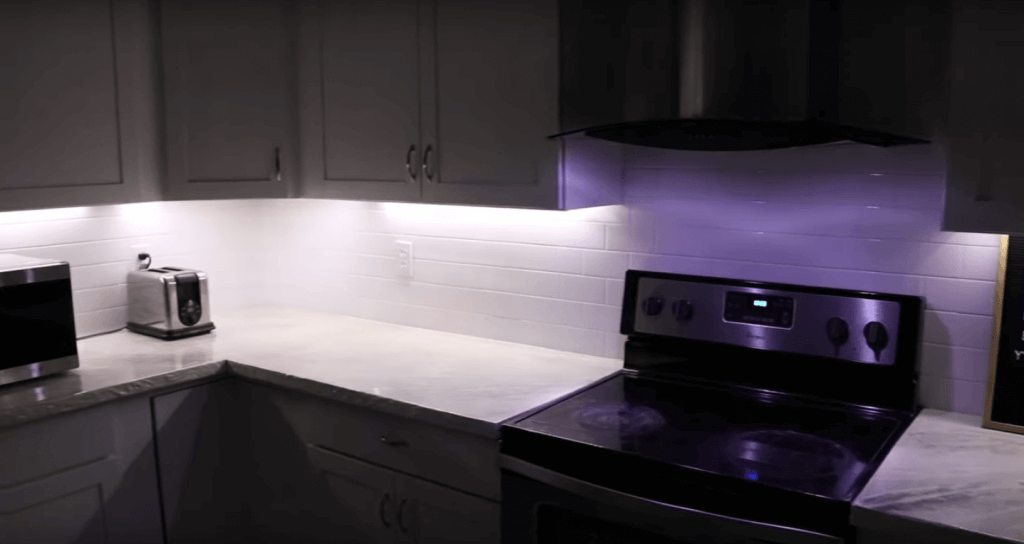 I really like using the Echo Dot and Fire HD tablet for Alexa in the kitchen. The Echo Dot usually plays music, while the Fire HD displays my security cameras and the weather.
The smart light strips and switches have also made a huge difference. Our kitchen lights automatically turn on and off at set times each day, which makes my life much easier.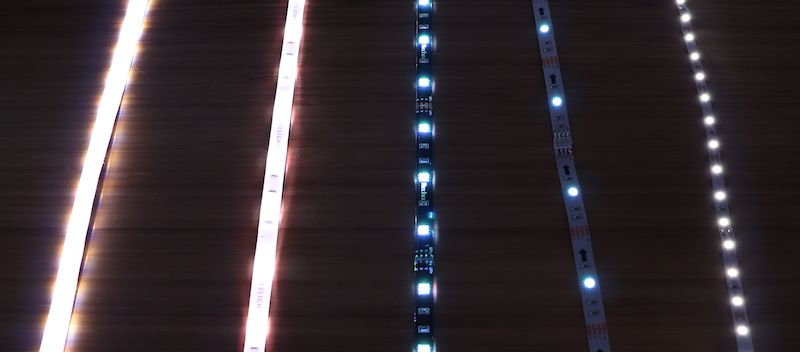 Maybe someday I'll add some smart appliances like a smart fridge or oven, but for now my list is mostly small gadgets that make the kitchen more comfortable.
For a complete list of my smart kitchen products with current prices, follow this link to Amazon:

| | | |
| --- | --- | --- |
| Echo Dot mount | $ | Hangs my Echo Dot above my counters on my backsplash. |
| Ustellar under kitchen cabinets | $ | Use these occasionally to add light to the kitchen. |
| Show Mode Charging Dock | $ | Keeps my Fire HD 8 charged. |
| Wyze Sense | $ | Use the access sensor on my treat cabinet to track how often we eat snacks. |
| GE Z-Wave Enbrighten smart switch | $ | This is connected to my back porch lights. I automate them through SmartThings using Z-Wave. |
| Wyze Cam Pan | $ | This is great for panning around my kitchen while I'm at work or on vacation. |
| Wyze Cam Pan mount | $ | The mount secures my Wyze Cam Pan to an outlet so it takes up no counter space. |
| Echo Dot | $$ | Use this for Alexa interactions and automations. |
| Amazon Fire HD 8 Tablet | $$ | Use this in Show Mode to display recipes. |
| Yeelight strips on top of cabinets | $$ | Excellent affordable option for smart light strips. |
| Roborock S5 | $$$$ | This vacuum has excellent mapping and is my favorite of the ones I've tested so far. |
| Brilliant light switch | $$$$ | This screen adds physical controls for the lights. I can also use it to communicate with someone on the other Brilliant switch. |
---
Main family room
Since my house has an open floor plan, the family room and dining area are combined.
I have several lamps and light strips throughout this area, which can all turn on and off at certain times. I also automated the lights to turn down very dim when the TV turns on, and then turn up again when the TV is off.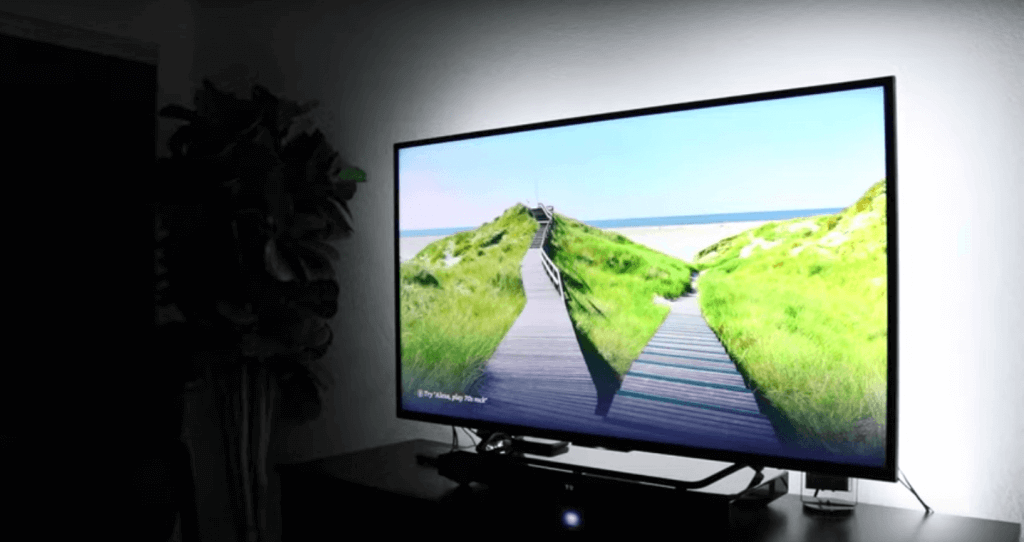 I really like having bias lights behind my TV. If this is something you want to learn more about, check out my TV light strips video.
The most expensive product is the Haiku fan, which I was sent for a previous review. If you skip Haiku, you could buy all of the tech in my family room for around $350.
Click on this button to see these products on Amazon:

| | | |
| --- | --- | --- |
| Govee light strips behind TV | $ | I automated these using Harmony Hub to turn on when I turn on my TV. |
| SmartThings outlet plugged into TV | $ | When my TV turns on, other lights automatically dim. |
| Google Home Mini | $$ | While I mainly use Alexa, I do have a few uses where I prefer to use Google Assistant instead. |
| Logitech Harmony Hub | $$ | This lets me automate my TV and change the channels with Alexa. |
| LIFX Z light strips | $$ | These are in my dining area and they are very bright. |
| 3 Philips Hue bulbs | $$ | These are automated along with all of my other lights to turn off at bedtime. |
| Haiku L series fan | $$$$ | This fan is very quiet and I turn it on and off with my voice assistants. |
| Nest 3rd gen | $$$$ | I use Nest because it's easy to schedule with my energy plan. |
| Brilliant smart switch | $$$$ | This communicates with the kitchen Brilliant and is nice for accessible controls. |
---
Bedroom
The bedroom has been an area where I originally didn't have many smart home devices. Obviously, a security camera feels uncomfortable in a bedroom, so that's something I've avoided.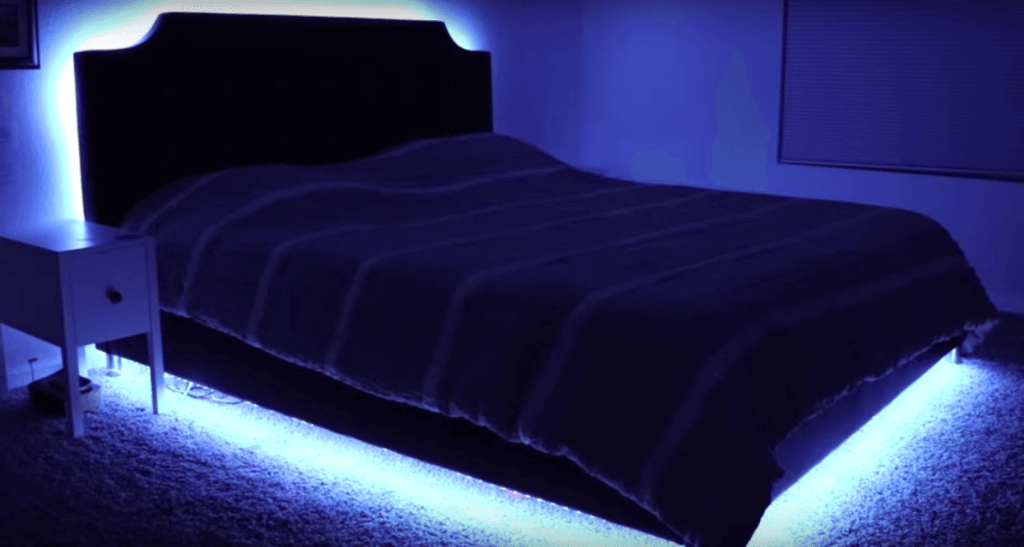 Once I added an Echo Dot to my bedroom, I also slowly added other smart home gadgets as well.
For now, my smart bedroom is mostly focused on comfort using smart lights and climate control.
I also put SmartDry in this category because it notifies me when my laundry is done. Even though my washer and dryer aren't in my bedroom, this is the category where this cool little device fit best.
The bedroom would be way less expensive without BedJet, but a good night's sleep with the right temperature is worth its cost, especially in Arizona.
Click to see my smart bedroom products on Amazon:

| | | |
| --- | --- | --- |
| Nexlux Light Strips under bed | $ | I turn these on and off using Alexa. They are multicolor and look awesome behind and under the bed. |
| Sengled Bulb | $ | This slowly turns on in the morning to wake me up. It's a great option for an affordable smart bulb. |
| Vansky Light Strip under bathroom vanity | $ | This is a basic, affordable light strip that uses a motion sensor. It illuminates the bathroom at night time. |
| SmartThings Multipurpose Sensor | $ | Installed this on my door. When it's opened at night, it turns on the family room lights. When it's shut, they turn off. |
| SmartThings Motion Sensor | $ | Turns on the Nexlux lights under the bed. |
| SmartDry | $ | Put this in your clothes dryer and it will notify you when your clothes are dry. |
| Echo Dot | $$ | This plays music and announces reminders as part of my routines. |
| Fan controlled by BOND | $$ | My ceiling fan isn't "smart," but since its controller uses RF, I can control and automate it with BOND. |
| BedJet | $$$$ | I control this using Bluetooth. BedJet keeps my bed cool or warm with a steady stream of air. |
---
Office
The goal of my office is to motivate myself to work more efficiently.
I have several commands and automations that help with this goal. Saying "office cool down" to Alexa helps cool down the space by turning on several fans. I also have the lights automated based on motion using a SmartThings motion sensor.
If these automations interest you, make sure you watch my smart office setup tour to see how it all works.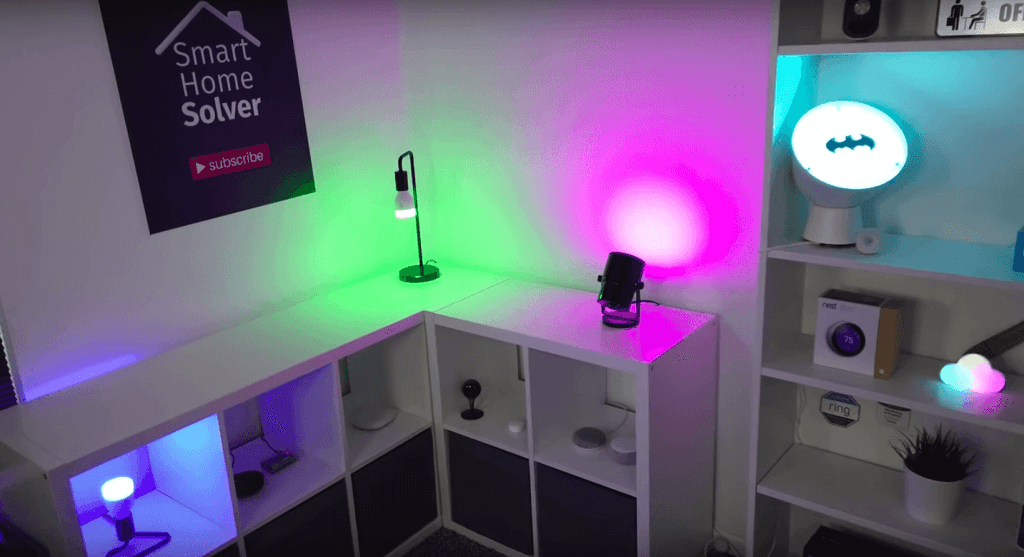 Now here's my smart office product list on Amazon:

| | | |
| --- | --- | --- |
| SmartThings motion sensor | $ | When this detects motion, it turns on the fan and lights at certain times of day. |
| SmartThings button | $ | I triggered this to turn on or off the lights based on how I press it. |
| Teckin smart surge protector | $ | I plugged in a small fan and studio lights behind my desk. Each can be automated and controlled using this. |
| Govee light strips | $ | These are multicolor and work with Alexa for easy voice controls. |
| Cloud Light | $$ | SwitchBot hub but I keep it on display because it looks good. |
| Google Home Mini | $$ | I have this and the Echo Dot in my office for side-by-side testing. |
| Echo Dot | $$ | I use this for most of my automations and commands. |
| 4 LIFX multicolor bulbs | $$ | These are behind my desk and all turn on with different colors when I say "Alexa, activate office." |
| Nest temperature sensor | $$ | This tracks the temperature of my office and adjusts Nest if my office gets too hot or cold. |
| Bose SoundTouch 10 | $$$ | Works with Alexa. I also integrate it with SmartThings. |
| GRYPHON router | $$$ | Smart router that maximizes speed and security, plus adds parental controls. |
| Nest Cam | $$$ | I use this for taking a quick peek at the live view of my office. |
---
Outdoors
I've added some pretty awesome outdoor smart home gadgets over the years.
Outdoor smart lights are the main addition. While I may not enjoy the lights on my patio in the heat of the Arizona summers, I definitely get use them in the wintertime.
Besides lighting, I also use a few other smart home gadgets you will want to check out below.

| | | |
| --- | --- | --- |
| SmartThings water leak sensor | $ | This monitors my water heater. If it begins leaking, I'll get an alert. |
| Wyze Cam | $ | If I need to check if my garage door is shut, I check the Wyze Cam in my garage. I also put one in my backyard and it's held up nicely. |
| GE Z-Wave outdoor smart plug | $ | I plugged in string lights to this smart plug. If the door opens, the lights automatically turn on. |
| Kasa light switch for front porch | $ | This smart switch lets me schedule my front porch light and automate it. |
| Chamberlain MyQ Garage Door Opener | $$ | I use the app to open my garage door. I can also automate my door to open when I arrive home. |
| Govee outdoor string lights | $$ | These use Bluetooth, but I automate them by plugging them into the GE smart plug. |
| Arlo Light | $$ | The Arlo Light can trigger my Arlo cameras to record earlier, but I only use it for motion. |
| Sylvania Gardenspots | $$ | These small lights have a garden stake on the bottom. They shine multicolor lights onto my house. |
| Schlage Connect (front door lock) | $$$ | This is a Z-Wave lock that requires a hub (like SmartThings) for remote controls. |
| Rachio irrigation controller gen 2 | $$$ | If it rains, Rachio will skip watering to reduce my water consumption and bill. |
| Ring 2 | $$$ | My Ring 2 is great for talking with guests. |
| Schlage Encode (back door lock) | $$$$ | Encode is a WiFi lock that uses its own app. I like its matte black look, and it's a good simple option for those without a hub. |
| Arlo Ultra | $$$$ | I installed Arlo Ultra above my garage door to keep an eye on my driveway. |
---
It's pretty surprising to see our complete smart home setup listed like this. As we compiled this list, we kept forgetting to include different products around the house because there are so many.
Of course, this isn't set in stone.
Since we review smart home gadgets, this list will always be changing. We'll try to keep it up to date, so you may want to bookmark this for the future. Another way to stay updated is to subscribe to our YouTube channel.
Thanks for reading, and have fun building your smart home!