Netgear's Arlo Q Plus sounds like a fancy upgrade, but how does Arlo Q vs Arlo Q Plus differ? Here's a hint: you can see it in the photos below.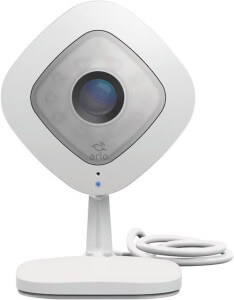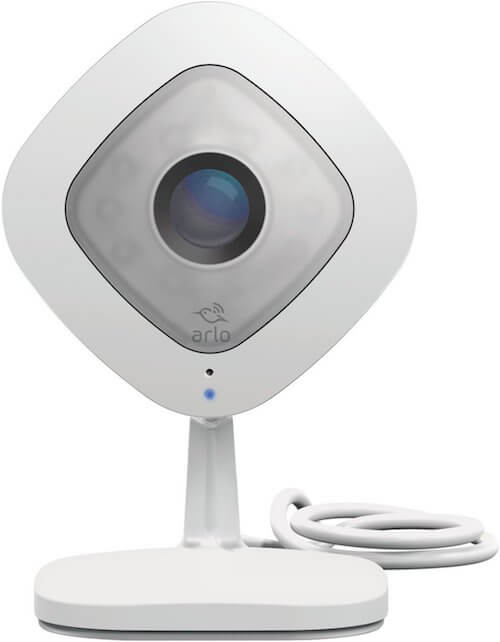 Seeing double? Keep reading for details on the one big difference.
Arlo Q vs Arlo Q Plus
Affiliate Disclosure: This page contains affiliate links, which earn us commission from Amazon at no cost to you.
Arlo Q Plus looks almost identical to the original Arlo Q, and that's because they are, except for one big difference: the PoE (Power over Ethernet) adapter on the side of the camera.
That's the main difference between Arlo Q and the Arlo Q Plus. It fills in the security gaps where the original Arlo Q left off. Many cameras brag about their plug-and-go WiFi cameras that work on the cloud.
But when your Internet connection is excellent upstairs and just decent downstairs, will the security cameras still display a crystal clear HD image without interruptions?
Arlo Q Plus fills these needs with features like: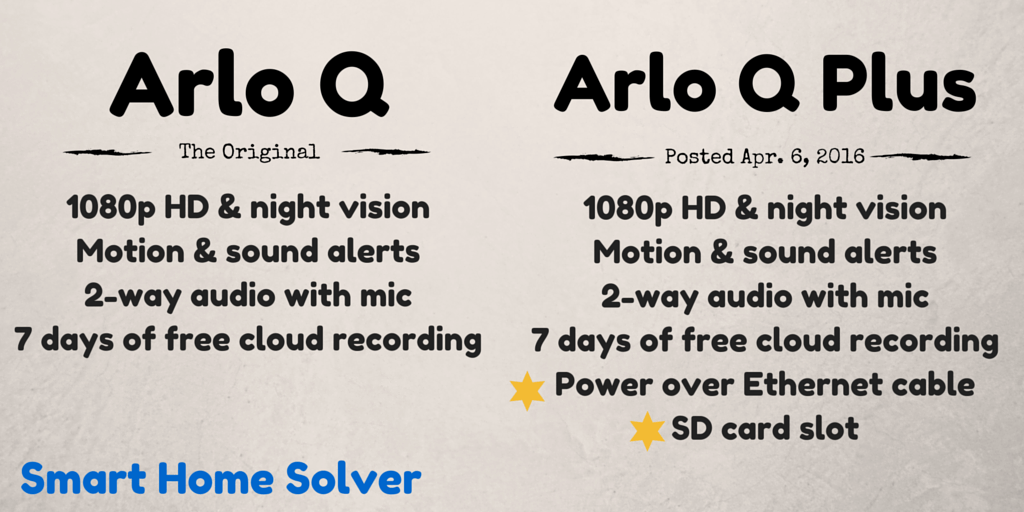 The adapter allows the camera to be both powered and connected to the Internet through one simple slot. Plug in an Ethernet cable, run it to your router, and enjoy a stronger, more reliable traditional ethernet connection. If WiFi is your thing, you can still use that as well, but at least Arlo Q Plus gives you the option for a hard line connection.
For cloud skeptics, the SD slot is a must-have for backing up storage. It gives you a second, physical form of footage in case your cloud storage is inaccessible. This is a big advantage when weighing Arlo Q vs Arlo Q Plus.
Business camera
Arlo is positioning their Arlo Q Plus for business security monitoring, which makes sense because of its PoE connectivity and backup storage. They even say you can "listen and talk with your employees using 2-way audio." So next time your employees are texting on the job, you can tell them off using the Arlo Q Plus.
As always, the biggest selling feature is the 7 days of cloud recording for free, where most competitors only offer 24 hours or less. You can also upgrade your Arlo Q cameras for 24/7 CVR recording to the cloud, which may be another enticing option for small businesses. This option is available since it has a power outlet and is designed for indoor use. If you're looking for an outdoor, wireless camera, then we recommend the Arlo Pro (read our review here).
Other features worth noting
Beyond the ample free cloud storage, there are other big advantages for the Arlo Q cameras.
1080p HD. Your footage will be very high quality (an important factor for identifying burglars)
Mobile and desktop access. The Arlo mobile and web applications work well, making it easy to check on your home while at work
No base station required. The wireless Arlo cameras require a base station, which is basically a hub that plugs into your router. Arlo Q's do not need the base station, saving you the price of buying one, and of course the annoyance of leaving it plugged into your router
Works with other Arlo cameras. A nice feature is that you can control the other Arlo cameras within the same app. So you could view both indoor and outdoor cameras within one interface. You can even view up to 5 live video streams at the same time.
Smart home friendly. If you're a fan of other smart home gadgets, you can get excited about the Arlo Q cameras. They work with a wide range of smart home technology, including IFTTT, Alexa, SmartThings, Nest, and Wink.
Other options
Looking for an alternative to Arlo Q vs Arlo Q Plus? Head to our Logi vs Nest vs Arlo Q for an in-depth comparison with a few competitors.
Besides the PoE port and SD slot, the Arlo Q Plus is the same as the Arlo Q, which explains why the newer version barely costs more. Between both options and Arlo's outdoor cameras like Arlo Pro, it's clear that Arlo is focused on creating products that resonate with customer needs.
In other words, Arlo is here to stay.