We've researched plenty of smart locks, but two of our favorite brands are Nest and Schlage.
The Nest x Yale (or Nest Yale for short), Schlage Connect, and Schlage Encode are three of the top smart locks right now.
All have convenient keypads and a modern look, but there are some key differences worth noting. We installed and tested both brands, so let's compare Nest x Yale vs Schlage Connect vs Encode to figure out which one works best for your home.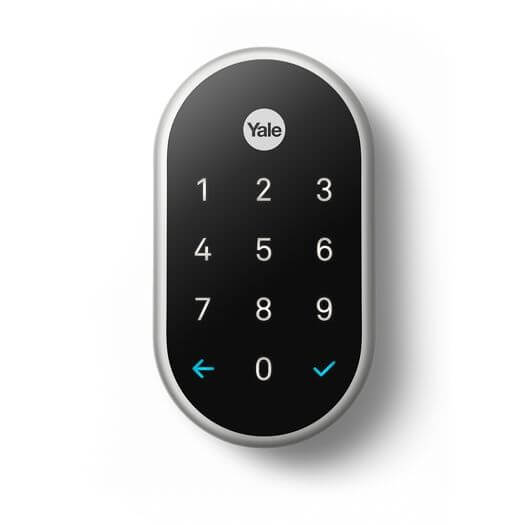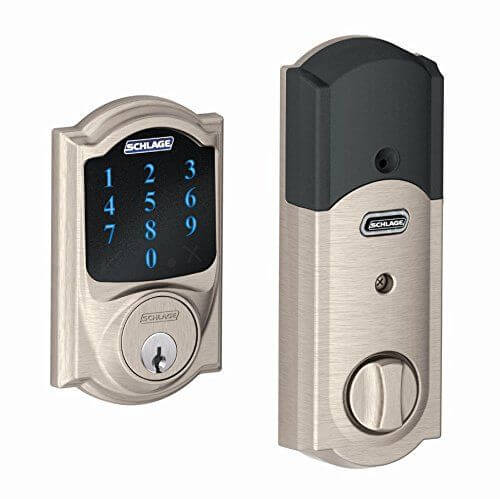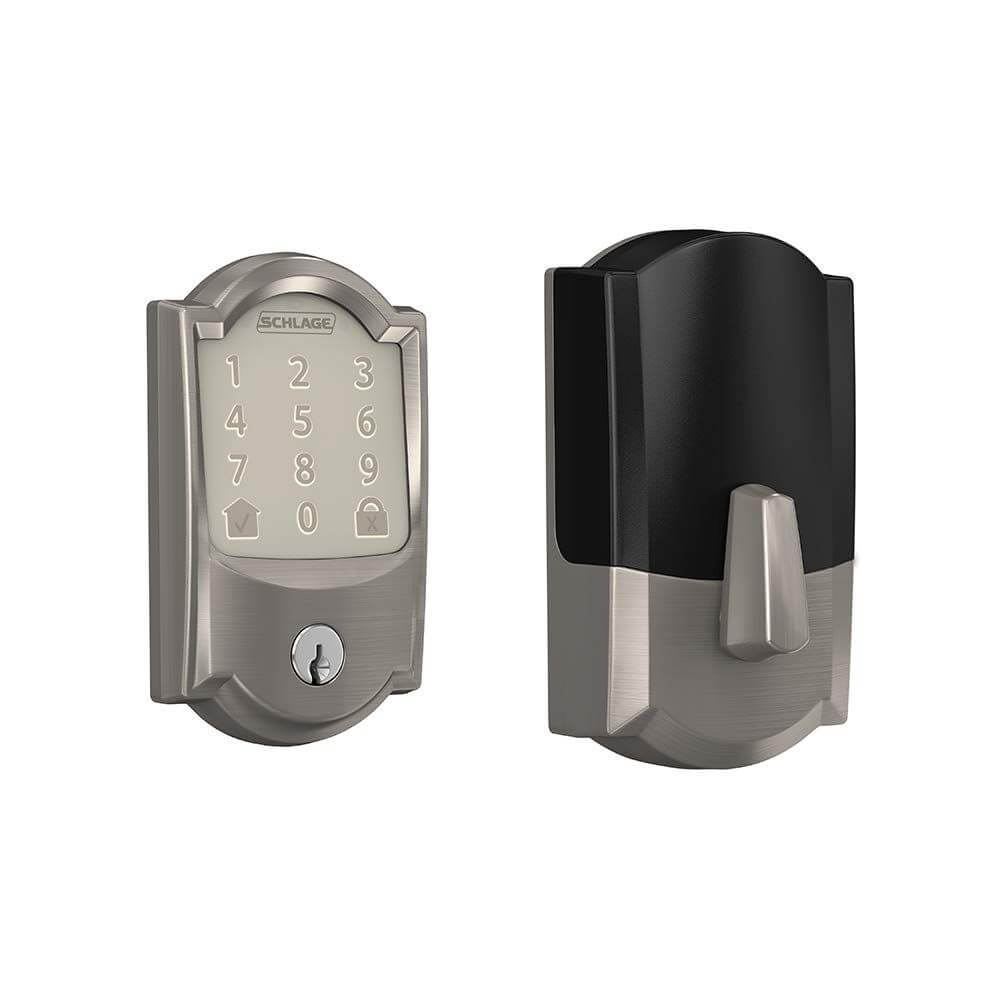 Nest x Yale vs Schlage Connect vs Encode
Affiliate Disclosure: This page has affiliate links, which earn us commission at no cost to you.
When stacking up Nest and Schlage, all of the locks have touchscreen keypads so you can set up door codes and don't have to use the app and can easily give access to guests. Each lock has its pros and cons depending on your smart home setup.
| | Price | Design | Pros | Cons |
| --- | --- | --- | --- | --- |
| Nest Yale | See it on Amazon | | The Nest app makes this very easy to use. The lock works well with Nest thermostat and cameras and it has the best design of the three. | Nest Yale doesn't work with Alexa, SmartThings, or IFTTT. It's also missing the chirping and siren options on Schlage locks. |
| Schlage Connect | See it on Amazon | | Works with SmartThings. You can also turn on its siren and door chirp for whenever the door is opened. | This is more of an "old school" smart lock. It requires a hub, is larger, and very loud. There is no native app, so you'll have to manage it using an app like SmartThings. |
| Schlage Encode | See it on Amazon | | Does not require a hub. Smaller and quieter, with a more modern look than Schlage Connect. Works with Amazon Key so you can receive packages inside your home. | Since it connects to WiFi, it only has a 6 month battery life. It's also not as compatible with smart home tech compared to Schlage Connect, since it's missing SmartThings and IFTTT. |
In this article, we will dive deep into more detail about all three locks. At the end of this article, we will select an overall winner.
---
Video Reviews
We tested each of these locks hands on.
You may want to watch these full reviews for Nest x Yale, Schlage Connect, and Schlage Encode for more information.
(Side note: some of these are older reviews and we've improved our video quality since these came out, so you may want to head to our YouTube channel to view our latest videos and subscribe.)
Nest x Yale Lock
As you'll see in our Nest Yale lock review, we loved the lock's beautiful design and easy functionality within the Nest app.  We tested the low battery mode, notifications, and even used it with gloves in this video. Read our article review for Nest x Yale for even more details.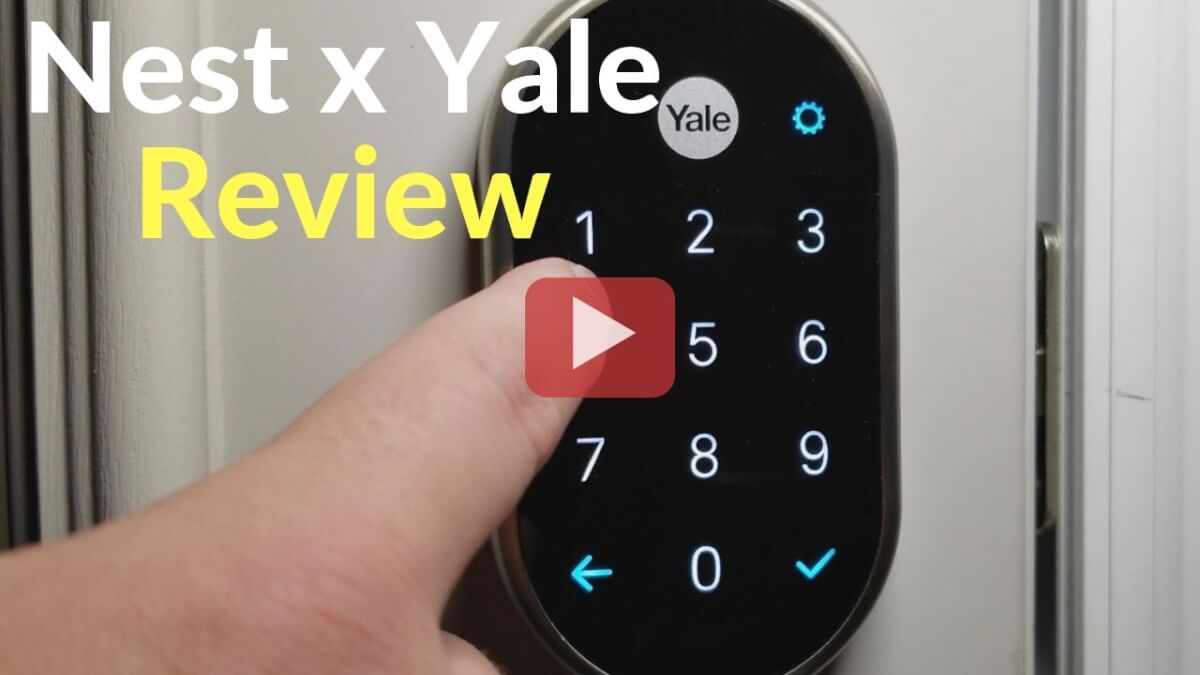 Schlage Connect
Schlage Connect has quite a few unexpected features. We received notifications with our smart watch, enabled the siren, and locked the door using Alexa. It uses the SmartThings app to set door codes and control the lock, and our review shows a little of how this works. We wrote all about our experience with Schlage Connect in a longer article as well.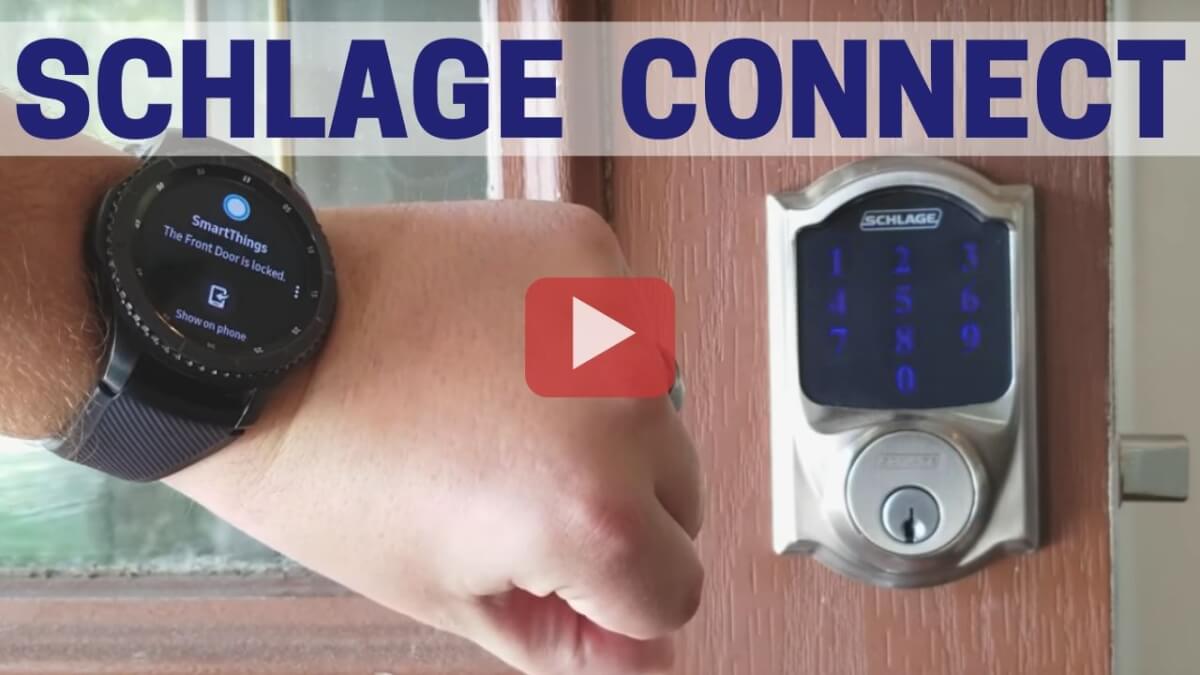 Schlage Encode
In person, Schlage Encode is ultra sleek. It works well and reminds us of the Nest x Yale with its more modern design. Our video captures how easy it was to set up and control the lock.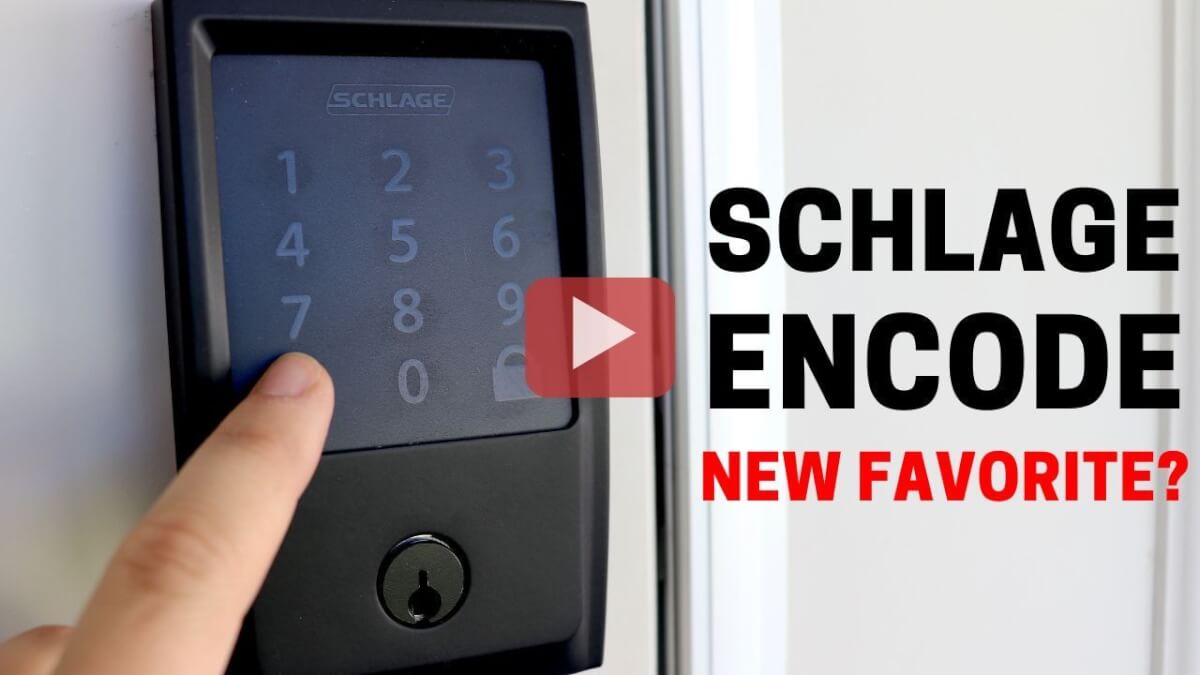 ---
Installation
Setting up the locks is similar overall. There is no special wiring since all of the locks require 4AA batteries.
All of the locks can be installed using a simple screwdriver; advanced handyman skills are not required. However, if you want to hire someone to install it, then you can book them through Amazon for Schlage Connect/Encode, or Nest's website for Nest x Yale.
The locks work on standard doors with a deadbolt and normal backset. You'll want to install the bolt on the door, the strike on the doorframe, and the touchscreen on the outside of the door.
For exact measurements and step-by-step instructions, take a look at Nest and Schlage websites.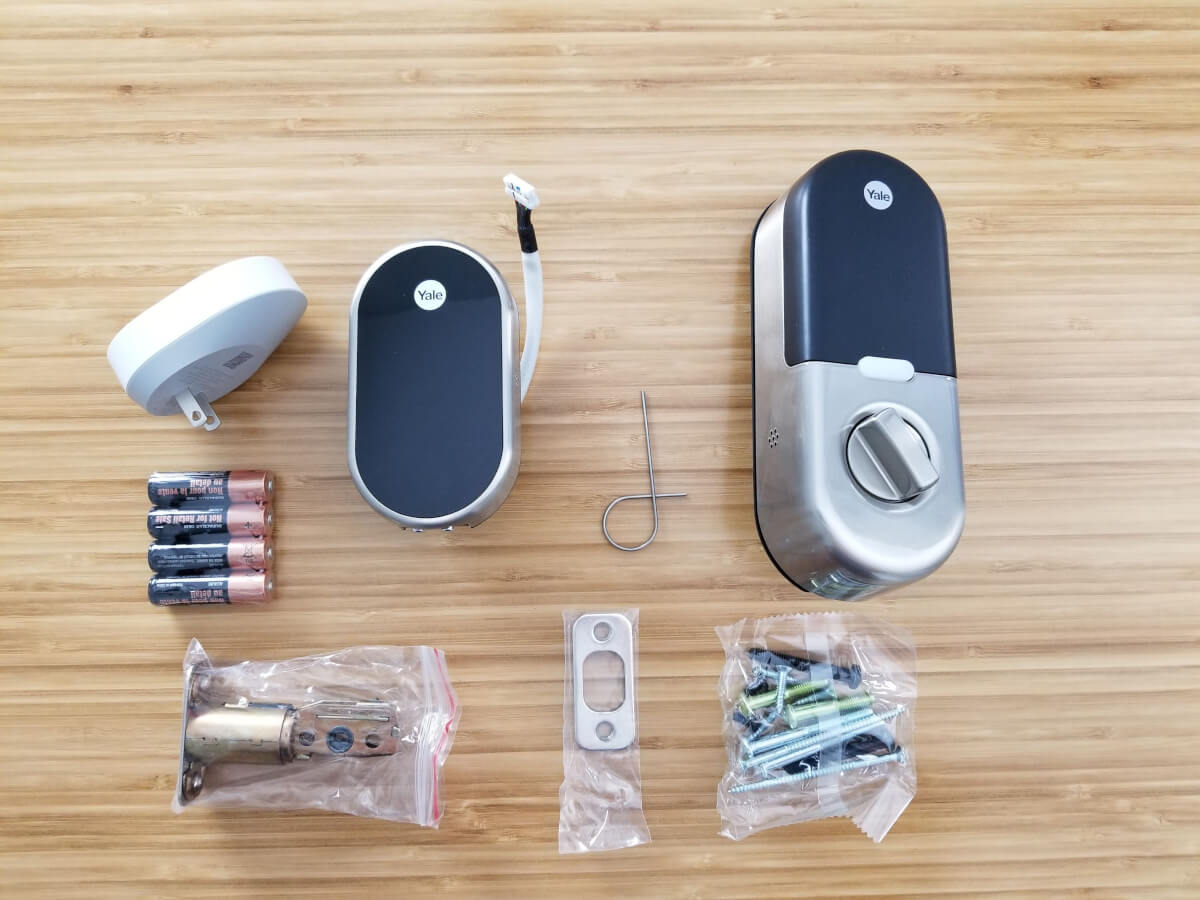 There are a few common issues we encountered when setting up each lock, as listed below.
Nest Yale

One year battery life.  Requires either Nest Connect or Nest Guard.

Nest Connect plugs into an outlet to wirelessly connect your lock to the Wi-Fi. Or you can use Nest Guard, which is the base/keypad for the Nest security system.

If you don't have the Nest security system or plan on purchasing it, then just make sure you buy a lock that comes with the Nest Connect. Purchase the lock at any third-party store and it will come with the Nest Connect, or if you don't need it then you can buy the lock on its own for a little cheaper through Nest's website.

Potential set up issues. When setting up the Nest Yale lock on a few different doors, we encountered the same issue: initially, the lock wasn't able to close using the app. That's because it wasn't quite able to clear the door frame.

We used a drill and chisel to dig into the door frame and make it a bit deeper. This takes a little maneuvering and may be frustrating, but in the end it worked out fine.
Schlage Connect

One year battery life.  Requires a third-party hub. To use your lock remotely or connect it with Alexa, you'll need to connect it using a Wink or SmartThings hub (we compare the pros and cons of both hubs here).

While these hubs will help you connect several of your smart home devices within one app, it can add unwanted complication and cost for users who want to keep it simple.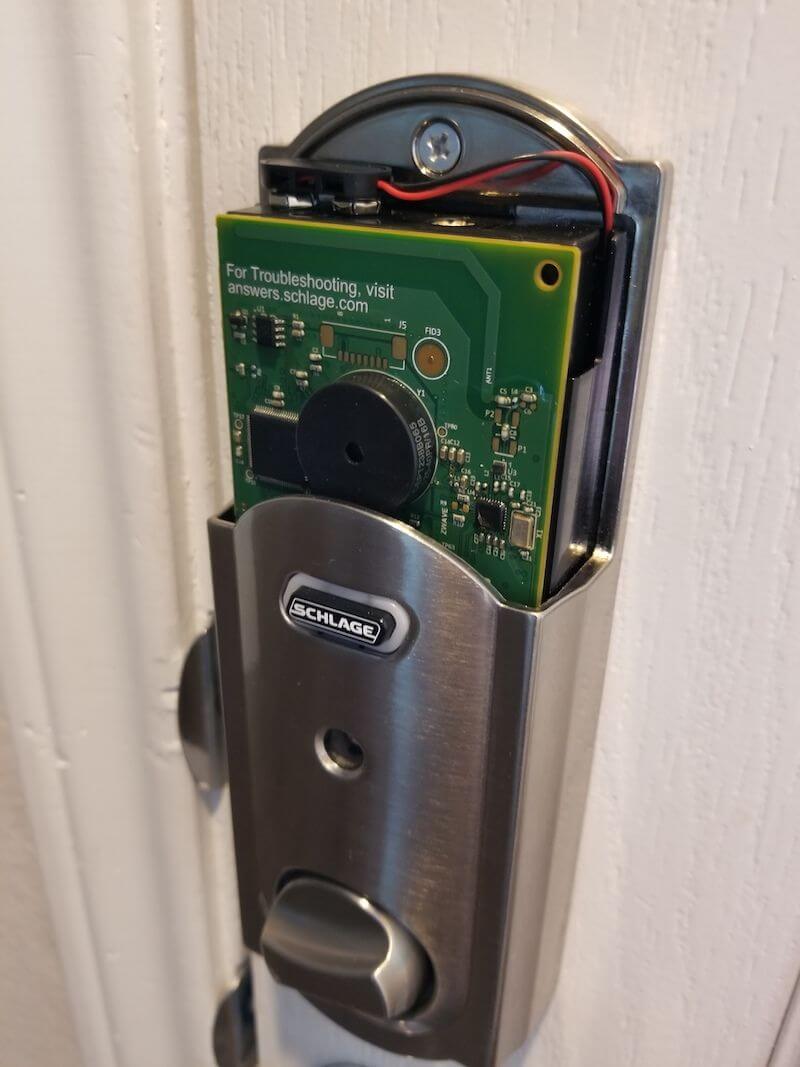 Potential set up issues. While installation is simpler than the Nest Yale lock, it can complicate things in the long run.

If the lock encounters any resistance during its initial set up, it won't give you an error message like Nest, but instead it will just use more force to push through. After that, it will continue to use the same amount of force to lock your door, which drains the batteries faster. This makes initial set up seem easier, but it can be annoying if it ends up draining your batteries.
Schlage Encode

 Six month battery life. This is due to its Wi-Fi capability directly to your lock, which drains the battery more quickly. No hub required. If you're willing to put up with the shorter battery life, your Schlage Encode might be easier to use since it doesn't need any hubs to connect to the internet. Straightforward set up. Users don't report any major issues and say installation is easy.
---
Hardware
At first glance comparing Nest x Yale vs Schlage Connect vs Encode, all of them have several commonalities, including:
A touchscreen keypad that lights up when you begin pressing buttons
Their logos at the top, which is a subtle way to lock the door when you're leaving
Smudge-proof keypads so they don't give away your door code
Low battery alerts. Nest Yale alerts you within the app and with a low battery notification on the lock. Schlage Sense and Encode has a yellow low battery light indicator as well as app notifications.
Functionality even when the WiFi is down or the power is out. While you won't be able to add codes, change settings, or lock/unlock the door using the app, the keypad on each lock will continue to function even without internet or power.
There are also a few differences in comparing Nest x Yale vs Schlage hardware.
Nest Yale

More polished look. This "smart" lock looks truly smart. Its display is very high quality and top of the line. No keyhole. The backup for if your batteries die is a 9-volt battery port on the bottom, which provides enough power to punch in your code and enter. This may not be a deal-breaker, but if you want a traditional keyhole then Nest Yale isn't your choice.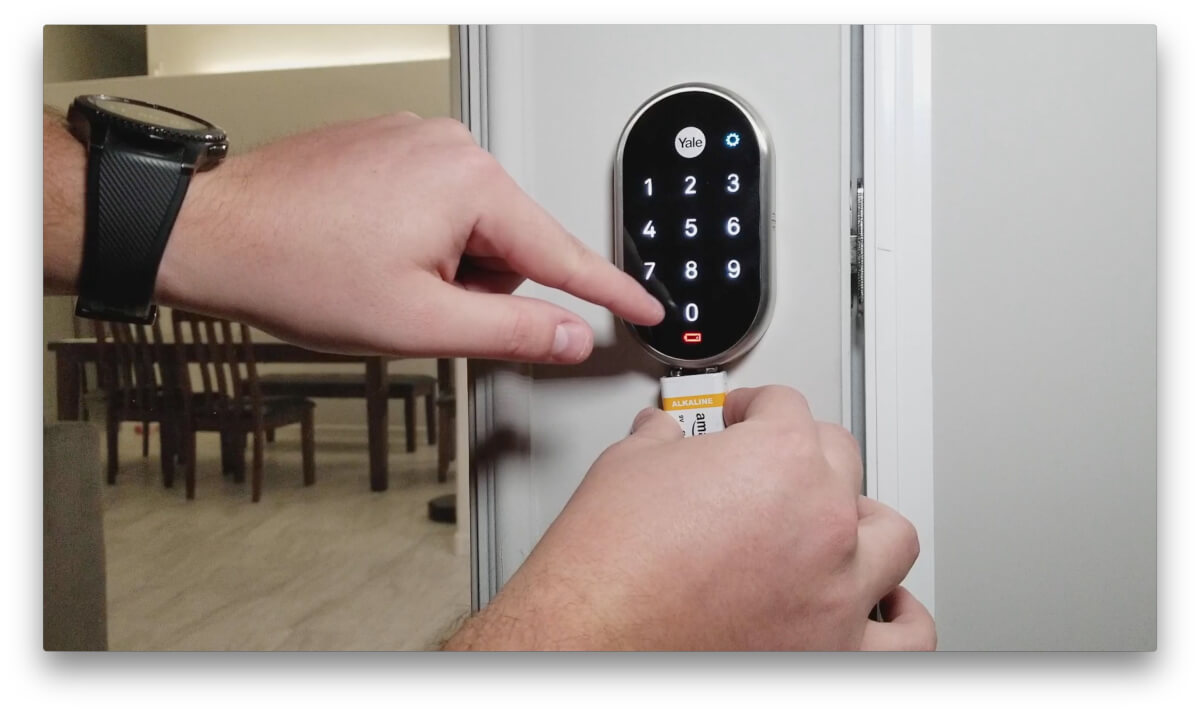 ANSI Grade 2 – less secure certification than Schlage Connect. Available finishes: Satin Nickel, Oil Rubbed Bronze, and Polished Brass Lifetime warranty for finish and mechanical parts; two-year warranty for electronics.
Schlage Connect

Traditional look. Schlage is a little more basic looking when compared with Nest Yale, and its interior is very big. It's also loud when locking and unlocking. Exterior keyhole for manually locking or unlocking using a key. This is a great back up if your batteries die or you forget your code.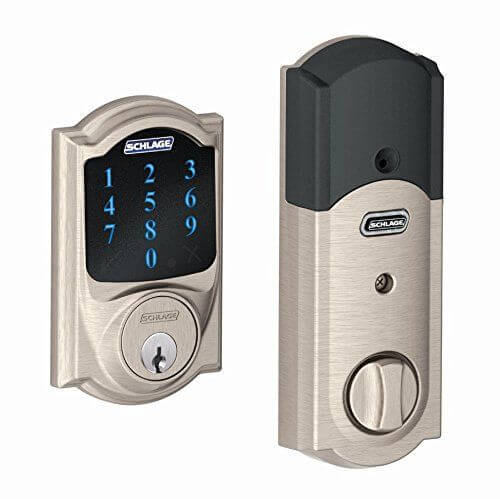 ANSI Grade 1 – most secure certification available for locks. Available finishes: Aged Bronze, Bright Chrome, Camelot, Matte Black, Satin Chrome, and Satin Nickel. Lifetime limited warranty for finish and mechanical; one-year warranty for electronics.
Schlage Encode

Traditional look, but still modern. Encode blends the classic and contemporary looks of the other two locks. The interior of the lock is much smaller than Schlage Connect, and it's way quieter. Exterior keyhole for manually locking or unlocking, just like Schlage Connect. ANSI Grade 1 Available finishes: Aged Bronze, Satin Nickel, Matte Black. Also comes in two design styles: Camelot or Century. Lifetime limited warranty for finish and mechanical; three-year for electronics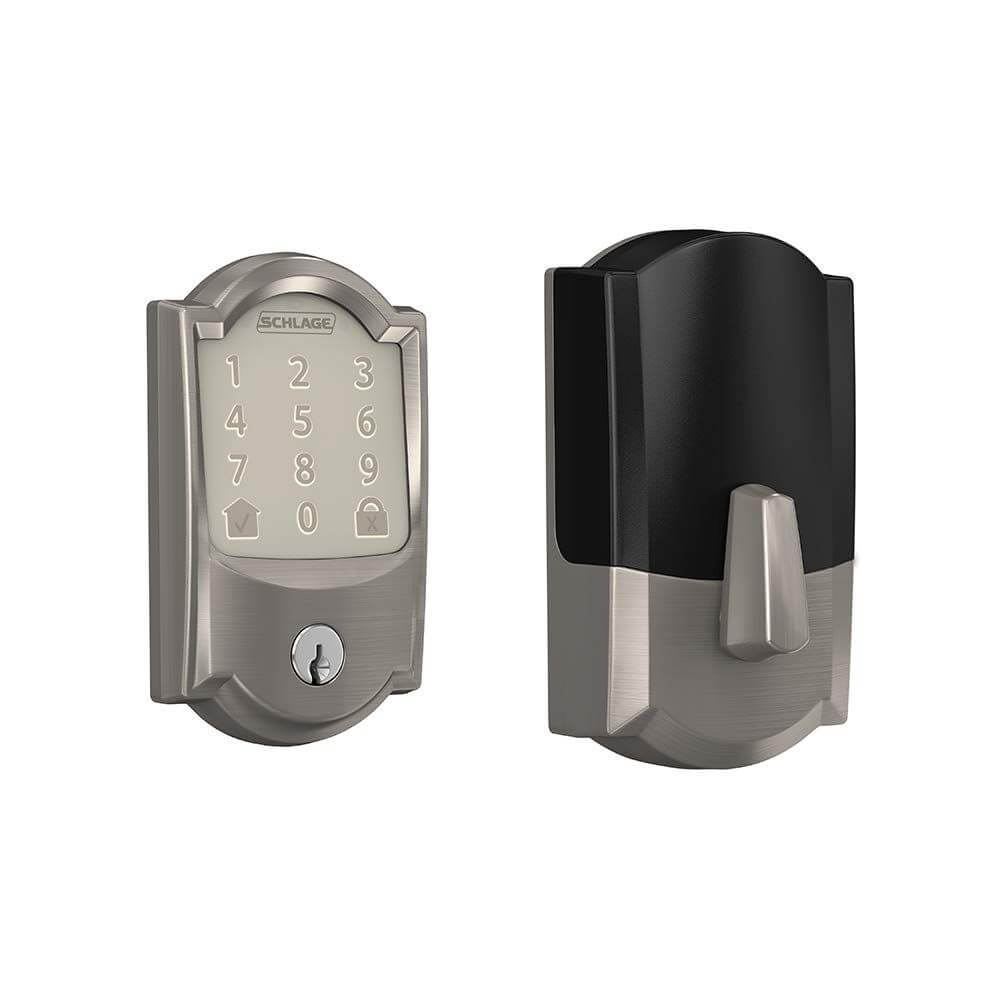 Winner: Schlage Encode
This category was a close call—Nest Yale has an amazing and smart design. But Schlage Encode combines the higher security rating with the convenience of a keyhole. It looks great and works quietly. We love its new Matte Black finish and how its warranty is longer than the other two locks.
---
Features
All locks have touch screens that work even if you are wearing gloves. However, there are a few big differences between the features of Nest x Yale vs Schlage Connect vs Schlage Encode.
Nest Yale

No chirping options or siren, but it does alert you if someone attempts to tamper with the lock. Speaker on the lock has a voice that walks you through the set up. Requires you to press on the checkmark after inputting your door code, which is an extra and unnecessary button to press. Nest Yale does not have an auto-unlock feature for unlocking your door when you walk up to it
Schlage Connect
Lock includes a built-in siren to alert you of forced entry. You can also set up a chirp that sounds each time the door is opened. No speaker on the lock Door unlocks immediately after you input the correct code – no extra buttons required. Auto-unlock feature available through SmartThings or IFTTT to have your door unlock when you arrive home. Note that this feature is not very secure, nor is it recommended by the manufacturer.
Schlage Encode

Lock has a built-in alarm to alert you of forced entry.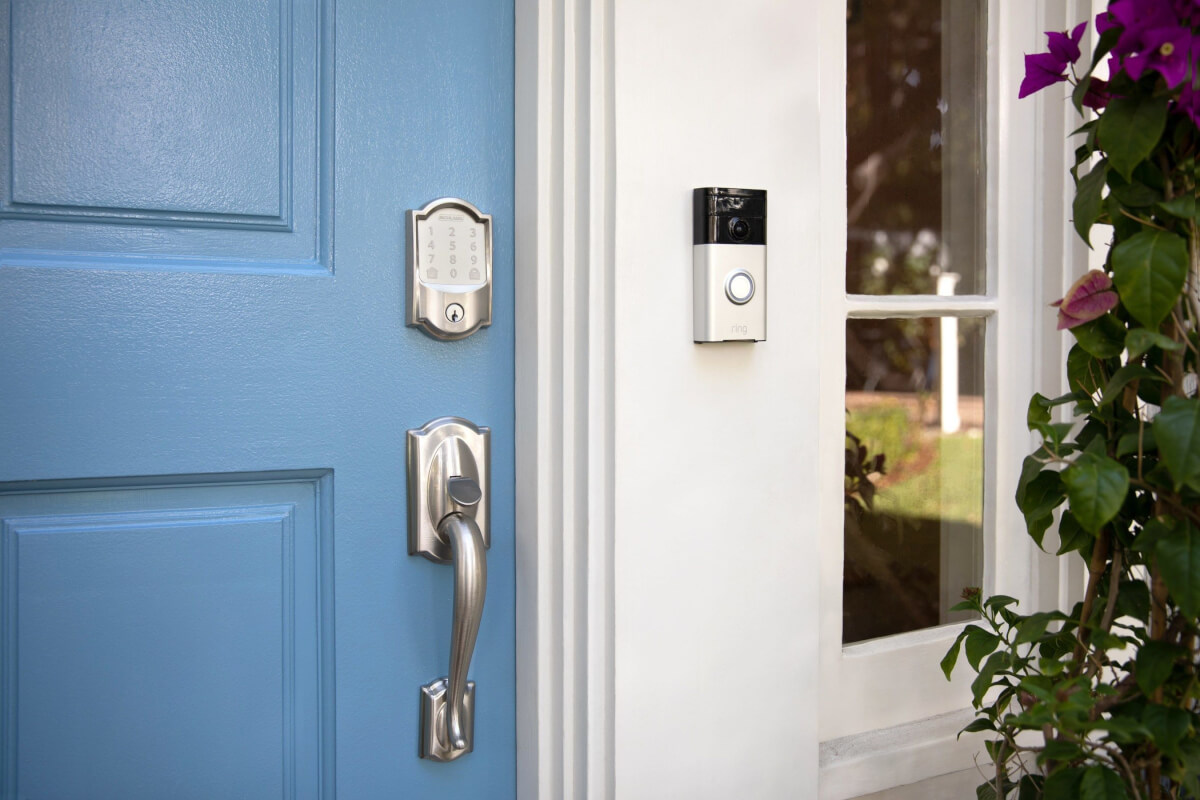 No speaker on the lock Door unlocks immediately after the correct code just like Schlage Connect. This likely has the same auto-unlock workaround using IFTTT or SmartThings as Schlage Connect.
Winner: Schlage Connect
Schlage's door chirping feature make it easy to know when the door is opened. The door is also faster to unlock since you don't have to press extra buttons after inputting the code. Overall, Schlage Connect and Encode both beat out Nest Yale when it comes to features.
---
App
You can lock, unlock, and check the status of the door using any of the lock's apps, without any monthly fees required.
As long as a hub or Nest Connect is hooked up, you can also control the locks remotely (no hub required for remotely controlling Schlage Encode).
All of the locks allow you to easily make passcodes for guests, although extra options come with Nest compared to Schlage. Automatic locking is available for all locks after specified amounts of time. The software is also very secure, with AES-128 bit encryption.
You can easily receive notifications for Nest Yale, Schlage Connect, or Encode. These can alert you each time the door is locked or unlocked based on your preferences. A detailed timeline shows who unlocked the door at what time within each app as well.
Now let's look at the differences.
Nest Yale

Manage lock using the Nest app. This is very easy to use, even for beginners, and it combines your Nest cameras, thermostats, doorbell, and security system all in one app. Set passcodes to expire at a certain date and time. You can also schedule when a passcode can work, which is perfect for your dog walker or occasional guests.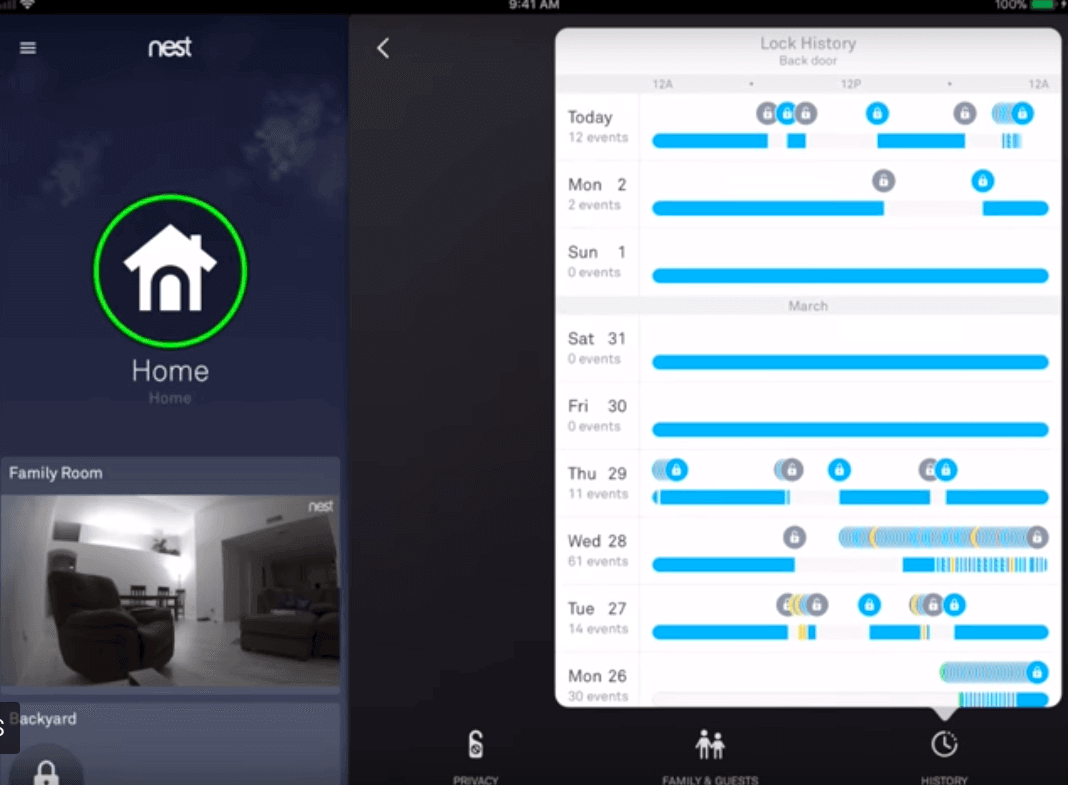 Passcodes must be 4 to 8 digits long. The codes are flexible since you can have some codes that are 8 digits, others that are 6, and some that are just 4. Up to 20 door codes at a time Nest can also automatically lock when it senses you are gone. This is called Away mode, and it works in conjunction with your thermostat and other Nest products. If you leave your home and Nest sees that you're in Away mode with the door unlocked, it will automatically lock. This is a nice fail-safe to ensure you don't forget to lock the door. Offers privacy mode both directly on the lock and within the app. This blocks anyone from using door codes to enter your home.
Schlage Connect
There is no native Schlage app for Connect. To set codes using an app or control lock remotely, you have to use the app for whichever Z-Wave hub you select.

For example, we use the SmartThings app to control our Schlage Connect. This makes for a bit more of a learning curve. These hub apps are not as straightforward and offer more options for automation. It is not ideal for smart home beginners or those looking to keep it simple, but it's great for those already with SmartThings.

Codes require a little more manual controls. While they can automatically expire or be scheduled, it's more difficult to manage. Passcodes must be 4 to 8 digits long. The annoying part is that all codes must be the same length. So if you want a longer 8-digit code for your dog walker, and a shorter code for your mom, that's impossible using Schlage Connect. Up to 30 door codes at a time Automatically lock the door when you leave home using IFTTT or SmartThings. No privacy mode option to prevent all user codes from working. This is not a deal breaker, but just a nice enhancement on the Nest Yale lock that this one is missing.
Schlage Encode

Uses the Schlage Home app. This is buggy and has issues for some users, although its high ratings in the app stores tell me it likely works well for most users. Door codes are easy to set, schedule, share or turn off. Passcodes can be 4-8 digits long. Up to 100 door codes at a time Can't automatically lock based on your location, since it doesn't integrate with SmartThings or IFTTT. Just like Schlage Connect, there is no privacy mode option
Winner: Nest Yale
Nest Yale wins this one. The Nest app is very user friendly and includes all of the Nest products in one quick view. I really like that I can check my security system, door lock, thermostat, and Nest Cams all in one place without a third-party hub required. Its Away mode is also very easy to configure, and privacy mode is a nice perk.
If you aren't all-in on the Nest ecosystem and would rather have more user controls, Schlage Connect is still a solid option. There is a little learning curve for using either SmartThings or Wink to control your lock, but it gives your smart home some flexibility and room to grow outside of a certain brand.
Schlage Encode isn't bad either, and they will continue to improve their Schlage Home app to work out the kinks.
---
Smart Home Compatibility
Nest Yale

Works with Google Assistant to lock or check the status of your lock. Currently has no Alexa compatibility. Works with other Nest products really well. Besides sharing the same app, it also can disarm your Nest Secure system when the door is unlocked. It is also within the Works with Nest platform, which is compatible with many third-party devices.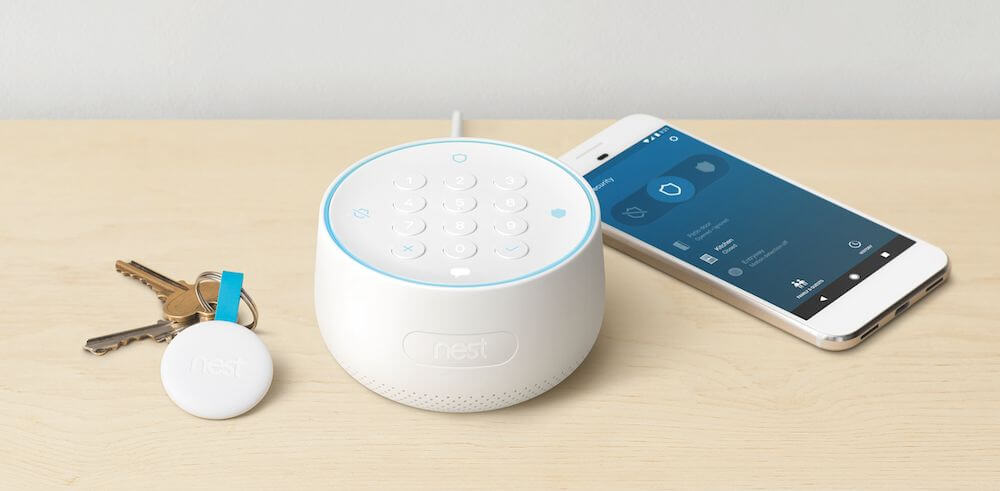 No HomeKit compatibility No IFTTT (If This, Then That) channel for automating your home by setting up rules
Schlage Connect

Schlage Connect requires a hub to work with these other smart home devices.

Works with Google Assistant Works with Alexa to lock, unlock, and check the status of your lock. Unlocking the door requires a 4-digit pin as a security measure. Z-Wave compatible. Once it's connected with your SmartThings or Wink hub, you will be able to easily automate your lock and set rules for it.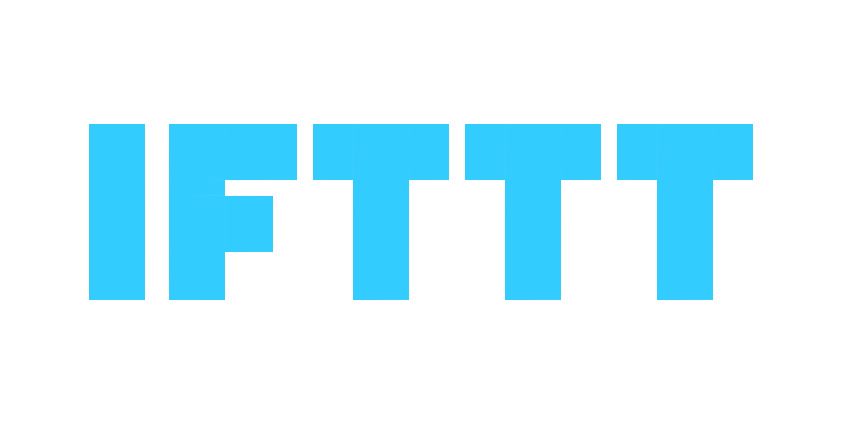 While HomeKit isn't available for Schlage Connect, if you purchase the very similar Schlage Sense then you will have HomeKit compatibility. IFTTT is available and easy to use. This adds an additional layer of home automation for extending your options outside of the app.
Schlage Encode

Works with Google Assistant Works with Alexa to lock, unlock, and check the status of your lock. It also works with Amazon Key, giving temporary access so you can receive packages inside your home. No Z-Wave/ZigBee or SmartThings compatibility No HomeKit. No IFTTT
Winner: Schlage Connect
It's hard to argue against Z-Wave compatibility. Combined with a hub like Wink or SmartThings, you can easily automate other Z-Wave devices around your home with your Schlage Connect. When you lock the door, you can have the lights turn off, thermostat adjust, and motion sensors arm. You can outfit your entire home in Z-Wave technology and automate it all using the Wink or SmartThings app.
If you have other Nest products and want to automate everything within their app, then Nest Yale is a good pick as well.
---
Overall Winner
And the winner when comparing Nest x Yale vs Schlage is…
Schlage Connect!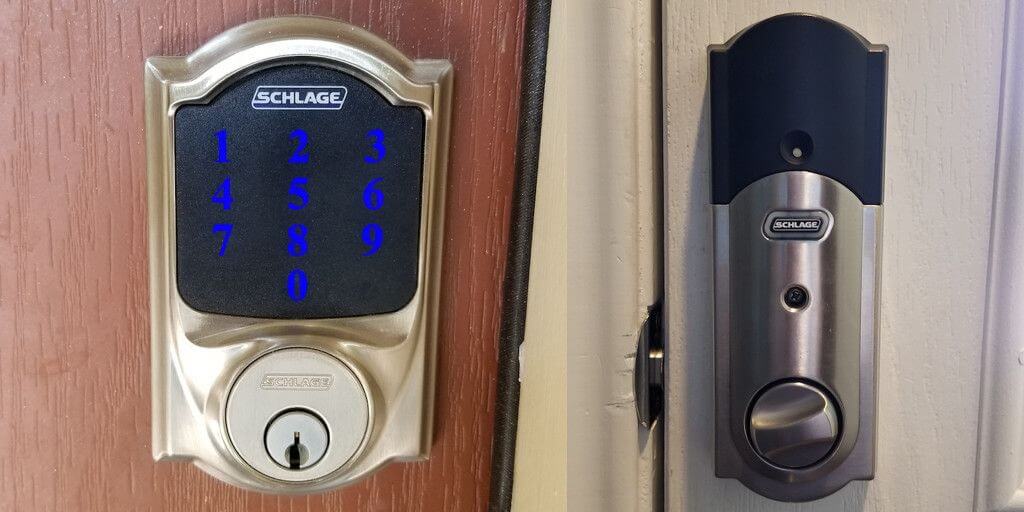 This was as close of a call as it gets. While I really appreciate all of these locks, Schlage Connect squeaks out ahead because of its Z-Wave compatibility, extra customization using SmartThings or Wink, and awesome built-in siren with chirps to secure the door.
Schlage Encode is a great newer option. If you like some of Schlage Connect's features, but prefer to automate it within its own app rather than SmartThings, then Schlage Encode is a great pick. It has better design since it is smaller and quieter.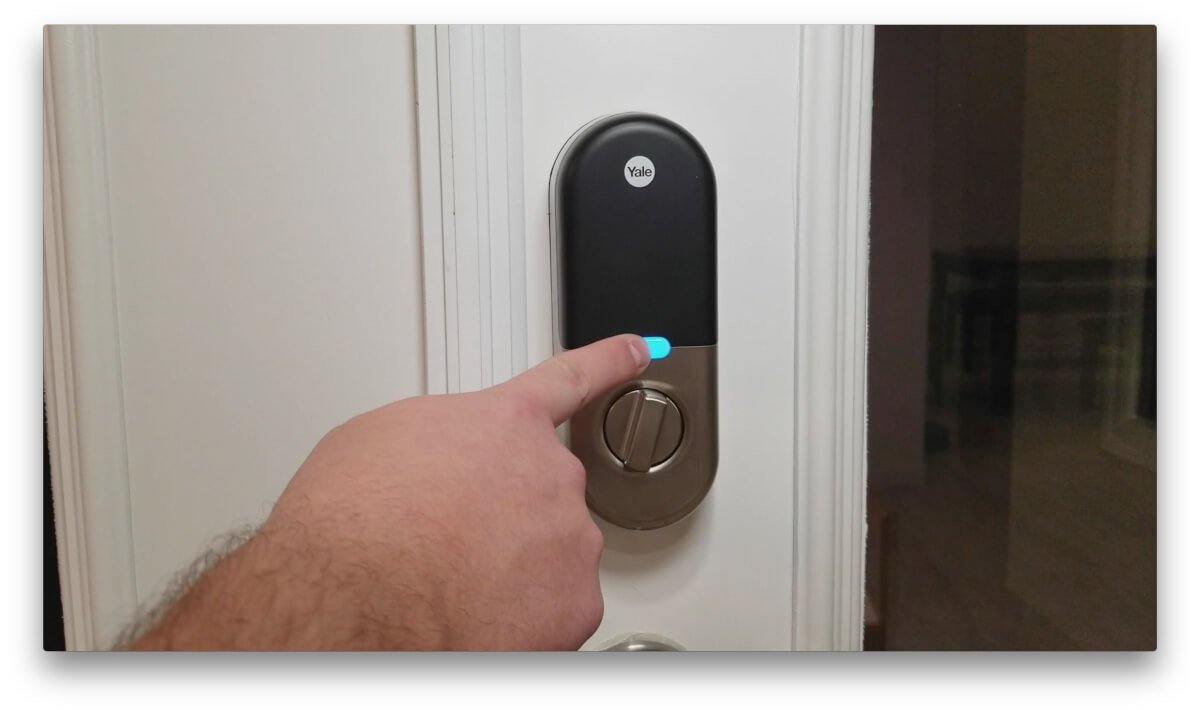 But wait! Nest x Yale is still great!
In fact, I recommended it for my parent's AirBnB since I knew the app would be easier to manage and the lock is better looking for guests.
If you have a Nest thermostat or other Nest smart home products, then you'll want to really consider Nest Yale, which will keep things simple while still offering tons of automation and smart home features.
A few other smart locks to look into are the Kwikset and August locks; we compare those with Schlage Sense in this article. We also broke down the different August locks in case you're interested.
---
Ultimately, this comparison comes down to personal preference and your own setup.
So tell us in the comments: what's your pick between Nest x Yale vs Schlage Connect vs Encode?